Market Overview
The e-cigarette market size was $17,901.1 million in 2022, and it is expected to reach $38,631.1 million in 2030, with a growth rate of 10.1% during 2022–2030. The fall in conventional cigarette smoking has been a major driver, with consumers switching toward safer alternatives, such as electronic cigarettes. Thus, the increasing awareness regarding e-cigarettes being safer than traditional ones, particularly among the young population, contributes to the growth in sales.
Countries such as the U.S., the U.K., France, China, Japan, and Italy are the major markets for e-cigarettes. However, with the increasing popularity in the APAC and African regions, sales in several countries, such as South Korea, Indonesia, the Philippines, South Africa, and Australia, are projected to witness rapid growth in the coming years.
With the growing popularity of e-cigarettes, fragrance and flavor vendors are introducing a large variety of flavors to attract manufacturers and customers. Menthol, chocolate, mint, bubble gum, cola, and fusions of fruits and other flavoring substances are attracting a huge number of consumers. Users in North America and Europe, predominantly the U.S., Canada, and the U.K, are recording a shift toward flavored products.
For instance, it has been recorded that a significant proportion of the young populace from middle and high schools use them because of their appealing flavors. Hence, with the increasing demand for flavored products in different regions of the world, the introduction of various flavors is trending in the market.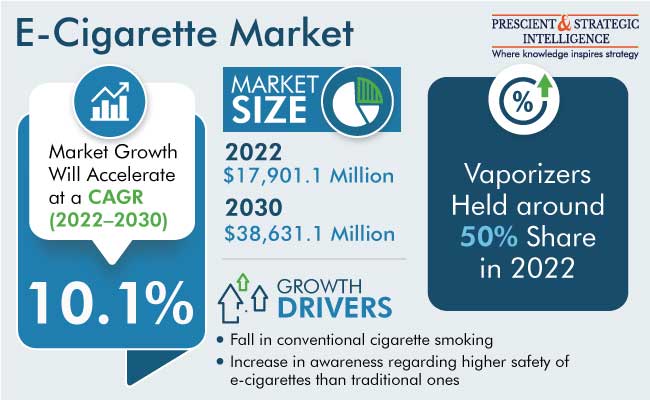 Moreover, in order to increase the presence of their goods globally, vendors are expanding their sales channels to identify prospective customers. Companies are increasingly marketing through e-commerce and promoting their products through social media channels and online discounts.
For instance, in April 2019, Philip Morris International plc announced that it is offering insurance premiums to tobacco users who are switching toward vaping products. Under this plan, the company announced that people who would be switching to any type of e-cigarette of the company would be given a 2.5% discount on premium plans. Further, with the growing digital marketing trend in many countries, such as China, the U.K., and the U.S., there is a growing focus of manufacturers to increase the promotion of their goods through e-commerce.
Usage of E-Cigarette as An Alternative to Tobacco Smoking Supports Market Growth
The growing awareness pertaining to the harmful effects of smoking traditional cigarettes is increasing day by day across the world. This has resulted in the development of alternatives that help consumers quit traditional cigarettes. Cancer caused by smoking is one of the major global concerns. E-cigarettes eradicate the risk of cancer and prevent the intake of more than 4,000 chemicals, including tobacco and many other toxins and carcinogens, that are present in tobacco smoke and lead to cancer and lung diseases. Additionally, they emit less toxic material and are less risky to smokers with asthma problems.
Furthermore, burning tobacco generates smoke, which harms the environment and humans almost equally. E-cigarettes do not produce smoke and, instead, emit mist, which dissolves in the air in seconds. This decreases the negative effects of tobacco to the people around and the surroundings to a greater extent. Apart from this, they also eliminate the need for dumping butts and flicking ash openly. As they do not produce ash and smoke, these devices can be used where cigarettes are not allowed due to the smoke emitted from them.
Vaporizer Category To Dominate Market
The vaporizer category accounted for the largest share, around 50%, in the e-cigarette market in 2022, and it is projected to maintain its dominance in the coming years. The rising popularity of vaporizers is attributed to their moderate cost, dense aerosol production, and flexibility with a variety of flavors. Whereas, T-vapors are primarily famous in Japan and South Korea, where people prefer tobacco flavor, owing to their close resemblance to traditional smoking.
Moreover, the recreational industry, which comprises pubs and bars, are following regional policies, which strengthens the sales and production of these devices. Electronic vaping devices are easy to carry and allow personalized consumption for vaporizing herbs and other substances. In addition to this, technological advancements, such as temperature control for the optimum taste, have a positive influence on the sales expansion in this category.
Further, cig-a-likes are expected to corner a moderate growth rate in the coming years, owing to their compact size and low price. Rechargeable cig-a-likes are witnessing high sales, primarily owing to their low operational cost, since they can be used repeatedly and require less-frequent replacement of components, thus also ensuring the ease of use for customers.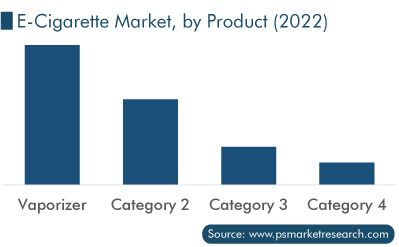 Male Category To Lead Market
The male category led the market, with over 80% share, in 2022. With more male consumers switching toward e-cigarettes as a smoking-cessation alternative, this category is projected to continue dominating the market throughout the forecast period.
Online Channel To Grow Fastest during Forecast Period
The online distribution channel is expected to record the highest CAGR, around 13%, during the forecast period. People are more tempted to buy e-cigarettes and vape products online due to the features of cost analysis, convenience, and access to a greater selection of goods.
With the emergence of e-commerce, manufacturers are either selling their goods on the websites of third parties or introducing their own online portals to sell them. The increasing sales possibility for these products through e-commerce has encouraged sellers to strengthen the security and dependability of their online purchasing procedures, which has increased online product sales.
16–24 Age Category To Lead Market
The 16–24 age category generated the highest revenue, over $5 billion, in 2022, and it is likely to retain its position in the long run. E-cigarette, such as the JUUL device, appeal to the youth and have become an instant hit in the age group of 16–24.
Moreover, they do not stink as strongly as traditional cigarettes, making it much simpler for people to use them covertly. Even teenagers who would not try cigarettes may be tempted by JUUL and other well-known vape brands' appealing flavors and packaging. A trending notion is that vaping is less harmful and that it is simple for youths to purchase vaping equipment online.
Social Acceptance of E-Cigarettes Boosts Growth
With the growing consciousness toward human and environmental health, governments across the world are working toward creating a more-sustainable and greener environment, for which many have completely banned smoking at certain places. This has generated a rise in the demand for e-cigarettes, which do not produce tobacco smoke and can provide the same sensation as normal cigarettes.
People who are more health-conscious also try to avoid passive smoking. Vaping devices alleviate the generation of smoke and odor, both of which affect the non-smokers around and the environment. Therefore, the increasing social acceptance and eco-friendliness of these products are expected to drive the demand for them in the future.
E-Cigarette Market Report Coverage

| | |
| --- | --- |
| Report Attribute | Details |
| Historical Years | 2017-2022 |
| Forecast Years | 2023-2030 |
| Market Size in 2022 | $17,901.1 Million |
| Revenue Forecast in 2030 | $38,631.1 Million |
| Growth Rate | 10.1% CAGR |
| Report Scope | Market Trends, Drivers, and Restraints; Revenue Estimation and Forecast; Segmentation Analysis; Impact of COVID-19; Companies' Strategic Developments; Market Share Analysis of Key Players; Company Profiling |
| Segments Covered | By Product; By Gender; By Age Group; By Distribution Channel; By Region |
Explore more about this report - Request free sample pages
Europe Is Principal Revenue Contributor
In 2022, Europe accounted for the largest share in the e-cigarette market, due to the presence of a large number of consumers. Moreover, with a fall in the habit of traditional smoking in the region, the consumer base is expected to shift toward electronic variants during the forecast period.
Major industry companies frequently promote their e-cigarettes and vaping goods on social media, which fuels the popularity and sales of their products. Their consumption among the young population as a less-harmful alternative to conventional forms of tobacco consumption is proliferating at a robust rate due to the availability of a wide selection of brands and flavors online, as well as in physical stores.
U.K., France, and Russia are the major revenue-generating countries here. The level of usage is increasing at a robust rate in the region. For instance, in the EU, one in seven traditional cigarette smokers classify themselves as a current vaping product user. This indicates that the majority of the users are concentrated among current and former cigarette smokers and populace who has opted to quit tobacco.
Moreover, several health bodies have accepted that e-cigarettes and vaping devices are better alternatives to tobacco, which, in turn, fortifies their production and sales. They do not create tar, which is produced by conventional cigarettes and is the foremost reason for lung cancer. Further, a large chunk of the population is trying e-cigarettes at least once, either for a change to their regular cigarettes or to gain a new experience. This dual use case has significantly escalated the number of consumers and is projected to inflate the market growth rate in the future.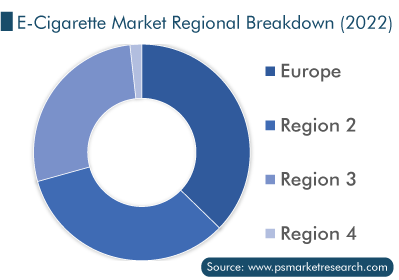 Top E-Cigarette Providing Companies Are:
British American Tobacco plc
Altria Group Inc.
Japan Tobacco Inc.
Imperial Brands plc
Philip Morris International
JUUL Labs Inc.
Turning Point Brands Inc.
Vapor Hub International Inc.
FIN Branding Group LLC
Innokin Technology Co. Ltd.
E-Cigarette Market Size Breakdown by Segment
The report analyzes the impact of the major drivers and restraints on the market, to offer accurate market estimations for 2017–2030.
Based on Product
Cig-a-Like
Vaporizer
Vape Mod
T-Vapor
Based on Gender
Based on Age Group
16–24
25–34
35–44
45–54
55–65
65+
Based on Distribution channel
Vape Shop
Online
Hypermarket/Supermarket
Tobacconist
Geographical Analysis
North America
Europe

U.K.
France
Germany
Russia
Italy
Netherlands

Asia-Pacific

China
Japan
Australia
South Korea

Rest of the World