Market Overview
The global thermoplastic polyurethane (TPU) market size stood at USD 3,100 million in 2022, and it is expected to advance at a compound annual growth rate of 7.0% during 2022–2030, to reach USD 5,326 million by 2030. This is primarily ascribed to the extensive usage of TPU in several applications such as automobile parts, medical devices, and wound care products.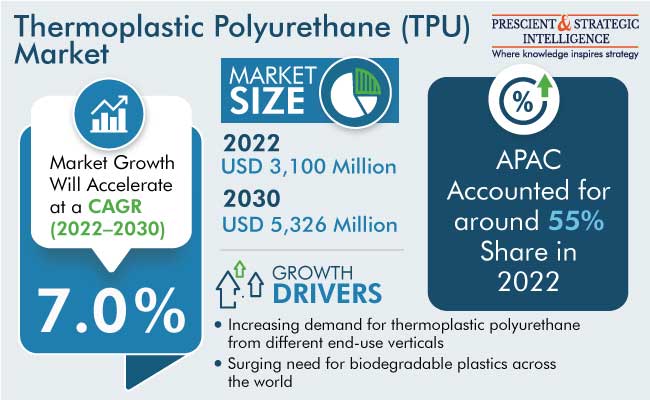 Moreover, TPU is highly in demand because of its flexibility, toughness, elasticity, and good resistance against the attack of bacteria, fungi, grease, and oil, and it is also easy to recycle. In addition, the surging demand for apparel & footwear and biodegradable plastics and the growing usage of thermoplastic polyurethane in the construction and textile industries are propelling the growth of the market.
Footwear Industry Is Propelling the Demand
Based on end-use industry, the footwear category accounted for the largest revenue share in 2022, and it is expected to maintain its position throughout the forecast period as well. This is mainly because polyurethane is highly in demand in the footwear industry, due to its cost-effectiveness and customization options. It is used to make soles, heels, toe caps, slippers, and insoles, which provide a better grip on oils, greases, and slippery surfaces.
Moreover, sports shoes widely use polyurethane, which makes them lightweight, slip-resistant, shock absorption, and provides a high level of comfort. Shoes made up of thermoplastic polyurethane are environment-friendly replacements, and it is a highly durable material, which increases the durability of soles. These types of soles provide extra benefits of an extreme level of resistance that reduce temperature and erosion levels, increase the flexibility of the shoes, and show less friction while coming in contact with oil lubricants and grease.
Moreover, manufacturers use TPU in soles because it makes the gluing process easy and quickly soaks the glue without the need for halogenated solvents. Furthermore, millions of shoes are manufactured every year, and every time manufacturers are finding a way to make their shoes light in weight and expand their durability and performance. Therefore, they adopted TPU, which helps them to cut their costs and reduce waste, as it is easy to recycle and also helps in the faster manufacturing process.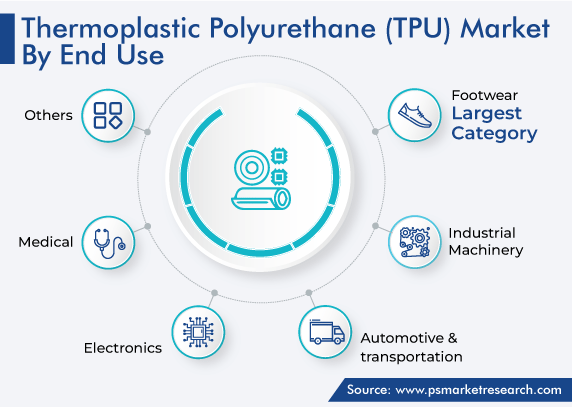 TPU Is Adopted as an Alternative to PVC in the Medical Industry
The medicinal sector offers various opportunities for thermoplastic polyurethane manufacturers because it is a well-known material in this industry and can be used in several medicinal applications and healthcare products such as orthodontic products, wound care products, dental materials, medical instrument cables, healthcare mattresses, compression stockings, catheters, and gel shoe orthotics. TPU-based products are extensively flexible to temperature and can be stiff at the time of insertion and flexible once inserted inside the body part. All these factors are responsible for the growth of the market in this category.
Moreover, in the medical industry, safety and comfort are the top priorities while selecting a material for medicinal products. In this case, TPU is the best eco-friendly replacement for PVC without losing any flexibility and it also contains superior benefits such as biocompatibility, resistance against chemicals and oils, durability, and does not contain plasticizers. It also meets all the requirements of the U.S. Food and Drug Administration, 21 CFR for certain food contact applications, and the National Sanitation Foundation Standard.
Polyester Holds the Largest Revenue Share
Based on type, the polyester category held the largest revenue share in 2022, and it is also expected to retain its position during the forecast period. This is due to the increasing demand for polyester in the construction, textile, and automobile industries because it provides extreme transparency. Also, this material is used the most in the textile industry, owing to its durability and water resistance, and its thread is faster and easier to knit into the fabric than other natural fibers like cotton. Globally, polyester was a broadly adopted fiber with a volume of 57 million tons, which accounted for 52% of the fiber market, in 2020.
Moreover, polyester is broadly used in the automotive industry for making carpets, seat covers, seat belts, and other items. The reason behind the great usage in this sector is its high resistance to temperature, high strength, better chemical resistance, durability, and wear resistance, which help make driving comfortable and safe.
Polyols Category To Witness Significant Growth
The polyols category is expected to rise at a significant growth rate over the next few years. The growth can be mainly attributed to the increasing demand for polyols because it is widely adopted as a raw material for the production of polyurethane products such as rigid foams, coatings, sealants, and adhesives. It is also used in various industries such as refrigeration, construction, automobile, and furnishing materials.
In addition, the e-commerce and online business sector has required the safety of products, due to which companies are using pre-blended polyols packaging, such as plastic, corrugated, and wooden boxes. It is also used for all types of packaging goods, which need to be handled with care.
Diisocyanate Dominates the Industry
On the basis of raw material, the diisocyanate category accounted for the largest revenue share in 2022, and it is expected to witness the same trend in the coming years. This is mainly because this raw material is widely used, due to its extremely reactive nature with polyols, for the formation of polyurethane. Polyurethanes are formed by reacting polyol (polycarbonate or polyester polyether-based) with diisocyanate.
Methylene diphenyl diisocyanate and toluene diisocyanate are the most used aromatic diisocyanates. Toluene diisocyanate is largely utilized in the production of flexible polyurethane foam, which is used in furniture and other goods. On the other side, methylene diphenyl diisocyanate is utilized in the production of stiff polyurethane foam, which is used in house insulation. Moreover, diisocyanate is a good type of chemical formation block that is used in the production of a broad variety of polyurethane products. All these are the key driving factors responsible for the expansion of the market growth in this category.
Automotive & Transportation Category To Witness the Highest Growth Rate
The automotive & transportation category is expected to witness the highest CAGR of 8.2% during the forecast period. This can be because TPU is broadly used in the automotive industry for the manufacturing of automotive parts, as it offers a distinctive combination of aging and scratch resistance qualities, which makes it an excellent option for the automotive sector. Also, it is popular in the automotive industry because of its flexibility, wide temperature range, and great elasticity.
In addition, the growing environmental concern and the surging focus on more fuel-efficient cars force automakers to adopt lightweight materials for the manufacturing of their vehicles. Moreover, the rapid expansion of green cars is creating opportunities for market players. It can be used in different vehicle applications such as airbags, car seats, doors, and acoustic panels, to enhance safety and comfort.
Thermoplastic Polyurethane Market Report Coverage

| | |
| --- | --- |
| Report Attribute | Details |
| Historical Years | 2017-2022 |
| Forecast Years | 2023-2030 |
| Market Size in 2022 | USD 3,100 Million |
| Revenue Forecast in 2030 | USD 5,326 Million |
| Growth Rate | 7.0% CAGR |
| Report Scope | Market Trends, Drivers, and Restraints; Revenue Estimation and Forecast; Segmentation Analysis; Impact of COVID-19; Companies' Strategic Developments; Market Share Analysis of Key Players; Company Profiling |
| Segments Covered | By Technology; By Type; By Raw Material; By End-Use Industry; By Region |
Explore more about this report - Request free sample pages
Asia-Pacific Is the Market Leader
Globally, the APAC market accounted for the largest revenue share, of more than 55%, in 2022, and it is also expected to be the largest market among all regions over the next few years. This is due to the extensive usage of TPU in the medical and automotive sectors, the region is the world's largest exporter of automobiles, and most OEMs are using polyurethane for making parts of automobiles.
Moreover, the presence of a large population base, rapid urbanization, industry expansion, increasing disposable income, and fast-developing economies in the region are increasing the demand for high-performance materials and making the region an industrial hub, globally. Also, the rapidly growing infrastructure development, construction sector, and product demand are boosting the growth of the regional market.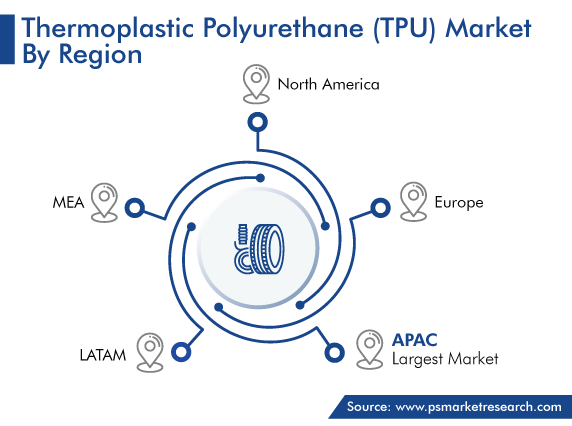 North American Market To Grow at a Significant Rate
The North American market is expected to grow at a significant growth rate over the next few years. The growth can be mainly attributed to the presence of key industry players, the surging launches of advanced products, and the rising need for TPU-based products in the electronics, automotive, and footwear industries, and the region is the largest market for luxury footwear across the globe. For instance, in August 2022, BASF SE unveiled its thermoplastic polyurethane paint protection film under its brand RODIM, to protect the car paint.
Some Top Thermoplastic Polyurethane Manufacturers Are:
BASF SE
The Lubrizol Corporation
Covestro AG
Huntsman Corporation
Wanhua Chemical Group Co. Ltd.
American Polyfilm Inc.
Epaflex Polyurethanes SpA
COIM Group
Mitsui Chemicals Inc.
Avient Corporation
Market Size Breakdown by Segment
The study uncovers the biggest trends and opportunities in the thermoplastic polyurethane market, along with offering segmentation analysis at the granular level for the period 2017 to 2030.
Based on Technology
Blow Molding
Solvent Casting
Lamination
Extrusion
Injection Molding
Based on Type
Polyester
Polyether
Polycaprolactone
Based on Raw Material
Diisocyanates
Polyols
Diols
Adipic acid
Based on End-Use Industry
Footwear
Industrial Machinery
Automotive & transportation
Electronics
Medical
Geographical Analysis
North America
Europe

Germany
U.K.
France
Italy
Spain

Asia-Pacific

Japan
China
India
South Korea
Australia

Latin America
Middle East and Africa

Saudi Arabia
South Africa
U.A.E.