Market Overview
The global thermoplastic polyester engineering resins market size stood at USD 3,912.2 million in 2022, and it is expected to advance at a compound annual growth rate of 5.4% during 2023–2030, to reach USD 5,896.6 million by 2030. This is primarily ascribed to the rising usage of these resins for a broad range of nonstructural applications because they can be used without filters and are normally harder and more ductile than thermoset resins. Moreover, these are easy to recycle and widely available to fulfill domestic needs. The increasing requirement from the electronics and automobile industries is also rapidly boosting the growth of the industry.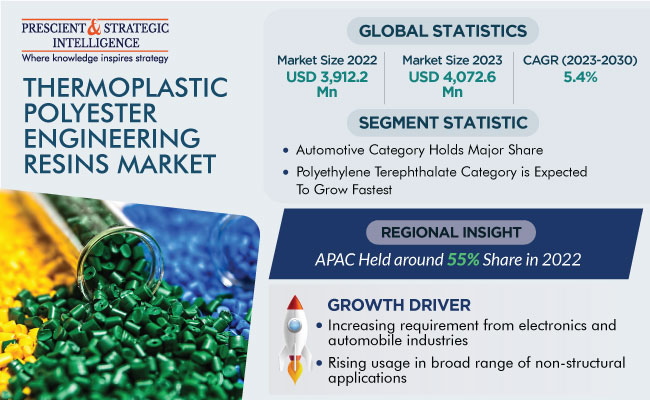 In addition, polyethylene terephthalate and polybutylene terephthalate engineering resins have high performance and a high molecular weight that can be turned into functional parts and components, which are used in diversified assemblies of industries such as electrical/electronics, automotive, industrial equipment, and appliances. Moreover, these resins can be shaped in any structure when soft and retain a given shape after hardening. This engineering plastic increases the strength of materials when it is combined with carbon nanotubes and glass fiber. Thus, TPER companies are focusing on capturing new application areas of the product.
Automotive Category Dominates the Industry
Based on application, the automotive category accounted for the largest revenue share, of 40%, in 2022, and it is expected to maintain its dominance throughout the forecast period as well. Over the last few years, the automotive industry has gained momentum, and major automobile manufacturers are using thermoplastic polyester to make vehicle parts, which helps them to minimize the overall weight of the vehicles.
In addition, thermoplastic polyester engineering resins are high-performance materials, flexible in shape, and have high chemical tolerance, which help automakers to cut the cost of production and reduce wastage. These resins are not only more cost-effective than metals but also enable automakers to make their vehicles more efficient by delivering endurance, corrosion resistance, high-temperature resistance, shatterproof, strength, good current tolerance power, maximum output at a cheaper cost, and flexibility in construction.
Thus, the rising need for lightweight materials for vehicles is increasing the demand for such resins in the automotive industry to upgrade their performance and provide flexibility in the design of the vehicles. In addition, the traction of electric vehicles is rapidly growing across the world, but the weight of a vehicle is a major factor affecting its efficiency, due to which the automobile industry is using these resins to reduce the overall weight. All of these factors are responsible for the market growth in this category.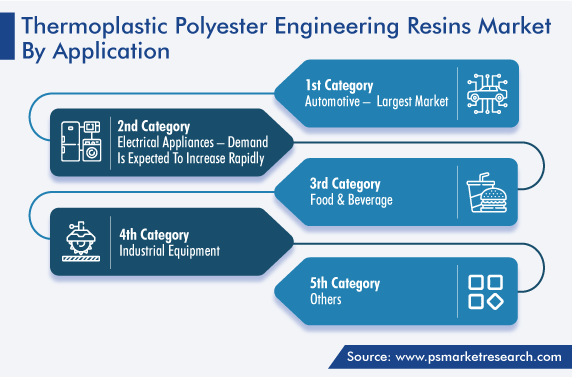 Asia­-Pacific Leads the Market
Globally, the APAC market accounted for the largest revenue share, of 55%, in 2022, and it is expected to be the largest during the forecast period as well. This is mainly ascribed to the rising need for electronics and automobiles in the region. The demand for automobiles is rapidly increasing in regional countries such as India, China, Australia, and Indonesia. Thus, the number of local, commercial, and passenger vehicle manufacturing facilities is rapidly rising in these countries to meet domestic and international demands.
China is the largest consumer and manufacturer of engineering resins in the APAC region. The low cost of production and largest supplier of raw materials have supported the country to be the largest producer of thermoplastic polyester engineering resins. In addition, an increase in the per capita income of the middle-class population of the country is driving the need for consumer goods, and the manufacturing industry of China is rapidly growing, due to which the demand for engineering plastics is rising day by day.
Furthermore, India is a rapidly-growing economy, due to which its manufacturing industry is highly growing, mainly its electronics, electrical, automotive, and consumer electronics sectors. Thus, this factor drives the demand for plastics, which, in turn, boosts the TPER market growth.
Moreover, these resins are broadly adopted to increase the durability of fibers and glass plastics. For instance, the adoption of glass plastics in the manufacturing industry is increasing, which is expected to boost the thermoplastic polyester engineering resins market in the region.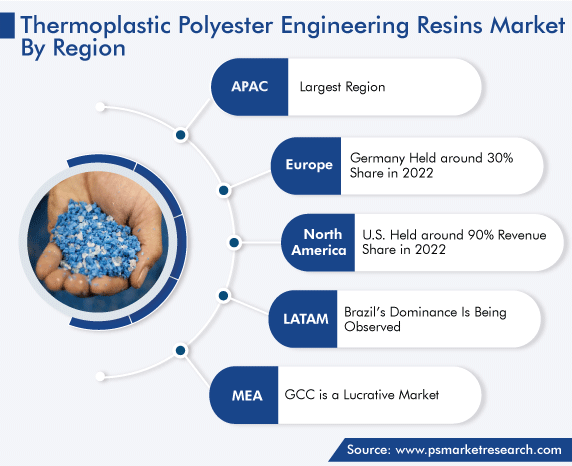 Demand for Polyethylene Terephthalate Resigns To Grow Significantly
Based on product type, the market is categorized into polybutylene terephthalate, polyethylene terephthalate, and polycyclohexylene dimethylene terephthalate. Among these, the polyethylene terephthalate category is projected to grow at a significant growth rate over the next few years. PET, made up of ethylene glycol (EG) and terephthalic acid (TPA), is the most used thermoplastic polymer across the globe. Its demand is increasing due to its mechanical and electrical features, and it is widely used in switches, motor housings, sensors, and other electrical systems.
In addition, polyethylene terephthalate is used in the synthetic fiber, electronics, food & beverage, automotive, textile, and food packaging industries. In the textile industry, semi-crystalline plastic and naturally colorless properties are hiking its demand for making clothes. Further, when it is mixed with cotton, it reduces the shrinking and wrinkling and builds the fabric more resistant to drops of water.
Moreover, the demand for PET is also growing, due to the increasing need from the healthcare and 3D printing and additive manufacturing sectors. It offers high performance and other benefits, such as high rigidity, high-melting point, and low moisture. Further, it is FDA-approved for food contact products. It is also used to manufacture food containers, beverage bottles, and other packaging materials.
Additionally, the polybutylene terephthalate category is also projected to grow at a steady growth rate over the next few years. The growth can be due to the increasing need for PBT in the automobile and electrical industries. PBT has distinctive features, such as being lightweight, heat resistant, and semi-crystalline, due to which traditional materials such as cast iron, bronze, and ceramics in the automotive industry are getting replaced.
In addition, in the automobile industry, lightweight plastics are high in demand due to their competitive pricing, high performance, safety, and strength. The rapidly growing demand for green cars is escalating the demand for lightweight automotive parts made from PBT because it is almost 45% lighter than the same components made from other materials, and this helps vehicles to save 20–30% of their fuel by reducing the overall weight.
Polybutylene terephthalate can be adopted in the automotive sector for interior and exterior purposes, mainly for electric systems of the vehicles such as mirror housings, windshield wiper covers, fuel system components, connectors, fuse boxes, power relays, motor components, switches, ignition system components, and cowl vents.
Thermoplastic Polyester Engineering Resins Market Report Coverage

| | |
| --- | --- |
| Report Attribute | Details |
| Market Size in 2022 | USD 3,912.2 Million |
| Market Size in 2023 | USD 4,072.6 Million |
| Revenue Forecast in 2030 | USD 5,896.6 Million |
| Growth Rate | 5.4% CAGR |
| Historical Years | 2017-2022 |
| Forecast Years | 2024-2030 |
| Report Scope | Market Trends, Drivers, and Restraints; Revenue Estimation and Forecast; Segmentation Analysis; Impact of COVID-19; Companies' Strategic Developments; Market Share Analysis of Key Players; Company Profiling |
| Segments Covered | By Product Type; By Application; By Region |
Explore more about this report - Request free sample pages
Some Top Thermoplastic Polyester Engineering Resin Manufacturers Are:
TORAY INDUSTRIES INC.
RTP Company
BASF SE
DuPont
Radici Partecipazioni SpA
Mitsubishi Chemical Corporation
JRD POLYMER
TOYOBO U.S.A. INC.
Lomont Molding LLC
Amco Polymers
Market Size Breakdown by Segment
This report offers deep insights into the thermoplastic polyester engineering resins market, with size estimation for 2017 to 2030, the major drivers, restraints, trends and opportunities, and competitor analysis.
Based on Product Type
Polybutylene Terephthalate
Polyethylene Terephthalate
Polycyclohexylene Dimethylene Terephthalate
Based on Application
Automotive
Electrical Appliances
Food & Beverage
Industrial Equipment
Geographical Analysis
North America
Europe

Germany
U.K.
France
Italy
Spain

Asia-Pacific

Japan
China
India
South Korea
Australia

Latin America
Middle East and Africa

Saudi Arabia
South Africa
U.A.E.