Market Overview
The tangential flow filtration market revenue stood at $1,237.6 million in 2021, and it is expected to advance at a CAGR of 12.8% during 2021–2030. The growth in the biopharmaceutical sector, particularly the development of biosimilars and biologics manufacturing; increased investment in research and development by industry participants; and advantages of tangential flow filtration over normal flow filtration, are the key factors driving the market growth.
Biotechnology companies have been largely investing in research and development while obtaining patents for the same. In the last 20 years, global research and development spending in the sector has increased by over 12%. For instance, Repligen Corporation, in May 2019, filed patent for tangential flow depth filtration (TFDF) systems, which exhibit reduced fouling characteristics and improved filter fluxes and process capacities, and optionally use tubular depth filter (TDF). Also, in November 2019, the company filed a patent for tangential flow filtration (TFF) systems utilizing flexible bags for permeate collection.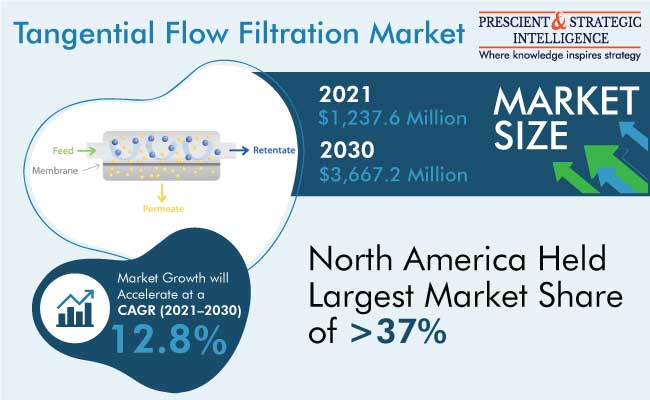 The TFF market witnessed a positive impact of the COVID-19 pandemic, as TFF systems have been extensively used in the production of vaccines. Moreover, companies have been expanding their capacities to manufacture COVID-19 vaccines, which lead to the increasing demand for these systems. For instance, in January 2022, Ardena announced the plans to expand its production capacity for COVID-19 vaccines, which will incorporate additional chromatography and tangential flow filtration.
Membrane Filters Are Widely Used in the Market
The membrane filters category holds the maximum revenue share, of around 40%, in the tangential flow filtration market, as these are largely used in biologics manufacturing and laboratory settings. Among the membrane filters, the polyethersulfone category accounts for more than half of the revenue share, and it is projected to witness significant growth during the forecast period. This can be ascribed to the wide application of polyethersulfone membrane filters in the manufacturing of vaccines and separating proteins.
However, the demand for single-use tangential flow filtration systems is gaining momentum during the forecast period, rising at a CAGR of more than 13%. This is because it helps in the reduction of labor costs by more than 50% and water usage and buffer by more than 70%. Moreover, it can increase productivity by more than 40%. Furthermore, end users are preferring single-use TFF systems over reusable TFF systems, as the former is approximately 30% more economical compared to the latter. Also, companies are providing customized single-use TFF as per the requirements of biomanufacturers. For instance, Agilitech offers custom-designed single-use TFF systems for enzyme manufacturers for producing cell-based products, commercially.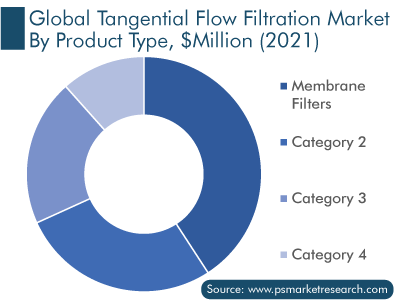 Technology Outlook
Ultrafiltration and microfiltration are the two major technologies adopted in tangential flow filtration. The ultrafiltration technology accounted for more than 65% of the market share in 2021. The sales of ultrafiltration membranes are gaining momentum, as they can separate biomolecules with small pore size, i.e., 0.01–0.1 μm, helping in reducing the manufacturing costs of biopharmaceutical products. Recently, General Biol, a Chinese drug manufacturer partnered with Cytiva to use its integrated FlexFactory single-use platform for the production of oligonucleotide. The platform includes Uniflux explosion-proof tangential flow ultrafiltration system, OligoProcess nucleic acid synthesis system, and ÄKTA Process explosion-proof purification system.
Moreover, microfiltration technology holds the second-largest share in the market, and the category will depict the growth of more than 12% CAGR during the forecast period. This can be attributed to its application in the separation of cultured cells, which are available in pore sizes ranging from 0.1 μm to 1 μm. Moreover, microfiltration membranes are used as prefilters for various purposes in the life sciences industry, which is propelling the growth of the market in this category.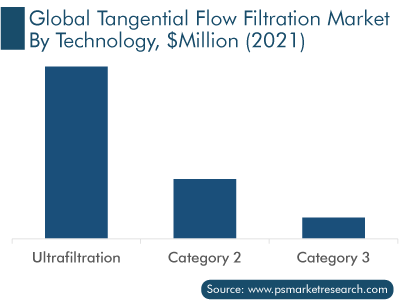 North America Leads the Market While APAC Market To Witness Fastest Growth
North America accounted for more than 35% of the tangential flow filtration market revenue in 2021 and it is expected to retain its position during the forecast period as well. This is ascribed to the surge in adoption of advanced technologies by biomanufacturing companies, the presence of major biomanufacturing facilities, and the rise in the number of new drug development projects, in the region.
In North America, the U.S. market holds a larger share; whereas, the Canadian market is expected to witness significant growth, of more than 13.5% CAGR, during the forecast period. During 2015–2019, on average, 12 new biologics drugs were approved each year in the U.S. Also, national governments in the region have been increasing funding in the biotechnology sector to boost research and development, along with educating individuals in this field. For instance, in FY 2022, the U.S. government proposed the funding of $382.26 million for biotechnology, compared to the actual funding of $324.61 million in FY 2020.
Moreover, in 2021, Canada witnessed a 70% increase in venture capital investments amounting to $1.5 billion (CAD 2 billion), of which 60% were in the field of diagnostic equipment, drug discovery, and biotechnology, on account of the increased focus on preventive treatments of COVID-19. All these fields largely use TFF systems, thus propelling the growth of the regional market.
On the other hand, the APAC tangential flow filtration market is expected to witness the fastest growth, advancing at a CAGR of 13.1%, during 2021–2030. This can be because the region is emerging as a pharmaceutical hub, with companies opening and expanding their manufacturing facilities in regional countries, especially bioprocessing facilities. For instance, in February 2022, GenScript Biotech Corporation opened a 30,000-square-feet facility in Singapore, expanding its protein and gene platform to support new vaccine development.
In the APAC market, the major countries depicting strong growth potential include Singapore, South Korea, Australia, China, India, and Japan, owing to the surging adoption of technologically advanced manufacturing equipment. Among these, India holds the third position in the biotechnology industry, with more than 760 core biotech companies and 5,075 biotech startups operating across the country, which is expected to increase to approximately 10,000 by 2025. Also, companies headquartered in China represented around 12% of the R&D pipeline for new drug developments in 2021, as compared to about 4% in 2016.
Tangential Flow Filtration Market Report Coverage

| | |
| --- | --- |
| Report Attribute | Details |
| Historical Years | 2017-2021 |
| Forecast Years | 2022-2030 |
| Market Size in 2021 | $1,237.6 Million |
| Revenue Forecast in 2030 | $3,667.2 Million |
| Growth Rate | 12.8% CAGR |
| Report Scope | Market Trends, Drivers, and Restraints; Revenue Estimation and Forecast; Segmentation Analysis; Impact of COVID-19; Companies' Strategic Developments; Market Share Analysis of Key Players; Company Profiling |
| Segments Covered | By Product Type; By Technology; By End-User; By Region |
Explore more about this report - Request free sample pages
Business Opportunities
Membrane technology is expected to become vital for end-to-end intensified bioprocessing of monoclonal antibodies, as resin-based chromatography has limitations at high volumes, which is forcing biomanufacturers to shift toward this technology.
Microfluid devices for medical diagnosis using tangential flow microfiltration systems help to detect viral infections, such as HIV. Resources are limited in a few regions such as sub-Saharan Africa and the incidence rate is high. Thus, manufacturers are targeting such geographies for expansion.
Key Strategic Developments of Market Players
In recent years, major players in the tangential flow filtration market have been actively involved in product launches along with mergers and acquisitions to enhance their capabilities and offerings. For instance:
In December 2021, a filtration company, Donaldson acquired Solaris Biotechnology to add a range of bioreactors, fermenters, and TFF systems to its offerings.
In September 2021, ABEC launched its TFF system to improve downstream productivity for its customers of bioprocessing. According to the firm, CSR TFF attains a flow rate of more than 240 liters per minute across cassette-type filter areas up to 40 m2.
Key Players in the Market Are:
Merck KGaA
Danaher Corporation
Sartorius AG
Parker-Hannifin Corporation
Repligen Corporation
Alfa Laval Corporate AB
ANDRITZ
Meissner Filtration Products Inc.
GE Healthcare
Novasep
Market Size Breakdown by Segment
The report offers comprehensive market segmentation analysis along with the revenue estimation for the period 2017–2030.
Based on Product Type
Single-Use Tangential Flow Filtration Systems
Reusable Tangential Flow Filtration Systems
Filtration Accessories
Membrane Filters

Polyethersulfone
Regenerated cellulose
Based on Technology
Ultrafiltration
Microfiltration
Reverse Osmosis and Nanofiltration
Based on End User
Pharmaceutical and Biotechnological Companies
Academic and Research Institutes
Contract Research Organizations
Geographical Analysis
North America
Europe

Germany
France
U.K.
Italy
Spain

Asia-Pacific

China
India
Japan
Australia
South Korea

Latin America
Middle East and Africa