Market Overview
The global sterile filtration market size stood at USD 9,034.2 million in 2023, and it is expected to grow at a CAGR of 11.0% during 2024–2030, to reach USD 19,111.3 million by 2030. The market is driven by the increasing incidence of chronic diseases, growing R&D activities among pharmaceutical and biotechnology companies, and rising government funding for drug development.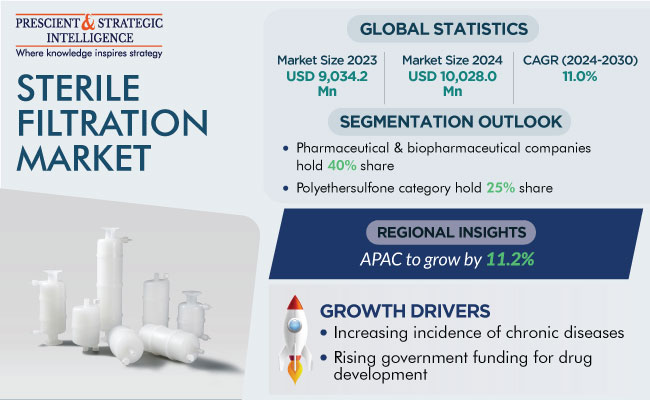 Generally, sterile filtration is used to eliminate harmful participles from a bulk solution. This is because due to heat sterilization, unwanted product degradation can be caused in biotech drug products; thus, a feasible alternative is the sterile filtration of biopharmaceutical fluids. Therefore, sterilizing membrane filtration is used to check the potential formation of biofilms and reduce the level of bioburden in process streams.
In the pharmaceutical industry, one of the major concerns is contamination, which is why the effective control of microbial growth is a crucial step. The reason for chemical contamination is gaseous and liquid streams, while biological contaminants include bacteria, viruses, and fungi; thus, there remains a high requirement in clinical laboratories and the pharma sector for sterile filtration products. Moreover, the loss of the product due to ineffective filtration costs manufacturers a lot of money; so, to ensure quantity and safety, high-quality laboratory filters are being made available by the key market players.
Furthermore, the adoption of new technologies in biopharma production, including nano-biocatalysts, and the strengthening foothold of contract service providers are responsible for the market growth. Companies in the pharmaceutical and biopharmaceutical sectors have been focusing on this process in order to prevent delays in the market introduction of biopharma products and keep them from damage.
Increasing Incidence of Chronic Diseases Boosts Market Revenue
The market is expected to get a boost during the forecast period from the increasing chronic disease burden and rising count of pharmaceutical and biotechnology companies. The most-prevalent chronic diseases include cardiovascular diseases, cancer, and diabetes. According to a government source, in the U.S., approximately 37.5 million people were diagnosed with diabetes in 2022. Therefore, the increasing R&D activities due to the rising burden of diabetes are expected to augment the market growth potential.
Essentially, the rising prevalence of diseases leads to a surge in the demand for medicine, which further leads to an increase in drug development activities. Hence, the increasing efforts of pharmaceutical and biotechnology companies to produce effective and safe products drive the market.
Cartridge Filter Category Is Leading Product Segment
On the basis of product, cartridge filter is the leading category, because this product offers more efficiency and cost-effectiveness. Additionally, it is more suitable for applications where dust needs to be completely removed or recovered. A cartridge filter consists of a piece of tube filtration equipment, which can be used in all sorts of industrial applications to meet various requirements. It can be used in dairy processing, water treatment, wine clarification, brewing, and pharmaceutical production. Apart from, that it can be used in reverse osmosis.
Bioprocess Category Dominates Market
On the basis of application, the bioprocess category is expected to dominate the market in the forecast period. In bioprocesses, filters are generally used to remove unwanted particles, such as cell debris, from samples and kill viruses or other microorganisms in the same culture. In the bioprocessing industry, filtration is an important procedure as it ensures that the medicinal product is microbiologically safe for patients. It is considered crucial in the pharmaceutical industry to remove bacteria and reduce bioburden, in order to manufacture high-quality products.
Sterile Filtration Market Report Coverage

| | |
| --- | --- |
| Report Attribute | Details |
| Market Size in 2023 | USD 9,034.2 Million |
| Market Size in 2024 | USD 10,028.0 Million |
| Revenue Forecast in 2030 | USD 19,111.3 Million |
| Growth Rate | 11.0% CAGR |
| Historical Years | 2017-2023 |
| Forecast Years | 2024-2030 |
| Report Scope | Market Trends, Drivers, and Restraints; Revenue Estimation and Forecast; Segmentation Analysis; Impact of COVID-19; Companies' Strategic Developments; Market Share Analysis of Key Players; Company Profiling |
| Segments Covered | By Product; By Membrane Type; By Membrane Pore Size; By Application; By End User; By Region |
Explore more about this report - Request free sample pages
Pharmaceutical & Biopharmaceutical Companies Held Largest Share
On the basis of end user, pharmaceutical & biopharmaceutical companies hold the largest share in the market, driven by the growth in their R&D activities. In 2022, pharmaceutical companies spent approximately USD 140 billion on R&D as a result of the rise in the demand for drugs. Moreover, high spending enhances the ability of these companies to use innovative technologies. Thus, in view of the fact that biopharmaceutical companies use these assemblies in their manufacturing processes, their strong R&D focus is expected to drive the market growth.
Essentially, the increase in the incidence of chronic diseases, such as cancer, diabetes, and cardiovascular diseases, drives the market. These diseases demand early diagnosis and treatment, which eventually leads to an increase in the demand for drugs and other pharmaceutical and biotechnology products.
Furthermore, food & beverage companies are expected to witness the fastest growth over forecast years, with the rising number of innovative products launched by the key players, including sterilization filters and syringe filters. Contamination poses a serious problem in the food & beverage sector, as it can result in pathogen outbreaks and cause serious health issues, such as infection by salmonella, listeria, E. coli, and hepatitis A. To address this problem, membrane filtration is used. Effective detection and elimination of microbial contaminants in the food can be achieved through the use of UF membranes with smaller pore sizes.
Moreover, in the food & beverage industry, sterile filtration is one of the most-important methods for brewers to control contamination by microorganisms. Although beer is alcoholic, acidic, anaerobic, and has hops, which play a preservative role, certain bacteria may survive in the chemical environment and thrive on its rich nutrient content. This can spoil the product, thus driving the need to filter the brew.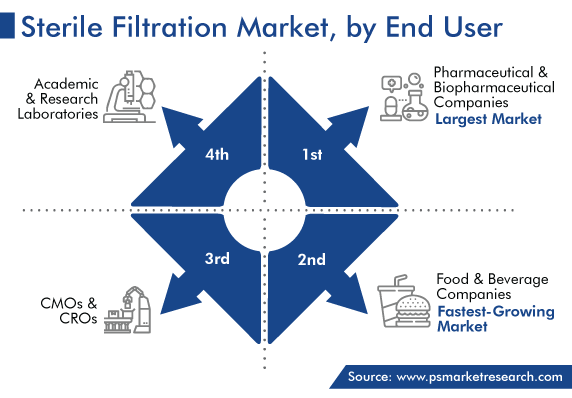 Strategic Mergers, Acquisitions, and Product Launches by Market Players
Empowered by the addition of new products to their portfolios and an increasing number of mergers and acquisitions, market players continue to grow.
In January 2023, Sartorius extended a strategic partnership agreement with RoosterBio Inc. in order to address the challenges in the purification and development of downstream manufacturing processes for exosome-based therapies.
In November 2020, Sterlitech launch a new product, named Sepa CFX cross-flow filtration cell, to enhance performance and filter quality assurance in many applications, such as food processing, pharmaceuticals, and wastewater treatment.
North America Projected To Generate Highest Revenue
North America held the largest share, of over 50%, in 2023. The dominance of the continent on the sterile filtration market is due to the increasing R&D activities of pharma and biotech companies for drug development, rising healthcare expenditure, and rapid technological advancements. All this is itself driven by the constant surge in the incidence of chronic diseases.
Furthermore, new product launches are expected to fuel the market growth. For instance, in November 2021, Sartorius launched a new product, named Sartolab RF|BT 150 - 1000 vacuum filtration units, designed to provide faster filtration with a greater physical stability and higher capacity for a wide range of sample types.
In addition, in 2022, Thermo Fisher Scientific Inc. invested USD 1.480 million in research and development, compared to USD 1.408 million in 2021. This is expected to lead to a wider adoption of new filtration technology, which will improve accuracy, speed up the process, and reduce fouling parameters.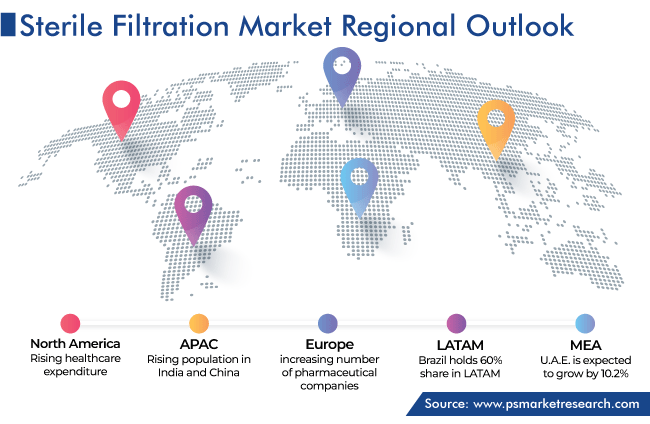 Asia-Pacific will witness the fastest growth during the forecast years, as it is considered an emerging hub for pharmaceutical companies. Additionally, the rising population of India and China has led to an increase in the usage of such technologies to purify drinking water. Moreover, India's food & beverage sector is considered one of the fastest-growing in the world, which hints at bright prospects for companies providing sterile filtration products.
Sterile Filtration Companies:
Merck KGaA
Danaher Corporation
Sartorius AG
3M
Pall Corporation
Parker-Hannifin Corporation
Thermo Fisher Scientific Inc.
Porvair Filtration Group
Sterlitech Corporation
Alfa Laval
Market Size Breakdown by Segment
This report offers deep insights into the sterile filtration market, with size estimation for 2017 to 2030, the major drivers, restraints, trends and opportunities, and competitor analysis.
Based on Product
Membranes
Cartridge Filters
Capsule Filters
Syringe Filters
Bottle-Top & Table-Top Filtration Systems
Accessories
Based on Membrane Type
Polyvinylidene Fluoride (PVDF)
Polyethersulfone (PES)
Nylon
Polytetrafluoroethylene (PTFE)
Mixed Cellulose Ester
Cellulose Acetate
Based on Membrane Pore Size
0.2–0.22 µm
0.45 µm
0.1 µm
Based on Application
Bio-Process
Pre-Filtration
Fill–Finish Process
Utilities Filtration
Virus Filtration
Based on End User
Pharmaceutical & Biopharmaceutical Companies
Food & Beverage Companies
CMOs & CROs
Academic & Research Laboratories
Geographical Analysis
North America
Europe

Germany
U.K.
France
Italy
Spain

Asia-Pacific

Japan
China
India
South Korea
Australia

Latin America
Middle East and Africa

Saudi Arabia
South Africa
U.A.E.