Market Overview
The sports drinks market size stood at $24,656.8 million in 2021, and it is expected to advance at a compound annual growth rate of 6.0% during 2021–2030, to reach $41,833.8 million by 2030.
The growth can be primarily ascribed to the surge in the consumer inclination toward physical wellbeing and increase in the number of fitness centers and health clubs. According to the International Health Racquet and Sportsclub Association (IHRSA), there were approximately 32,270 health clubs in the U.S. in 2021.
Sports drinks are a kind of functional drinks specifically manufactured to provide carbohydrates, electrolytes, and minerals to athletes. Water and electrolytes are lost in the form of sweat; in order to replenish the levels, athletes require sports drinks. Manufacturers are, hence, increasing their focus on expanding their product portfolio by adding novel flavors with added health benefits. Moreover, due to the rising health concerns, the demand is expanding for nutritious, low-calorie drinks prepared from natural ingredients.
An increasing number of health-conscious consumers are willing to pay more for healthy products, which is prompting F&B companies to widen their portfolios. Children sweat more than adults while exercising; however, they still do not require such beverages. Moreover, when not performing vigorous exercise, such drinks can increase their chances of being affected from various health problems.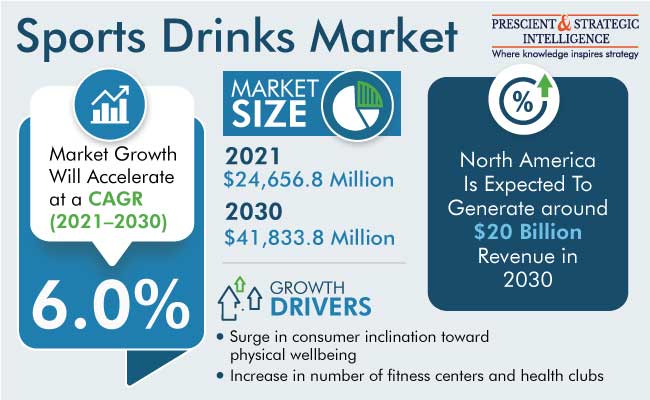 The popularity of sports drinks is essentially increasing due to the rising focus on improving the performance and endurance among athletes. Regular consumption of sports drinks in 2020 was observed in approximately 61.7% of the sportspersons, and it is expected to further increase during the forecast period. The consumers of sports drinks are inclining toward products with natural sweeteners, to curb their calorie consumption. This offers an opportunity for sports drinks manufacturers to focus on this segment, for optimizing their revenue.
The product demand is primarily driven by the requirements for instant energy during physical activities. According to Food Institute, in 2021, sales of sports drinks increased by up to 14.3% on a dollar basis, to almost $5 billion.
North America Has Largest Consumers Of Sports Drinks
North America has the leading position in the sports drinks market, and it will hold the same position till 2030, with a value of around $20 billion.
This is attributed to the large chunk of the population participating in physical activities, due to the rising concerns about physical wellbeing. The rapid adoption of healthy lifestyles and the strong foothold of various key players are the other key factors propelling the industry growth in this region.
In North America, the U.S. holds the leading position, and it will grow with a CAGR of more than 6%, attributed to the large-scale production of sports drinks using natural sweeteners. Additionally, the millennial population is showing an interest in sports and purchasing healthy drinks, which is encouraging manufacturers to produce more healthy products.
Moreover, North America exhibits a considerable growth potential because a large number of people are employed in physically demanding jobs, which is why they extensively consume sports drinks to boost their productivity. According to reports, in 2022, in the U.S., about 10 million people are working in the construction industry. They require sports drinks because of the intense physical activity and long working hours associated with this sector.
The market is also growing because a large number of people have joined fitness clubs, which is why they require sports drinks to restore their glycogen levels. More than 184 million people were members of approximately 210,000 fitness clubs. This shows that many people are involved into physical activities, thus, they require sports drinks to restore glucose and necessary fluids. Sports drinks are necessary to help reduce fatigue and stay hydrated during workouts, especially on hot and humid days.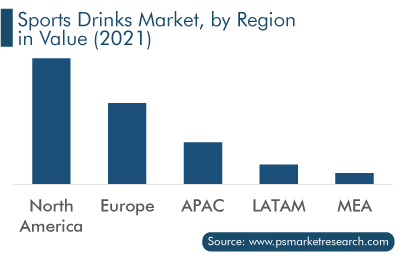 The Asia-Pacific region is expected to show significant development because of the increasing sports-playing population and rising awareness of the benefits of fitness activities. The rapid urbanization and increasing number of middle-class consumers, who are now undergoing a significant change in their lifestyles, especially in developing countries, such as India and China, are also driving product sales. These two economic powerhouses, along with Japan, also hold major shares in the region due to their large young populations.
Moreover, governments organize various sports competitions at the national and international level, along with events to create awareness about sports, which has driven the growth in sports drink consumption in these nations.
Isotonic Drinks Are Consumed At Larger Scale
Isotonic drinks hold the largest share, around 60%, due to the increasing demand for them and rising focus on their quality. Isotonic drinks contain the same concentrations of sugar and salt, whereas hypertonic and hypotonic contain higher and lower concentrations by volume, respectively.
Moreover, isotonic drinks provide carbohydrates and aid in quickly replacing the fluids lost during high-intensity-interval training sessions. This type of drink is mostly preferred by athletes, especially middle- and long-distance runners and those involved in team sports.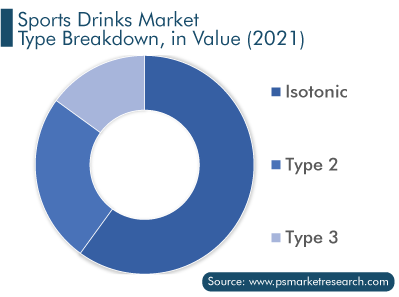 Metal Packaging Holds Largest Share
Metal packaging dominates the packaging segment due to its durability and minimal product damage during transportation over long distances. Additionally, the growing adoption of environment-friendly products and metal packaging's ability to maximize the space during shipping and storage drive the growth of the market. Likewise, it possesses the ability to resist corrosion and act as a barrier to gases, light, temperature, and odor.
Metal packaging is infinitely recyclable, with minimal loss of properties, and it also keeps products the inside in a better condition. It is preferred because of its structure and resistance to wear and tear during transport. Such packaging is mostly made of tin, to promote recycling. They are suitable for all types of products, including beverages, soups, and even canned fish.
Supermarkets Make Largest Contribution in Revenue Generation
Supermarkets hold the largest share because they provide a wide variety of products, thus allowing customers to compare prices and select as per choice. Moreover, it is more convenient to wander around a supermarket, and most of the time, the desired products are available. Moreover, supermarkets offer a lot of facilities, ranging from multiple payment options to home deliveries. According to reports, in 2020, about 85% of the people in the U.S. preferred shopping from supermarkets, despite the raging COVID-19 pandemic.
Sports Drinks Market Report Coverage

| | |
| --- | --- |
| Report Attribute | Details |
| Historical Years | 2017-2021 |
| Forecast Years | 2022-2030 |
| Market Size in 2021 | $24,656.8 Million |
| Revenue Forecast in 2030 | $41,833.8 Million |
| Growth Rate | 6.0% CAGR |
| Report Scope | Market Trends, Drivers; Revenue Estimation and Forecast; Segmentation Analysis; Companies' Strategic Developments; Market Share Analysis of Key Players; Company Profiling |
| Segments Covered | By Type; By Packaging Type; By Distribution Channel; By End User; By Region |
Explore more about this report - Request free sample pages
Athletes Are Major Consumers
Athletes are the major consumers of sports drinks because of the latter's role in hydration, nourishment, and electrolyte recovery. The increasing athlete population in developing countries is a key contributing factor for the rising demand for sports drinks. about 500,000 college athletes competed for about 1,100 member schools in the 50 states of the U.S.
Whenever an athlete is engaged in prolonged physical activity, they need sports drinks to regain their strength, enhance their focus, and maintain muscle protein levels.
Rising Focus of Manufacturers on Introducing New Healthy Products
As health and wellness are trending among people globally, healthy sports drinks are in a great demand. Therefore, manufacturers are focusing more on innovations and launching novel products, in order to fulfill the nutritional demands of consumers. The new products launched had additional key ingredients i.e. branched-chain amino acids, creatine, vitamin B12, and 50% more ION4 electrolytes that are beneficial for the consumers.
The product is suitable for pre-workout power, mid-session sip, and post-workout power. It contains electrolytes and B3+B6 vitamins to aid in focus and exercise recovery.
Top Sports Drinks Producers Are:
The Kraft Heinz Company
MyDrink Beverages
The Coca-Cola Company
PepsiCo Inc.
GlaxoSmithKline plc
Abbott Laboratories
AJE Group
Global Sports Drinks Market Size Breakdown by Segment
The study offers a comprehensive market segmentation analysis along with market estimation for the period 2017-2030.
Based on Type
Isotonic
Hypertonic
Hypotonic
Based on Packaging Type
Based on Distribution Channel
Hypermarkets and Supermarkets
Retailers
Online Channels
Based on End user
Athletes
Casual Consumers
Geographical Analysis
North America
Europe

Germany
France
U.K.
Italy
Spain

Asia-Pacific

China
India
Japan
South Korea
Australia

Latin America
Middle East and Africa

Saudi Arabia
South Africa
U.A.E.