Market Overview
The global seasonings and spices market was valued at USD 37,290 million in 2022, and it is projected to reach USD 56,796 million by 2030, advancing at a CAGR of 5.4% during 2022–2030. This is attributed to the surging awareness of the medical benefits of spices, the increasing need for ethnic cuisines, and the rising popularity of convenience foods.
France is among the five largest markets in Europe and is also a very important market for organic foods and beverages. The country not only imports spices from developing countries but also produces and exports culinary herbs. Consumers in the country are relatively more receptive to convenience foods than those in other European countries. People below the age of 35 years are more experimental in nature in terms of food and, therefore, are generally more interested in knowing new ways of using seasonings and spices in cooking.
Online marketing campaigns as a revenue expansion strategy are in trend. Online or internet advertising requires the use of the internet for providing marketing solutions to users through digital marketing and social media. Many seasoning and spice companies have started online advertising campaigns to encourage consumers to create new recipes at home.
In order to gain popularity, many firms are adopting different ways, such as creating their apps for product recipes, organizing online contests, and posting on social media, to connect with consumers and increase consumer engagement, which would further help in establishing brand identity in their minds.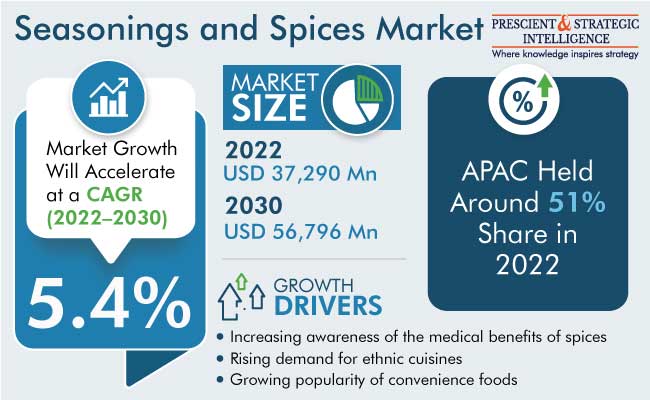 Whole Seasonings and Spices Are Mostly Preferred
The whole category held a larger share, of 52%, in 2022. Whole seasonings and spices offer the convenience of processing, from both the industrial and the residential perspective. Owing to this factor, their demand is growing across different end users, including industrial, food service, and retail sectors. In this category, sesame is high in demand, owing to the high consumption of sesame in Asian countries and the growing usage of sesame seeds in Mediterranean cooking. Protein, vitamins, minerals, and antioxidants are all abundant in sesame seeds. To give certain recipes a nutty flavor and crunchy texture, they are frequently added.
Lignans and phytosterols, which are plant substances that can aid in lowering cholesterol, are found in sesame seeds. Additionally, phytosterols are considered to improve immune function and lower the chance of developing certain cancers. Researchers found that out of all the nuts and seeds that are commonly eaten in the U.S., sesame seeds have the highest total phytosterol content with 400–413 milligrams per 100 grams.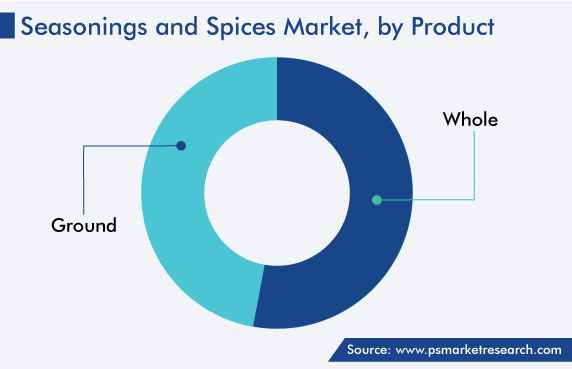 Demand for Ground Seasonings and Spices To Witness Faster Growth
The ground category is predicted to grow at a higher CAGR, of 5.7%, during the forecast period. In this category, chili powder is in high demand, as it is heavily used in meat-consuming countries from the Asia-Pacific region. In addition, the international trade of chili powder is growing significantly and it is frequently utilized in both domestic and commercial settings. Also, professionals can extract oil and oleoresin from chilies and then turn them into powders that can be used as powdered spices.
Moreover, chili is also used in the pharmaceutical and cosmetics industry. Capsaicin, the hot-producing chemical in chili peppers, is utilized as an analgesic in topical creams, nasal sprays, and dermal patches. Also, lipsticks are made from red hot chilies, also referred to as Byadagi chilies. These chilies' pods are used to extract an ingredient called oleoresin oil, which is used to make lipsticks. One ton of Byadagi peppers can yield roughly 50 liters of oleoresin.
Meat & Poultry Products Are in High Demand
Meat & poultry products held the significant share in 2022. Poultry meat stands out as the most widely produced meat in recent years. In 2020, 40.6% of total meat production, which is almost 350 million tons, belongs to the poultry group. Due to enormous investment, it is projected that output in China has increased by around 12% to 26 million tons; similarly, the production in America has climbed by about 1.6% annually.
Growing Popularity of Convenience Foods
Convenience foods refer to processed foods that are easier to prepare and have a longer shelf life. Factors such as long working hours, an increase in the number of people living alone, and busy lifestyles have boosted the demand for food-service establishments that can deliver quick and competent service to customers. Since convenience foods are easily accessible, they help in saving time and energy for cooking at home and ordering food from restaurants. In addition, innovative packaging options are also contributing to the availability of ample food options in the market, such as chilled, frozen, and packaged.
The growing popularity of convenience foods worldwide is likely to boost the growth of this industry, as it is witnessing an increase in the consumption of processed food products. There has been an increase in consumer spending on confectionery products, baked goods, and ready-to-eat and ready-to-fry foods, particularly in developed economies. As a result, industries related to confection, baking, and processed foods are increasingly purchasing seasonings and spices.
Growth Opportunity
Nowadays, people, especially in developed countries, eat for pleasure rather than for survival. Changing demographic composition has presented players in the food industry with a great opportunity to offer a vast assortment of ethnic cuisines to palates demanding variation (in terms of flavors), and the response of the market has also been phenomenal. Ethnic cuisines are expected to play a significant role in the food industry in the near future, as restaurant operators continue to modify their menus to satisfy the ever-changing taste buds of their consumers.
With expanding multicultural inhabitant base across different geographies, people are traveling more than ever to exotic destinations to explore regional cuisines. This clearly indicates the growing demand for spices and seasonings in these markets. Some of the spices and seasonings that are increasingly adopted by restaurants and food vendors across the world to enhance the flavors of their ethnic cuisines are ginger, pepper, and anise (Chinese food); chili, curry, and cardamom (Indian food); cassia cloves, cinnamon, and nutmeg (Thai food); and chili, ginger, fennel, and pepper (Vietnamese food). All in all, changing demographic composition worldwide is offering profitable investment opportunities to spice vendors.
Seasonings and Spices Market Report Coverage

| | |
| --- | --- |
| Report Attribute | Details |
| Historical Years | 2017-2022 |
| Forecast Years | 2023-2030 |
| Market Size in 2022 | USD 37,290 Million |
| Revenue Forecast in 2030 | USD 56,796 Million |
| Growth Rate | 5.4% CAGR |
| Report Scope | Market Trends, Drivers, and Restraints; Revenue Estimation and Forecast; Segmentation Analysis; Impact of COVID-19; Companies' Strategic Developments; Market Share Analysis of Key Players; Company Profiling |
| Segments Covered | By Product; By End Use; By Application; By Region |
Explore more about this report - Request free sample pages
APAC Held the Largest Share
The APAC seasonings and spices market is projected to account for the largest share, of 51%, in 2022. The region is the largest producer and consumer of seasonings and spices across the globe. The regional market is rapidly growing, owing to the heavy consumption of seasonings and spices in South Asian countries, the surging spice consumption in the Far East, and the rising production of seasonings and spices in Asian countries.
India is one of the largest producers as well as consumers of seasonings and spices in the world. High consumption of whole and ground seasonings and spices in India is attributed to its large population, which prefers using spices in cooking, and the growing food service sector, where seasonings and spices are significantly consumed. From the supply side, industry growth is driven by the presence of a large production base and supportive government initiatives.
Japan depends on imports for its entire supply of unprocessed seasonings and spices. Whole seasonings and spices are largely imported in Japan as compared to their ground form. However, most of the imported spices are pulverized into fine powder to satisfy the taste buds of Japanese customers. The growing demand for spices in the food service and retail sectors is driving the growth of the market in the country. Besides, the growth in the population of South Asian communities in Japan having a strong preference for seasonings and spices can also be seen as one of the key drivers for the market.
The European region held the second-largest share in 2022. Consumers in the region believe in a healthy lifestyle and therefore look for seasonings and spices that comply with quality and food safety standards. Due to the scarcity of raw materials, the European marketplace is expected to offer ample growth opportunities to seasoning and spice suppliers. Besides, importers in the region are showing great interest in long-term partnerships with suppliers to bridge the gap in the supply chain.
With technological advancements and increasing incidences of food safety scandals, it is increasingly becoming tough for new players to enter the European market. Strict buyer requirements, in terms of high-quality products, often act as a barrier for new players entering the market. Though there are stringent rules and regulations, the credibility of the industry has not decreased. As a result, the European market will continue to grow during the forecast period and will also offer growth opportunities to small- and medium-sized enterprises.
With the rising demand for new and exotic tastes along with organic flavors, the industry in the U.K. is expected to enjoy a fair rate of growth during the forecast period. Owing to the growing scarcity of seasonings and spices in the country, the market offers ample growth opportunities to vendors operating in the nation as well as to suppliers from developing countries, mainly in ready-to-use and convenience food categories. Moreover, Germany is a trade hub for a range of seasonings and spices. With changing consumer preferences and the rising clean-label trend in the country, vendors operating here are increasingly adding clean-label products to their portfolios.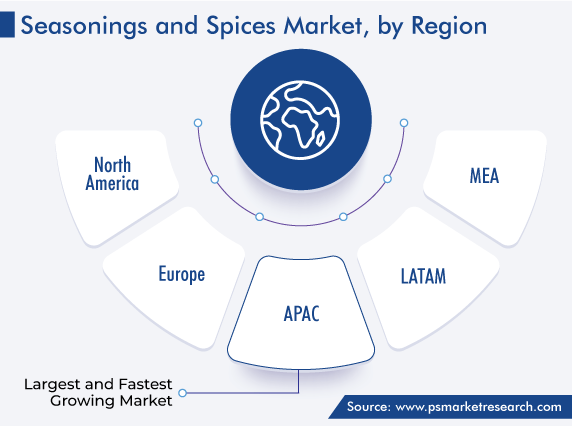 Top Seasonings and Spices Producers Are:
McCormick & Company Incorporated
Olam Food Ingredients
Ajinomoto Co. Inc.
Kerry Group PLC
ARIAKE JAPAN Co. Ltd.
Sensient Technologies Corporation
Döhler Gmbh
SHS Group
Everest Food Products Pvt. Ltd.
Seasonings and Spices Market Size Breakdown by Segment
This fully customizable report gives a detailed analysis of the seasonings and spices market from 2017 to 2030, based on all the relevant segments and geographies.
Based on Product
Whole

Aniseed
Chili flakes/pepper
Chives
Cinnamon
Cumin
Dill
Fennel
Parsley
White poppy seeds
Blue poppy seeds
Sesame
Rosemary
Thyme
Tarragon
Vanilla
Saffron
Ginger
Others

Ground

Black pepper
White pepper
Basil
Chili powder
Coriander
Marjoram
Oregano
Paprika
Mint
Sage
Turmeric
Others
Based on End Use
Industrial
Food service
Retail
Based on Application
Meat & Poultry Products
Snacks & Convenience Food
Soup
Sauces
Based on Nature
Geographical Analysis
North America
Europe

U.K.
Germany
France
Italy
Spain

Asia-Pacific

China
Japan
Australia
India
South Korea

Latin America
Middle East & Africa

Saudi Arabia
South Africa