Market Overview
The specialty enzymes market size stood at $4,981.2 million in 2022, and it is expected to grow at a compound annual growth rate of 7.6% during 2023–2030, to reach $8,921.8 million by 2030. This is ascribed to the surging use of these enzymes for the development of drugs, the increasing need for non-hazardous organic catalysts in the pharma and diagnostics sectors, and the rising prevalence of chronic health disorders across the globe.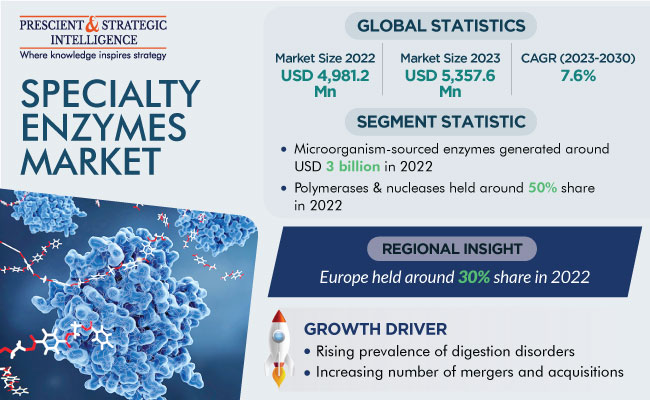 Moreover, various benefits related to these enzymes across various applications and the technological innovation to reduce the consumption of chemical catalysts are contributing to the growth of the industry. Specialty enzymes act as biocatalysts to accelerate the speed of reactions and to accomplish desired results in the diagnostics and pharmaceutical industries. Various types of enzymes, such as lipases, proteases, carbohydrases, polymerases, and nucleases, are widely used in pharmaceutical, research, biotechnology, and diagnostics applications.
Post-pandemic, several development strategies adopted by biotech research companies and drug manufacturers are set to benefit the healthcare industry and are expected to result in robust specialty enzymes market growth during the forecast period. For instance, companies have intensively started working on expanding their portfolio with new products beneficial to the treatment of chronic diseases and enhancing their production capacity.
In addition, enzymes from extremophiles are creating interest among researchers, as these organisms possess exceptional properties and catalysis power at extreme conditions. These extremophiles are a source of biocatalysts, which can be widely utilized in biotechnological applications, including phosphatases, esterases/lipases, nitrilases/amidases, glycosidases, aldolases, thermostable DNA polymerases, and racemases, and are also used in mining processes and biofuel production.
Therefore, with intensified community demand, researchers are using different methods, for instance, metagenomics, to increase the database of extremophilic species. Additionally, consistent innovations are being made in naturally occurring enzymes employing various tools, such as protein engineering and DNA technology, which allow the restructuring of enzymes for their better fit or alignment into several processes.
High Usage in Drugs Manufacturing
Enzymes play a crucial role in various applications in the healthcare industry from the diagnosis of diseases to drug manufacturing. Here, biocatalysts are an evolving technology for the invention of small molecule active pharmaceutical ingredients (APIs) and are used on a huge scale to make specialty compounds. Thus, the development and accessibility of a large number of enzymes to biological chemists have made bio-catalysis a more lucrative and feasible manufacturing option.
One of the significant factors behind the burgeoning specialty enzymes market is the high demand for such enzymes in the pharma industry to manufacture medicines for fatal diseases such as CVD, cancer, and lysosomal storage disorders. Hence, the continuous increase in the prevalence of such life-threatening diseases coupled with the growing aging population worldwide is likely to accelerate the demand for drugs, which, in turn, boosts the need for specialty enzymes.
Research & Biotechnology Category To Witness Significant Growth
Based on application, the research & biotechnology category is projected to surge at a significant CAGR in the coming years. This can be due to the developments in diagnostic tests, the reduction in DNA sequencing costs, an increase in testing of food and beverages, agricultural, and therapeutic products, and giant pharmaceutical players continue boosting R&D expenditure on biologics for the expansion of novel drug pipelines.
Further, various international enzyme manufacturers such as Biocatalysts Ltd., Novozymes, and Codexis Inc. have been also increasing their investment for developing specialty enzymes; and continual hefty expenditures in genetics and biotechnology by pharma firms, as they depend on biotechnology to overcome complications in offering effective innovative small molecules for medicines, are the key factors driving the market growth in this category.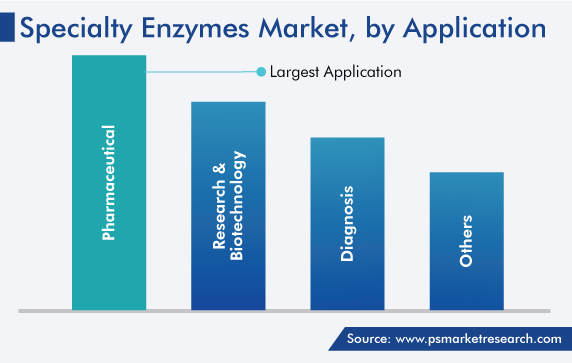 Specialty Compounds Are Majorly Sourced from Microorganisms
Based on source, the microorganisms category captured the largest market value, around USD 3 billion, in 2022, and it is also expected to grow at a high rate in the coming years. This is because enzymes brought out from microbial sources result in lower production costs and can be cultured in bulky quantities within a short span of time, and also contain larger predictable and manageable enzyme content.
High Revenue Generation from the Polymerases & Nucleases Category
Based on type, the polymerases & nucleases category dominates the market. This is because these enzymes catalyze the synthesis of DNA and RNA, as they are essential for all nucleic acid processing, which includes repetition, restoration, recombination, and transcription; and these are increasingly used in the fields of pharmaceuticals, biotechnology R&D, diagnostics, and biocatalysts. Moreover, the augmented use of such enzymes in advanced biotech applications such as DNA amplification and sequencing is expected to boost the market growth in this category during the forecast period.
Furthermore, the proteases category is expected to exhibit significant growth over the forecast period, owing to their escalating use in the development of drugs. Proteases are considered as the expanding group of drugs and are used for the treatment of cancer, dermal ulcers, cystic fibrosis, heart problems, digestive ailments, and inflammation. Historically, 12 protease therapies were approved by the U.S., and many next-generation or entirely new proteases are also in therapeutic development. Further, the proteases offered in the market are of microbial origin and cost-effective, have high yield, require less space, and have genetic manipulation that has made them appropriate for biotechnological application.
Specialty Enzymes Market Report Coverage

| | |
| --- | --- |
| Report Attribute | Details |
| Historical Years | 2017-2022 |
| Forecast Years | 2023-2030 |
| Market Size in 2022 | USD 4,981.2 Million |
| Market Size in 2023 | USD 5,357.6 Million |
| Revenue Forecast in 2030 | USD 8,921.8 Million |
| Growth Rate | 7.6% CAGR |
| Report Scope | Market Trends, Drivers, and Restraints; Revenue Estimation and Forecast; Segmentation Analysis; Impact of COVID-19; Companies' Strategic Developments; Market Share Analysis of Key Players; Company Profiling |
| Segments Covered | By Type; By Source; By Application; By Region |
Explore more about this report - Request free sample pages
North America Captures the Largest Market Share
Globally, the North American market accounted for the largest revenue share, of 45%, in 2022, and it is projected to grow at a CAGR of 7% during the forecast period. This is attributed to the technological progressions that made enzymes available across an extensive range of applications, the development of innovative and high-performance products, high economic growth, the presence of key industry players, and the growing pharmaceutical industry, in the region.
Moreover, over the past few years, the annual growth in demand for newly approved drugs, including specialty drugs, for the treatment of chronic and severe conditions, has increased in the region. Also, due to the rising number of chronic diseases and age-related pains and problems, the use of these drugs is rising, thereby, augmenting the regional market growth. In North America, the U.S. is a market leader, owing to the well-established pharma industry in the country, in terms of innovative drug development, manufacturing, and revenue generation. For instance, in 2019, the country invested USD 83 billion in R&D of pharmaceuticals.
Whereas, the APAC market is projected to witness the fastest growth in the coming years. This can be because emerging economies of APAC are expected to create a lucrative revenue generation, owing to higher government initiatives such as health awareness programs and the growing elderly population. This population proportion is vulnerable to certain metabolic disorders and diseases that would lead to a huge targeted patient base. This perspective is expected to boost the demand for specialty enzymes in the future.
For instance, as per an internal government organization, China's pharmaceutical market has been continually expanding and is projected to attain a market value of around USD 160 billion by the end of 2023, which will account for more than 30% share of the worldwide pharmaceutical market. Therefore, the booming pharma industry is expected to boost innovation, acceptance, and growth in demand for specialty enzymes over the forecast period.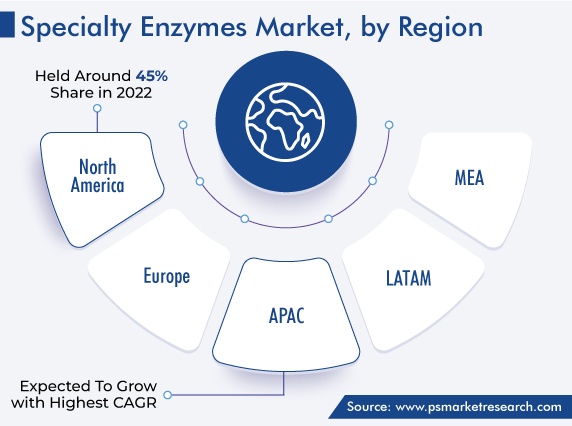 Key Specialty Enzymes Manufacturers Are:
Amano Enzyme Europe Limited
BASF SE
BBI Solutions
Biocatalysts Ltd.
Codexis Inc.
DuPont de Nemours Inc.
F. Hoffmann-La Roche Ltd.
Koninklijke DSM N.V.
Novozymes
Specialty Enzymes & Probiotics
Market Size Breakdown by Segment
This fully customizable report gives a detailed analysis of the specialty enzymes industry from 2017 to 2030, based on all the relevant segments and geographies.
Based on Type
Carbohydrase
Protease
Lipase
Polymerase
Nuclease
Based on Source
Microorganisms
Plants
Animals
Based on Application
Pharmaceutical
Research & Biotechnology
Diagnosis
Geographical Analysis
North America
Europe

Germany
U.K.
France
Italy
Spain

Asia-Pacific

Japan
China
India
South Korea
Australia

Latin America
Middle East and Africa

Saudi Arabia
South Africa
U.A.E.