Market Overview
The global sodium hydroxide market revenue has been estimated at USD 51.8 billion in 2023, which is expected to observe a CAGR of 4.9% during 2024–2030, to reach USD 71.8 billion by 2030.
The growth of this market is primarily driven by the booming residential and non-residential construction activities globally. Here, the chemical is used to produce concrete with a high compressive strength.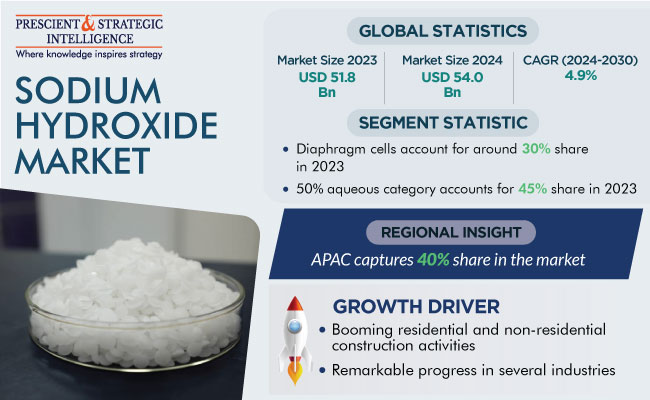 Moreover, the remarkable progress in several industries, such as textiles, medical devices & pharmaceuticals, food & beverages, and paper & pulp is a key factor driving this growth. Moreover, the demand for this chemical for the production of cleansers, soaps, paper, detergents, rayon, explosives, dyes, and petroleum products drives its consumption around the world. It is also used in processing cotton fabrics, oxide coatings, electroplating, dry-cleaning & bleaching, metal cleaning & processing, and electrolytic extraction. Furthermore, according to the Food and Drugs Administration (FDA), caustic soda is a safe additive for food products, where it acts as a pH control agent.
Moreover, a recent study found that the compound is effective in the treatment of prion disease (such as mad cow disease, or bovine spongiform encephalopathy, and kuru). The use of the compound has been shown to substantially decrease the levels of prion in an in vitro inactivation assay. After pretreating the SBH with a detergent, NaOH can completely remove the PrPRES signal.
In addition, the market is projected to exhibit growth as a result of the rising population, expanding building and automotive industries, strengthening economic climate, and increasing demand for alumina and textiles. The consumption of NaOH is also expected to experience expansion in the waste management and water purification industries as a result of the rising awareness of environmental and water conservation.
Moreover, the growth in the paper & pulp industry is a major reason for the advance of the market. According to the International Energy Agency, global paper production reached a record peak in 2021 of 415 million tonnes, a 4% increase from 2020. This industry crates wood pulp via the soda pulping method, with the use of caustic soda as the cooking chemical.
Growing Demand for Aluminum Oxide
The demand for aluminum oxide is rising in numerous sectors, such as automobiles and construction, for the manufacturing of body frames, electrical wiring, wheels, lamps, paints, transmissions, air conditioner condensers, anti-corrosion materials, and wear- and abrasion-resistant parts. This is because it is a cost-effective product and offers high durability, low heat radiation, and high stability at elevated temperatures.
According to the International Aluminium Institute, the production of aluminum was 5,861 thousand metric tonnes in July 2023. Building & construction, transportation, and container & packaging are three of aluminum's primary end-use sectors. The metal is used to create frames for doors & windows, stairways, heating systems, roofing, furniture, and other items in the building & construction sector.
Caustic soda is heavily used to refine raw bauxite into the white powder of alumina, which is then smelted to make elemental aluminum. Hence, the growing consumption of aluminum for a variety of purposes is propelling the demand for sodium hydroxide for the extraction of Al2O3 from bauxite.
Steady Evolution in Chemical Industry
Chemicals are extremely significant in the daily human life, being used for the manufacturing of detergents, in textiles, fragrance products, and paints, among a whole lot of other things. Moreover, the rising demand for eco-friendly products globally could be beneficial for the chemical industry. In tandem, the demand for specialty chemicals is growing due to the surging consumption of construction, water treatment, and electronics chemicals. Moreover, the growing demand for pharmaceutical ingredients and food additives is creating a positive impact on the chemical industry, by driving the consumption of caustic soda as a raw material.
Diaphragm Cell Held Significant Market Share
The diaphragm cell category accounts significant revenue share, of 30% in 2023. This is because it produces 71% of the world's NaOH. The diaphragm cell process utilizes asbestos or its alternatives to separate co-products sodium hydroxide and chlorine. The production of 50% NaOH occurs primarily outside of the electrolytic cell.
Additionally, the diaphragm cell generates an extremely weak 'cell liquor', which comprises 12–14% NaOH by weight and a constant amount of common salt. The cell liquid is then evaporated using a three-or four-effect evaporation process, to a nominal final concentration of 50% NaOH by weight.
Sodium Hydroxide Market Report Coverage

| | |
| --- | --- |
| Report Attribute | Details |
| Market Size in 2023 | USD 51.8 Billion |
| Market Size in 2024 | USD 54.0 Billion |
| Revenue Forecast in 2030 | USD 71.8 Billion |
| Growth Rate | 4.9% CAGR |
| Historical Years | 2017-2023 |
| Forecast Years | 2024-2030 |
| Report Scope | Market Trends, Drivers, and Restraints; Revenue Estimation and Forecast; Segmentation Analysis; Companies' Strategic Developments; Market Share Analysis of Key Players; Company Profiling |
| Segments Covered | By Production Process; By Grade; By Application; By Region |
Explore more about this report - Request free sample pages
50% Aqueous Category Held Largest Market Share
By grade, the 50% aqueous category accounts for the largest revenue share, of 45%, in 2023, and it is further expected to maintain its dominance during the forthcoming period. This is because this grade is more hygroscopic and can easily adsorb moisture from the atmosphere. This is why industries that need to utilize caustic soda on a large scale prefer the 50% aqueous variant. On the industrial scale, most of the sodium hydroxide is handled as a 50% aqueous solution, which is generally sold in drums. Furthermore, 50% sodium hydroxide helps in the formation of in-situ sodium methylate in bioethanol and biodiesel processing and aids in the adjustment of the pH.
Moreover, it is handled in this form because it is easy to pump a liquid and because keeping sodium hydroxide in the solid form requires special airtight containers, which can be expensive. Further, most of the NaOH is made in the liquid form; so, it would be a wasted effort to manage it as a solid. In addition, sodium hydroxide 50% aqueous solution is used as a chemical reactant or neutralizing agent in various industries, such as pulp & paper, pharmaceuticals, textiles, metals, biotechnology, cosmetics, chemicals, food, and soaps & detergents.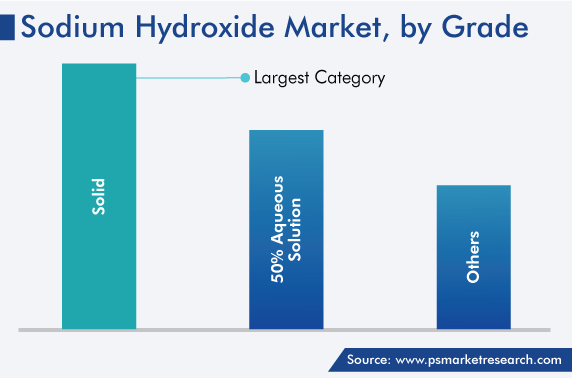 APAC Region Is Prime Revenue Contributor
The APAC region holds the largest revenue share of the market, of around 40%, in 2023. This is attributed to the rapid industrial development in the region and advancements in the field of healthcare. Moreover, the growing demand for the base chemical for several applications, such as pH adjustment and soap manufacturing, and rising government spending on the infrastructure, paper, pharmaceutical, and many other industries that use NaOH in some capacity, drive the market.
Therefore, many key players are focusing on expanding their geographical presence, by setting up new manufacturing facilities, distribution centers, and research & development centers. Moreover, the availability of numerous refineries and a large pharmaceutical industry will drive the market at a substantial CAGR.
Moreover, China is the largest revenue contributor in the APAC region, as it is the major producer and user of caustic soda in the world. It is a hub for chemical processing, accounting for a major portion of all chemicals produced globally. It is also the largest pulp- & paper-producing country in the world. Moreover, the need for bleaching chemicals is growing in the region, which will, subsequently, create a high demand for caustic soda over the next few years.
Furthermore, India will show significant growth in the APAC region, due to the rapid industrialization and the presence of a large number of aluminum manufacturers in the country. Moreover, the continuous capacity additions by NaOH producers, to meet the growing demand for it from the textiles and aluminum sectors, will drive the market. The sodium hydroxide industry in India is also expected to witness robust growth due to the rise in the number of pulp and paper mills.
Europe also makes a significant contribution to this market owing to the growing usage of this compound in alumina production and the surging demand for soaps and detergents. Moreover, Germany is leading the market for caustic soda in Europe, due to the growing demand for it in various applications, such as pulp & paper and detergents. Furthermore, the existence of a large number of key market players in the country, such as Globe Chemicals GmbH, BREWTECH GmbH, and Global Bridge Germany, creates an opportunity for the sodium hydroxide market.
Additionally, companies are taking strategic initiatives to meet the growing demand for this compound. For instance, in February 2022, Occidental Petroleum Corporation's chemical division announced a plan to increase the capacity of a few of its chlor-alkali plants to produce caustic soda with a higher value.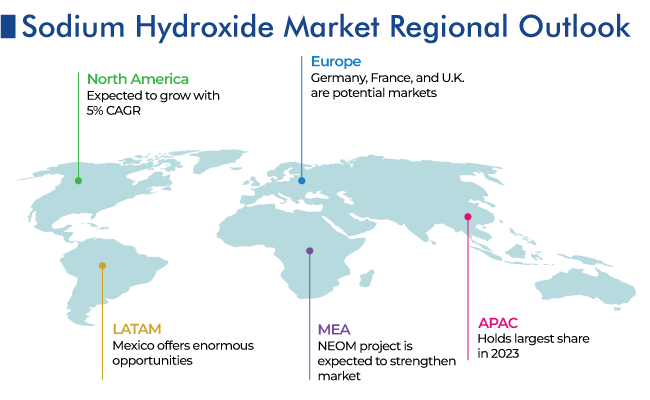 Top Providers of Sodium Hydroxide Are:
Tata Chemicals Limited
Solvay S.A.
Occidental Petroleum Corporation
Shin-Etsu Chemical Co. Ltd.
Formosa Plastics Corporation
Olin Corporation
Dow Inc.
Xinjiang Zhongtai Chemical Co. Ltd.
BASF SE
Akzo Nobel N.V.
Market Size Breakdown by Segment
This report offers deep insights into the sodium hydroxide market, with size estimation for 2017 to 2030, the major drivers, restraints, trends and opportunities, and competitor analysis.
Based on Production Process
Membrane Cell
Diaphragm Cell
Based on Grade
Solid
50% Aqueous Solution
Based on Application
Biodiesel
Alumina
Inorganic Chemicals
Organic Chemicals
Food
Pulp & Paper
Soaps & Detergents
Textiles
Water Treatment
Geographical Analysis
North America
Europe

Germany
U.K.
France
Italy
Spain

Asia-Pacific

Japan
China
India
South Korea
Australia

Latin America
Middle East and Africa

Saudi Arabia
South Africa
U.A.E.