Market Overview
The sleeping aids market size stood at $83,619.7 million in 2021, and it is expected to observe a compound annual growth rate of 7.3% during 2021–2030, to reach $157,484.5 million by 2030.
This can be attributed to the surging incidence of obstructive sleep apnea (OSA), unhealthy lifestyles of people, which is visible in the changes in sleep and diet and patterns; and immense work pressure. Additionally, the rise in the number of geriatric and obese people leads to an increase in the incidence of chronic sleeplessness. In addition, the rising count of depression, chronic illness, and anxiety patients is resulting in an increase in the number of patients with sleep disorders, which would help product demand boom. Moreover, the development of sleep apnea treatment devices, sleeping pills, and more-ergonomic mattresses and pillows would help in tapping the high insomnia burden areas in developing nations.
The COVID-19 pandemic had negatively impacted the market, due to the closure of the production facilities of the players, as a result of the implementation of lockdowns globally. Later, sales started to increase at pace in 2021, due to the emerging demand for telemedicine and teleconsultation.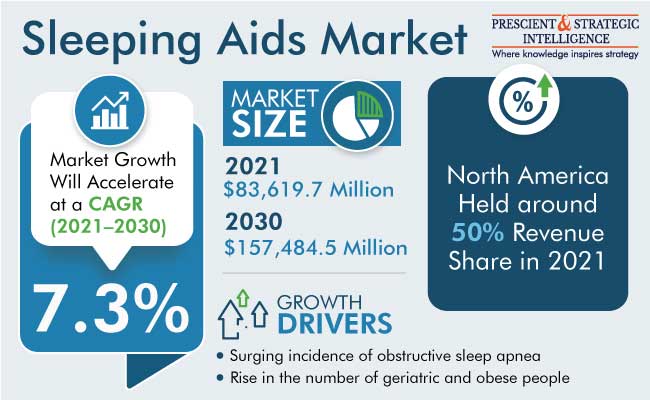 North America To Be Largest Market
Globally, the North American market held the largest share, around 50%, in 2021. The dominance of the region can be primarily ascribed to the growing incidence of sleep disorders and the initiatives and other forms of support of government and non-government organizations for increasing the awareness about the associated disorders and sleep hygiene.
As updated by the Sleep Foundation in May 2022, the two cities with the greatest rates of insomnia in the country are Camden (New Jersey) and Detroit (Michigan), where around 49% of the adults report having trouble sleeping.
Additionally, the approval of effective drugs is boosting the market's expansion. For instance, the Food and Drug Administration (FDA) approved fexinidazole as the first entirely oral treatment for both stages of the human African trypanosomiasis (HAT) caused by the Trypanosoma brucei gambiense strain of the parasite in patients aged 6 and older and weighing at least 20 kg, in 2021. Moreover, the major players in the regional market are investing huge capital to develop technologically advanced, effective, and easy-to-use sleep apnea devices.
It has been observed that changes in the lifestyle often lead to sleep disorders. In addition, the increasing consumption of tobacco, caffeine, and alcohol can affect the sleep cycle. Moreover, the high incidence of obesity, hypertension, cardiovascular diseases, and diabetes is fueling the growth of the market in the region. North America has several specialists and sleep centers, such as Carilion Clinic, Adam Moscovitch, Florida Lung, Asthma & Sleep Specialists, Oregon Sleep Associates, and Sound Sleep Health, which is a key reason the region has been lucrative for market players.
The U.S. market is expected to expand with a CAGR of over 7% during the forecast period. This is attributed to the growing incidence of related disorders and increasing patient compliance for therapeutic drugs and devices. Additionally, the innovations in these products, along with the efforts to make citizens aware of apnea by different states, are boosting the growth of the U.S. market.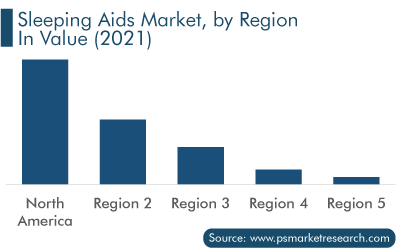 Mattresses and Pillows Contribute Majority of Global Revenue
Mattresses and pillows held a considerable share, over 40%, in 2021. A wide variety of mattresses and pillows developed by local as well as international manufacturers is available around the world. Moreover, these products are cost-effective, which leads to their wide adoption among the population.
The Chinese market for products that aid the sleep-deprived is growing at a high pace, especially with young people looking to increase the quantity and quality of their slumber. This propels the demand for smart mattresses, obstructive sleep apnea machines, and melatonin, a hormone that can induce sleep.
With an increasing number of people suffering from sleep disorders in China, companies such as Xilinmen and Xiaomi are putting more efforts into scientific research and development to offer better products. Moreover, players are focusing on exploring the potential effects of advanced technology on sleep time. For instance,
Pillow Cube has launched the Dream Machine, under its Pillow Cube brand. The product utilizes AI to adjust to sleep. It detects stimuli from outside the patient's body and leverages machine learning to create an environment that can aid in optimal sleep, by playing sounds that people find soothing and detecting snoring.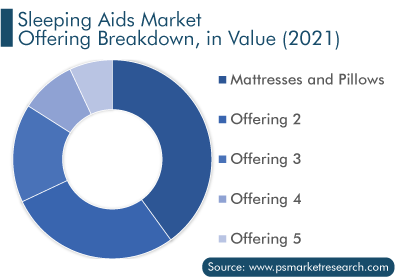 Growing Adoption of Wearable Monitors and Sensors
The growing adoption of wearable monitoring devices and sensors is one of the key drivers for the global market. These devices help record and transmit data related to various physiological conditions, for monitoring and measuring the sleep quality. Some of the wearable monitors and sensors available are Sense Wear Armband by Jawbone, BioHarness by BIOPAC Systems Inc., LifeShirt by Aegis Limited, Zio XT by iRhythm Technologies Inc., and LifeVest by ZOLL Medical Corporation.
They are designed to record data about a person's sleep in their natural environment over a long period. In order to quantify aspects such as sleep/wake cycles, end users are increasingly employing wearable gadgets.
Moreover, these wearable monitors and sensors are easy to use and do not require any special skill to operate them, thus making them popular among patients suffering from such disorders. Therefore, with the rising support for the usage of such instruments to monitor sleep health, the demand for sleeping aids is expected to grow.
Sleeping Aids Market Report Coverage

| | |
| --- | --- |
| Report Attribute | Details |
| Historical Years | 2017-2021 |
| Forecast Years | 2022-2030 |
| Market Size in 2021 | $83,619.7 Million |
| Revenue Forecast in 2030 | $157,484.5 Million |
| Growth Rate | 7.3% CAGR |
| Report Scope | Market Trends, Drivers, and Restraints; Revenue Estimation and Forecast; Segmentation Analysis; Impact of COVID-19; Companies' Strategic Developments; Market Share Analysis of Key Players; Company Profiling |
| Segments Covered | By Offering; By Sleep Disorder; By Region |
Explore more about this report - Request free sample pages
APAC Is Likely To Witness Fastest Growth in Coming Years
The Asia-Pacific market size was around $15 billion in 2021, and it will witness the highest CAGR over this decade. Various sleeping disorders, including insomnia, sleep apnea, restless leg syndrome, sleepwalking, and narcolepsy, require intervention, to prevent them from taking a serious form.
Moreover, products that help treat or manage sleep apnea generated the highest revenue in the regional industry in 2021, since a rising population in the region is experiencing obstructed breathing while sleeping.
Essentially, the industry revenue has been increasing in APAC due to the high consumption of sleeping pills as a result of the changing lifestyles, growing sleep disorder awareness, and long working hours. Further, due to the rise in the geriatric population, more people in the region are dealing with sleep-related problems than before, thus leading to an increase in the sale of sleeping aids.
Additionally, many organizations, such as the Indian Sleep Disorders Association (ISDA), Hong Kong Society of Sleep Medicine, and Asia-Pacific Pediatric Sleep Alliance, s have been creating awareness about sleep disorders. In particular, the ISDA conducts the Sleepcon conference to educate citizens on the newest concepts and trends in sleep disorder management every year.
Key Players in Sleeping Aids Market Are:
Cadwell Industries Inc.
Compumedics Limited
Drive DeVilbiss Healthcare Inc.
Koninklijke Philips N.V.
Merck & Co. Inc.
Natus Medical Inc.
Takeda Pharmaceutical Company Limited
SleepMed Inc.
Fisher & Paykel Healthcare Limited
Lowenstein Medical Technology GmbH
Market Size Breakdown by Segment
The study offers a comprehensive market segmentation analysis along with market estimation for the period 2017-2030.
Based on Offering
Mattresses and Pillows
Sleep Laboratory Services
Medication

Prescription drugs
Over-the-counter (OTC) drugs
Herbal remedies

Sleep Apnea Devices

Positive airway pressure (PAP) devices
Facial interface
Oral appliances
Adaptive servo-ventilators (ASVs)
Based on Sleep Disorder
Insomnia
Sleep Apnea
Restless Legs Syndrome (RLS)
Narcolepsy
Sleep Walking
Geographical Analysis
North America
Europe

Germany
U.K.
France
Italy
Spain

Asia-Pacific

Japan
China
India
South Korea
Australia

Latin America
Middle East and Africa

Saudi Arabia
South Africa
U.A.E.