Market Overview
The global skin health foods market was valued at USD 2,048.3 million in 2022, which is expected to reach USD 3,438.9 million by 2030, growing at a CAGR of 6.7% during 2022–2030.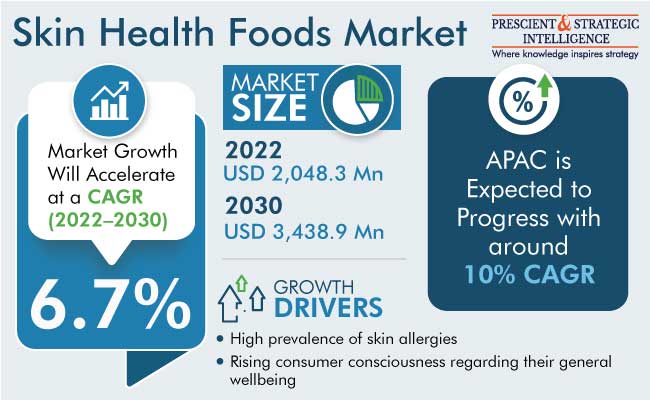 The key factors credited for the sector's growth include the high prevalence of allergic diseases, rising consumer consciousness regarding their general wellbeing, expanding research and development on and production of functional food and beverage products, and surging consumption of nutrient-rich edible items to promote overall fitness. Additionally, the development of novel methods to produce high-value natural carotenoids, the emergence of alternative omega-3 sources, and the expansion of emerging nations' retail industries are all generating attractive prospects for the top competitors.
Skin health foods are essential since despite having the recommended daily intake, most individuals simply do not get enough of the critical elements that are required to maintain a healthy epidermis, such as vitamin A, omega-3 fatty acids, and vitamin C, through their diets. Vitamin C is essential for preventing scurvy. Moreover, even when significant amounts of fish are ingested each week for omega-3s, pure liver is consumed twice each week for vitamin A, and fresh orange juice is consumed on a daily basis for vitamin C, there are numerous conditions that can alter how well the nutrients are absorbed. These conditions include the consumption of alcohol and caffeine, bad gut flora, and smoking or use of any other tobacco item.
People today are more self-conscious of their appearance, since it plays a huge role in boosting their confidence. To protect and brighten the epidermis and lessen the appearance of acne, wrinkles, and fine lines, people are choosing to invest more in such products. Hence, the industry advance is predicted to be boosted over the coming years by the growing physical appearance concerns among individuals, the increasing popularity of meals meant for epidermal wellness, and the increasing knowledge of the health advantages of supplements for aesthetics and beauty purposes. Additionally, due to the expanding consumer awareness of cosmetics and the transition to online shopping, the revenue of this industry is booming.
Expansion in Research & Development and Production Capacity To Drive Sales Growth
Globally, functional food producers are paying close attention to the quickly expanding demand for ingredients such prebiotics, probiotics, vitamins, minerals, phytochemicals, plant extracts, and omega-3 and, thus, investing significantly in this industry. Nourishment bars, functional drinks, and functional confectioneries for kids, such as candies and toffees, are all being developed by producers to appeal to consumers searching for instant nutrition, as well as gym aficionados.
As consumers become more conscious of their digestive wellbeing, probiotic product offerings are evolving. Researchers are concentrating on creating prebiotics and probiotics for various purposes, as they are two emerging functional food ingredient sectors. A probiotic-infused beer developed by researchers from the National University of Singapore is claimed to be beneficial for the gut and, in turn, for the skin.
Natural carotenoids are a more-popular research subject than synthetic ones because of their superior quality and potency. However, the methods used to naturally produce these nutrients are inefficient and prone to contamination. In addition, natural carotenoids, such as lycopene and beta-carotene, are much costlier than synthetic ones due to the high expenses entailed in their production. The creation of innovative techniques to increase the variety of natural carotenoids and decrease their purchase prices will, therefore, create a number of opportunities for the players.
Skin Health Foods Market Report Coverage

| | |
| --- | --- |
| Report Attribute | Details |
| Historical Years | 2017-2022 |
| Forecast Years | 2023-2030 |
| Market Size in 2022 | USD 2,048.3 Million |
| Revenue Forecast in 2030 | USD 3,438.9 Million |
| Growth Rate | 6.7% CAGR |
| Report Scope | Market Trends, Drivers, and Restraints; Revenue Estimation and Forecast; Segmentation Analysis; Impact of COVID-19; Companies' Strategic Developments; Market Share Analysis of Key Players; Company Profiling |
| Segments Covered | By Source; By Indication; By Consumer Type; By Distribution Channel; By Region |
Explore more about this report - Request free sample pages
Skin Conditions Category To Maintain Its Dominance in Indication Segment
Under the indication segment, in 2022, the industry was dominated by skin conditions, with around 55% revenue share, globally. Moreover, during the projection period, the growth of this category is set to be driven by the rising intake of a number of nutrients, including minerals, vitamins, small peptides, macronutrients, and micronutrients, which work together to maintain the barrier functions that alter the structure of the skin and directly affect its appearance.
Moreover, over the next several years, the demand for foods that promote anti-aging activity is predicted to advance with a CAGR of more than 8%, due to the increasing demand for dietary minerals and antioxidants. Edibles that contain anti-aging nutrients include walnuts, salmon, green leafy vegetables, broccoli, blueberries, gooseberries, guavas, tomatoes, cucumbers, avocados, pomegranates, water, dark chocolate, and juices.
People, nowadays, favor healthy and organic solutions over cosmetics, in order to improve their looks. This is because no side-effects are associated with the use of organic products, which will likely propel the growth of the industry.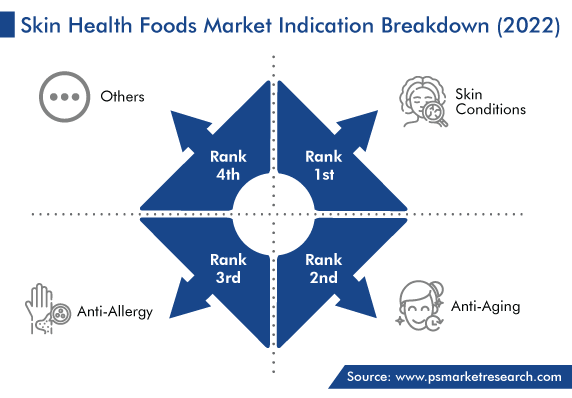 Significant Consumption of Fatty Fish and Walnuts due to High Presence of Fatty Acids
Fatty acids have innumerable benefits, which is why they are now being increasingly used in the skincare and beauty industry. Fatty fish and walnuts have a high concentration of these acids. These items were initially consumed by athletes and gym fanatics as sports food, as they are a rich source of such good acids and provide considerable energy. Today, because of the growing awareness about these edible items, they are gradually being used for skin wellness as well.
Salmon, herring, and mackerel are all good sources of omega-3 fatty acids, which help maintain a healthy, thick, supple epidermis. On the other hand, an omega-3 deficiency can result in dryness.
Furthermore, since inflammation can result in acne and redness, the omega-3 fats in fish help alleviate it. They may even make the skin less sensitive to the sun's UV rays. According to some research studies, fish oil supplements may also aid in the treatment of inflammatory and autoimmune disorders, such as psoriasis and lupus.
Fatty fish are also rich in vitamin E, an extremely critical antioxidant. Adequate vitamin E intake is crucial for protecting the epidermis from inflammation and free radical damage. Additionally, this kind of seafood has high-quality proteins, which makes it essential for preserving dermal elasticity and strength.
Similarly, walnuts consist of a good proportion of both omega-3 and omega-6 fatty acids. In fact, they contain more of these nutrients than the majority of other nuts. A higher quantity of the latter may even result in inflammation, while the former aids in decreasing it. Thus, walnuts are a good food choice to promote and maintain looks, by providing a youthful glow.
Adults Category To Lead in Consumer Type Segment
Based on consumer type, adults are expected to dominate the market, with a share of around 60%, during the estimation time frame. This is because of the larger population of adults than that of elderly people around the world. As per the World Bank, elderly people accounted for 10%, whereas adults made up 65% of the overall population in 2021. In addition to that, there has been remarkable interest among young adults and middle-aged people in maintaining their looks, as it boosts their self-confidence. Hence, people, nowadays, are becoming increasingly self-conscious of the way they look, due to which they are investing in products that give them a healthy, bright, supple, and taut appearance.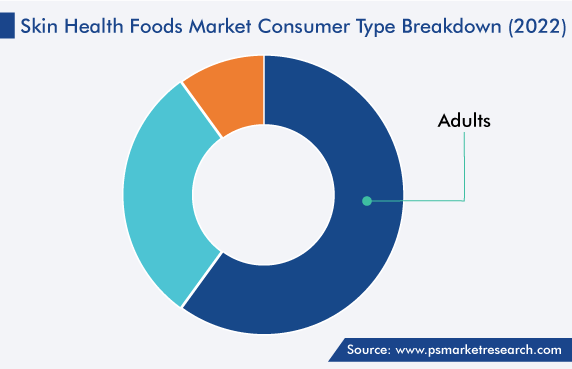 Strategies Implemented by Top Players to Gain Competitive Edge
In order to establish themselves in the industry and gain a considerable share, the top players have implemented certain strategies. Many are partnering and launching new products constantly, to gain an upper hand over their rivals.
SimpliiGood, an Israeli food-tech startup run by Algaecore Technologies, and IFF-DuPont teamed up in April 2022 to create a smoked salmon substitute solely from whole, fresh spirulina. The plant-based protein source is intended to mimic the color, flavor, texture, and look of smoked salmon, while preventing the ingestion of the harmful ocean contaminants that live fish are frequently exposed to. These include fossil fuels, mercury, and industrial waste.
In June 2022, Royal DSM announced that it has started the customer sampling of its bio-based vitamin A.
APAC To Exhibit Fastest Growth during Prediction Period
Regional analysis suggests that Asia-Pacific will expand at the highest CAGR, of around 10%, over the prediction period. This can be credited to the surge in the R&D spending by a large number of local and foreign businesses producing functional foods, the rising GDP in various APAC nations, and the increasing interest of patients with chronic epidermis hypersensitivity problems in these edible items. Essentially, the demand for these products has increased in the region as a result of the growing knowledge of the health advantages of functional foods.
The rapid economic growth in developing countries, such as India and China, as well as their growing middle-class populations, which spend significant money on nutritional supplements and nourishing meals, will also help the regional market flourish throughout the projection period.
Top Skin Health Foods Companies are:
Amway Corporation
BASF SE
Archer-Daniels-Midland Company
Danone S.A.
Nestlé S.A.
Cargill Incorporated
Chr. Hansen Holding A/S
Koninklijke DSM N.V.
DuPont de Nemours Inc.
Herbalife Nutrition Ltd.
Market Size Breakdown by Segment
This report offers deep insights into the market, with size estimation for 2017 to 2030, the major drivers, restraints, trends and opportunities, and competitor analysis.
Based on Source
Fatty Fish
Avocados
Walnuts
Sunflower Seeds
Sweet Potatoes
Red or Yellow Bell Peppers
Broccoli
Tomatoes
Soy
Dark Chocolate
Green Tea
Red Grapes
Based on Indication
Skin Conditions
Anti-Aging
Anti-Allergy
Based on Consumer Type
Adults
Aged People
Others
Based on Distribution Channel
Direct
Indirect

Supermarkets/hypermarkets
Wellness centers
Dermatology centers
E-commerce
Geographical Analysis
North America
Europe

Germany
U.K.
France
Italy
Spain

Asia-Pacific

Japan
China
India
South Korea
Australia

Latin America
Middle East and Africa

Saudi Arabia
South Africa
U.A.E.