Market Overview
The self healing networks market generated revenue of USD 794.4 million in 2023, which is expected to reach USD 6,013.6 million by 2030, advancing at 33.7% CAGR between 2024 and 2030. This is due to the rising demand for IoT and M2M communication and the growing complexity of networks. Moreover, self-healing networks use intelligent solutions, automated processes, and hardware to make sure connectivity without interruption and maximum performance. It is advanced infrastructure communication that can detect problems or failures without human interruption.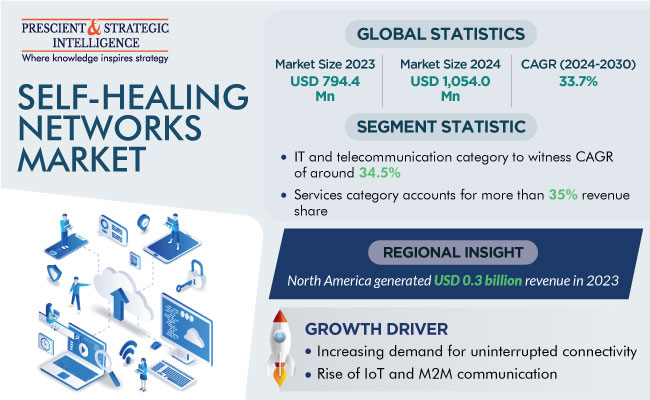 In addition, the evolution has allowed businesses and industries to anticipatorily identify and remove those issues in the first place, which leads to improving their network resilience and working efficiently. It evolved from the traditional approach where manual intervention was there to address problems and failures, with continuing from a modern approach where advanced technologies have been involved and self-healing has gained importance, embodying artificial intelligence, machine learning, and automation.
Nowadays, the digital landscape is at its peak where businesses and industries, even individuals, are banking on flueless connectivity and self-healing networks, which have got a heavy role there, as they offer various advantages, such as reduced downtime, improved reliability, and increased operational efficiency. By reducing service interruption and resolving issues quickly as possible, these networks help businesses stay competitive in the market and meet the rising demand for digital services.
Some of the potential tools to identify faults are advanced monitoring systems, network probes, intelligent algorithms, performance metrics, traffic patterns, and event logos. In addition, by utilizing machine learning techniques, these systems can learn from past data and identify network patterns, which can be normal and abnormal, then use prompt action to mitigate these faults.
Increasing Demand for Uninterrupted Connectivity
The uninterrupted connectivity of self-healing networks demand is increasing in the market. This is due to the surging need for reliable and strong networks, their scalability and adaptability, cost-effectiveness, ability to identify and resolve network faults or interruptions, and smooth connectivity, and they ensure minimal downtime. These features fulfill the needs of businesses and individuals for seamless network access for their everyday operations, communication, and for essential services, in today's digitalization world.
Additionally, planned downtime is something that is unaffordable for businesses and organizations because it negatively affects output, customer satisfaction, and financial performance. To overcome this problem, self-healing networks help in fault recovery and problem detection in real-time, thus minimizing the effects of network failures and downtime. Also, these make sure connectivity without interruption by immediately identifying and fixing problems, enhancing the dependability and resilience of crucial network infrastructures.
Moreover, to meet the rising need for uninterrupted connectivity, it is essential to adapt and scale from the capacity of the network. Self-healing can automatically scale to manage extra traffic and maintain flawless connectivity, as the number of connected devices and data-intensive applications increases. These networks have the ability to allocate intelligent resources, route optimization, adjust bandwidth allocation in real-time, and make sure that they match the network capacity as per users' demand. Furthermore, these networks can contribute to cost-effectiveness by reducing downtime and minimizing the need for manual intervention, as they help decrease the impact of failures, which also avoids costs along with emergency repairs, lost productivity, and customer dissatisfaction.
Vendors of self-healing networks offer solutions for on-premises and cloud-based implementation. Organizations employing self-healing network solutions' financial soundness and IT infrastructure have a significant impact on the deployment strategy. The use of the cloud deployment option is increasing rapidly. Also, businesses benefit from enhanced business agility and cost management thanks to cloud computing as a service, as cloud-based solutions offer speedy and safe network implementation. The cloud deployment paradigm further enables scaling of a solution's ability to manage large-scale network application traffic.
Rise of Internet of Things (IoT) and Machine-to-Machine (M2M) Communication
The burgeoning demand for IoT and M2M communication has stirred up the market by enabling seamless connectivity, proactive network management, and real-time seamless connectivity. As businesses are seeking reliable and resilient network infrastructures, these networks with the help of IoT and M2M technologies make sure uninterrupted connectivity and cost efficiency in operational activities. These technologies can be used to develop complex algorithms and predictive analytics that may proactively identify and address network issues before they get worst. As AI and ML capabilities continue to grow, self-healing networks will become more sophisticated and efficient.
Moreover, the increasing adoption of connected devices and IoT devices across numerous industries, such as electronics and communications, has led to the rise in the acceptance of IoT in self-healing networks. These devices create a large amount of data that needs to be transmitted, analyzed, and taken action in real-time. Thus, there is a larger need for networks that can handle massive amounts of data and make sure of seamless connectivity. These networks grip IoT capabilities to automatically detect network disruptions, analyze data patterns, and take proactive measures to address any issues, reducing downtime and maximizing day-to-day efficiency.
Additionally, M2M communication has opened gates for seamless connectivity and communication between machines and devices in a coordinated way, which enables efficient data exchange and decision-making. In these networks, M2M communication plays a significant role in enabling devices to communicate with each other, share information, and collaborate in real-time to identify and get rid of network issues. This clears the way faster and more precisely in the fault direction and enables the network to self-monitor, adjust, and re-identify itself to maintain uninterrupted connectivity.
Nowadays, businesses and consumers depend heavily on network connectivity for various applications and services in this digital age. Any less connectivity and downtime can have various consequences, which lead to less productivity, losses, customer dissatisfaction, and financial implications. To solve these problems, self-healing networks powered by IoT and M2M technologies provide an active approach to network management, continuous monitoring, rapid fault detection, and automated resolution. As a result, the rise of IoT and M2M in self-healing networks is driving the market growth.
Self Healing Network System Market Report Coverage

| | |
| --- | --- |
| Report Attribute | Details |
| Market Size in 2023 | USD 794.4 Million |
| Market Size in 2024 | USD 1,054.0 Million |
| Revenue Forecast in 2030 | USD 6,013.6 million |
| Growth Rate | 33.7% CAGR |
| Historical Years | 2017-2023 |
| Forecast Years | 2024-2030 |
| Report Scope | Market Trends, Drivers, and Restraints; Revenue Estimation and Forecast; Segmentation Analysis; Companies' Strategic Developments; Market Share Analysis of Key Players; Company Profiling |
| Segments Covered | By Component; By Network; By Application; By End User; By Organization Size; By Deployment Mode; By Region |
Explore more about this report - Request free sample pages
Services Hold the Significant Market Share
Based on component, the services category accounted for the revenue share, of more than 30%, in the self healing networks market in 2023, and it will further maintain its dominance in the future. This is because organizations are heavily dependent on self-healing networks' services to provide a proper platform to run and maintain their applications rather than investing in software. Thus, the demand for such services is growing rapidly.
Moreover, these services are important for helping customers in maximizing the benefits of self-healing networking technologies. Hence, service providers can assist clients in getting improved network dependability, availability, and reliability. This will be facilitated by lowering operational costs and reducing downtime by offering knowledgeable advice and non-stopping assistance. Also, managed services, which are wholly supplied by a third-party provider, guarantee on-time delivery to clients. Furthermore, as with other technologies, self-healing networks also require ongoing maintenance and monitoring, which would be managed by service providers. Thus, these factors drive the market growth in this category.
In addition, the physical category is expected to grow significantly in the market in the coming years. This can be ascribed to its capacity to monitor networks and make adjustments to avoid or recover from problems, such as downtime, network disruptions, and rerouting traffic.
North America Is the Market Leader
North America accounted for the largest revenue share, of around 55%, in the market for self healing networks, and it is further expected to maintain its dominance during the forecast period. This is due to the rising demand for network connectivity without interruption, high investments in research and development in various industries such as healthcare, finance, and transportation, the presence of key players, and the high adoption of advanced technologies in the region.
Moreover, being the main stoner of self-healing network technology, it is the largest profit-producing area in the world in this field. Also, it has a robust frugality that has led to large expenditures in digitalized IT structure. In addition, due to the region's anticipated exponential growth in the quantum of data generated by IT and network bias, the presence of its strict laws and programs for network data security, and high growth in end-use industries, the deployment of these networks is high, which is also backed by investments in a variety of technologies, including Al, IoT, ML, and big data.
Additionally, for improving network reliability and security, the governments in North America are aiming at initiatives and regulations and have implemented policies to motivate the deployment of self-healing networks and make organizations adopt advanced network management solutions. Thus, these factors boost the growth of the regional market.
Whereas, the Asia-Pacific (APAC) market is expected to grow at the highest CAGR in the coming years. This can be due to the surging adoption of new technologies and the launching of 5G networks, the rising need for high-speed and low-latency networks to support technologies, the transformation of ongoing digital and economic scenarios, the presence of supporting government regulations, and the rising technological trends in the IT and telecom sector in the region.
Self Healing Networks Companies:
Cisco Systems Inc.
Nokia Corporation
Juniper Networks Inc.
Huawei Technologies Co. Ltd.
Ericsson AB
Hewlett Packard Enterprise Development LP
Extreme Networks Inc.
NEC Corporation
Ciena Corporation
NetApp Inc.
Market Size Breakdown by Segment
This fully customizable report gives a detailed analysis of the self healing network system industry from 2017 to 2030, based on all the relevant segments and geographies.
Based on Component
Solutions

Network monitoring tool
Network automation software
Intent-based networking software

Services
Based on Network
Based on Application
Network Provisioning
Network Bandwidth Monitoring
Policy Management
Security Compliance Management
Root Cause Analysis
Network Traffic Management
Network Access Control
Based on End User
IT and Telecommunication
BFSI
Healthcare and Lifesciences
Media and Entertainment
Retail and Consumer Goods
Education
Based on Organization Size
Based on Deployment Mode
Geographical Analysis
North America
Europe

U.K.
Germany
France
Italy
Spain

Asia-Pacific

China
Japan
Australia
India
South Korea

Latin America
Middle East & Africa

Saudi Arabia
South Africa
U.A.E