Market Overview
The global seaweed protein market revenue stood at $513.7 million in the year 2021, and it is projected to reach $1,397.7 million by the year 2030, advancing at a CAGR of 11.8% during 2021–2030. Protein extraction from edible seaweeds for an array of health applications is an emerging trend. The use of alternate sources of protein is being encouraged, as, unlike cattle farming, they do not contribute to land usage and greenhouse gas emissions. Additionally, due to the risk of infectious viral diseases in animals, the consumption of meat proteins might come down.
Gracilaria chilensis is the most-important seaweed crop cultivated in Chile, making up to 100% of the total biomass obtained from aquaculture. It has had a positive socio-economic impact on people living in coastal areas, as it is mainly planted and harvested by local fishers. In Chile, seaweed cultivation has seen a sharp rise of more than 400% in the past decade. Dehydrated seaweed products are the second-most-exported product by Chile, more than two-thirds of which are exported to China and the rest to Canada, Denmark, France, Japan, and Norway.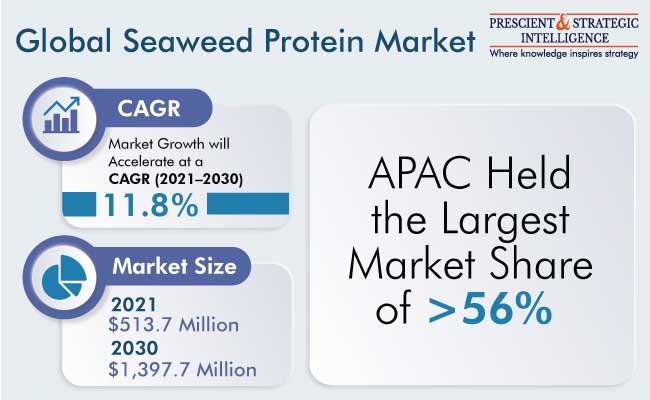 Protein Extracted from Red Seaweed Group Is Highest Revenue Generator in Market
In the global seaweed protein market, proteins extracted from red seaweeds held about 70% market share in 2021. Red seaweeds account for about 50% of the worldwide seaweed cultivation. Nori is the red seaweed with the highest measured protein content, of up to 47%. Red seaweeds are important for humans mainly as a binder in food products, as well as a bacterial substrate in laboratories. Eucheuma and kappaphycus are used to manufacture carrageenan, which is used in cosmetics and food processing and for various industrial purposes.
China is the largest producer of seaweeds around the globe. The total production of China's eight species of farmed seaweeds can yield protein content equivalent to that in 3 million tons of rice, 11 million tons of spinach, 15 million tons of potatoes, and 1.5 million tons of pork.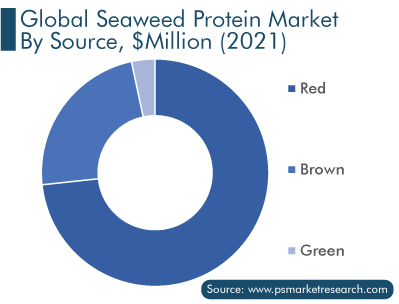 Conventional Methods to Extract Protein from Seaweeds Hold Larger Market Share
Sales of proteins extracted from seaweed via traditional methods held the larger seaweed protein market share, of about 55%, in 2021. Seaweed extracts generated using the traditional alkaline extraction method offer higher yields as compared to other methods. However, these methods of protein extraction are time-consuming and require large volumes of solvents, and the efficiency of the extraction is limited.
Therefore, extensive research was carried out, which showed that the most-efficient approach and the one that will offer the highest yield is enzymatic pre-treatment, with a combination of polysaccharides, followed by alkaline extraction. This procedure results in a 38.3% higher protein yield than most other available methods. This method has shown the path to maximizing the potential of seaweed cultivation. Further optimization of the method is nevertheless necessary in order to obtain maximum cost benefit.
Major Opportunity Areas
The market growth rate is expected to surge in the coming years because of the many non-food applications of seaweeds, such as pharmaceutical, nutraceutical, cosmetic, animal feed, biofertilizer/bio-stimulants, bio-packaging, textile fibers, carbon capture or sequestration, and biofuels. This will become the main driving force behind R&D on more-efficient methods of protein extraction from seaweed.
Various advantages of seaweeds attract consumers to use them in Oriental dishes, supplement micronutrients with them, and produce from them plant-based diets, for animal welfare. Hence, seaweed proteins are emerging as a global alternative source of protein due to their health, nutritional, and socio-economic benefits, which will boost the global seaweed protein market during the forecast period.
Seaweed Protein Market Report Coverage

| | |
| --- | --- |
| Report Attribute | Details |
| Historical Years | 2017-2021 |
| Forecast Years | 2022-2030 |
| Market Size in 2021 | $513.7 Million |
| Revenue Forecast in 2030 | $1397.7 Million |
| Growth Rate | 11.8% CAGR |
| Report Scope | Market Trends, Drivers, and Restraints; Revenue Estimation and Forecast; Segmentation Analysis; Impact of COVID-19; Companies' Strategic Developments; Market Share Analysis of Key Players; Company Profiling |
| Segments Covered | By Group; By Extraction Method; By Application; By Region |
Explore more about this report - Request free sample pages
Rising Use of Seaweed Proteins in Human Diet
The food industry accounted for more than 80% of the total revenue generated from the sale of seaweed protein in the year 2021. Carrageenan from red seaweed and aligner alginates from brown seaweed are used as thickening agents in confectionaries, bakery products, salad dressings, ice creams, sweets and desserts, beverage mix, processed meats, sausages, and fish, as well as in the clarifying of beers and wines.
Furthermore, seaweed is recognized as a powerhouse of vitamins and minerals. To ensure food security worldwide and considering the large ocean area available and its low utilization at present, there should be a shift in food production approaches from land-based to sea-based. The rising demand for seaweed snacks, increasing popularity of Japanese cuisine, and surging awareness on the presence of plant alternatives to animal sources of nutrients continue to drive the consumption of seaweed protein in the food industry.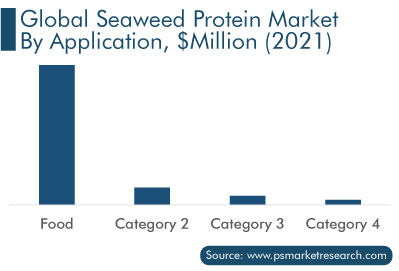 APAC Region Is Largest Consumer of Seaweed Products
The consumption of seaweeds and hydrocolloids in APAC is about 60% of the total production around the globe. China has emerged as the largest importer of edible and non-edible seaweed for further processing. Similarly, the Philippines is the second-largest exporter of semi-processed and processed carrageenan, following China. Exports of carrageenan from the Philippines have increased by more than 40% in the past 10 years. The U.S. is the main market for carrageenan, followed by Brazil, the European Union, Indonesia, Japan, Mexico, and Thailand. The seaweed protein industry outlook is improving in the region due to the rising number of partnerships between local producers and processors, governing bodies, and public and private firms.
For instance, the Government of Indonesia has prioritized seaweeds in its economic development plan. Various programs have been launched to improve farming techniques and educated people about them, which has also assisted in improving the livelihoods of coastal communities. Another factor contributing to the industry's growth in the APAC region is the rising investments in R&D initiatives to develop new technologies for seaweed protein cultivation and extraction. Moreover, seaweeds are used in many non-food applications, such as pharmaceuticals, cosmetics, and animal feed additives, which is why the demand for seaweed protein in this region is increasing.
Key Players in Global Seaweed Protein Market:
CP Calco US Inc.
Algaia
Valagro Group
Qingdao Gather Great Ocean Algae Industry Group Co. Ltd.
Qingdao Brightmoon Seaweed Company Group Company Limited
Kargil Incorporated
Gelymar S.A
Compañia Española de Algas Marinas (CEAMSA)
Irish Seaweeds
Beijing Leili Agricultural Co. Ltd
Seaweed Protein Market Size Breakdown by Segment
The study offers a comprehensive market segmentation analysis along with market estimation for the period 2017-2030.
Based on Group
Based on Extraction Method
Based on Application
Food
Animal feed
Cosmetic
Geographical Analysis
North America
Europe

Germany
France
U.K.
Italy
Spain

APAC

China
India
Japan
South Korea
Philippines

RoW

Brazil,
Chile,
Saudi Arabia