Market Overview
The robotic vision market size stood at USD 2,405 million in 2022, and it is expected to advance at a compound annual growth rate of 9.50% during 2022–2030, to reach USD 4,971 million by 2030. The growth can be primarily ascribed to the rising requirement for quality inspection, the increasing adoption of cognitive humanoid robots, and the surging demand for quality products as well as safety in industries.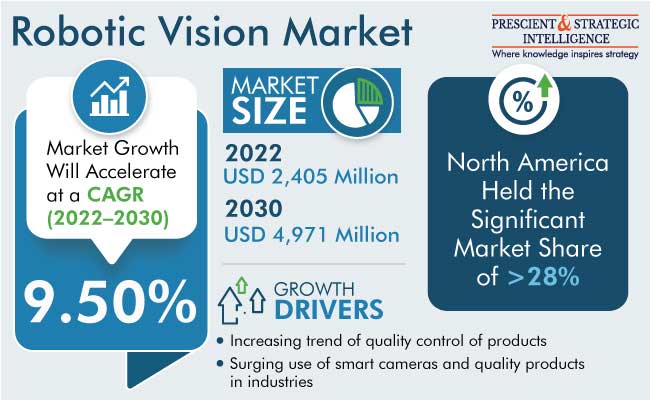 Various features of such systems, including high repeatability, non-contact inspection, and minimal cost, are fueling their demand and are becoming more popular for quality control in several sectors. The existing ways of checking the quality of products and controlling the same relied completely on human inspection. During a human inspection, performance can decline due to weariness and repetition. It is possible that some minor faults remain unnoticed, which can cause trouble. Due to these reasons, the focus is increasing on the use of robots, which, in turn, will propel the growth of the industry.
Due to the introduction and acceptance of advanced technologies, the medical and healthcare industry has seen vast advancements in various surgeries, including orthopedic surgery and hysterectomy, which ensure the procedures with more effectiveness and take shorter recovery time. They are also used for the distribution of medicines and handling sensitive materials in hospital settings. Further, they play an important role in telemedicine in connecting doctors with patients even in remote locations.
2D Vision Systems Are Widely Used
The 2D category dominates the industry. This is because 2D vision systems are more reliable and easy to operate. Moreover, these are less expensive and are suitable for various general applications, and are known to process images faster.
Whereas, the 3D category is also growing at a significant rate over the coming years. This can be ascribed to its greater manufacturing flexibility and high precision, and it enables the automation of tasks and can perform complicated tasks. It is also able to differentiate objects and perceives human form.
Hardware Component Holds Major Share
The hardware components accounted for the major share, of around 71%, in 2022, and the category is expected to witness the same trend in the forecast period as well. This is ascribed to the low costs of hardware components such as lighting, cameras, frame grabbers, processors, and controllers. Several applications need custom-built cameras with various specifications including sensor size and focal length. In addition, the increasing deployment of machine systems and the growing adoption of robots to automate repetitive processes are boosting the growth of the market in this category.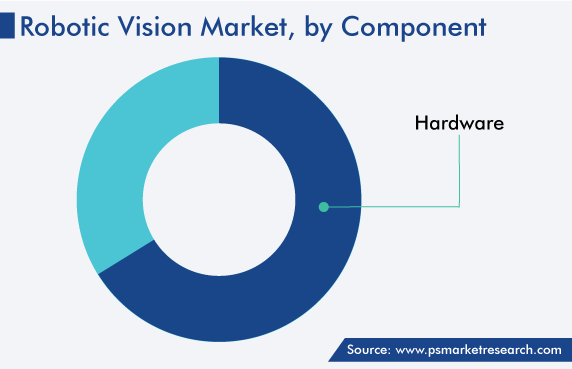 Robotic Guidance Systems Dominate the Industry
Based on deployment, robotic guidance systems are leading because of their wider use in collaborative robots and can reduce costs. Additionally, they can also increase the manufacturing process efficiency. In the automotive industry, these are efficient and versatile, and they usually provide secondary feedback signals using sensors to robots.
Whereas, the demand for robotic cells is expected to witness the fastest growth in the coming years. This can be attributed to their higher efficiency and accuracy, as the position of cameras remains the same. In this, such systems are fixed so that target objects can be presented in a defined orientation and position. They are also used to automate critical and repetitive inspection tasks and are able to cover the areas that are difficult to access the target objects.
Assembling and Disassembling Category To Witness the Fastest Growth
The assembling and disassembling category is projected to grow at the highest CAGR, of 10.6%, during the forecast period. This can be due to the automation of complex assembly operations, which are difficult to perform with simplified programming that they can understand. Further, objects are picked and placed using automation technology with the help of robotic vision systems by determining the position and orientation of objects. This also increases productivity at a lower cost.
The demand for material handling systems is also growing, ascribed to the use of reliable and more precise processes for better production quality. Moreover, the possibility of real-time monitoring and reduced cycle times also boosts the market growth in this category. They also aid in moving materials from one place to another, especially for short distances such as in a building. It can limit or replace the role of labor with the use of automation in handling materials.
Automotive Industry Is Extensively Using Robotic Vision
The automotive industry is extensively using automation technology for high-quality assembly and disassembly of various components. In the industry, with the increasing use of ADASs, the need for various components, such as camera-led lighting and V2X, would be important components for automation and intelligence. The drivers are provided with a safety net, with the use of 2D and 3D machine vision and intelligent transportation systems (ITSs). The advancements of such technologies help mitigate human error, aiding drivers with tools at the wheel. These features save human lives and help them not to commit mistakes, hence reducing the chances of accidents.
Besides, robotic vision systems are also used in palletizing and packaging, which need high precision. The boxes of various sizes and shapes are placed on top of one another, which is a challenge for humans to place them accordingly. Robots are employed for this work because they offer safety and speed, compared to manual palletizing. In addition, they are also flexible and save more space, compared to fixed machinery.
Robotic Vision Market Report Coverage

| | |
| --- | --- |
| Report Attribute | Details |
| Historical Years | 2017-2022 |
| Forecast Years | 2023-2030 |
| Market Size in 2022 | USD 2,405 Million |
| Revenue Forecast in 2030 | USD 4,971 Million |
| Growth Rate | 9.50% CAGR |
| Report Scope | Market Trends, Drivers, and Restraints; Revenue Estimation and Forecast; Segmentation Analysis; Impact of COVID-19; Companies' Strategic Developments; Market Share Analysis of Key Players; Company Profiling |
| Segments Covered | By Type; By Component; By Deployment; By Application; By End User; By Region |
Explore more about this report - Request free sample pages
North America Holds a Significant Share
North America has a significant position in the robotic vision market with a market share of around 28% in 2022. This is attributed to the faster adoption of new and advanced technologies and high disposable income in the region. Along with these, the surging investments in the development of such technologies by companies and the increasing deployment of robots across several sectors are driving the regional market. In industrial automation, such systems are used for the management of several important functions. Also, various manufacturers have initiated the employment of automation to automate procedures, which require repetitiveness.
In North America, the U.S. market holds the leading position, and it will grow at a CAGR of 9.8% in the coming years. This is attributed to the rising adoption of 3D vision systems in industrial robots and the government has implemented various initiatives to boost the economy of the country.
For instance, the national robotics initiative aims to accelerate the development and use of such advanced technologies and fund R&D activities related to such projects. In 2021, the U.S. installed approximately 35,000 units of robots. Among these, the automotive industry installed around 10,000; whereas, the metals and machinery industry installed almost 4,000 robots in the country. Thus, the huge installation of robots in different industries in the country is boosting the growth of the industry.
The APAC market is growing significantly, due to the rising deployment of such systems for the inspection and scanning of the quality of objects in several industries in the region. In addition, the demand is also increasing for improved inspection systems that enable zero-defect and high-quality products. Moreover, the increasing government initiatives in several countries, including Singapore, India, China, and South Korea, for attracting FDI in the manufacturing sector is also contributing to the growth of the regional market.
Advancement of Industry 4.0 To Fuel the Market Growth
In industrial manufacturing, the need is increasing rapidly for automation because of the development of advanced technologies, such as AI, IoT, and cloud computing. 3D machine vision, which is one of the imaging technologies, majorly relies on uncompressed and low-latency data so as to make decisions in real-time.
Moreover, various advanced technologies are integrated into these systems, which help integrate a large number of data sources and images, such as output from 2D, 3D, and 4D sensors. They are used in IoT devices that help in the expansion of automation and perform a vital role in executing production-line tasks, such as sorting and picking.
Furthermore, cloud computing is implemented in automation technologies, which helps in managing data outputs from vision sensors. Therefore, cloud computing aids robotic vision technologies to work to their full potential. Hence, with the advancement in the industry, the number of smart factories has increased, which further helps in the faster adoption of such technologies for automating industrial procedures.
Top Players in the Robotic Vision Market Are:
Cognex Corporation
Basler AG
QUALCOMM Incorporated
Keyence Corporation
FANUC Corporation
ABB Ltd.
Sick AG
Omron Corporation
Hexagon AB
Advantech Co., Ltd.
Market Size Breakdown by Segment
This fully customizable report gives a detailed analysis of the robotic vision industry from 2017 to 2030, based on all the relevant segments and geographies.
Based on Type
2D Vision Systems
3D Vision Systems

Single- and multi-Camera triangulation
Structured light
Time-of-Flight (TOF)
Stereo vision
Laser-based
Based on Component
Hardware

Cameras
Lighting
Optics
Processors and controllers
Frame grabbers

Software
Based on Deployment
Robotic Guidance Systems
Robotic Cells
Based on Application
Welding and Soldering
Material Handling
Packaging and Palletizing
Painting
Assembling and Disassembling
Cutting, Pressing, Grinding, and Deburring
Measurement, Inspection, and Testing
Based on End User
Automotive
Electronics
Aerospace
Food & Beverage
Medical & Healthcare
Geographical Analysis
North America
Europe

Germany
U.K.
France
Italy
Spain

Asia-Pacific

Japan
China
India
South Korea
Australia

Latin America
Middle East and Africa

Saudi Arabia
South Africa
U.A.E.