Market Overview
The global recycled elastomers market size stood at USD 8,921.8 million in 2022, and it is expected to advance at a compound annual growth rate of 10.5% during 2022–2030, to reach USD 19,781.2 million by 2030. This is primarily ascribed to the rising usage of elastomers in several industries for multiple purposes, stringent government rules, and increasing awareness of recycling benefits.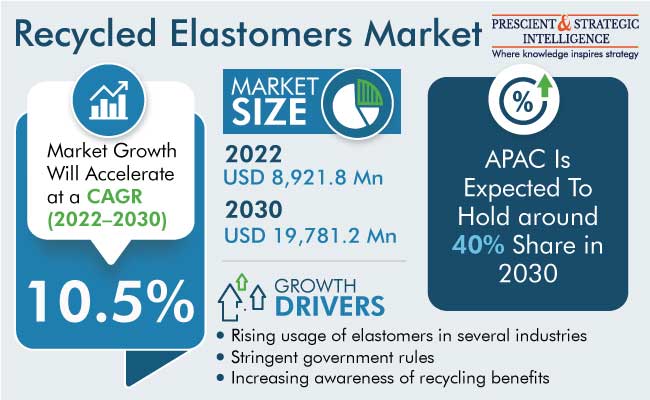 In addition, elastomers are widely adopted in the automotive and healthcare industries for the manufacturing of products such as tires, balloons, adhesives, and medical tubes. The surging demand for elastomer products augments the environmental issues, as these are non-biodegradable. The rapidly growing usage of elastomers generates problems such as huge land required for the dumping of used rubber waste from industries and because of the slow decomposition of elastomers, these hoard and generate harmful chemical gases that are injurious to the environment and health.
Thus, these are the key driving factors that lead companies to recycle them to meet customers' needs and protect the environment and human life. Recycling is the only option because elastomer products take time to decompose. Devulcanization is a vital approach, in which at a particular level, ultrasonic amplitudes enable to break up of the three-dimensional network of vulcanized elastomers with heat and pressure. Also, the standard recycling approach is reducing the size into a small part that can be re-compound or reused.
Moreover, elastomers are polymeric materials that can be expanded up to a certain limit and return to their original shape. These are made up of rubber and elastomeric plastics, due to which these materials have huge requirements, especially in the consumer goods, medical, and tire industries. The huge demand for elastomers is leading market players to recycle them for reuse.
Furthermore, the surging penetration of EVs across the globe is increasing the need for elastomers. Almost 70% of the globally produced rubbers are used in making tires, and nearly 800 million tons of waste and tires are discarded every year globally, which have up to 60% of rubber content. This is due to the rising sales of automobiles. For instance, in 2022, the sales of automobiles increased by 3.4% as compared to the previous year. To reduce the volume of waste, companies are increasingly involved in recycling elastomers.
In addition, the demand for eco-friendly elastomers is rapidly growing, due to their rising usage in various industries. Recycling is the best option to save money & time, and growing awareness about the recycling benefits among users is forcing companies to recycle rubber products. Recycled elastomers are made up of waste such as gaskets, tires, and other rubber products. Also, the recycling process provides several benefits to the environment and decreases the requirement of virgin materials, and it also helps to reduce the waste that is dumped on the land.
Higher Prices of Elastomer and its Raw Materials Propelling the Demand
The manufacturing process of elastomers is expensive and difficult as compared with other materials like polyethylene, polyurethane, and PVC. For the production of elastomers, machines are set at high temperatures in the presence of technicians, which is increasing their prices. Also, most raw materials of elastomers are derived from oil, due to which the prices of such materials are fluctuating when the oil price fluctuates. Thus, companies recycle elastomers and used recycled elastomers to avoid the production processes to save their time and money.
Developing Economies Are Increasing the Demand
The surging population is driving the consumption of elastomers, due to their effective properties such as flexibility, strength, cost-effectiveness, and durability. These elastomers are utilized as per their qualities such as corrosion resistance, high heat resistance, and ease to recycle, which are the key driving factors escalating their need in developing countries, such as China, Brazil, and India. As these nations are generating high demand, companies are recycling rubber products to meet the increasing need. Thermosets and thermoplastics are the most adopted elastomers that are used in several industries in these economies.
Recycled Elastomers Market Report Coverage

| | |
| --- | --- |
| Report Attribute | Details |
| Historical Years | 2017-2022 |
| Forecast Years | 2023-2030 |
| Market Size in 2022 | USD 8,921.8 Million |
| Revenue Forecast in 2030 | USD 19,781.2 Million |
| Growth Rate | 10.5% CAGR |
| Report Scope | Market Trends, Drivers, and Restraints; Revenue Estimation and Forecast; Segmentation Analysis; Impact of COVID-19; Companies' Strategic Developments; Market Share Analysis of Key Players; Company Profiling |
| Segments Covered | By Type; By Application; By Region |
Explore more about this report - Request free sample pages
Thermoset Accounts for a Larger Revenue Share
The thermoset category is expected to hold a larger revenue share, over 60%, in 2022, and it is expected to witness a higher CAGR to maintain its position over the next few years. This is because thermosets are used in various industries such as automotive, electrical goods, construction, and aerospace. These are used in the manufacturing of various products such as tires, electrical housings, cell tower tops, circuit brakes, insulators, and disc brake pistons. Also, the thermoset's features make it the best and most reliable option, where the tolerance of temperature is high.
Automotive Dominates the Industry
The automotive category accounted for the largest revenue share, over 30%, in 2022, and it is also expected to remain in its position during the forecast period. This is primarily ascribed to the rising usage of elastomers for the production of components that require high-temperature tolerance, such as tires, engine mounts, bushes, and gaskets. Due to this, the industry uses recycled elastomers to fulfill the demand and protect nature. Further, several governments and industries are working together to find the best way to recycle such products. Thus, the extreme usage of recycled materials in the automotive industry is escalating the growth of the market.
Asia-Pacific Is the Market Leader
Globally, the APAC region held the largest revenue share in 2022, and it is also projected to remain the largest over the next few years. The regional market is growing due to the rising demand from end-use industries, such as automotive, consumer goods, and medical. Further, foreign countries are directly investing in this region because of the high availability of low-cost labor and a large volume of waste elastomers. The increasing government rules and the growing population are forcing the elastomer sector to enhance the recycling process.
Moreover, the rising demand for automobiles and consumer goods are boosting the need for recycled elastomers in the region. For instance, in India, the requirement for such products is growing due to the expansion of the automotive industry and their qualities such as lightweight, high performance, and elasticity, along with the changing perceptions of the industry on using recycled automotive components and tires.
In addition, businesses are using recycling and conventional technology methods to fulfill the market demand. For instance, in July 2022, tire and rubber manufacturing companies joined the national conference on the circular economy in the tire and rubber industry in India, to discuss the EPR draft policy, how to utilize waste tires, and eco-friendly recycling approach for tires.
In APAC, China is the largest market, due to the growing population, surging need for commercial and passenger cars, rising consumption of consumer goods, high import and export, and increased industrial output in the country. Thus, the mounting need for elastomers is forcing companies to adopt the recycling approach to meet the demand in the nation.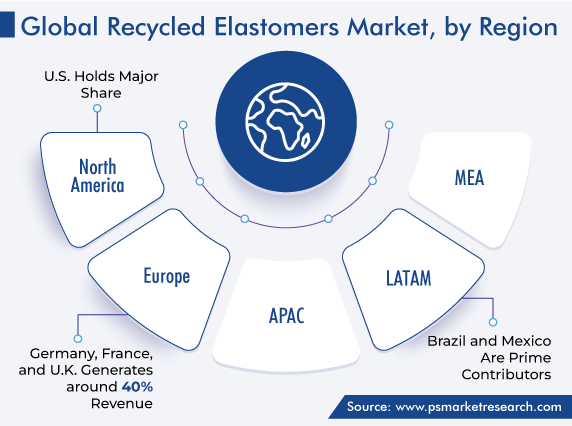 North American Market To Witness a Significant Growth Rate
The North American recycled elastomers market is expected to grow at a significant growth rate over the next few years. This is because the automotive and consumer goods industries are creating a high need for recycled elastomers in the region. For instance, in 2019, as per the U.S. Tire Manufacturers Association (USTMA), around 76% of scrap tires were recycled to produce different items, such as automotive products, rubber-modified asphalt, tire-derived fuel, and mulch for landscaping.
Some Top Providers of Recycled Elastomers Are:
Genan Holding Ltd.
GRP LTD.
Green Rubber Global Ltd.
Avient Corporation
Vanden Global Ltd.
Liberty Tire Recycling
American Recycling Center Inc.
Monmouth Rubber & Plastics Corp.
J. Allcock & Sons Limited
Entech Inc.
Market Size Breakdown by Segment
The report analyzes the impact of the major drivers and restraints on the recycled elastomers market, to offer accurate market estimations for 2017–2030.
Based on Type
Based on Application
Automotive
Industrial
Healthcare
Consumer Goods
Geographical Analysis
North America
Europe

Germany
U.K.
France
Italy
Spain

Asia-Pacific

Japan
China
India
South Korea
Australia
Latin America
Brazil
Mexico

Middle East and Africa

Saudi Arabia
South Africa
U.A.E.