Market Overview
The recombinant proteins market size stood at USD 1,367.3 million in 2022, and it is expected to grow at a CAGR of 11.2% during 2022–2030, to reach USD 3,203.7 million by 2030.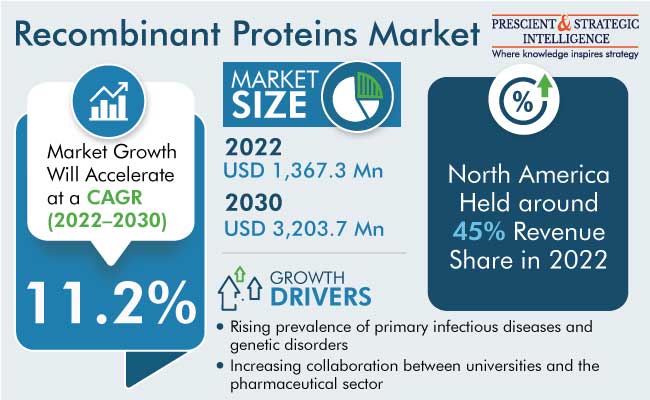 This growth can be primarily attributed to the increasing collaboration between universities and the pharmaceutical sector and the rising prevalence of primary infectious diseases and genetic disorders. Moreover, the surging research on biological drugs and increasing government investments for this purpose are expected to propel the market growth throughout the forecast period.
Recombinant proteins have a wide range of applications in research and therapy. Their production requires the recombinant DNA (rDNA) technology. Till date, more than 130 such agents have been approved by the U.S. FDA for clinical usage. Moreover, more than 170 such agents are manufactured and widely used in medicine globally.
The unmet medical needs in the developing Asian countries and the growing focus on personalized medicines as well as protein therapeutics are offering growth opportunities to the players in the market.
Rising Demand for Recombinant Proteins Drugs to Treat Rare Disorders
The rising prevalence of various rare disorders, such as multiple sclerosis, neutropenia, cerebral apoplexy, anemia, and dwarfism, is propelling the demand for drugs based on recombinant proteins. Moreover, these agents are used in the improvement of novel therapies for severe chronic disorders, including cancer, cardiovascular diseases, endocrine diseases, and viral diseases. The rise in the occurrence of such conditions is expected to propel the need for recombinant protein drugs in the near future.
For instance, in 2022, as per the American Cancer Society, approximately 1.9 million new cancer cases were diagnosed and 609,360 cancer deaths occurred in the U.S. Moreover, in March 2022, according to the National Multiple Sclerosis Society, more than 2.8 million people in the U.S. had MS. In addition to that, the higher incidence is seen in women between the ages of 20 and 50 than men in the same age group.
Growth Factors and Chemokines Dominate Product Segment
The growth factors and chemokines category dominated the market, and it is expected to witness around 12% CAGR during the forecast timeline. This can be ascribed to the usage of growth factors and chemokines in several research studies on neurobiology, cancer, COVID-19, immunology, and HIV/AIDS. Growth factors and chemokines are the signaling molecules that control cell activity in an autocrine, endocrine, or paracrine way. They attach to receptors and start related downstream signaling pathways, which, in turn, affects nucleus-based gene transcription and, ultimately, causes a biological response.
Furthermore, cytokines and growth factors have a potential in cancer research and future studies on molecular biology. For instance, there is a great potential for developing insulin using KP1 and hastening the wound healing process in diabetic patients, who account for a significant chunk of the global population. Similarly, cytokines and growth factors can be advantageous in improving chemotherapy for cancer patients.
Biologics Are Largest Application in Drug Discovery & Development Field
Biologics held the largest market share, of around 60%, in 2022, and they are projected to attain the highest growth rate during the forecast period. This is due to the growing inclination of biopharma and pharma firms toward expanding their biologics and biosimilars R&D efforts and product pipelines, creating novel technologies, and advancing the science of bioprocessing. This is itself a result of the rising demand for biopharmaceuticals, their widening applications, and the growing competition among the major players.
As per the European Federation of Pharmaceutical Industries and Associations (EFPIA), the pharmaceutical industry of the region invested USD 46,144 million in 2020 to discover, develop, and commercialize pharmaceuticals. The rising demand for conventional pharmaceutical as well as biological drugs, along with the evolving production requirements, is forcing recombinant protein manufacturers to focus ever more strongly on R&D. Moreover, R&D supports the expansion of product portfolios and conducting clinical trials to evaluate drug safety and market the products.
Recombinant Proteins Market Report Coverage

| | |
| --- | --- |
| Report Attribute | Details |
| Historical Years | 2017-2022 |
| Forecast Years | 2023-2030 |
| Market Size in 2022 | USD 1,367.3 Million |
| Revenue Forecast in 2030 | USD 3,203.7 Million |
| Growth Rate | 11.2% CAGR |
| Report Scope | Market Trends, Drivers, and Restraints; Revenue Estimation and Forecast; Segmentation Analysis; Impact of COVID-19; Companies' Strategic Developments; Market Share Analysis of Key Players; Company Profiling |
| Segments Covered | By Product; By Application; By End User; By Region |
Explore more about this report - Request free sample pages
North America Makes Largest Contribution to Global Revenue Generation
North America dominated the industry, with a revenue share of around 45%, in 2022, owing to the rising prevalence of infectious and chronic disorders and favorable government initiatives. Additionally, the rising demand for such products in the research and development studies being carried out by the major players is boosting the market in the region.
The U.S. accounts for the larger regional share due to the high spending on research facilities, innovations in therapy, and strong presence of market players in the country. Besides this, the U.S. is witnessing an increasing incidence of chronic illnesses, such as cancer and diabetes, which impels healthcare firms to pursue advancements in recombinant proteins. Moreover, the rising adoption of these agents in the country is significantly influenced by its increasing per capita healthcare spending.
The APAC market is expected to witness the fastest growth over the next few years. This can be attributed to the extensive growth in pharmaceutical contract development and manufacturing efforts over the past several years in the region. Moreover, the booming population and its surging demand for an improved access to drugs; and the rising affordability of biopharmaceuticals, with the advent of cost-effective generics are leading to the growth of the regional industry. Furthermore, the government healthcare initiatives, growing GDP per capita, and rising urbanization rate have expanded the potential for the adoption of recombinant proteins in the APAC region.
For instance, in August 2022, Chinese biotech firm Bao Pharmaceuticals secured more than USD 100 million in its Series B round of financing. This investment was led by Oriental Fortune Capital to help the company in the development and commercialization of recombinant protein and antibody drugs.
Furthermore, Japan is the major contributor to the growth of the sector in the APAC region. This is due to the immense support of the government and the boom of the biotechnology industry in Japan. For instance, the Okinawa Health Biotechnology Research and Development Center, which is funded by the Government of Japan, provides the biotechnology industry with free research amenities and other forms of support.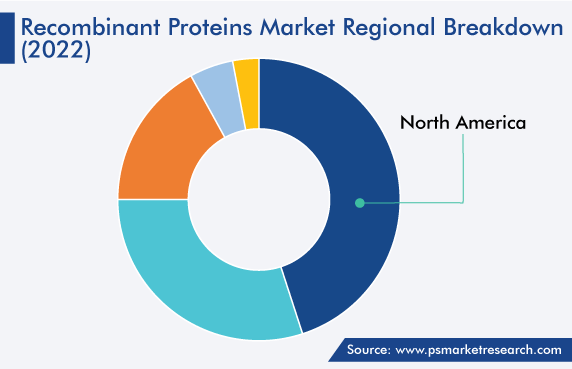 Increasing Emphasis on Personalized Medicine and Protein Therapeutics Offering Lucrative Growth Opportunities
Numerous biotechnological modalities, including recombinant proteins, cell and gene therapies, and vaccines, are significantly incorporated in developing personalized medicines, as they play an important role in customizing the treatment to the individual anatomies of patients. Personalized medicine has emerged as key healthcare research focus area and an integral part of clinical practice, by transforming the identification, classification, and treatment of diseases. Over the past several years, there has been a surge in the demand for recombinant protein therapeutics, such as vaccines, hormones, monoclonal antibodies, therapeutic enzymes, and blood factors. They are known to be highly potent drugs that do not cause off-target side-effects and have the potential to treat many chronic illnesses. These medicines also mandate shorter clinical trial durations compared to small molecules, which enhances patient safety and allows pharmaceutical companies to bring their products to patients more quickly.
Pharmaceutical & Biopharmaceutical Companies Category Leads Market
Pharmaceutical & biopharmaceutical companies accounted for the largest revenue share, of around 65%, in 2022. This is on account of the increasing usage of recombinant proteins by the major manufacturers for drug discovery & target detection. For instance, in April 2022, PerkinElmer Inc. unveiled its ready-to-use AlphaLISA and homogeneous time-resolved fluorescence (HTRF) no-wash assay kits for Chinese hamster ovary (CHO) host cell protein (HCP) impurity detection and quantification during the manufacturing of biopharmaceuticals. Recombinant therapeutic proteins, including monoclonal antibodies and some vaccines, should be free of residual HCP impurities, to avoid immunogenicity or reduced potency and maintain the stability and overall effectiveness of a drug.
Moreover, the rising count of collaborations and partnerships among academic institutes and drug makers is propelling the growth of the market. For instance, Pfizer's Centers for Therapeutic Innovation (CTI), established in 2010, works with investigators and academic institutions to accelerate the concepts in viable therapies, using Pfizer's technologies. It aims to make breakthrough discoveries in Pfizer's research areas, including inflammation & immunology, oncology, rare diseases, internal medicine, and vaccines, along with putting a strategic focus on RNA therapy, AI & ML, senescence, biomolecular condensates, DNA damage response, and repeat expansion disorders.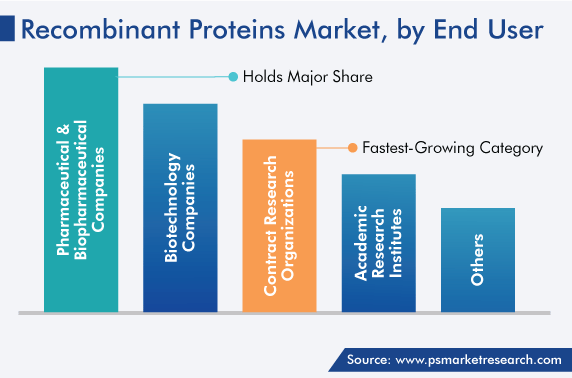 Top Recombinant Protein Producers Are:
Thermo Fisher Scientific Inc.
Merck KGaA
Abcam plc
Bio-Rad Laboratories Inc.
Bio-Techne Corporation
Miltenyi Biotec B.V. & Co. KG
ACROBiosystems
RayBiotech Life Inc.
Aviva Systems Biology Corporation
Enzo Biochem Inc.
Market Size Breakdown by Segment
The study uncovers the biggest trends and opportunities in the recombinant proteins market, along with offering segmentation analysis at the granular level for the period 2017 to 2030.
Based on End User
Pharmaceutical & Biopharmaceutical Companies
Biotechnology Companies
Academic Research Institutes
Contract Research Organizations
Based on Application
Drug Discovery & Development

Biologics
Vaccines
Cell & gene therapies

Biopharmaceutical Production
Biotechnology Research
Academic Research Studies
Diagnostics
Based on Product
Growth Factors and Chemokines
Immune Response Proteins
Structural Proteins
Membrane Proteins
Kinase Proteins
Regulatory Proteins
Recombinant Metabolic Enzymes
Adhesion Molecules and Receptors
Geographical Analysis
North America
Europe

Germany
U.K.
France
Italy
Spain

Asia-Pacific

Japan
China
India
South Korea
Australia

Latin America
Middle East and Africa

Saudi Arabia
South Africa
U.A.E.