Market Overview
The radioligand therapy market size stood at $7,785.6 million in 2021, and rising at a compound annual growth rate of 5.9% during 2021–2030, it will reach $13,073.9 million by 2030. Over the last few years, the market for radioligand therapy has seen significant progress in terms of the number of FDA-approved drugs with low side-effects. The progress is augmented by the increasing research on cancer treatment and rising demand for more-effective drugs.
Nuclear medicine physicians are encouraging the establishment of centralized radio-pharmacies, as radiopharmaceuticals are the major area of interest for researchers, for targeted therapy. For instance, in the U.S., Cardinal Health and Jubilant Radiopharma are the key players in the radio-pharmacies market.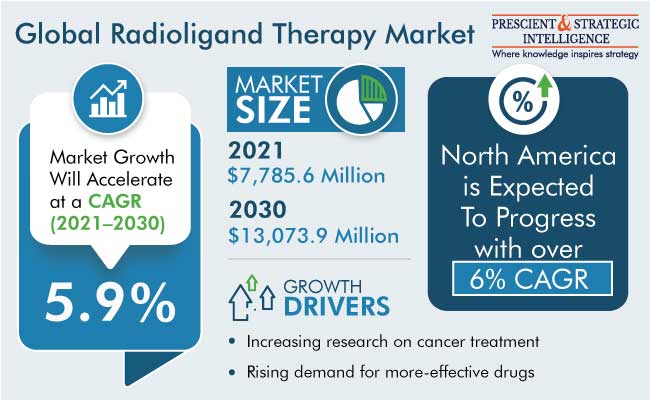 Moreover, governments are taking initiatives and raising funds to reduce the cancer burden. For instance, the European Commission launched Europe's Beating Cancer Plan in February 2021. The plan aims to provide cancer services, with an emphasis on disease prevention and early diagnosis. In 2022, the European government has planned to pour more than $4.2 billion into cancer research and care. Radiopharmaceuticals and radiotherapy are highly effective and are being, thus, demanded increasingly for malignancies, which augments the radioligand therapy market growth.
For instance, POINT Biopharma Global Inc. is preparing to enter the market for radioligand therapy with PNT2003 drug, which is currently in the final phases of clinical trials. Similarly, considering the increasing demand for radiotherapy and government funding in this field, market players are strengthening their focus on the development, approval, and launch of advanced products, especially drugs based on radioligands.
Rising Prevalence of Prostate Cancer Propels Radioligand Therapy Demand
So far, radioligand therapy trends for prostate cancer and neuroendocrine tumors (NET) are the most promising. Of the two, prostate cancer dominated the market in 2021, based on indication, and it is expected to witness the same trend in the forthcoming years.
As per data from government agencies, there has been a 10.8% increase in prostate cancer cases globally from 2018 to 2020. In the U.S., prostate cancer is the second-leading cause of cancer death in men. There have already been about 268,490 new cases of prostate cancer in 2022 so far. Similarly, more than 12,000 people in the U.S. are diagnosed with a NET each year, with the count increasing every twelvemonth.
Thus, the increase in prostate cancer and NET cases will drive the demand for diagnosis, including better imaging tests and endoscopy procedures; thus, the rise in the awareness of these tumors drive the adoption of radioligand therapy.
Radioligand Therapy Market Report Coverage

| | |
| --- | --- |
| Report Attribute | Details |
| Historical Years | 2017-2021 |
| Forecast Years | 2022-2030 |
| Market Size in 2021 | $7,785.6 Million |
| Revenue Forecast in 2030 | $13,073.9 Million |
| Growth Rate | 5.9% CAGR |
| Report Scope | Market Trends, Drivers, and Restraints; Revenue Estimation and Forecast; Segmentation Analysis; Impact of COVID-19; Companies' Strategic Developments; Market Share Analysis of Key Players; Company Profiling |
| Segments Covered | By Indication, By Drug, By End User, By Distribution Channel; By Region |
Explore more about this report - Request free sample pages
Expanding Opportunities in Radiopharmaceuticals
The improvements in nuclear medicine are expected to be the key enabler for radiopharmaceuticals to obtain a major place in medicine. Radiopharmaceuticals are being increasingly used in the diagnosis and treatment of several diseases, such as cancer and neurological disorders.
Moreover, several radio drugs have been approved by the FDA, such as Zytiga (launched in 2017), Lutathera (launched in 2018), and Pluvicto (launched in 2022). The frequent approvals will improve the potential for radiotherapy and increases the opportunities for established as well as emerging players, especially considering that the currently available medicines have already been accepted by 100+ countries.
Thus, owing to their radioactive decay and targeted therapeutic irradiation, radioligands, or radiopharmaceuticals, are extensively used for cancer treatment. Therefore, the rapid development of radiological drugs for targeted diagnosis and therapy is expected to boost the radioligand therapy market sales value over the coming years.
Hospitals' Revenue Contribution To Escalate Fastest in Coming Years
The demand for radioligand therapy in hospitals will rise with the highest CAGR, of around 7%, during the forecast period. Several countries, especially the U.S. and those in Europe, are developing a readiness assessment framework for smart and effective ways of using radio drugs, so as to provide effective and safe treatments; thus, most hospitals are introducing the therapy for cancer patients, encouraged by its high efficacy and few side-effects.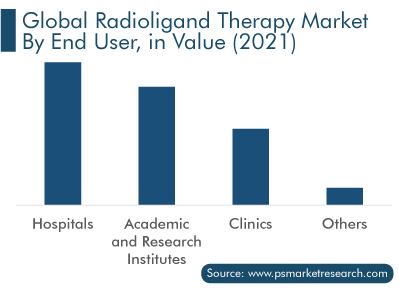 U.S. Is Principal Contributor to Market
The market for radioligand therapy in the U.S. will witness a high growth rate during the forecast period. The growth is attributed to the government initiatives for improving chronic disease care and rising number of specialized cancer hospitals and research centers. For instance, in February 2022, the U.S. president reinvigorated the Cancer Moonshot Program with new goals, to reduce the death rate from cancer by at least 50% over the next 25 years. Thus, the rising number of government initiatives for advancing oncologic practices augments the market for radioligand therapy in the U.S.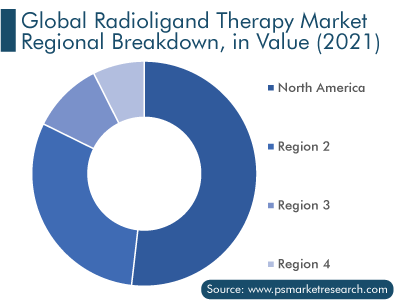 Strategic Initiatives by Key Market Players
Several established and emerging companies are taking up radioligand therapy R&D, seeing the vast potential this approach to cancer treatment offers. Several companies are attempting to sustain their position in the market by launching new products and raising funds for innovations in radioligand therapy for different cancer types. Additionally, several big pharma enterprises are collaborating to leverage the opportunities in the market for novel targeted cancer therapies.
For instance, in March 2022, Pluvicto by Novartis was approved by the FDA as a targeted radioligand therapy for progressive PSMA-positive metastatic castration-resistant prostate cancer.
Similarly, in December 2021, Molecular Partners announced a collaboration with Novartis to develop Darpin-conjugated radioligand therapeutic candidates for oncology.
Additionally, in October 2018, Novartis had acquired Endocyte to expand its expertise in radiopharmaceuticals, to accelerate the development of innovative radioligand technologies and build transformational therapeutic platforms, especially for cancer.
Key Players in Radioligand Therapy Market Report Are:
Novartis International AG
POINT Biopharma Global Inc.
Telix Pharmaceuticals
Bayer AG
Molecular Partners
ITM Isotope Technologies Munich SE
Radio Medix
Pfizer Inc.
Janssen Global Services LLC
Market Size Breakdown by Segment
The study offers a comprehensive market segmentation analysis along with market estimation for the period 2017-2030.
Based on Indication
Prostate Cancer
Neuroendocrine Tumors (NETs)
Based on Drug
Lutathera
Pluvicto
Xtandi
Xofigo
Zytiga
Based on End User
Hospitals
Clinics
Academic and Research Institutes
Based on Distribution Channel
Geographical Analysis
North America

By indication
By drug
By end user
By distribution channel

Europe

By indication
By drug
By distribution channel
By end user

Asia-Pacific

By indication
By drug
By end user
By distribution channel

Latin America

By indication
By drug
By end user
By distribution channel

Middle East and Africa

By indication
By drug
By end user
By distribution channel