Market Overview
The quantum sensors market generated revenue of USD 251.4 million in 2022, which is predicted to reach USD 889.4 million by 2030, exhibiting a CAGR of 17.1% during the forecast period. This is because of the extensive usage of these sensors to 're-build' a wide range of industries and applications. Protons, neutrons, electrons, gluons, and quarks are used in the quantum mechanics concept. This sensor has a huge demand in the defense, healthcare, and aerospace sectors owing to its advantages over conventional technologies.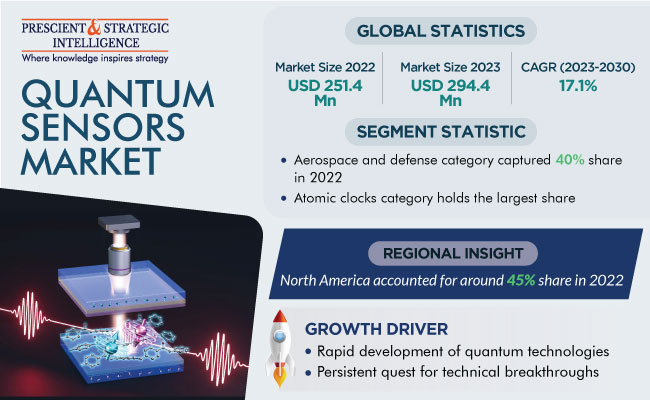 Moreover, their precise measurement and sensing capabilities are driving their usage on a large scale across industries. They can detect and measure atomic and subatomic particles, which enables improvements in controls, for instance, in computing, communications, and metrology. These instruments are critical components of quantum systems because they enable qubit readouts, quantum state detection, and quantum information processing. Hence, as quantum technologies advance, the demand for these devices is projected to skyrocket in tandem.
Furthermore, the defense and aerospace industry has made a prominent contribution to the expansion of the market, owing to the extensive utilization of these instruments in various applications, for instance, inertial navigation, gravity sensing, and magnetic field detection. These devices provide higher accuracy and stability, allowing for improved situational awareness and navigation in difficult conditions.
In addition, they are essential in areas such as medical imaging, diagnostics, and drug development in the healthcare business. Quantum sensing technologies allow for more-precise imaging modalities, such as magnetic resonance imaging (MRI), thus enabling early illness detection. Additionally, they are used in pharmaceutical research and development.
Technological Advancements Drive Market
The technological advancements in quantum sensors are the key factor driving the growth of the market. This is because of the rising adoption of this technology in various industries, such as aerospace, defense, healthcare, and oil & gas. Additionally, as more research and development are conducted in the field of science and technology, a more-important role will be played by these sensors. They have the ability to provide better sensitivity and precision, which can be achieved by making use of quantum phenomena, such as entanglement and superposition. This makes it possible to gauge physical properties, such as magnetic fields, gravity, temperature, and electric fields, with greater accuracy and speed.
This is because modern sensors have seen a remarkable gain in sensitivity, accuracy, and precision than traditional ones. Medical diagnostics, environmental monitoring, and industrial process control are the areas where precise measurements are important and increased sensitivity has, thus, created a new opportunity.
The miniaturization of quantum sensors is another crucial technical advance. The developments in nanofabrication and other manufacturing methods have led to the creation of small, inexpensive devices, with a reduction in their size. This would be of immense benefit for wearable technologies, internet of things (IoT) and mobile platforms, due to the easy integration of these little sensors in compact consumer electronic products. The popularity of miniaturization has surged the applicability of these instruments in applications where mobility or available space are key considerations.
Furthermore, quantum technology capabilities have advanced so fast in recent years that it is now possible to interpret and analyze the high volumes of data produced by these devices. Quantum computing methods can easily resolve issues in data analysis, improve measurement precision, and offer quick insights.
Growing Demand in the Aerospace and Defense Industry
The growing aerospace and defense industry around the world is the key driver for the advancement of the market. This is ascribed to the ability of this technology to detect and measure an extensive range of metrics, thus diagnosing problems that regular sensors might miss. Thus, there is a high demand for these instruments in the aerospace and defense industry for various devices and functionalities, such as navigation inertial sensing, gravitational wave detection, and magnetic anomaly detection.
Here, these instruments offer improved capabilities for target recognition, surveillance, and navigation. Some of the physical quantities that can be easily detected by these instruments are magnetic fields, gravity, and electromagnetic radiation, wherein even the minutest of changes can be identified and quantified.
Quantum sensors have the ability to transform navigation systems by offering more-precise and trustworthy positional data. They can go beyond the demerits of conventional technologies, which significantly rely on global navigation satellite systems (GNSS), which are susceptible to interference and jamming. Quantum gyroscopes and accelerometers have advanced navigation and inertial sensing capabilities, which can provide highly accurate rotation and acceleration data.
Quantum sensors are also useful for identifying magnetic fields that are inconsistent, because they can detect even a minor change in the direction and strength of the magnetic force. This becomes especially important when it comes to defense applications because they can locate submerged objects, including underwater mines and submarines. In addition, quantum magnetometers can offer better sensitivity and resolution compared to traditional magnetometers, which makes it easier to find and localize magnetic anomalies.
Another usage of these instruments in the industry is the identification of gravitational waves. The high frequency of astronomical events, such as the merging of black holes and neutron stars, can create gravitational waves, which are undulatory in the fabric of spacetime. Here, interferometric gravitational wave detectors offer high sensitivity and precision for detecting these minor signals, which can be helpful for space research missions and provide insightful information about astrophysical events.
Quantum Sensors Market Report Coverage

| | |
| --- | --- |
| Report Attribute | Details |
| Historical Years | 2017-2022 |
| Forecast Years | 2023-2030 |
| Market Size in 2022 | USD 251.4 Million |
| Market Size in 2023 | USD 294.4 Million |
| Revenue Forecast in 2030 | USD 889.4 Million |
| Growth Rate | 17.1% CAGR |
| Report Scope | Market Trends, Drivers, and Restraints; Revenue Estimation and Forecast; Segmentation Analysis; Companies' Strategic Developments; Market Share Analysis of Key Players; Company Profiling |
| Segments Covered | By Product Type; By Application; By Region |
Explore more about this report - Request free sample pages
Atomic Clocks Category Holds Largest Share
Based on product type, the atomic clocks category accounted for the largest share, of 40%, in the quantum sensors market in 2022, and it will further maintain its dominance in the future. This is owing to the exceptional accuracy of these instruments, advancements in technology, increasing demand for precise timing, and continuing research and development. These factors combine to make sure that atomic clocks cater to a wide range of industries and applications that depend on exact timekeeping and synchronization.
Moreover, the creation of smaller, more-easily transportable, and more-effective gadgets results from the improvements in the atomic clock technology. The usage of conventional atomic clocks has been limited to specific settings because of their size and complexity. Thus, the miniaturization of atomic clock components is important to boost their application in sectors with space and portability constraints. Mobile communications, self-driving cars, and aerospace systems are among the appropriate applications of modern atomic clocks, due to the latter's mobility and flexibility.
Additionally, the rising investment in research and development projects centered on the atomic clock technology will help this category retain its dominance in the market. Atomic clocks are important for many industries, governments, academic institutions, and commercial businesses that are actively looking to increase their precision, stability, and durability. These continuous efforts will result in the emergence of more-sophisticated atomic clock designs with a better performance and reliability.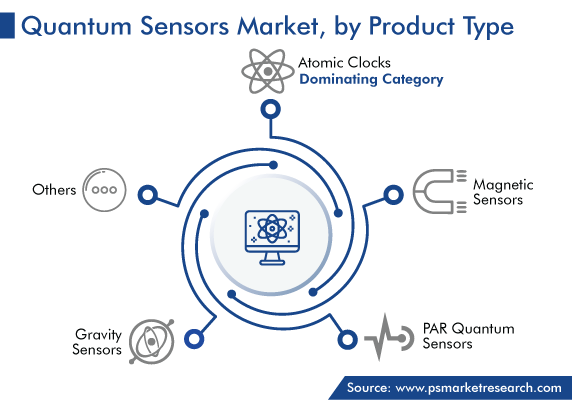 North America Is Market Leader
Based on region, North America held the largest share in the quantum sensors market, of around 45%, in 2022, and it is further expected to maintain its dominance during the forecast period. This is ascribed to its strong technological infrastructure, high investment in research and development, presence of major end-use industries, and supportive government regulations in the region.
Moreover, North America gets the benefit of a strong network of industry players, which includes reputed companies and startups considering the adoption of quantum technologies. This network also encourages collaboration, knowledge sharing, and the development of cutting-edge quantum sensor solutions.
Additionally, North America has a favorable regulatory environment and government initiatives that promote the adoption of quantum technologies. Governments in the region recognize the transformative potential of this technology and, are thus, actively investing in research and development. These efforts are fueling partnerships between the academia and the industry and, ultimately, driving the market in North America.
Furthermore, the Europe region is likely to grow significantly in the market in the coming years. This is because of the rise in the production of electric vehicles in regional countries, especially Germany and the U.K., as sustainable mobility technologies are gaining tremendous popularity these days. The operation of batteries that are installed in electric vehicles can now be monitored with much greater accuracy with quantum sensors. As a result, electric vehicles can have a longer driving range, while still consuming less energy than before.
Moreover, by integrating these instruments, the battery of cars can be reduced by 10%, which will essentially lead to the reduction in the amount of energy required to operate these clean automobiles. The involvement of these sensors in vehicles will also lead to a decrease in carbon emissions, which is a key goal for countries around the world, especially those bound by the Paris Agreement and Kyoto Protocol.
Whereas, the Asia-Pacific (APAC) market is expected to grow at the highest pace over the forecast period, primarily because of the low manufacturing cost and surge in domestic and foreign investments in regional countries. China is making rapid progress by utilizing quantum sensors in machines that can perform complex calculations at a faster rate than before. Moreover, the People's Republic has the potential to bypass the current encryption standards, using quantum sensors technologies, which would be a key driver for the market.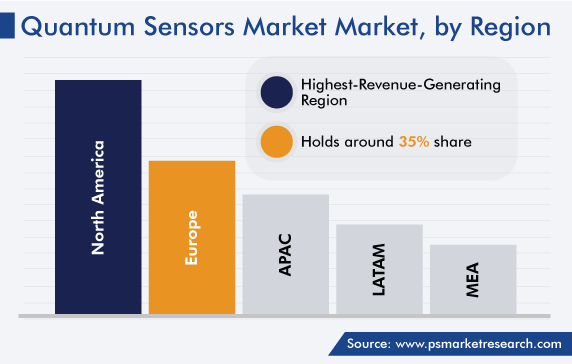 Key Quantum Sensor Manufacturers Are:
Honeywell International Inc.
Rigetti Computing
QuSpin Inc.
Qnami
M Squared
AOSense Inc.
Muquans
ID Quantique
Alpes Lasers SA
Trapped Ion Quantum Ltd.
Atom Computing Inc.
Q-CTRL
Quantum Diamond Technologies
Single Quantum
Market Size Breakdown by Segment
This fully customizable report gives a detailed analysis of the quantum sensors industry from 2017 to 2030, based on all the relevant segments and geographies.
Based on Product Type
Atomic Clocks
Magnetic Sensors
PAR Quantum Sensors
Gravity Sensors
Based on Application
Military and Defense
Automotive
Oil and Gas
Healthcare
Geographical Analysis
North America
Europe

Germany
U.K.
France
Italy
Spain

Asia-Pacific

Japan
China
India
South Korea
Australia

Latin America
Middle East and Africa

Saudi Arabia
South Africa
U.A.E.