Market Overview
The global phytosterols market generated revenue of USD 952.4 million in 2022, which will reach USD 1,921.4 million by 2030, advancing at 9.2% CAGR between 2022 and 2030.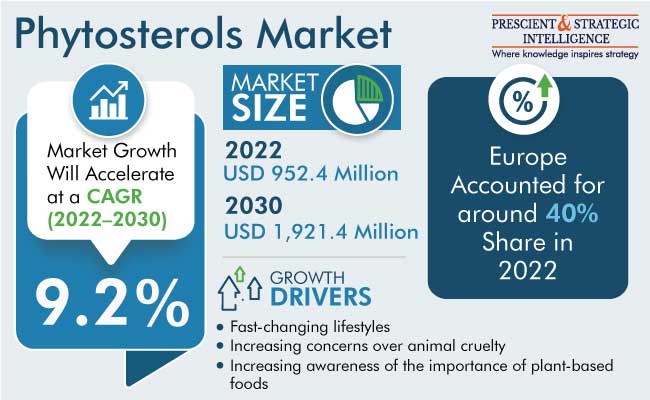 The major factor behind the increasing demand for this food ingredient is the growing awareness, fast-changing lifestyles, rising income, and increasing concerns over animal cruelty. Moreover, plant-based phytosterol products and supplements are approved by many government agencies concerned with food and pharmaceuticals worldwide.
'Phytosterols' is a collective term for natural, plant-derived stanols and sterols. These phytochemicals are added to foods or supplements for daily consumption. Food products containing such ingredients block or reduce bad cholesterol absorption through the digestive system. This way, phytosterol-containing food helps in reducing the risk of many known problems, especially heart issues, such as heart attacks and strokes. Many research findings suggest plant sterols are helpful in reducing the LDL or bad cholesterol levels because the chemical structure of these chemicals is similar to that of the cholesterol the human body generates. Because of this reason, these chemicals also reduce the chances of getting diabetes and inflammatory diseases.
This shift toward phytosterols is due to the rise in the number of deaths attributed to cardiovascular diseases and the growth in the awareness of healthy plant-based food, especially since the COVID-19 outbreak forced people to make changes and adopt healthy lifestyles. Customers' increasing expenditure on nutritious foods around the globe is also attributable for this transition.
Moreover, the shift toward natural and plant-based ingredients has boosted the demand for these ingredients. The growth of the phytosterols market is also influenced by regional dynamics and the ability of companies to adapt to the changing consumer preferences.
Beta-Sitosterols Are Dominant Type of Plant Sterols
β-sitosterols will have the larger market share, around 60%, by 2030. This is owing to the escalating consumer inclination toward functional foods and dietary supplements, driven by the rising awareness of the inherent properties of beta-sitosterols derived from plants.
Moreover, the growing recognition of the environmental impact associated with conventional chemical ingredients has led to the widespread adoption of bio-based and sustainable alternatives across multiple industries. This move helps minimize the carbon footprint and ensures customers' trust by producing fewer side-effects.
β-sitosterol is widely found in fruits, such as avocados, apples, and berries; vegetables, including broccoli, green beans, and sweet potatoes; whole grains; seeds, particularly pumpkin seeds and sunflower seeds; and nuts, especially cashews.
As a food supplement and ingredient, this compound is sometimes used for preventing diabetes and inflammatory diseases and to reduce swelling in the prostate and other tissues. It also helps reduce the risk of several other diseases, including cancer, but a proper amount is needed on a daily basis, as prescribed by the doctor.
Campesterol and stigmasterol also hold significant shares in the market. Other compounds in the segment are sitostanol and campestanol,all of which are incorporated into various products aimed at preventing inflammatory and other chronic diseases. Owing to such potential health benefits, these ingredients are becoming popular among consumers seeking natural functional solutions for well-being.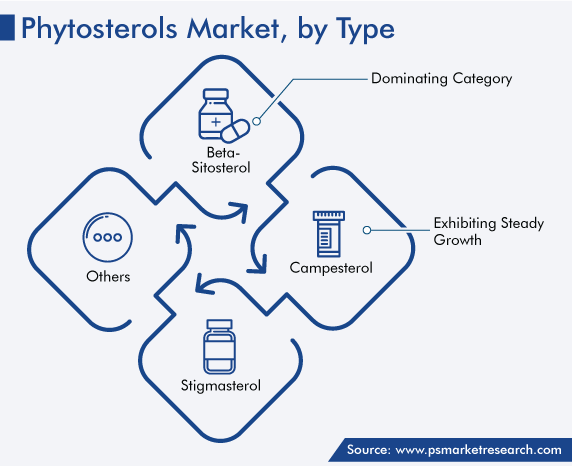 Based on Source, Fruits & Vegetables Hold Largest Market Share
The category of fruits & vegetables holds the largest share in the global phytosterols market, due to the wide availability of diverse fruits and vegetables in various countries, especially those in the tropics, including Brazil, Indonesia, and India. These crops serve as the primary sources of phytosterols, which are extracted in the dry or liquid form, through various processing methods.
A variety of fruits, including apples, bananas, berries, pineapples, and oranges, contain high amounts of phytosterols and, are thus, commonly utilized in the production process. Similarly, numerous vegetables, such as asparagus, broccoli, cabbage, celery, green beans, and sweet potatoes, are available worldwide and, therefore, widely used for phytosterol extraction.
Whole grains, soybeans, & lentils are the fastest-growing category, primarily owing to the abundant availability of these crops worldwide, especially in semi-arid and arid regions. Whether processing locally or exporting to other countries, manufacturers are actively exploring new food combinations and experimenting with whole grains, legumes, and seeds. These food sources are widely abundant globally, contain beneficial oils, and are easy to store. Consequently, legumes and grains are gaining popularity as prominent sources of phytosterols due to their versatility, nutritional value, and ease of incorporation into regular diets.
Moreover, pumpkin seeds, sunflower seeds, cashews, dandelion, and coffee contain these compounds in high concentrations.
Dairy products fortified with phytosterols are experiencing a significant growth in demand due to the booming trend of fortifying dairy products with these plant-derived compounds. Phytosterols, known for their cholesterol-lowering properties, are being added to dairy products, such as milk, yogurt, spreads, and cheeses. This offers consumers a convenient way to improve their heart health. The phytosterols market advance in this regard is driven by the increasing consumer demand for functional foods, health claims associated with phytosterols, regulatory support, and partnerships between dairy manufacturers and phytosterol suppliers.
Food & Beverages Topped Application Segment
Food & beverages are the most-prominent application, and this category will grow during the forecast period at a CAGR of 10%.
Consumers' shift toward healthier food & beverage products is becoming the biggest market trend, especially after COVID-19, which has forced people to become more conscious of their health. People are becoming aware of heart-related issues, for which phytosterols can be consumed as an alternative to highly saturated fatty foods, which are a prime reason for cardiovascular diseases and high bad cholesterol levels in the human body. Thus, consuming more of phytosterols can help people save on their high medical expenses for the treatment of these chronic conditions.
Moreover, the use of this ingredient in foods and beverages is primarily seen in developed regions, which will create an enormous opportunity for the phytosterols industry by improving access to functional foods & beverages, to enhance people's overall health.
Among all application categories, dietary supplements are the fastest-growing, as the increasing medical expenses are forcing people to look after their health and adopt nutritious diets. Additionally, the increasing awareness of the adverse effects associated with the conventional chemical ingredients on health has resulted in a growing consumer demand for natural dietary supplements.
The pharmaceuticals category is witnessing rapid growth in the market, as phytosterols are being used in pharmaceutical drugs and supplements to manage cholesterol levels and improve cardiovascular health. Pharmaceutical companies are investing in research and development to explore the therapeutic potential of phytosterols, while also raising awareness among healthcare professionals and consumers. The demand for phytosterol-based pharmaceutical products is increasing essentially due to the focus on preventive healthcare and the rising prevalence of chronic diseases.
Phytosterols Market Report Coverage

| | |
| --- | --- |
| Report Attribute | Details |
| Historical Years | 2017-2022 |
| Forecast Years | 2023-2030 |
| Market Size in 2022 | USD 952.4 Million |
| Revenue Forecast in 2030 | USD 1,921.4 Million |
| Growth Rate | 9.2% CAGR |
| Report Scope | Market Trends, Drivers, and Restraints; Revenue Estimation and Forecast; Segmentation Analysis; Impact of COVID-19; Companies' Strategic Developments; Market Share Analysis of Key Players; Company Profiling |
| Segments Covered | By Type; By Source; By Application; By Region |
Explore more about this report - Request free sample pages
Europe Is Largest Market for Plant-Based Sterols & Stanols
The European marketis the largest, accounting for 40% market share in 2022.
A study by the National Library of Medicinesuggests that the use of phytosterols or plant sterols has recently gained traction for the control of plasma cholesterol concentrations.
The dominance of Europe on the global market is essentially due to the increasing consumer awareness of the health benefits offered by phytosterol-fortified food products and the willingness of customers to invest in premium personal care products, including cosmetics made from sustainable and natural plant extracts. Moreover, the shift of European consumers' preferences toward vegan and flexitarian diets has fueled the demand for phytosterols. Another key driver for the phytosterols market in the region is the European Union's endorsement of the Horizon 2020 strategy for the production of natural products using sustainable technologies.
The Asia-Pacific region is the fastest-growing market, due to the significant consumption of processed foods and beverages. This trend is primarily driven by the rise in the per capita income, which is also allowing people in countries such as India, China, Bangladesh, Indonesia, and Vietnam to spend more on fast food. However, the growing number of heart attacks and strokes linked to fatty foods, along with the impact of the COVID-19 outbreak, has resulted in a shift toward healthier, low-fat food options. This is itself driven by an increasing concern for overall health, which is, in turn, propelling the consumption of food & beverage products enriched with phytosterols in the region.
The increasing health awareness, rising incidence of chronic diseases, a growing middle-class population, government initiatives for better population health management, and a thriving food industry have led to a high demand for phytosterol-enriched products and food supplements in the region.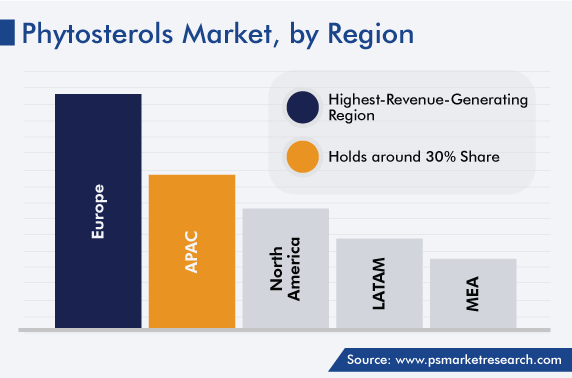 Some Key Players in Phytosterols Market Are:
Archer Daniels Midland Company
Arboris LLC
BASF SE
Cargill Inc.
Bunge Limited
Raisio plc
GUSTAV PARMENTIER GmbH
The Lubrizol Corporation
Advanced Organic Materials
Ashland Inc.
Market Size Breakdown by Segment
This fully customizable report gives a detailed analysis of the phytosterols industry from 2017 to 2030, based on all the relevant segments and geographies.
Based on Type
Beta-Sitosterol
Campesterol
Stigmasterol
Based on Source
Fruits & Vegetables
Wholegrains, Soyabean & Lentils
Nuts
Dairy Products
Based on Application
Foods & Beverages
Pharmaceuticals
Geographical Analysis
North America
Europe

Germany
U.K.
France
Italy
Spain

Asia-Pacific

Japan
China
India
South Korea
Australia

Latin America
Middle East and Africa

Saudi Arabia
South Africa
U.A.E.