Market Overview
The global photocatalytic coatings market revenue was USD 984.6 million in 2023, which is expected to reach USD 1,856.7 million by 2030, growing at a CAGR of 9.6% during 2024–2030.
The surging demand for these coatings in Asia-Pacific due to the massive scale of infrastructure development drives the market. The construction sector requires these coatings to a large extent because of their self-cleaning properties, de-polluting nature, and microbial resistance. As pollution around the globe is increasing, so is the demand for these coatings, because they help in reducing pollution. The surging demand to lower VOC emissions as a result of the strict government regulations regarding sustainable development and a small carbon footprint is, thus, propelling the market growth.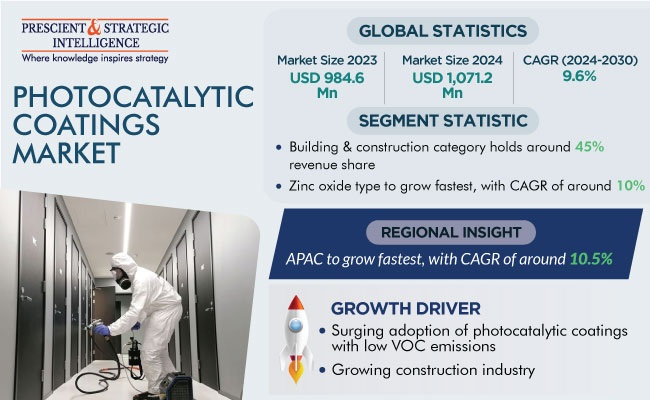 Moreover, Europe is a significant market for photocatalytic coatings, and it is following APAC in terms of growth. This is due to the increasing awareness of the importance of a good air quality and strong presence of the key players of the market, including TOTO, Kon Corporation, and Saint-Gobain. These companies are investing to a great extent in R&D activities and introducing new and innovative products, to suit more use cases. Germany accounts for a major contribution to the market, owing to the burgeoning construction activities in the country.
Photocatalytic coatings are a type of surface treatment that uses a photocatalyst to start a chemical reaction, upon coming in contact with light. This coating consists of a semiconducting material, such as titanium dioxide (TiO2) or zinc oxide (ZnO), which plays the role of the catalyst. Furthermore, titanium dioxide has a higher refractive index than diamond, which is why it does not absorb light and is highly chemically stable, which makes it hugely popular in paints.
Research is constantly being done in order to develop enhanced photocatalyst materials that are more efficient and durable. New materials, including metal-doped TiO2 and ZnO with exceptional properties, are becoming increasingly popular as raw materials for these coatings.
Their utilization is increasing in a variety of applications, such as air purification, water treatment, and antimicrobial action. The increasing air and water pollution levels is impelling people to do something to achieve sustainable development and a low carbon footprint. This is making way for the players in the market to come together on a single platform and work toward achieving the goal.
Additionally, the construction sector is the largest consumer of these coatings. The World Bank stated in a recent report that the world spent USD 12.7 trillion on residential and commercial construction in 2021, reflecting a strong rebound after the economic depression created by the pandemic.
These coatings provide many benefits, such as an improved indoor air quality, reduced growth of harmful microorganisms, elimination of odors, and cleaner and durable surfaces. Their efficiency depends on the intensity and wavelength of light, humidity, and type of pollutant. Constant research and development efforts are being put in in order to optimize the preparation of these coatings, to improve their performance and increase their potential applications.
Surging Adoption of Photocatalytic Coatings with Low VOC Emissions
The coatings market is being driven by the demand for low-VOC emission solutions. People, globally, are becoming more health-conscious, along with being increasingly concerned about environmental pollution, thus demanding sustainable solutions. These factors have created a surge in the demand for technologies that aid in improving air and water quality. These coatings provide an eco-friendly approach, which makes them suitable for use in the building, transportation, and water treatment industries.
Moreover, indoor air quality has gained importance as a result of VOC emissions from carpets, furnaces, solvents, and fuels. These coatings can break down and eliminate pollutants from the air, thus leading to healthier and cleaner indoor environments. The requirement for low-maintenance and self-cleaning surfaces is also boosting the market growth. These chemicals aid in decomposing organic matter, dirt, and stains, when they come in contact with light, thus eliminating the need for manual cleaning and maintenance.
Additionally, they play a crucial role in water treatment, by using the power of light to hasten the degradation of organic contaminants and the disinfection of water. TiO2 is primarily used for this purpose owing to its high photocatalytic activity, stability, and low toxicity. When exposed to UV light, it absorbs photons and produces electron–hole pairs. These pairs go through many chemical reactions, ultimately producing reactive oxygen agents, such as hydroxyl radicals, superoxide radicals, and hydrogen peroxide. These agents have robust oxidizing properties and can effectively degrade organic compounds, to disinfect water.
Photocatalytic Coating Market Report Coverage

| | |
| --- | --- |
| Report Attribute | Details |
| Market Size in 2023 | USD 984.6 Million |
| Market Size in 2024 | USD 1,071.2 Million |
| Revenue Forecast in 2030 | USD 1,856.7 Million |
| Growth Rate | 9.6% CAGR |
| Historical Years | 2017-2023 |
| Forecast Years | 2024-2030 |
| Report Scope | Market Trends, Drivers, and Restraints; Revenue Estimation and Forecast; Segmentation Analysis; Impact of COVID-19; Companies' Strategic Developments; Market Share Analysis of Key Players; Company Profiling |
| Segments Covered | By Type; By Application; By End Use; By Region |
Explore more about this report - Request free sample pages
Zinc Oxide Is Growing at Higher CAGR
The zinc oxide category, which held a global revenue share of more than 20% in 2023, will experience the highest CAGR over the forecast period.
One primary advantage of ZnO is its ability to respond to visible light. TiO2 photocatalysts require ultraviolet light for activation, whereas ZnO can be activated by a broader spectrum of light. It also possesses higher reactivity while producing reactive oxygen species. These species help in oxidation and the decomposition of organic pollutants and contaminants.
Further, owing to this higher reactivity, ZnO coatings have shorter reaction times, which, in turn, enhances self-cleaning performance and antimicrobial activity. This short reaction time comes in handy when a rapid response or high throughput is required, such as in air purification systems and water treatment processes.
Building & Construction Category Dominated Market
The building & construction category, with a global revenue share of more than 45%, dominated the photocatalytic coatings market in 2023.
This dominance is a result of the increasing focus on sustainability and the surging degree of urbanization. Photocatalytic coatings perform well in this scenario by providing eco-friendly solutions for improving air quality, reducing energy consumption, and enabling self-cleaning surfaces. The rapid urbanization has led to the construction of infrastructure on a massive scale, which, in turn, is resulting in the production of more VOC emissions and rise in pollution levels. To address these issues, these coatings offer a viable and cost-effective solution.
Moreover, governments and regulatory bodies are implementing strict regulations to improve air quality and mitigate pollution, which pressurizes contractors to adopt photocatalytic coating solutions. Moreover, their self-cleaning property reduces the need to frequently clean large structures, high-rise buildings, and hard-to-reach areas. Energy efficiency is a key factor in building design and construction that is currently trending. Photocatalytic coatings reduce surface contamination and keep buildings cleaner, thus improving energy efficiency. Owing to self-cleaning property, buildings do not need to be cleaned frequently, thus resulting in water and energy savings. They also aid in reducing cooling costs as they reflect sunlight and prevent buildings from overheating.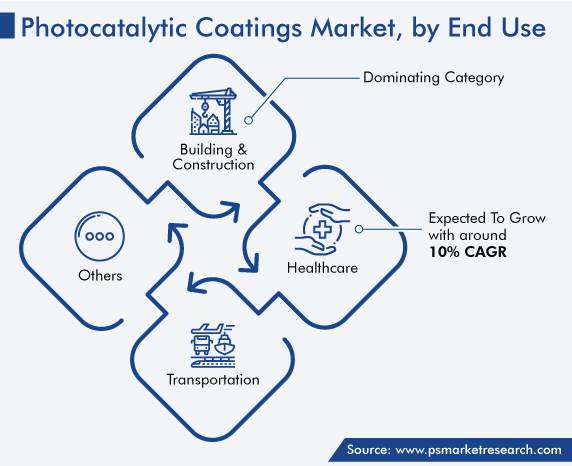 Asia-Pacific Is Fastest-Growing Region
The Asia-Pacific region, which held a global revenue share of 45% in 2023, is expected to experience the highest CAGR over this decade.
This growth can be attributed to the region's massive population, which drives urbanization. With it comes a greater demand for sustainable practices, to address environmental challenges, such as air pollution and surface contamination. The surging awareness of environmental issues is, therefore, leading to the rising adoption of these coatings. With the high-paced construction and infrastructure development in the region, the demand for building materials and technologies that provide enhanced performance, durability, and sustainability continues to increase.
Moreover, this region is characterized by advanced manufacturing capabilities and a robust focus on research and development, which drives innovations in photocatalytic coatings. The accessibility of cost-effective production processes and innovative formulations add to the growth of the market in the region.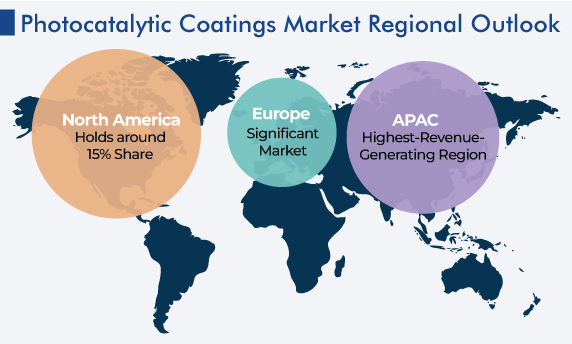 Top Companies Providing Photocatalytic Coatings Are:
Mitsubishi Chemical Group Corporation
Japan Photocatalyst Center
Photocatalyst Coatings NZ Ltd.
USA Nanocoat
Green Millennium Inc.
KRONOS Worldwide Inc.
Tronox Holdings PLC
The Chemours Company
Venator Materials PLC
Saint-Gobain Group
Market Size Breakdown by Segment
This fully customizable report gives a detailed analysis of the market from 2017 to 2030, based on all the relevant segments and geographies.
Based on Type
Titanium Oxide
Zinc Oxide
Based on Application
Self-Cleaning
Air Purification
Water Treatment
Anti-Fogging
Based on End Use
Building & Construction
Healthcare
Transportation
Geographical Analysis
North America
Europe

U.K.
Germany
France
Italy
Spain

Asia-Pacific

China
Japan
Australia
India
South Korea

Latin America
Middle East & Africa

Saudi Arabia
South Africa
U.A.E