Market Overview
The pharmaceutical gelatin market size stood at USD 1,166.7 million in 2023, and it is expected to grow at a CAGR of 5.6% during 2024–2030, to reach USD 1,703.4 million by 2030. This is mainly attributed to the increasing need for pharmaceutical-grade gelatin in making tablets, capsules, and vaccines, among others. Additionally, the rising burden of chronic diseases, the growing geriatric population, and the increasing advancements of gelatin nanoparticles for vaccines and drugs are other factors fueling the demand.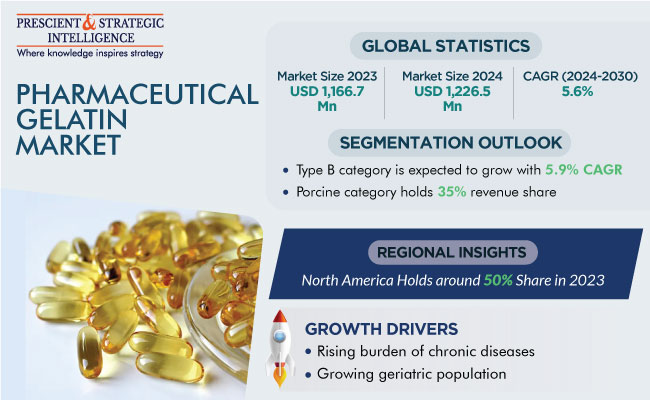 Furthermore, the market will expand significantly due to the development and launch of new products related to pharmaceutical gelatin, and the rising technologically advanced and user-friendly pharma gelatin utilized in various applications in the industry. Moreover, constant improvements made in available products as per the requirement of gelatin by major players and the advent of various drugs that serve to enhance the quality of life of patients are driving the demand for such products.
Moreover, the surging demand for pharma gelatin in developing economies of Latin America, the Middle East, Asia-Pacific, and Africa, due to low prices of labor and raw materials, is providing lucrative opportunities to industry players. Thus, global producers of raw gelatin and gelatin capsules have been shifting their business preferences and boosting manufacturing capabilities in these areas.
Surging Usage of Gelatin Boosts the Industrial Growth
The adoption of gelatin by nutraceutical & pharmaceutical manufacturers is rising, due to its multiple functional benefits, such as binding, adhesion, coating, gelling, and film-building. In addition to that, gelatin coatings on tablets, hard capsules, and soft capsules make them simpler to swallow and cover up their odor for easy ingestion. Likewise, gelatin also improves the shelf-life of pharmaceutical drugs by providing a shield against various environmental changes related to moisture or oxygen. All these qualities of gelatin make it a potential product in the pharmaceutical sector.
Porcine Category To Exhibit Significant Growth
The porcine category is expected to witness significant growth during the forecast timeline. This can be ascribed to its short cycle of manufacturing and economical production. Basically, porcine gelatin is obtained from pigs and is a potential source of protein, extensively utilized in the manufacture of various medicine and food products. Also, in the past years, porcine gelatin is widely used in nutritional beverages that are widely consumed by sports persons.
In addition, bovine gelatin accounts for the second-largest revenue share in the source segment. This is due to the use of bovine gelatin as a protein-gelling agent for the manufacturing of cosmetic products and vitamin capsules. In addition to that, it is a potent natural ingredient for the majority of health products, whose demand is rising significantly due to the growing consumer demand for natural supplements. Thus, several companies are launching new natural health products, as the population is more willing to try supplementary and alternative medications, which, in turn, is fostering the demand for bovine gelatin.
Pharmaceutical Gelatin Market Report Coverage

| | |
| --- | --- |
| Report Attribute | Details |
| Market Size in 2023 | USD 1,166.7 Million |
| Market Size in 2024 | USD 1,226.5 Million |
| Revenue Forecast in 2030 | USD 1,703.4 Million |
| Growth Rate | 5.6% CAGR |
| Historical Years | 2017-2023 |
| Forecast Years | 2024-2030 |
| Report Scope | Market Trends, Drivers, and Restraints; Revenue Estimation and Forecast; Segmentation Analysis; Impact of COVID-19; Companies' Strategic Developments; Market Share Analysis of Key Players; Company Profiling |
| Segments Covered | By Source; By Type; By Function; By Application; By End User; By Region |
Explore more about this report - Request free sample pages
Hard Capsules Dominates the Application Segment
The hard capsules category held the largest revenue share, of 40%, in 2023. This is attributed to the increase in the need for hard capsules globally, owing to the benefits of hard gelatin capsules for quick drug release and consistent mixing of drugs and others. Also, the gelatin used in hard capsules safeguards sensitive ingredients from oxygen, contamination, light, and microbial growth.
Additionally, the increasing consumption of over-the-counter (OTC) medicines, rising chronic diseases, and increasing initiatives from key players for the manufacturing of innovative gelatin capsule shells with the use of novel technology are driving the growth of the market. For instance, in May 2022, Lonza enlarged its Capsugel capsule portfolio with a titanium dioxide-free white hard gelatin capsule, to meet the evolving demands of its customers. It is produced by using an opacifying technology to provide an outstanding masking solution, and it has greater protection for fill formulations from light, providing a bright white color.
Similarly, etectRx Inc. launched a MyTPill study to screen antiretroviral therapy adherence among users of prescription opioids and living with HIV. During the study, MyTPill can assess the adherence of patients by using two electronic adherence tracking technologies, namely, the ID-Cap System and an electronic pill box. This study provides insight into how digital pill systems can help patients who have significant health risks due to non-adherence. Such initiatives lead to the rise in the adoption of gelatin for producing hard gelatin capsules (ID-Cap).
Rising Usage of Type B Gelatin
The usage of type B gelatin is rising significantly, owing to several factors such as low cost of production, due to the easy availability of raw materials; extensive usage of type B in several pharmaceutical applications; and high preference for bovine bone and skin for producing pharmaceutical gelatin as well as the cultural suitability of bovine sources.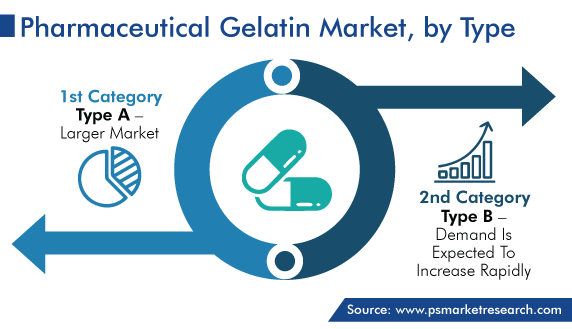 Stabilizing Agent Holds a Major Share
The stabilizing category held a major revenue share, of around 55%, in 2023, as a result of the surging use of gelatin as a stabilizer in the production of vaccines. Moreover, gelatin offers protection to vaccines from heat or freeze-drying in the process of delivery and transport. Additionally, the stabilizing agent inhibits the deformation of products and provides desired texture to them.
Whereas, the thickening agent category is projected to witness the fastest growth during the forecast period, due to its usage in liquid dosage, syrups, lotions, and creams. This gelatin thickener offers excellent liquid viscosity without altering the properties of the final products. Additionally, the manufacturing of cosmetics frequently uses gelatin to thicken products and employed it as a stabilizer to slow down a product's melting rate.
North America Is Principal Revenue Contributor
In 2023, North America accounted for the largest revenue share, of around 50%, in the pharmaceutical gelatin market, and it is predicted to maintain its position during the forecast period as well. This is attributed to the presence of developed healthcare infrastructure, abundant availability of raw materials including porcine and bovine, and strong foothold of industry players, in the region.
Moreover, due to the technological advancements in drug manufacturing and high incidence rates of chronic illnesses and various other disorders in the U.S. and Canada, the need for advanced drugs is rising, which, in turn, the demand for pharmaceutical gelatin is increasing, because it is widely used as a stabilizer in vaccines for ensuring their safety and efficacy during storage and transportation.
For instance, as per the data by the International Diabetes Federation (IDF) in November 2021, with a prevalence rate of 14%, the North American and Caribbean (NAC) region has the second-highest prevalence of diabetes among the IDF regions. An estimate of 51 million adults of age 20–79 have diabetes in the region and the IDF predicts that by 2045, there would be an increase of 24% in such cases, reaching 63 million diabetics living in the NAC region. Such a high prevalence of diabetes will boost the demand for medications, thereby fostering the adoption of pharmaceutical gelatin by capsule manufacturers.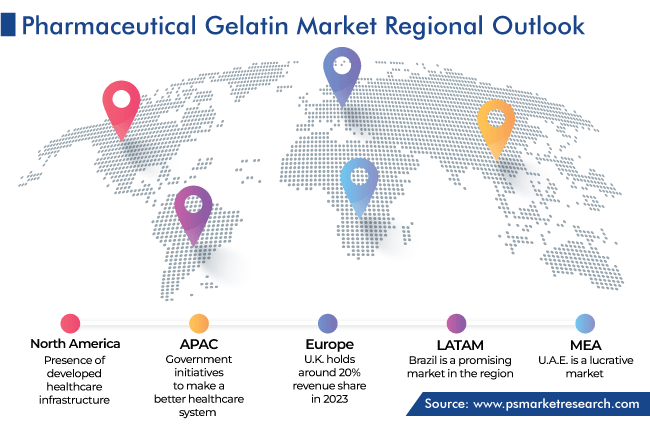 Increasing Demand for Functional Food Is a Key Industrial Trend
The consumer demand for functional food has significantly increased in recent years, due to its nutritional advantages. Further, consumers' hectic lifestyles and constantly shifting purchasing intents for various food and beverage goods have increased the need for functional food, leading to the market growth.
Nowadays, people are becoming more aware of food quality, as several health benefits are linked to diverse meals, and the popularity of functional food increases. As a consequence, consumers' interest in having nutritious meals has increased. Moreover, gelatin enhances the flavor, taste, nutritional value, and texture of vitamin supplements, helping in boosting the immunity of the body and supporting their sales.
Pharmaceutical & Biopharmaceutical Companies Maintain their Dominance
The pharmaceutical & biopharmaceutical companies category holds the largest revenue share. This is due to the increasing use of pharmaceutical gelatin in drug discovery and various other applications in several industries. For example, gelatin is used in biomedical applications such as wound dressing and wound healing, cosmetic applications, tissue engineering, gene therapy, and implants and bone substitutes.
Moreover, the market in this category is growing because various businesses have been launching novel products and making investments in the pharmaceutical industry. For instance, in May 2021, Darling Ingredients Inc. introduced X-Pure GelDAT – Gelatin Desaminotyrosine from its Rousselot Brand. GelDAT offers phenolic modification that grants superior adhesion properties to human tissues and allows its combination with other biomaterials for the formation of complex and versatile structures for tissue engineering, drug delivery, complex wound dressing, and organ-on-a-chip applications.
Key Players in the Pharmaceutical Gelatin Market Are:
Darling Ingredients Inc.
Tessenderlo Group
Gelita AG
Nitta Gelatin NA Inc.
Gelnex
Aspire Pharmaceuticals
SAS Gelatines Weishardt
Market Size Breakdown by Segment
This report offers deep insights into the pharmaceutical gelatin market, with size estimation for 2017 to 2030, the major drivers, restraints, trends and opportunities, and competitor analysis.
Based on Source
Porcine
Bovine
Marine
Poultry
Based on Type
Based on Function
Stabilizing Agent
Thickening Agent
Gelling Agent
Other Functions
Based on Application
Hard Capsules
Softgel Capsules
Tablets
Absorbable Hemostats
Based on End User
Pharmaceutical and Biopharmaceutical Companies
Biotechnology Companies
Academic and Research Institutions
Geographical Analysis
North America
Europe

Germany
U.K.
France
Italy
Spain

Asia-Pacific

Japan
China
India
South Korea
Australia

Latin America
Middle East and Africa

Saudi Arabia
South Africa
U.A.E.