Market Overview
The personalized nutrition market size stood at USD 11,142.4 million in 2022, and it is expected to advance at a compound annual growth rate of 14.8% during 2022–2030, to reach USD 33,658.5 million by 2030.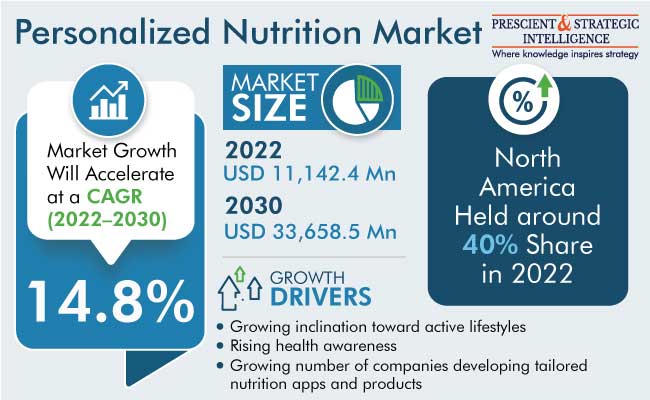 The market for custom-made nutrition solutions is driven by the growing inclination toward active lifestyles among people, rising health awareness, and growing number of companies developing various tailored nutrition apps, products, and genetic testing kits.
The trend of providing customized experiences is growing significantly with the ever-changing needs of customers. With time, the demand for individualized nutrition solutions that use the information on an individual's physical characteristics to develop products, services, and nutritional advice that is expected to best suit the person, has witnessed an increase. The approach of developing person-specific products is more effective than the generic approaches followed by most companies till now.
Personalization ultimately brings profitability, as it boosts consumer satisfaction and builds brand loyalty. As a result, a growing number of consumers are likely to purchase products that promise personalized experiences. In terms of health perspectives too, there is a burgeoning demand for individualized nutrition solutions that improve individuals' health and overall wellbeing. This trend is the result of nutrition examinations, which develop an improved understanding of one's diet and its effects; and the new, technologically advanced solutions that enable better and consistent measurements of fitness indicators. Additionally, the inclusion of new diagnostic tools that interpret this data and transform it into user-friendly practical information fosters the market advance.
Gut microbiome analysis and DNA profiling are the two major processes that enable custom-made nutrition solutions. DNA profiling is done to study the interaction between the genes and nutrients. Moreover, a gut microbiome analysis helps understand the various types of microbes that exist in the gut and aid digestion.
Inclination toward Healthy Lifestyle
The heightened health awareness and the rising purchasing power across regions have encouraged a large chunk of the population to move toward personalized nutrition. The varying consumer preferences for wellness products have considerably driven the demand for such dietary supplements over the past few years. As consumers have become more nutrition-specific, tailored nutrition plans are required as per their genetic makeup that address their health concerns. Therefore, individualized dietary supplements are increasingly being preferred over the regular, standardized ones. This is because consumers are gradually seeking customization in their daily experiences, to benefit their health, and shifting away from the universal 'one-size-fits-all' approach.
Moreover, the demand for personalized nutrition solutions is strongly driven by the highly motivated consumers, who include athletes, people suffering from chronic lifestyle-related diseases, those who are at a risk of contracting diseases due to their increasing age, and working individuals.
Replying to the rising demand, BASF SE introduced a wide variety of nutritional solutions to reduce the risk of several chronic diseases at Food Ingredients China (FIC), in March 2018. In the same year, Koninklijke DSM entered into a research partnership with Wellmetrix to explore the suitability of Wellmetrix's diagnostic platform for taking point-of-care and non-invasive measurements of key health biomarkers after a nutrition intervention utilizing the nutritional ingredients offered by DSM.
Advent of Technologically Advanced Customized Nutrition Solutions
Numerous consumer product companies are offering tailor-made IT-centric solutions for every aspect of personalized nutrition for consumers. These products enable data collection, analysis, measurement and monitoring, recommendations, all the way through to the delivery of custom-made nutritional products. All of these elements are available as an integrated and customizable platform for the target audience. With the radical studies yielding critical knowledge, enabled by robust global partnerships, these companies offer expert services to support their customers across the entire development process of personalized nutrition solutions.
The advancements in technology are another key factor that will underpin the personalized nutrition market growth in the coming years. With the consistent innovations in dietary supplements and mHealth apps, consumers are becoming more aware of their health and wellbeing, which leads to a high demand for customized products. Moreover, the market players such as Nutrigenomix Inc., a firm offering genetic testing solutions for personalized nutrition, launched a new line of genetic tests in 2019 for both vegetarians and vegans that helps assess how their bodies process certain nutrients.
The most-stimulating trend in the space is energy management through devices taking real-time blood glucose measurements. The consistently evolving smart sensors, for instance— those integrated into next-generation wearables—facilitate glucose monitoring and, hence, are used by fitness individuals and sportspersons. By combining these wearables with food supplements and individualized nutrition apps, athletes can easily monitor and optimize their glucose intake and also avoid both under-fueling and an extreme intake of glucose. In turn, such combinations can bring optimized performance, longer training times, and quick recoveries from fatigue for the next day's workout.
The wearable technologies focused on wellness offered by Apple and Fitbit help consumers track their nutrient intake and activity. These devices also enable them to customize their diet plans. Gut microbiota testing and genomic testing kits too are the results of the extensive research on metabolic and genomic profiles, which is being conducted to provide individualized diets and pills.
Further, a significant number of companies are developing innovative nutrition products, such as 3D-printed edibles. These items fulfill the requirements for flavor, texture, color, and size. Along with these physical properties, the entire composition can be customized in terms of the output of micro and macronutrients, as per individual needs. These supplements are designed to match consumers' specific dietary habits and lifestyles and enhance them. Novameat, Revo Foods, Upprinting Food, and Redefine Meat are some of the companies offering 3D-printed food. Therefore, these constantly evolving technologies, right from DNA-centric dietary recommendations to such 3D-printed nutrition products, are likely to create significant opportunities for the market growth.
Personalized Nutrition Market Report Coverage

| | |
| --- | --- |
| Report Attribute | Details |
| Historical Years | 2017-2022 |
| Forecast Years | 2023-2030 |
| Market Size in 2022 | USD 11,142.4 Million |
| Revenue Forecast in 2030 | USD 33,658.5 Million |
| Growth Rate | 14.8% CAGR |
| Report Scope | Market Trends, Drivers, and Restraints; Revenue Estimation and Forecast; Segmentation Analysis; Impact of COVID-19; Companies' Strategic Developments; Market Share Analysis of Key Players; Company Profiling |
| Segments Covered | By Product Type; By Application; By End Use; By Region |
Explore more about this report - Request free sample pages
Active Measurement Had Significant Market Share in 2022
The active measurement category accounted for more than 70% share in 2022, and it is expected to advance at a CAGR of around 15% during 2022–2030. Active measurement products hold a considerable market share owing to the growing consumer awareness about personalized diet plans, test kits, and mHealth apps. In this regard, the personalized nutrition market growth in this category is propelled by the augmenting influence of digital health solutions in people's lives.
Many players in the market offer dietary supplements as part of comprehensive customized health plans for customers. Diet apps are a fast and effective way to track an individual's progress, to ensure they stick to their weight loss and other health goals. These apps provide a platform to log food details, track water intake and weight loss, input recipes, and get ideas for meal plans. Many of these apps are free to download and use, while others require a subscription.
These apps cover a variety of needs, such as Ketogenic diet, weight loss, meal planning, and macronutrient counting. Some of the apps are Lifesum, MyFitnessPal, Fooducate, Carb Manager, Paleo (io), and MyMacros+; they provide dietary tips and educate users about healthy eating and active community support. Further, as consumers have become progressively inclined toward personalized approaches, genomic testing kits for personalized nutrition are being increasingly used to assist consumers with diets suiting their DNA profiles.
Many companies offer DNA collection kits for studying the various genetic parameters of an individual, to accordingly offer them dietitian programs and personalized supplements and recipes. Additionally, many food supplement businesses are profoundly investing in research on DNA sequencing and startups engaged in it and other related activities that aim at enhancing and customizing nutritional supplements.
Rising Demand for Standard Supplements
Standard supplements, which include both health and nutritional supplements, are expected to grow with a CAGR of 13%% during the forecast period.
Standard supplements include minerals, vitamins, botanicals, herbs, enzymes, and amino acids. Among all these, multivitamins are one of the most-common supplements to fill the nutrition gaps. Other standard dietary supplements include echinacea, fish oil, calcium, and vitamin D. These products help in preventing many chronic diseases, if adequately added to the daily regimen. They also help in strengthening the immune system, by providing the vital minerals and vitamins.
Both the custom-made health and sports nutrition supplements are entering a new era revolving around buyers' experience, as these products play an important role in offering a comprehensive range of holistic solutions.
Further, with the rising geriatric population and prevalence of chronic illnesses, the demand for health supplements continues to grow. Owing to all these factors, the standard supplements category is expected to advance with a remarkable rate in the near future, as these products ensure strong immunity and prevent immunodeficiency issues and other chronic ailments.
North America Captures Largest Market Share
North America accounted for a significant market share, of 40%, in 2022, ascribed to the growing health awareness, high purchasing power, shifting customer preferences, and emergence of various market players in the region.
According to a survey, in the U.S., multivitamin/multimineral supplements, vitamin D, and omega-3 fatty acid supplements are the most-common dietary supplements among all age groups. It also showed that the percentage of adults using dietary supplements rises with the increasing age. Additionally, the intake of customized nutritional tablets is higher among women than men in all age groups.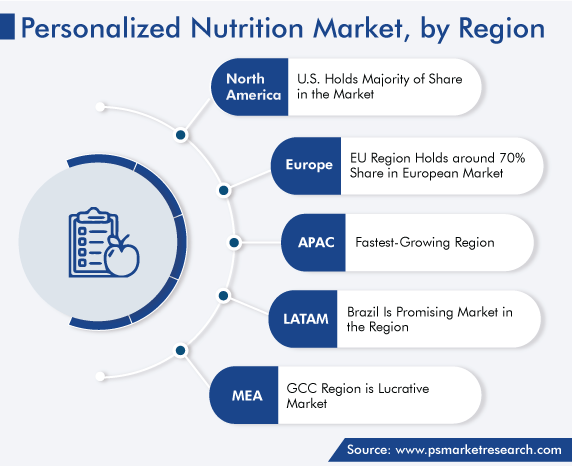 Key Personalized Nutrition Solution Providers Are:
BASF SE
Koninklijke DSM N.V.
Herbalife Nutrition Ltd.
Amway Corp.
Prenetics Limited
Nutrigenomix Inc.
Viome Life Sciences Inc.
Habit LLC
Atlas Biomed Group Limited
Market Size Breakdown by Segment
This fully customizable report gives a detailed analysis of the Personalized Nutrition industry from 2017 to 2030, based on all the relevant segments and geographies.
Based on Product Type
Active Measurement
Standard Measurement
Based on Application
Standard Supplements
Diseased-Based
Based on End Use
Direct-To-Consumer
Wellness and Fitness Centers
Hospitals and Clinics
Geographical Analysis
North America
Europe

Germany
U.K.
France
Italy
Spain

Asia-Pacific

Japan
China
India
South Korea
Australia

Latin America
Middle East and Africa

Saudi Arabia
South Africa
U.A.E.