Patient Registry Software Market Overview
The patient registry software market was valued at USD 2,091.0 million in 2023, which is expected to reach USD 5,638.3 million by 2030, growing at a CAGR of 15.3% during 2024–2030.
The demand for integrated registries is being triggered by the rising prevalence of chronic diseases, such as cancer, diabetes, and cardiovascular diseases, and the increasing adoption of electronic health records (EHR).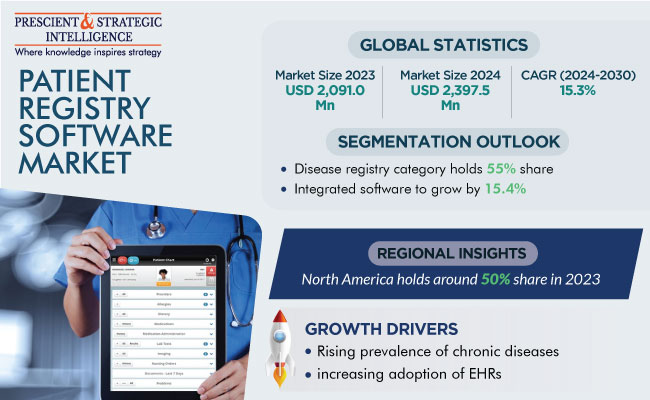 The growth of the market is also expected because most biotechnological and pharmaceutical businesses are increasingly investing in clinical trials. Patients' registration data is useful for tracking clinical trial participants. Additionally, the data can be used to identify regions, countries, and localities affected by a particular disease. Pharmaceutical companies and medical device companies can take the advantage of patient registries for marketing their products, by tracking the drugs and medical devices used in particular areas. These databases also lower the price of post-market research and assist in the generation of real-world evidence.
The increase in the need to provide better care for chronic diseases, including cancer, diabetes, and cardiovascular diseases, at lower prices augments the market growth potential. Other key drivers are the rising healthcare expenses, increasing population of senior citizens, improving healthcare infrastructure, and burgeoning use of patient registry data for post-marketing observation.
Healthcare corporations, research institutions, and other stakeholders are becoming more aware of the benefits and potential of such software. They recognize the value of diverse and well-arranged data for improving patient care, supporting research, and updating healthcare policies.
The COVID-19 pandemic had a favorable impact on the patient registry software market. With the increase in the case count, catering to the sudden rise in the need for vaccines and other medications was quite difficult. In this situation, registry software helped the healthcare staff in determining how much medical supplies and vaccinations will be required in a particular location.
Disease Registry Is Dominating Market
The disease registry category contributed the highest revenue, of USD 1.1 billion, in 2023. Patients suffering from certain diseases are listed in these registries.
The dominating share of this category is due to the aging of the population, rise in the chronic and uncommon & novel disease incidence, growth in the understanding of the importance of registries in health management, and widespread adoption of EHRs. Disease registries are becoming more beneficial because new ones offer historically comparable data and allow for long-term evaluation. Their adoption is also being fueled by the rising government attempts to create and manage patient health records at lower prices and increasing awareness of how to collect and use patients' health information.
Moreover, the continuing developments in medical technology, rising use of EHRs, and a strengthening emphasis on evidence-based medicine will continue to drive the advance of this category. Government programs supporting disease surveillance and the growing financing for research are a few other variables that will have a favorable impact on the dominance of the disease registry category. Disease-specific registries make it possible to gather and analyze data with precision, offering useful insights into the patterns of diseases, the effectiveness of treatments, and patient demographics.
Growing adoption of Electronic Health Records (EHRs)
A digitally stored, systematized collection of patient and population health information is known as an EHR. The sharing of these records is possible between various healthcare facilities via additional information networks and exchanges, including network-connected, enterprise-wide information systems. EHRs may contain a variety of data, such as billing information, demographics, medical history, prescription and allergy information, immunization status, laboratory test results, radiological pictures, and data on vital signs.
The expansion of the government programs to promote the use of digital technologies throughout the healthcare sector is accelerating the usage of this software. The adoption of these platforms can reduce paperwork, help with data storage, and facilitate simple data sharing. The category is set to be driven by the growing count of government initiatives to build a flexible healthcare infrastructure and utilize digital technology to improve the operational efficiency of healthcare units.
Patient Registry Software Market Report Coverage

| | |
| --- | --- |
| Report Attribute | Details |
| Market Size in 2023 | USD 2,091.0 Million |
| Market Size in 2024 | USD 2,397.5 Million |
| Revenue Forecast in 2030 | USD 5,638.3 Million |
| Growth Rate | 15.3% CAGR |
| Historical Years | 2017-2023 |
| Forecast Years | 2024-2030 |
| Report Scope | Market Trends, Drivers, and Restraints; Revenue Estimation and Forecast; Segmentation Analysis; Impact of COVID-19; Companies' Strategic Developments; Market Share Analysis of Key Players; Company Profiling |
| Segments Covered | By Type; By Software; By Pricing Model; By Deployment; By Database; By Functionality; By End User; By Region |
Explore more about this report - Request free sample pages
Standalone Software Generates Higher Revenue
Due to its sophisticated features and user-friendly tools, standalone software has the bigger market share. Standalone software covers cancer, rare diseases, diabetes, cardiovascular disease, and patient details. As a result, the data is accessible and extremely detailed.
Standalone software programs are designed to focus on a single register, such as clinical information on people with diabetes, cancer, uncommon diseases, and cardiovascular conditions. Additionally, its automatic upgrade capability lowers the expense on IT operations and services.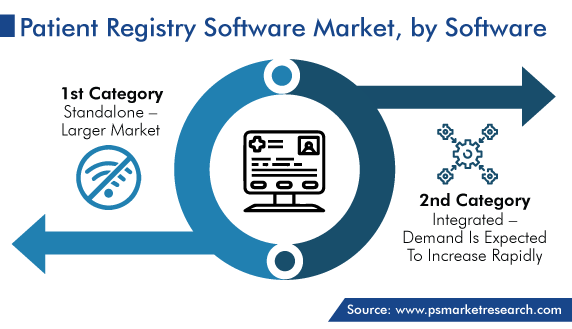 Integrated Software Demand To Witness Faster Growth
Over the forecast period, the integrated category is expected to undergo the faster expansion. An integrated system is a collection of software used to monitor the locations affected by a disease and assess the effectiveness of clinical involvement. It also helps learn more about disease prevalence and the efficacy of treatment options. Multiple modules of integrated software provide a wide range of functionalities not typically seen in standalone applications.
In hospital settings, where several registers must be kept in various departments, and cross-sharing of this data across departments is essential, integrated software is being used more frequently.
Population Health Management Dominates Market
A defined group of people's clinical health outcomes are improved by better care coordination and patient involvement, which are supported by suitable financial and care models. This process is known as population health management.
Data collection is the initial step in every population health management strategy. A population is defined by data that includes social, environmental, cultural, and community statistics as well as health information from medical records. Such data must be analyzed to assess the success or failure of population health management strategies and adjust them accordingly. Data dashboards and other analytics toolkits are used by population health managers to efficiently support their projects.
Prevention and positive outcomes are prioritized over treatments in population health management. For example, a project aiming to improve the outcomes of a population with type 2 diabetes would run a community-wide outreach campaign to encourage healthy eating and offer assistance to those with pre-diabetes. Although hospital stays and doctor visits are a necessary component of any healthcare program, the main focus here is preventive care.
The development and expansion of PHM strategies will have a key role in how well healthcare systems run in the future. For instance, the Triple Aim's three components will continue to inspire interventions that promote better results. Success depends on everyone's commitment to a patient-centric approach, program organization, data sharing, responsible reporting, and quality improvement. PHM is fundamentally about inter-professional cooperation, a cooperative endeavor with the ultimate goal of delivering affordable healthcare that maintains patient satisfaction and public health.
Clinical Trials and Medical Research Is Increasing Rapidly
Over the projection period, clinical trials and medical research is expected to grow at the highest rate. These registries typically keep information on patients who have health issues. Periodically, they may also include patient health status information and data on a particular medication, thus assisting in the development of new drugs.
Patients themselves help researchers in creating new treatments and preventive strategies, by taking part in clinical research. Without study subjects, many beneficial treatments that are used today, such as chemotherapy, cholesterol-lowering medications, vaccinations, and cognitive behavioral therapy, would not be possible. People of different ages and backgrounds, whether healthy or suffering from a medical problem, are eligible to take part in clinical studies.
Due to its real-time data collection and availability and cost-effectiveness, the usage of such software for point-of-care applications also has a significant potential.
North America Is Largest Market
North America dominated the market for patient registry software in 2023. The market in this region is expanding as a result of a growing target population, increasing disease prevalence, and rising demand for population-based registries. Additionally, the growing government activities to encourage the usage of these solutions make this region a significant user of these programs. Therefore, HIT companies are continually working to create better, user-interactive software in order to make it conducive to clinical research.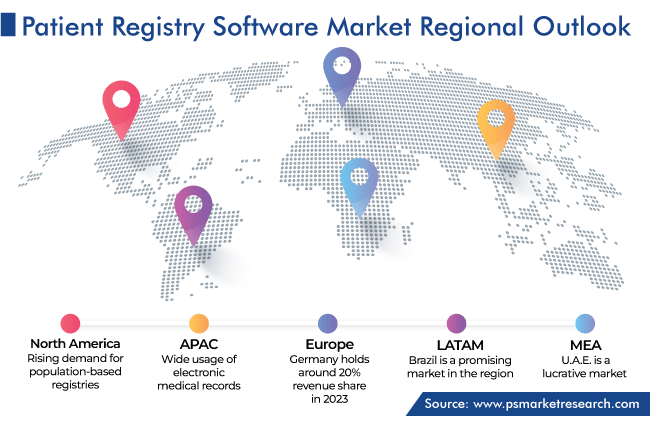 Asia-Pacific Is Fastest-Growing Region
During the forecast period, Asia-Pacific is expected to see profitable growth. Over the past few years, electronic medical records have become more widely used. Other key factors driving the market in the region are the increasing demand to reduce medical errors, the high frequency of hospital visits, rising prevalence of co-morbidities, and aging population
Patient Registry Software Companies:
IQVIA Inc
IBM Corporation
Optum Inc
Phlexglobal Ltd.
Mckesson Corporation
FIGMD Inc.
Elekta
Coduent Inc.
Evado Clinical
Market Size Breakdown by Segment
The study uncovers the biggest trends and opportunities in the patient registry software market, along with offering segmentation analysis at the granular level for the period 2017 to 2030.
Based on Type
Disease
Health Service
Product
Based on Software
Based on Pricing Model
Based on Deployment
Based on Database
Based on Functionality
Population Health Management
Patient Care Management
Medical Research & Clinical Studies
Health Information Exchange
Point of Care
Product Outcome Evaluation
Based on End User
Government Organizations
Hospitals & Medical Practices
Private Payers
Pharmaceutical, Biotechnology, and Medical Device Companies
Research Centers
Geographical Analysis
North America
Europe

Germany
U.K.
France
Italy
Spain

Asia-Pacific

Japan
China
India
South Korea
Australia

Latin America
Middle East and Africa

Saudi Arabia
South Africa
U.A.E