Market Overview
The global osteoporosis drugs market was valued at $14,576.3 million in 2021, and the market size is predicted to reach $22,947.0 million by 2030, advancing at a CAGR of 5.2% during 2021–2030. The market is driven by increasing healthcare expenditure, the high prevalence of osteoporosis, and the rapid urbanization affecting bone health.
India is one of the fastest-growing markets for osteoporosis drugs. In India, more women are suffering from osteoporosis, which results in decreased bone mass and altered bone structure. Data on the prevalence of this disease among women in the country collected from research carried out in small groups across the nation indicates that about 50 million, of the 230 million Indians, were women aged over the age of 50 years in 2021. Consequently, osteoporosis is a significant public health issue for Indian women. The high prevalence of this disease has been attributed to low calcium intakes with widespread vitamin D deficiency, increased lifespan, sex inequity, early menopause, hereditary predisposition, a lack of diagnostic tools, and inadequate awareness of bone health.
There has been a remarkable increase in the awareness of osteoporosis among people across the globe, which is a notable trend prevailing in the osteoporosis drugs industry. This awareness is largely a result of various initiatives that are being undertaken by government and private associations, through various programs and campaigns. For example, the International Osteoporosis Foundation is an organization working in the field of osteoporosis. Whereas, National Osteoporosis Awareness and Prevention month is celebrated in May, in the U.S., for boosting awareness about the effects and complications of osteoporosis, by conducting various events like conferences, seminars, and workshops.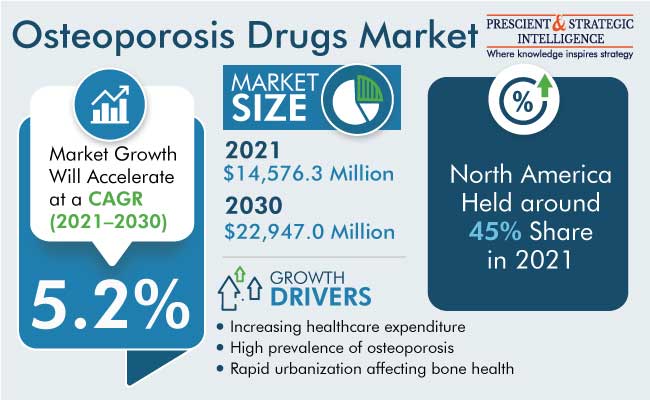 Bisphosphonate Drugs Are Widely Used
The bisphosphonates category held the largest revenue share, around 30%, in 2021. Bisphosphonates bind to the surface of the bone's mineral, where they effectively block osteoclast-mediated bone resorption. They thereafter embed in the bone and are only released following subsequent resorption. Since bone production and resorption are synchronous processes, all bisphosphonates significantly lower bone resorption. At a slower rate of bone turnover, equilibrium is established in three-to-six months. The final effect is bone mass and microarchitecture preservation or improvement, which lowers the risk of fracture as early as six months following injection.
Furthermore, bisphosphonates have been associated with a significant decrease in morbidity and an increase in survival. Also, the frequency of multiple spine fractures is reduced by bisphosphonates by 75–95%, while the frequency of new vertebral fractures is reduced by roughly 50%. Additionally, it accounts for around 50% less non-vertebral fracture occurrence.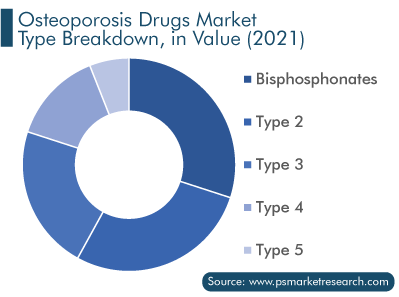 RANK Ligand Inhibitor Usage To Grow Quickest
The RANK ligand inhibitor category is predicted to grow at the highest CAGR in the osteoporosis drugs market during the forecast period. A new therapeutic target has been made available by the identification of receptor activator of nuclear factor-B ligand (RANKL) as a crucial regulator of osteoclast activity. Early research has shown that the experimental, highly selective anti-RANKL antibody denosumab significantly slows down bone resorption. The antibody's pharmacokinetics allow for subcutaneous injections spaced six months apart. A promising new treatment for osteoporosis and associated conditions involves inhibiting RANKL.
Furthermore, osteoclastogenesis is activated by RANKL, but it is inhibited by osteoprotegerin (OPG). Denosumab, a RANKL-neutralizing antibody, strengthens bones in osteoporosis patients. RANKL increases limb force proportionally to the increase in muscle mass. It markedly improves muscle insulin sensitivity and glucose uptake and decreases antimyogenic and inflammatory gene expression in muscle, such as myostatin and protein tyrosine phosphatase receptor-γ.
Increasing Healthcare Expenditure Drives the Industry
Healthcare expenditure is increasing across the globe, owing to the surging prevalence of diseases and rising government and non-government initiatives. This is leading to the improvement in healthcare infrastructure and increasing the affordability and accessibility of treatment and diagnosis for different medical conditions.
Governments in different countries are investing a significant portion of their GDP for healthcare. Although there are huge variations among the healthcare spending of different countries, it has been one of the major areas of focus for all. Healthcare spending in the developed economies of North America and Europe is considerably higher in comparison to the developing countries. The lower spending in developing countries is primarily due to their low-income per capita GDP. However, per capita healthcare spending in developing countries is also rising, which, in turn, boosts the growth of the market.
Primary Osteoporosis Is Highly Prevalent
The majority of cases are of primary osteoporosis, which affects women after menopause as a result of a sudden decrease in estrogen production. It is characterized by a rapid and disproportionate loss of trabecular bone and is linked to wrist, hip, and spine fractures. Globally, 30% of women over 50 years have osteoporosis. Additionally, the steadily declining balance between bone creation and resorption happens in both men and women beyond the age of 70 years. It is characterized by trabecular and cortical bone loss and is linked to hip, long bone, and spine fractures. One of the main causes of incapacity and death in the elderly is this illness.
Injectable Drugs Are Adopted Majorly
The demand for injectable osteoporosis drugs is predicted to grow at the highest rate in the forecast period. This can be mainly because the intravenous form of drugs does not cause stomach upset, and it may be easier for some individuals to schedule a quarterly or yearly infusion than to reminisce to take a weekly or monthly pill. Also, injectable drugs, including denosumab, are used by people, who cannot take oral drug bisphosphonates, such as individuals with reduced kidney function.
Osteoporosis Drugs Market Report Coverage

| | |
| --- | --- |
| Report Attribute | Details |
| Historical Years | 2017-2021 |
| Forecast Years | 2022-2030 |
| Market Size in 2021 | $14,576.3 Million |
| Revenue Forecast in 2030 | $22,947 Million |
| Growth Rate | 5.2% CAGR |
| Report Scope | Market Trends, Drivers, and Restraints; Revenue Estimation and Forecast; Segmentation Analysis; Impact of COVID-19; Companies' Strategic Developments; Market Share Analysis of Key Players; Company Profiling |
| Segments Covered | By Type; By Route of Administration; By Application; By Region |
Explore more about this report - Request free sample pages
North America Accounts for Largest Share
The North American osteoporosis drugs market held the largest revenue share, of around 45%, in 2021. This is due to the growing geriatric population, surging cases of obesity, increasing prevalence of lifestyle-associated diseases, and rising prevalence of osteoporosis, in the region. For instance, 34 million Americans have inadequate bone density and are at an elevated risk of fracture, and around 10 million Americans have osteoporosis. Moreover, each year, there are more than 1.5 million osteoporotic fractures in the U.S. Also, the usage of osteoporosis drugs in North America is high, due to the increased awareness of osteoporosis care, changing lifestyles, and high healthcare expenditure.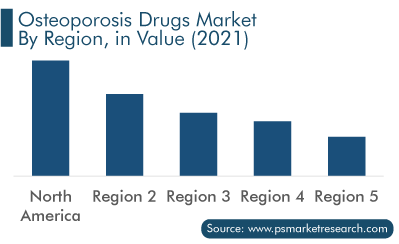 Europe Held the Second-Largest Market Share
The growing aging population, changing lifestyles, rapid urbanization, and increasing awareness about osteoporosis care are driving the growth of the market in Europe. Over one-third of all osteoporotic fractures, which account for over 9 million per year worldwide, happen in the region. Over 3 million disability-adjusted life years (DALYs) are caused by osteoporotic fractures each year in Europe, which is a little more than is caused by hypertension or rheumatoid arthritis. In many European countries, the number of osteoporotic fractures is increasing. The population's increased longevity is one of the causes of this. Additionally, over the next 25 years, the total population of the region will not rise noticeably, but the share of the elderly will, with a growth of more than 40% for women and more than 50% for males.
Key Players in the Osteoporosis Drugs Market Are:
Eli Lilly and Company
Amgen Inc.
F. Hoffmann La Roche Ltd.
Merck & Co. Inc.
Novartis AG
Pfizer Inc.
Takeda Pharmaceutical Co. Ltd.
Teva Pharmaceutical Industries Ltd.
Market Size Breakdown by Segment
The study offers a comprehensive market segmentation analysis along with market estimation for the period 2017-2030.
Based on Type
Bisphosphonates
Selective Estrogen Receptor Modulators (SERMs)
Parathyroid Hormone Therapy
RANK Ligand Inhibitors
Based on Route of Administration
Based on Application
Primary Osteoporosis
Secondary Osteoporosis
Regional Analysis
North America
Europe

France
Germany
Italy
Spain
U.K.

Asia-Pacific

China
India
Japan
South Korea
Australia

Latin America
Middle East and Africa

Saudi Arabia
South Africa