Orthodontic Supplies Market Overview
Orthodontic Supplies Market size was $3.4 billion in 2016 and is expected to reach $5.9 billion by 2023, at a CAGR of 8.3%. Orthodontic supplies refer to the various appliances used to improve alignment and appearance of crooked, protruding and crowded tooth. The different orthodontic supplies products used to correct teeth and jaws, that are positioned improperly include fixed braces, removable braces and orthodontic adhesives.
GLOBAL ORTHODONTIC SUPPLIES MARKET, BY PRODUCT, $M (2013 – 2023)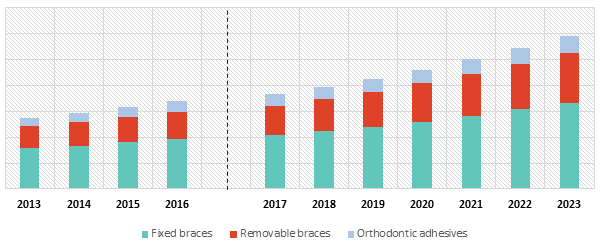 Based on product, orthodontics supplies market is segmented into fixed braces, removable braces and orthodontic adhesives. Fixed braces held the largest share of the orthodontic supplies market in 2016. Since fixed braces are more effective and precise in treating the irregularities in dental structure, therefore are the most preferred treatment option in the orthodontic supplies market. On the basis of end user, children and teenagers were the larger end user of orthodontic supplies, in 2016. Orthodontic treatments are more effective and successful in childhood or teenage. Treatment at an early age also prevents the development of serious problems, thereby leading to an increased adoption of orthodontic supplies products at this age.
Orthodontic Supplies Market Dynamics
The global orthodontic supplies market is expected to witness a significant growth and is expected to grow at a CAGR of 8.3% during the forecast period. Increasing prevalence of oral diseases and technologically advanced orthodontic products are some of the factors driving the demand of orthodontic supplies. Additionally, increasing disposable income and rising awareness in consumers about orthodontic treatment also spurs the growth of the orthodontic supplies market. However, the market has been facing certain challenges such as unfavourable reimbursement policies, risk associated with orthodontic treatments and unfavourable healthcare reforms in the U.S., which are likely to impede the growth of the global orthodontic supplies market during the forecast period.
Opportunities
The market size of the healthcare industry in the emerging economies is still a fraction of that in developed countries such as the U.S. and Western European countries. However, the difference illustrates the strong growth potential of orthodontic supplies market in emerging economies, especially in Asia-Pacific and Latin America. The massive unexplored orthodontic supplies market is expected to create ample revenue generation opportunities for the orthodontic supplies manufacturers. Growing medical tourism in the emerging economies is continuously improving healthcare infrastructure and increased use of advanced healthcare treatments. Malaysia, Singapore, India and Thailand have emerged as lucrative destinations for medical tourism.
The countries such as China and India have large population base and the healthcare infrastructure in these countries is improving, thus illustrating immense potential for healthcare market. Manufacturing medical devices products in the developing regions tends to decrease the overall cost of manufacturing the product, thus reducing the cost of the product without compromising on the quality. With the increasing income level and rising compliance for high quality orthodontic supplies, the rising demand for orthodontic supplies is expected to create ample opportunities for device manufacturers in these countries.
Growth Drivers
The technologically advanced orthodontics products have transformed the orthodontic treatment procedures. Some of the recent technologically advanced orthodontic products launched include Invisalign, a range of invisible clear aligners, manufactured by Align Technology, Inc., that helps in moving the teeth without the use of braces, mini-screws, and mini-implants. The other recent innovation has been the development of lingual braces, which are the hidden braces bonded behind the teeth rather than in front. Technologically advanced orthodontic products offer various advantages over conventional products, which has led to their increased adoption by orthodontists and consumers for treating dental problem in children and adults, thereby driving the growth of the global orthodontic supplies market.
Various activities, such as orthodontics conferences and workshops are being conducted by different associations to create awareness among people regarding dental health and care treatments. The main objective of these conferences is to increase awareness about new treatments available, and at the same time, increase awareness about the improvement in existing methods. For instance, American Association of Orthodontists (AAO), European Federation of Orthodontic Specialists Associations (EFOSA), Asian-Pacific Orthodontic Society (APOS), and other such organisations are engaged in various awareness creating activities. As a result, the overall awareness among people with respect to various options available for orthodontic treatments has been increasing. This is expected to lead to a surge in the use of orthodontic treatment products in the future. Also, increase in the level of disposable income has led to a high spending on the personal as well as dental care. According to the American Association of Orthodontist (AAO), the rate of people using braces increased by 14% from 2010 to 2012, resulting to approximately 1,225,850 adults using braces in the U.S. and Canada. Thus, rising awareness for orthodontic products, together with increased disposable income is expected to drive the orthodontic supplies market.
Orthodontics Supplies Market Competitive Landscape
Key players in the orthodontic supplies market are collaborating and acquiring other players to offer more advanced orthodontic supplies products. In February 2017, Align Technology Inc., acquired its distributor G.L. Dental Couture Limited, based in Dubai, United Arab Emirates (UAE) and Nicosia, Cyprus. The acquisition aimed to provide Align Technology, Inc. direct access to customers and distribution partners across Commonwealth of Independent States (CIS), Russia, Israel, Baltics, and the Middle East and Africa. The acquisition resulted in the international expansion of Align Technology Inc. and allows the company to focus on expansion across these markets.
Some of the other key players operating in the global orthodontics supplies market include 3M Company, Dentsply Sirona Inc., Danaher Corporation, G&H Orthodontics Inc., American Orthodontics, TP Orthodontics Inc., Rocky Mountain Orthodontics, Dentaurum GmbH & Co. Kg and DB Orthodontics.