Vertical Farming Market Overview
The global vertical farming market stood at $1.4 billion in 2016, which is expected to grow at a CAGR of 24.2% during the forecast period. Benefits imparted by vertical farming, such as low water requirement, low transportation cost, and reduced washing and processing of produce are the growth drivers for this market. Vertical farming uses controlled environment agriculture (CEA) technology and produces food through skyscraper, shipping container, and vertically stacked layers. This type of farming is also known as indoor farming or urban farming and is witnessing widespread adoption globally.
GLOBAL VERTICAL FARMING MARKET, BY COMPONENT, $M (2013 – 2023)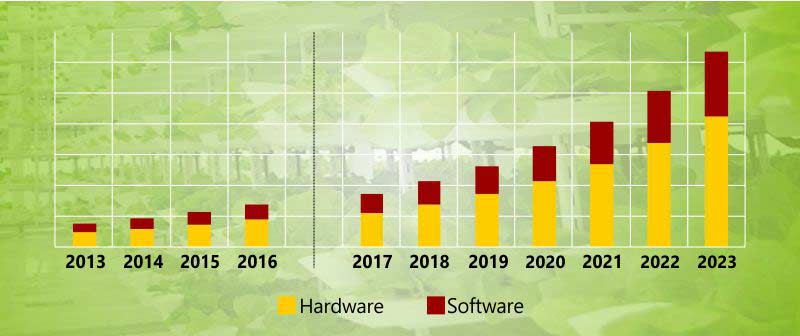 In the vertical farming market, the hardware components comprise lighting, hydroponics components, climate control, and sensors, where lighting holds the largest market share and it is also expected to witness high growth during the forecast period. The lighting components comprises grow lights, grow light reflectors, and grow light ballasts.
On the basis of structure, the vertical farming market has been segmented into building based and shipping container structures. Building-based structure is projected to grow at a CAGR of 24.6% during the forecast period. This type of farming provides nearly eight times more growing area than single level farming land, and helps in minimizing the farming cost, thereby ensuring food security for a city for a long period of time.
In terms of growth mechanism, the vertical farming market is segmented into aeroponics, hydroponics, and aquaponics. The market is projected to witness the fastest growth for aquaponics, during the forecast period, as it combines both hydroponics and fish farming or aquaculture to create an efficient closed loop system, which helps in producing different types of crops efficiently.
Geographically, Asia-Pacific is expected to witness the fastest growth in the vertical farming market. With increasing population in Asia-Pacific, fertile agricultural land is decreasing, which creates an opportunity for urban farming. China and India are the most populated countries and the available agricultural land in these countries is decreasing at a rapid pace with rising urbanization and population. Rising disposable and per capita incomes across APAC are anticipated to drive the demand of urban farming in the coming years.
Vertical Farming Market Dynamics
The increasing adoption of organic foods is one of the prime growth factors of the vertical farming market. In addition, the rising urban population and the growing focus towards environment friendly production of fresh fruits and vegetables will also boost the growth of the market.
Growth Drivers
Vertical farming helps in producing organic foods, which are grown without the use of pesticides, artificial fertilizers, and genetically modified organisms. With the growing trend towards eating healthy food, consumers have begun to perceive organic foods as more nutritional than non-organic foods. Vertical farming helps in developing organic foods that are succinct and effective in creating natural organic micro-greens. The system also helps in substantial assortment of organic crops and ensures that crops are accessible in demand-specific areas.
With increasing population, the migration from rural to urban areas is also growing. Changing lifestyle, increasing per capita income, and rising health consciousness among consumers are driving the growth of the global vertical farming market. Also, growing focus towards reliable production of crops irrespective of climatic conditions are driving the focus of farmers towards environment friendly production of fresh fruits and vegetables. Governments of various countries are also promoting the cultivation of organic food with the use of organic pesticides. These factors are expected to augment the growth of modern agriculture, and will consequently drive the growth of the vertical farming industry.
Opportunities
The growing use of internet of things (IoT) sensors in producing crops, and the surging production of biopharmaceutical products opens up plethora of opportunities for the players in vertical farming market.
IoT is a system of sensors used in indoor farming, which are interconnected through the internet. IoT helps commercial growers in storing information detected by the sensors in cloud storage, or any other storage medium. The vertical farming industry is inclining towards the utilization of complex sensors to screen the plant completely, without human support. The information collected from the sensors is stored in the cloud space for analyzing and performing required actions, which also enhances the productivity of farms with less wastage and better monitoring in real time.
The growing health consciousness among consumers along with increasing urbanization and rising per capita income is driving the growth of the global vertical farming market. The companies involved in manufacturing pharmaceutical products are also using indoor farming techniques for cultivation and crop production in green environment. Many pharmaceutical companies are adopting indoor farming techniques for the production of different crops that are widely used in producing biopharmaceutical products.
Vertical Farming Market Competitive Landscape
Due to the presence of small number of players in the vertical farming market, the degree of rivalry is high. Also, the market is growing at a notable pace, which intensifies the competition among the market players. Some of the major players in the global vertical farming industry are Koninklijke Philips N.V., AeroFarms LLC, Sky Greens Pte. Ltd, Illumitex Inc, Everlight Electronics Co. Ltd, Hort Americas, Agrilution GmbH, American Hydroponics Systems Inc., Urban Crop Solutions Inc., and Vertical Farm Systems.
Asia-Pacific, North America and Europe show a strong tendency to adopt urban farming solutions, thus the key competitors are specifically focusing on these regions to expand their product offerings in the vertical farming market.