Market Overview
The oil spill management market size stood at USD 139.8 billion in 2022, and it is expected to exhibit a compound annual growth rate of 3.2% during 2022–2030, to reach USD 179.6 billion by 2030.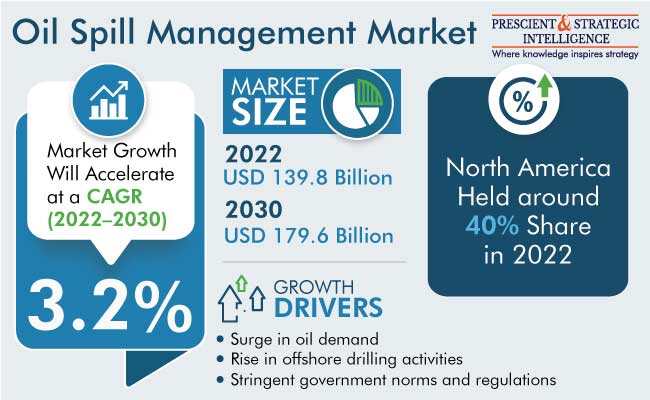 Oil spill management refers to the prevention and control of oil spread in the environment. Majorly, it involves the use of suitable pre-oil spill prevention techniques and post-spill cleaning strategies. It also includes the deployment of various technologies to reduce the disastrous ecological effects of spilt fuel. Oil can easily spill in waterbodies, such as oceans, streams, and bays, because of accidents involving tankers, drilling rigs, barges, refineries, pipelines, storage facilities, and recreational boats.
The market growth is ascribed to the surge in oil demand, rise in offshore drilling activities, stringent government norms and regulations for oil companies, and strong environmental concerns.
High Oil Spillage Incidence with Destruction of Large Ecosystems
The need to control oil spillage incidence worldwide is bolstering the demand for mechanical containment and recovery methods. As per several published sources, in 2022, three large spills of more than 700 tons, two of which occurred in Asia and one in Africa, were recorded. Additionally, four medium-volume spills occurred in North America, Asia, and Africa due to collision/allision, grounding, hull failure, equipment failure, fires, explosions, and other reasons.
Moreover, in 2020, a Japanese consignment ship met with an accident on the southeastern coast of Mauritius, as a result of which hundreds of tons of oil spilled on to coral reefs and untouched waters, thus harming the unique ecosystems of the island nation. The grounded ship broke up and released more oil into the sea, putting acres of marine area at risk. Therefore, to address such failures, pre- and post-spill management technologies are required to lessen the possibility of such mishaps as well as the effect they have on the ecosystem.
Growing Concern for Marine Life
Oil discharge is harmful to natural resources, coastal and marine environment, and the health and economies of coastal societies. Different types of marine and freshwater habitats respond differently to contaminated water, and the animals thriving in them also possess varying abilities to recover from the damaging effects. Spilt oil floats and creates a thin film on the ocean surface and sticks to the fur and feathers of sea birds and mammals, which reduces their natural water-repelling and buoyancy properties. Oil-drenched feathers and fur also adversely affect their ability to regulate their body temperature.
Further, oil-contaminated water bodies may result in serious injuries, gastrointestinal and organ damage, or even the immediate death of the surface-dwelling creatures due to suffocation. Further, contaminated food supplies may make animals undernourished or infected over time. Moreover, poisoned waters impact reproduction and breeding; for instance, infected bird nests on the shore may suffocate unhatched chicks, or the affected females may lay eggs with thinner shells, which may break easily.
Therefore, to reduce such devastating environmental effects of accidents involving tankers, pipelines, refineries, barges, drilling rigs, and storage facilities, several international organizations and governments have taken pre-spillage safety measures and made standardized tanker designs mandatory. These measures have also resulted in enhancing tanker protection against collisions and natural disasters. Due to the recent oil spill of around 126,000 gallons in Orange County in October 2021, a large number of dead fish and birds were reported because of contact with the poisoned water. The rising environmental concerns because of such incidents are a major factor that boosts the demand for pre- and post-oil discharge management methods.
Hefty Fines on Oil Companies
The demand for oil discharge managing technologies is driven by the hefty penalties levied on E&P corporations, depending on the extent of the environmental and economic damage in the case of such an event. Hydrocarbon companies attempt to lessen their losses by preventing leaks and installing unconventional solutions and technologies to monitor tanks and pipes, in order to reduce the risk of undesired discharge. For instance, Amplify Energy Corp. was fined USD 50 million for the settlement of a lawsuit involving a pipeline leak into the ocean off Huntington Beach in 2021. The fine was to be distributed among fishers, property owners, and tourism firms, such as those that offer whale watching tours, which were affected by this incident.
Over the past few years, many more companies were fined in the aftermath of such detrimental accidents. Therefore, these firms are investing in R&D to make the whole monitoring process automated and more effective, which plays a key role in driving the oil spill management market growth.
Leakages in hydrocarbon pipes may result in high cleanup and restoration costs, as well as lawsuits on pipeline and tanker companies. The implementation of stringent government regulations and safety norms to control such industrial hazards is among the most-significant factors projected to boost the deployment of pre-oil spillage management techniques during the forecast period. In January 2021, the state legislature in California passed a statutory amendment to its marine oil pollution law, which significantly raised the fiscal penalties that can be imposed for such incidents.
Oil Spill Management Market Report Coverage

| | |
| --- | --- |
| Report Attribute | Details |
| Historical Years | 2017-2022 |
| Forecast Years | 2023-2030 |
| Market Size in 2022 | USD 139.8 Billion |
| Revenue Forecast in 2030 | USD 179.6 Billion |
| Growth Rate | 3.2% CAGR |
| Report Scope | Market Trends, Drivers, and Restraints; Revenue Estimation and Forecast; Segmentation Analysis; Impact of COVID-19; Companies' Strategic Developments; Market Share Analysis of Key Players; Company Profiling |
| Segments Covered | By Technology; By Location; By Region |
Explore more about this report - Request free sample pages
Pre-oil Spill Technologies Are Used on a Large Scale in Tanker Ships
Based on technology, pre-oil spill management captures a substantial market revenue share, due to the strict maritime trade protocols followed by oil companies during the transportation of petroleum products. The double hull technology is deployed on a grand scale in marine vessels and submarines to avert oil spills.
'Double hull' refers to a hull with inward and external layers on both the sides and the bottom of petroleum tankers. Such double layering helps in lessening the risks of aquatic pollution after a collision, grounding, and damage due to any other reason. It also protects tankers from flooding, if the outer layer breaks.
However, the rising number of hull breach incidents have urged international administrations and governments to enhance the tanker design further, to ensure protection against collisions and other natural adversities.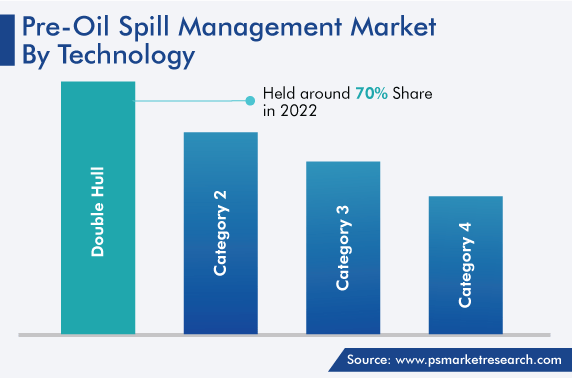 North America Dominates market
North America dominated the market with around 40% share in 2022, and it is expected to grow with a CAGR of 3% during the forecast period, because of the strict government regulations in the region for the safety of marine ecosystems. These regulations apply for both offshore and onshore petroleum production in the region and its transportation via various methods, such as trucks, pipelines, and ships.
Further, the presence of a large number of oil rigs located in the Gulf of Mexico is expected to drive an increase in exploration and production activities. For instance, in 2021, more than 15% of the U.S.'s crude oil production was from the offshore rigs in the Gulf of Mexico. Moreover, the regulatory framework of the Federal Government responds to oil spills as per the Oil Pollution Act, Federal Water Pollution Control Act (Clean Water Act), and National Oil and Hazardous Substances Pollution Contingency Plan (NCP).
Asia-Pacific will witness the highest CAGR during the forecast period due to the augmenting exploration and production activities, itself because of the growing demand for petroleum products. Further, oil spillage incidence is rising in this region and strengthening the demand for pre- and post-spill management technology methods. An oil spill in the waters off Naujan, central Philippines, in March 2023; and leakage in the cracked pipeline of a refinery, which resulted in oil spill on the Nagore Pattinacherry coast in India, are some such incidents in the region. Additionally, the encouraging government rules and initiatives, such as tax benefits, for discovering hydrocarbon reserves are projected to drive the industry growth.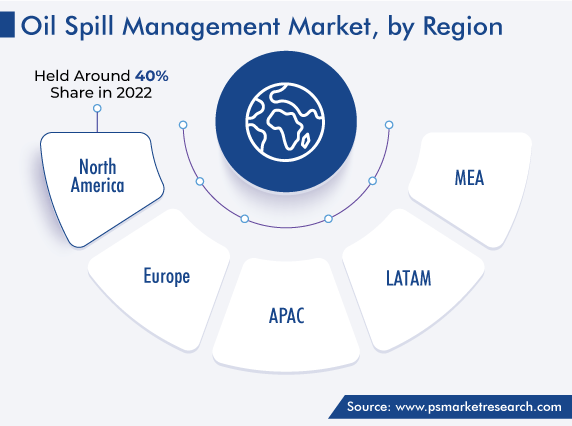 Key Oil Spill Management Solution Providers Are:
Osprey Spill Control
NOV Inc.
SkimOIL LLC
General Electric Company
Cameron International Corporation
Northern Tanker Company
Lamor Corporation Plc
Fender & Spill Response Services LLC
Markleen Management SL
Market Size Breakdown by Segment
This fully customizable report gives a detailed analysis of the oil spill management industry from 2017 to 2030, based on all the relevant segments and geographies.
Based on Technology
Pre-Oil Spill Management

Double hull
Blowout preventer
Pipeline leak detection

Post-Oil Spill Management

Mechanical containment method
Chemical and biological management method
Physical management method
Based on Location
Geographical Analysis
North America
Europe

Germany
U.K.
France
Italy
Spain

Asia-Pacific

Japan
China
India
South Korea
Australia

Latin America
Middle East and Africa

Saudi Arabia
South Africa
U.A.E.