Market Overview
The North American aromatherapy market was valued at $763.7 million in 2019, and is expected to grow at a CAGR of 7.6% during 2020–2030. The growth of the market can be attributed to the increasing disposable income, growing consumer preference toward natural products, rising prevalence of lifestyle diseases, and surging occurrence of skin diseases.
Due to COVID-19 pandemic and the lockdown scenario, manufacturing companies have faced several challenges in regards to manufacturing and export­–import activities, which ultimately hampered the growth of market in North America till second quarter of 2020. Uplifting of lockdowns and reopening of manufacturing plants and businesses are expecting to recover the market in the coming time.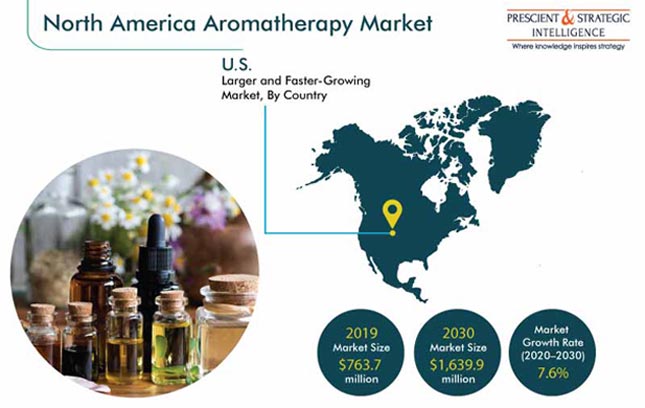 Consumables Category Is Expected to Witness Faster Growth During the Forecast Period
The consumables category is expected to progress at higher growth rate in the North American aromatherapy market during the forecast period, on the basis of product. This can be ascribed to the repeated use of the consumables in the market, due to the diverse benefits of essential oils, such as healing property, immunity booster, therapeutic effect, and stress reliever.
Topical Application Held the Largest Share in 2019
The topical application category dominated the aromatherapy market in North America in 2019, based on mode of delivery. This is primarily due to the increasing preference for topical application of aromatherapy for skin-related problems. Essential oils can be diluted in a cream or carrier oil and can be directly applied as required to the concerned area of the body, which, in turn, increases their demand in topical application. Additionally, this application can be used for the treatment of various conditions, such as arthritis, back pain, detoxification, and wound healing.
Relaxation is the Fastest-Growing Category in the Industry
Relaxation has appeared as the prime category among all applications in the industry, due to the fact that numerous people are being reported with stress-related problems, depression, and anxiety. According to the American Institute of Stress, the U.S. is among the countries having the largest share of stressed population in the world. Around half of the total population of the country suffer from stress daily. Stress is growing at a much higher rate, which has led the aromatherapy market to offer several relaxation and anti-stress products.
Indirect Distribution Channel Holding Larger Share in the Market
The indirect distribution channel dominates the market. This is due to the variety of products are being sold to customers via retail stores, as they prefer having a smell test before buying any products.
Beauty Spas Held the Largest Share in 2019
The beauty spas category was the largest end user in the market in 2019. Beauty spas tend to create a relaxing atmosphere for their clients, for which aromatherapy is widely used. The number of spas in the U.S. has increased in recent years.
U.S. – Larger Shareholder in the Market
The U.S. is expected to lead the North American aromatherapy market throughout the forecast period. This can be attributed to the high disposable income, due to which people are able to spend more on their health and wellbeing. For instance, in 2016, Commonwealth Fund stated that the healthcare expenditure in the U.S. reached 17.8% of its gross domestic product (GDP), while other high-income countries had an average of 11.5%.
Growing Use of Aromatherapy At Home is a Key Trend Observed in the Industry
The aromatherapy essential oils due to their several benefits have emerged as a natural solution for treating various health conditions. Also, the demand for these essential oils for home use has increased, as visiting a spa or beauty clinic is costlier than purchasing essential oils. People are more comfortable to use these oils at home according to their schedule. Privacy concern of consumers has also shifted their preference toward the use of essential oils at home, as they are easy to apply and people call their therapists at home for an easy and relaxing therapy session.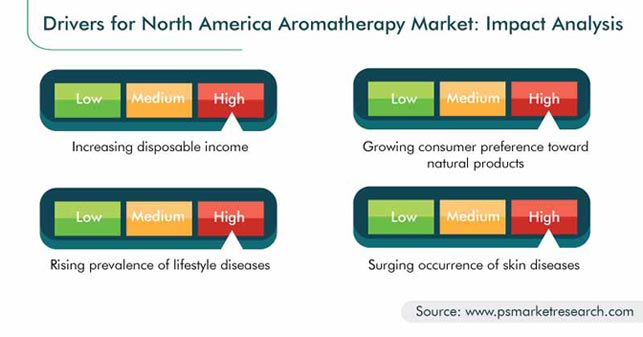 Increasing Disposable Income
Increasing disposable income is playing a pivotal role in the growth of the aromatherapy market in North America. According to the U.S. Bureau of Labor Statistics (BLS), there has been an increase in the personal disposable income of the U.S. population. It increased from $11,394 billion in 2006 to $15,928.7 billion in 2016, and is expected to reach $24,174.5 billion by 2026. According to the Organization for Economic Co-operation and Development (OECD), the annual growth rate (household disposable income) in Canada increased from 2.05% in 2009 to 3.47% in 2017. Thus, with the increase in household disposable income, the demand for essential oils and diffusers is expected to rise in coming years.
Growing Consumer Preference Toward Natural Products
A large number of people are switching toward aromatherapy from pharmaceutical therapies. This is mainly due to inefficiency of some pharmaceutical drugs to cross the blood–brain barrier to relieve patient from pain. For instance, rosemary oil can cure cold, cough, and headache, if inhaled, and can also be applied topically for skin and hair care. Thus, benefits offered by natural products in treating various health conditions has changed consumer's preference from synthetic products to more natural products, which, in turn, is contributing to the growth of the market in North America.
North America Aromatherapy Market Report Coverage

| | |
| --- | --- |
| Report Attribute | Details |
| Historical Years | 2014-2019 |
| Forecast Years | 2020-2030 |
| Base Year (2019) Market Size | $763.7 million |
| Forecast Period CAGR | 7.6% |
| Report Coverage | Market Trends, Revenue Estimation and Forecast, Segmentation Analysis, Country Breakdown, Impact of COVID-19, Companies' Strategical Developments, Product Benchmarking, Company Profiling |
| Market Size by Segments | By Product, By Mode of Delivery, By Application, By Distribution, By Channel, By End User, By Country |
| Market Size of Geographies | U.S. and Canada |
| Secondary Sources and References (Partial List) | American Association of Acupuncture & Oriental Medicine, Canadian Federation of Aromatherapists, Anxiety and Depression Association of America, International Federation of Aromatherapists, International Federation of Essential Oils and Aroma Trades, International Federation of Professional Aromatherapists, International Aromatherapy and Aromatic Medicine Association, United States Department of Agriculture, United States Food and Drug Administration, World Health Organization |
Explore more about this report - Request free sample pages
Market Players Are Introducing New Products to Gain Competitive Edge
The North American aromatherapy market is fragmented in nature with presence of market players, such as dōTERRA International LLC, Young Living Essential Oils, Mountain Rose Herbs, Edens Garden, and Plant Therapy Essential Oils.
In recent years, the players in the aromatherapy industry have launched multiple products in order to stay ahead of their competitors. For instance:
In April 2019, Plant Therapy Essential Oils announced the launch of Pup & Pony essential oil blends to be used particularly to minimize stress amongst dogs and horses. These essential oils tend to soothe and relax these animals.
In April 2018, Edens Garden launched a collection of natural bar soaps purely made from essential oils. The soaps are generally used in cleansing, purifying, and for daily body and facial wash. The soap collection mainly includes aromas from exfoliating charcoal, grounding earth & wood, sensuous lavender magnolia, invigorating lemongrass, and energizing peppermint.
Some of the Key Players in the North American Aromatherapy Market include:
Plant Therapy Essential Oils

Organic Aromas

Frontier Co-op (Aura Cacia)

Edens Garden

Mountain Rose Herbs

Young Living Essential Oils
Market Size Breakdown by Segment
The report offers comprehensive market segmentation analysis along with market estimation for the period 2014–2030.
Based on Product
Consumables

Essential oils

Singles

Floral

Lavender
Ylang yang
Rose
Neroli
Yarrow

Citrus

Lemon
Bergamot
Orange
Grapefruit
Others

Herbaceous

Chamomile
Clary sage
Lemongrass

Camphoraceous

Eucalyptus
Rosemary
Tea tree

Mint

Peppermint
Spearmint
Cornmint
Others

Earthy

Patchouli
Valerian
Vetiver

Spicy

Ginger
Clove
Black pepper

Woody

Sandalwood
Cedarwood
Cinnamon
Rosewood

Blends

Carrier oils

Equipment

Ultrasonic diffuser
Nebulizing diffuser
Evaporative diffuser
Heat diffuser
Based on Mode of Delivery
Topical Application
Aerial Diffusion
Direct Inhalation
Based on Application
Relaxation
Skin and Hair Care
Pain Management
Cold and Cough
Insomnia
Scar Management
Based on Distribution Channel
Direct
Indirect

Retail
E-commerce
Hypermarket/supermarket
Business-to-business (B2B)
Based on End User
Beauty Spas
Homes and Offices
Hospitals and Clinics
Geographical Analysis