Market Overview
The aromatherapy market size stood at $1,687 million in 2021, and it is expected to grow at a CAGR of 10.80% during 2021–2030, to reach $4,248 million by 2030.
Aromatherapy is a complementary or alternative therapy that aids in recovery from a variety of illnesses, including pain, immune system, respiratory, cardiovascular, skin, and digestion problems; anxiety, wound-related issues, and sleeplessness. The science uses natural, holistic materials, such as the essential oils of plants and other fragrant components.
For instance, the increasing public awareness of the health advantages of aetheroleum encourages its usage at spas for relaxation therapies. Essentially, the rise in the consumer spending on health and wellness is a significant element set to drive the demand for these products. Moreover, the increasing wellness tourism activities, with travelers obtaining such services in another country cost-effectively, are contributing to the industry's rapid expansion.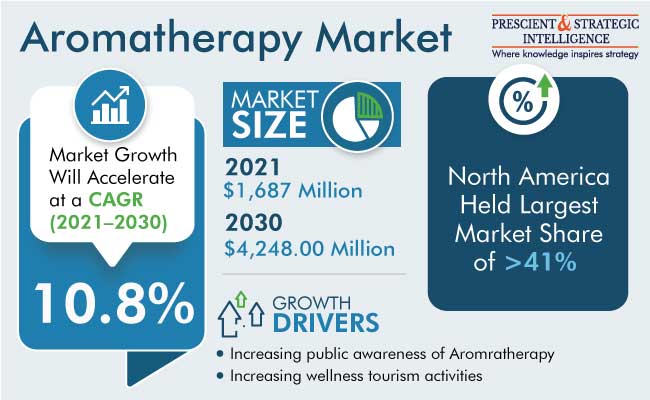 Moreover, there is a rising demand for stress-relieving and soothing therapies due to the busy lifestyles and stressful schedules. The market for such products is also driven by the surging incidence of dermnatological conditions, because aromatherapy hydrates the skin and reduces inflammation. The antifungal, antibacterial, and antiseptic properties of essential and carrier oils can be used to treat a variety of skin and hair conditions.
In 2021, the U.S. led the North American market, with 78% share. The market here will grow further as the knowledge on the benefits of alternative therapies increases. Additionally, during the projection period, market expansion in the nation is projected to be fueled by the favorable legislation and regulations for essential oil processing.
The shift to such alternative therapies for healing purposes is a major trend among people, as natural and herbal remedies become more popular over synthetic medications. This approach improves one's physical and emotional health with minimal adverse effects. Hence, the market will expand as more people become aware of the advantages of this science, especially those with skin problems and anxiety.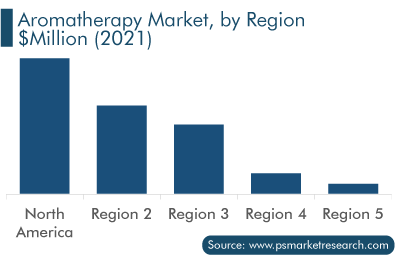 Increasing Use of Essential Oils as Healing Agents
Due to the rising usage of aromatic essential oils and carrier oils for treating various conditions, the consumables category dominated the market, with around 79% revenue share, in 2021. Essential oils treat pain, help relieve stress, and enhance overall wellness.
Moreover, the equipment category will show a considerable growth rate due to the availability of a variety of diffusers, which makes using aromatic substances therapeutically easier. By using water, ultrasonic diffusers spread essential oils in an area, using air as the medium. Additionally, an entire room can be infused with an inhalable mist containing water and the oil. These substances can also be diffused using nebulizing diffusers, without heat or water. These diffusers disperse the oil easily, through compressed air, in quick time.
Increasing Consumer Preference for Natural Products
Since essential oils are extracted from plants, they are nontoxic and safe for inhalation and topical use. The rising awareness of their therapeutic uses has been shifting the preference of consumers toward these products. There has also been a steep rise in the number of people opting for self-medication to deal with various types of pain and common cold.
Further, the high risk of the adverse effect of conventional pharmaceuticals is a key reason for the shifting interest of people toward natural therapies. For instance, rosemary oil can cure both cold and cough or a headache, if inhaled, and it can also be used as a topical solution for skin and haircare. Thus, the benefits offered by natural products in treating various health condition has changed consumers' preference from synthetic products to the former, which in turn, contributes to the growth of the market.
Preferred Delivery Method Is Topical Application
Topical application is the preferred mode of delivery, accounting for 42% share in 2021. This is mainly due to the increase in the topical application of aromatherapy oils for various skin-related problems. This is itself because essential oils can be diluted in a cream or carrier oil and applied, as required, to the concerned area of the body. This method of delivery can be used for various purposes, such as arthritis and back pain management, detoxification, and wound healing. Moreover, with the rising prevalence of skin-related problems, consumers are preferring organic products, which are chemical-free, over those with synthetic chemicals.
Additionally, aerial diffusion is growing in popularity due to its extensive use in the natural treatment of the common cold and flu. The demand for atomizers, candle diffusers, and ultrasonic diffusers, which are all kinds of aerial diffusers, is expected to increase owing to their potential to promote relaxation, relieve anxiety and tension, boost energy, and help people with respiratory illnesses.
Furthermore, the market will boom in the coming years due to the growing scientific evidence of the effectiveness of aromatherapy and topical essential oil therapies in pain alleviation for people with illnesses such as dysmenorrhea.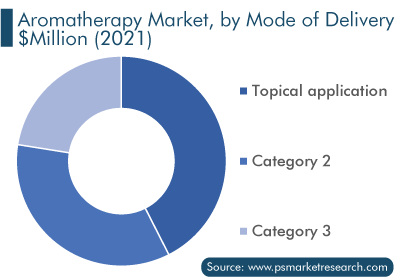 Rising Awareness about Therapeutic Uses of Essential Oils
Essential oils are being used widely as a therapy for various medical conditions, such as pain, skin-related problems, cardiovascular disorders, digestion problems, cold and cough, respiratory disorders, immune system dysfunction, anxiety, insomnia, and wounds. Further, people are now more concerned about acne-related problems, due to which they are opting for therapeutic-grade essential oils.
Furthermore, people suffering from pain due to burns use these oils for massages, or opt to inhale them, for recovery, since burn scars can also be managed by aromatic essential oils. Thus, these products are expected to form an important part of alternative medicines, with a gradual shift toward natural healing from laboratory-produced drugs.
Aromatherapy Market Report Coverage

| | |
| --- | --- |
| Report Attribute | Details |
| Historical Years | 2017-2021 |
| Forecast Years | 2022-2030 |
| Market Size in 2021 | $1,687 Million |
| Revenue Forecast in 2030 | $4,248 Million |
| Growth Rate | 10.80% CAGR |
| Report Scope | Market Trends, Drivers, and Restraints; Revenue Estimation and Forecast; Segmentation Analysis; Impact of COVID-19; Companies' Strategic Developments; Market Share Analysis of Key Players; Company Profiling |
| Segments Covered | By Product, By Mode of Delivery, By Application, By Distribution Channel, By End User, By Region |
Explore more about this report - Request free sample pages
Aromatherapy Is Widely Used for Relaxation Application
Due to the rising population experiencing anxiety and mental instability due to their chaotic lifestyles, the relaxation category accounted for 23% of the industry's revenue in 2021.
These products have a calming impact, which helps balance the mental condition. Due to the rising concerns about managing their stress, people choose such therapies, because of the prevalent trend of natural remedies.
The market for therapeutic aromatic products is projected to also be driven by the increasing prevalence of dermatological diseases. They are frequently used by people who have skin rashes because these products lower inflammation and nourish the skin. Further, because of their negative effects, the preference of people for synthetic products is decreasing. Various skin and hair disorders can be treated with aromatic natural substances, which have antifungal, antiseptic, and antibacterial characteristics.
Further, the scar management category will grow significantly in the years to come. Even after the pain is gone, hypertrophic scars due to burns can persist for long. Additionally, surgical stitches and accidental wounds cause scars, which can be minimized with aromatic oils.
Some additional uses of aromatherapy are the treatment of gastrointestinal infections, cardiovascular diseases, and respiratory issues. Additionally, it supports healthy weight control, healthy gallbladder and liver, and the treatment of neurological diseases.
Top Companies in Aromatherapy Market are:
dōTERRA International LLC
Young Living Essential Oils LC
Mountain Rose Herbs
Edens Garden Essentials Corporation
Rocky Mountain Oils LLC
Plant Therapy Essential Oils
NOW Health Group Inc.
FLORIHANA
Biolandes SAS
Stadler Form Aktiengesellschaft
Market Size Breakdown by Segment
The report analyzes the impact of the major drivers and restraints on the market, to offer accurate market estimations for 2017–2030.
Based on Product
Consumables

Essential oils

Singles

Herbaceous
Woody
Spicy
Floral
Citrus
Earthy
Camphoraceous

Blends

Carrier oils

Equipment

Ultrasonic diffuser
Nebulizing diffuser
Evaporative diffuser
Heat diffuser
Based on Mode of Delivery
Topical Application
Aerial Diffusion
Direct Inhalation
Based on Application
Relaxation
Skin and Hair Care
Pain Management
Cold and Cough
Insomnia
Scar management
Based on Distribution Channel
Based on End User
Home Use
Spa and Wellness Centers
Hospitals and Clinics
Yoga and Meditation Centers
Geographical Analysis
North America
Europe

Germany
U.K.
France
Italy
Spain

Asia-Pacific
Latin America
Middle East & Africa

South Africa
Saudi Arabia