Market Overview
The non-dispersive infrared market size stood at USD 540 million in 2022, and it is expected to advance at a compound annual growth rate of 7.4% during 2022–2030, to reach USD 956 million by 2030.
The growth can be primarily ascribed to the rising demand for sensors in critical industries and the increasing focus on carbon dioxide detection in the food processing and storage industry.
NDIR instruments are suitable for the detection of toxic gases in chemical industries, which aids in minimizing leakage, as well as ensuring the safety of the workplace and workers. Over the years, regulatory agencies have made their guidelines for workplace safety more stringent, which, in turn, is expected to boost the demand for NDIR analyzers.
In the modified atmospheric packaging technique utilized in the food & beverage industry, many gases are used, including nitrogen, oxygen, and carbon dioxide, and to detect them, NDIR sensors are used. These instruments have a long life and high accuracy, allowing for longer transport times and minimization of the wastage of food. Accurate levels of carbon dioxide help in enhancing the shelf life of vegetables and fruits and also aid in improving storage quality. Similarly, nitrogen is used in the case of dried foods in order to regulate humidity, hence improving their shelf life and preserving their consistency.
Besides food storage and processing, NDIR analyzers are used in medical facilities for the detection of airborne poisons, which can cause serious health issues.
Based on Gas Type, Carbon Dioxide Dominates Market
Based on gas type, carbon dioxide dominates the market, this is attributed to the rising NDIR CO2 sensor demand in various industries, including environmental conservation, automotive & transportation, agriculture, greenhouse, food processing & storage, medical, and oil & gas. Specifically, in the automotive & transportation sector, they are used in cars in order to test cabin air quality, refrigerant levels, and CO2 content in vehicle exhaust.
The accuracy provided by NDIR in measuring CO2 levels is significant in monitoring combustion processes, assessing lung function during medical procedures, and measuring indoor air quality. For carbon dioxide measurement, it offers long-term stability, which is another advantage of the technology driving the market growth.
Further, volatile organic compounds (VOCs) are abundant in the petrochemical industry and vehicular emissions. Exposure to such compounds can lead to irritation, difficulty in concentrating, fatigue, and vision and memory problems. Therefore, these instruments are used to measure the quality of the air and concentration of many VOCs that can cause health problems, including ketones and amines.
Non-Dispersive Infrared Market Report Coverage

| | |
| --- | --- |
| Report Attribute | Details |
| Historical Years | 2017-2022 |
| Forecast Years | 2023-2030 |
| Market Size in 2022 | USD 540 Million |
| Revenue Forecast in 2030 | USD 956 Million |
| Growth Rate | 7.4% CAGR |
| Report Scope | Market Trends, Drivers, and Restraints; Revenue Estimation and Forecast; Segmentation Analysis; Impact of COVID-19; Companies' Strategic Developments; Market Share Analysis of Key Players; Company Profiling |
| Segments Covered | By Gas Type; By Application; By Vertical; By Region |
Explore more about this report - Request free sample pages
Detection & Analysis Is Major Application
Detection & analysis is the major application of these devices, ascribed to the strong need to detect hazardous gases, such as carbon monoxide, found in the atmosphere and in the chemical industry, for the wellbeing of individuals. Carbon monoxide is produced by the incomplete combustion of carbon-containing fuels. It can harm the environment and affect human health beyond a certain threshold limit. The detection of this gas by conventional methods is not possible; hence, NDIR is used for this purpose.
The NDIR technology is also used for monitoring the air quality. According to government reports, air pollution causes around 2 million deaths per year in China. Moreover, with the rising awareness about air pollution, governments in various countries are taking several measures for the detection of the air quality. Hence, due to the rising pollution levels, these analyzers are being employed to monitor it, so that the situation can be improved. These devices are majorly used to monitor NOx, SO2, CO, and other gases that absorb infrared and re-emit photons of infrared radiation. A key advantage of these sensors is their low power consumption.
Additionally, in the APAC region, HVAC sales to the hospitality sector are burgeoning with the increasing arrivals of domestic and international tourists. Further, due to the increasing population, the construction sector is also growing at a good pace, in turn, boosting the demand for HVAC systems. Hence, due to the increasing demand for HVAC systems, the demand for NDIR sensors is also rising.
Automotive & Transportation Sector Is Expected To Register Highest CAGR
The automotive & transportation sector is expected to register the highest CAGR, of around 8%, attributed to the growing problem of drunken driving. As part of motor vehicle accident investigations or regular road safety campaigns, authorities rigorously check drivers' blood alcohol levels. In most countries, the maximum concentration of alcohol with which a person is allowed to drive is 0.08 grams per deciliter (g/dL). According to the National Highway Traffic Safety Administration (NHTSA), around 11,654 people in the U.S. died in 2020 in accidents attributed to drunken driving, equaling an increase of 14% from 2019.
For the detection of alcohol, alcohol sensors and detectors are used during breath analysis, and blood and urine tests, many of which are time-consuming and unhygienic. To overcome such issues, while gaining fast and accurate results, an advanced detection method is required.
Hence, manufacturers of alcohol sensors are heavily investing in R&D activities for the development of a miniature device that could be easily integrated into any system and could provide real-time accurate results. Certain players are also focusing on the development of a technology that would allow for the contactless detection and measurement of alcohol in the breath of the driver. The development of such methods is ultimately aimed at reducing the incidence of accidents, which will, in turn, drive the market growth.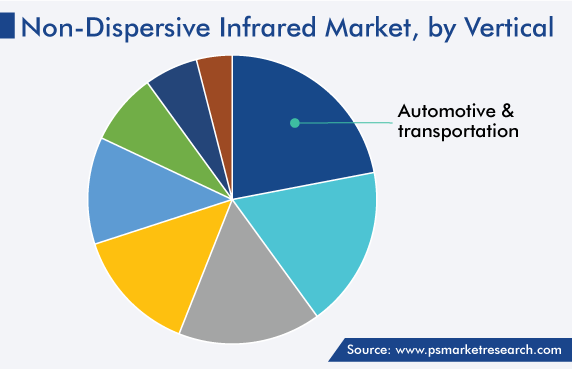 Asia-Pacific Region Has Largest Market Share
APAC has the leading position in the non-dispersive infrared market, and it will hold the same position till 2030. This is attributed to the increasing number of small and medium-sized manufacturers, coupled with the rising investments in the development of IoT-based NDIR analyzers.
In APAC, China holds the leading position, and it will grow with a CAGR of around 8.6%, attributed to the expanding automotive & transportation sector in the country. Many automobile manufacturers have started focusing on integrating such sensors for monitoring cabin air quality.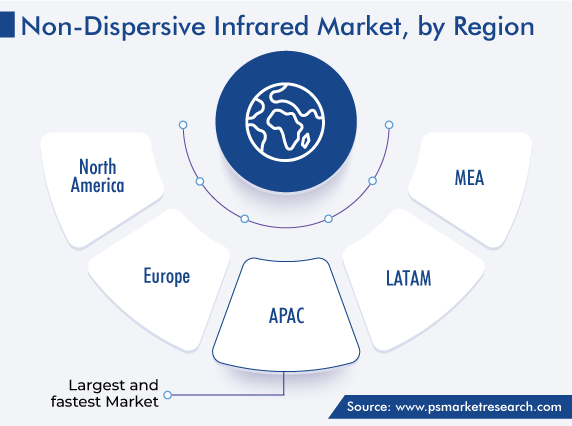 Growing Focus on Safety of Workers across Industries Boosting Sensor Demand
The safety of workers holds importance in almost all industries. In the mining, chemicals, fertilizers, and oil & gas sectors, in particular, hazardous working environments prevail. During the refining and extraction of oil & gas and the processing of chemicals, various toxic gases, including sulfur hexafluoride, carbon monoxide, and hydrocarbons, are generated. They have major health repercussions if inhaled in large amounts, including death in extreme cases. Moreover, high concentrations of flammable gases can lead to fires and explosions.
Hence, governments across the world are implementing safety directives and regulations for the wellbeing of workers across industries. In the U.S., for instance, regulatory agencies, such as the National Institute for Occupational Safety and Health (NIOSH) and the Occupational Safety and Health Administration (OSHA), conduct research and make recommendations for the prevention of occupational injuries. According to the Occupational Safety and Health (OSH) Act, employers have to ensure a safe workplace.
Moreover, specifically for the mining industry, the act recommends the usage of regulation-compliant respiratory protective devices and compulsory health hazard evaluations. Therefore, non-dispersive infrared sensors are used to easily detect toxic fumes in various industries. The technology helps in the minimization of hazardous smoke leaks, thus enhancing worker and workplace safety. Therefore, the increasing focus of regulatory agencies on workplace safety is expected to fuel the demand for NDIR analyzers and modules.
Key Players in Non Dispersive Infrared Market Are:
Honeywell International Inc.
N.E.T. Srl
NevadaNano
S+S Regeltechnik GmbH
MIPEX TECHNOLOGY
Senseair AB
Emerson Electric Co.
Acal BFi group
Market Size Breakdown by Segment
The report analyzes the impact of the major drivers and restraints on the market, to offer accurate non-dispersive infrared market estimations for 2017–2030.
Based on Gas Type
Carbon-dioxide
Hydrocarbons
Refrigerant gases
Sulphur hexafluoride
Carbon monoxide
Ethylene
Anesthetic gases
Acetylene
Volatile organic compounds
Based on Application
HVAC
Monitoring

Air quality monitoring
Capnography
Refrigerant Monitoring
fruit Ripening Monitoring

Detection and analysis

Hazardous Gas Detection
Flame Detection
Alcohol Detection
Blood Gas Analysis
Based on Vertical
Automotive & transportation
Chemicals
Oil & gas
Medical
Industrial & manufacturing
Environmental
Food processing and storage
Geographical Analysis
North America
Europe

Germany
U.K.
France
Italy
Spain

Asia-Pacific

Japan
China
India
South Korea
Australia

Latin America
Middle East and Africa

Saudi Arabia
South Africa
U.A.E