Nickel Cadmium Battery Market Size & Share
The nickel cadmium battery market size stood at USD 1,541.6 million in 2023, and it is expected to witness a compound annual growth rate of 3.0% during 2024–2030, to reach USD 1,888.6 million by 2030.
The growth of the global market is aided by an increase in the demand for these power sources in the automobile industry, due to their low cost and easy availability. Market players are constantly putting in efforts to incorporate the latest technology in these devices, in order to remain competitive, in light of the frequent introduction of new technologies.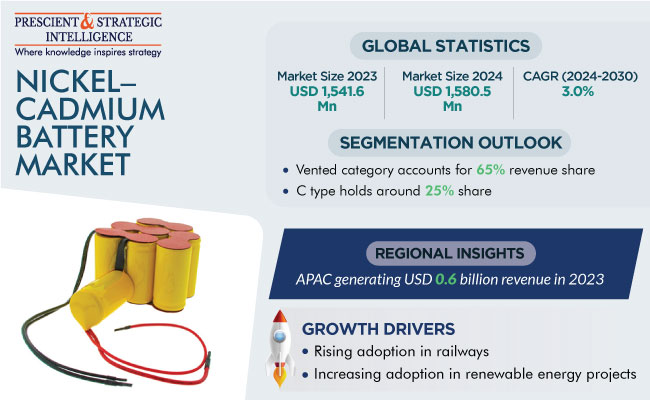 The Ni-Cd battery, which is a source of DC voltage, is taking over lead–acid with its small in size, which allows for greater portability.
Extremely small nickel cadmium batteries are known as button cells. They typically have a coin-shaped metal case, which has the polarity printed on it. Button cells power portable consumer and medical devices, including pocket calculators, wristwatches, implanted cardiac defibrillators, cardiac pacemakers, hearing aids, and automotive keyless entry transmitters. Thus, the rising use of these batteries in common consumer electronics is a key driver for the market.
COVID-19 has had a negative impact on the market, as industries were shut down. Many companies in the consumer electronics sector faced a shortage of raw materials due to the disrupted supply chains. As lockdowns were imposed, portable battery production came to a standstill as there was no demand for them.
Rising Adoption of Nickel–Cadmium Batteries in Railway Applications
Numerous systems in railways are powered by nickel cadmium batteries, including backup power systems, emergency braking systems, emergency lighting, coach lighting, underground metros and railways, and HVAC systems. Additionally, in low-visibility areas, these devices are used to provide backup power for warning lights and signals, and they can also be used to crank the engines of diesel locomotives. High temperature resistance, tolerance for excessive charging and discharging, and frequent charging–discharging are the requirements for rail applications, all of which these energy storage systems meet.
The rail power FNC is frequently used as an onboard power supply in various types of rail vehicles, while the rail power HNCS, which is a battery with the sintered/PBE technology, is used to meet high power requirements, such as for emergency traction.
Increasing Product Adoption in Renewable Energy Projects
The rise in the investment in the renewables sector will boost the growth of the market. These batteries are in high demand as a result of an increase in the number of solar energy and other renewable energy projects. In standalone hybrid power and grid-connected wind turbine and solar photovoltaic installations, these batteries provide highly reliable energy storage. They perform appreciably during periods of peak generation as well as peak demand and integrate various power production modes. Moreover, they offer low internal resistance, which keeps their internal temperature low. This helps in the efficient operation of renewable energy systems, by allowing for quick charge and discharge, as it simplifies complex task of managing charging patterns.
Vented Category Hold the Larger Share
Among all cell types, the vented category held a larger share, of, 65% in 2023. These variants are used for backup power in telecom towers and base stations, starting the engines of backup turbines, and for many other applications in aviation, railways, and mass transit. Over other types, vented-cell batteries are smaller and lighter and require less maintenance. In addition, they operate at extreme temperatures from −40°C to 70°C and have long lifespans of up to 20 years or more, depending on the type.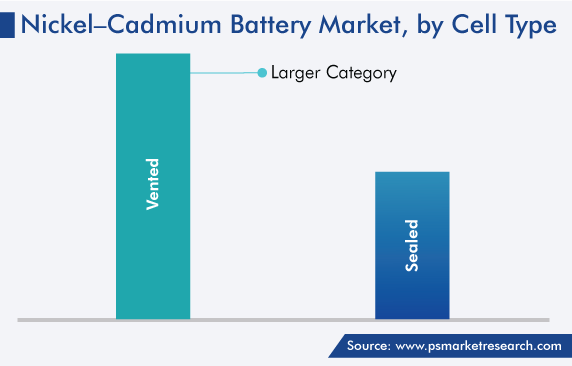 Sealed Category Holds Significant Share
Sealed-type cells acquired the most-significant market share in 2023 due to the technological advances that have led to the creation of small, sealed, rechargeable batteries, which are generally low-maintenance, requiring only the periodic replenishment of the water in the electrolyte. These advancements bring economic benefits and advantages of rechargeability to small batteries. Sealed, rechargeable batteries also charge faster than other batteries and offer considerably more charge cycles. These batteries are available with various output ratings and entail economical, trouble-free servicing. These batteries also have a higher power density, which means they can store more energy per unit of weight compared to other batteries.
C Type Held Largest Share in 2023
The C type division held the largest revenue share in 2023, of around 25%. A wide variety of everyday household items, such as toys, flashlights, smartphones, laptops, and musical instruments, make use of dry-cell batteries in the standard size, known as the C battery. C types are widely used because of their high energy density and long shelf life.
The chemistry and discharge conditions govern the voltage and capacity of a C-type battery. They are easy to handle because of their small size and easy integration into portable electrical and electronic devices.
Ni-Cd battery Market Report Coverage

| | |
| --- | --- |
| Report Attribute | Details |
| Market Size in 2023 | USD 1,541.6 Million |
| Market Size in 2024 | USD 1,580.5 Million |
| Revenue Forecast in 2030 | USD 1,888.6 Million |
| Growth Rate | 3.0% CAGR |
| Historical Years | 2017-2023 |
| Forecast Years | 2024-2030 |
| Report Scope | Market Trends, Drivers, and Restraints; Revenue Estimation and Forecast; Segmentation Analysis; Impact of COVID-19; Companies' Strategic Developments; Market Share Analysis of Key Players; Company Profiling |
| Segments Covered | By Cell Type; By Type; By Block Battery Construction; By End Use; By Region |
Explore more about this report - Request free sample pages
L Type To Witness Fastest Growth
The L type category is expected to grow exponentially over the projection timeframe. L-type batteries are typically designed for applications that require power for an extended period. Further, they have a long discharge period, resulting in low currents, a longer operating duration, and a dependable energy supply. The L-type's capacity varies across manufacturers, but has a typical range of 8–1,680 Ampere-hours.
Emergency lighting, DC instrumentation, railway signaling, photovoltaic systems, switchgear protection, cathodic protection, and fire alarms are all uses for the L-type batteries.
Consumer Goods To Witness Fastest Growth
The consumer goods category is expected to grow exponentially in the nickel cadmium battery market over the projection timeframe. These batteries are used in portable electronic devices, such as laptops, drills, camcorders, and other tiny battery-operated devices, due to their low maintenance. They are also favored for power tools, emergency lighting, telecom base stations and towers, and generator starter motors. Their life of 5 to 7 years makes them fit for applications in emergency situations. They can bear extreme temperatures and are safe to use.
With the high adoption of Ni–Cd batteries in the consumer goods industry, the market is expected to advance exponentially, as consumer goods companies are continuously adapting to the changing consumer demands and trends. In this regard, the market advance is credited to the changing lifestyles of people as a result of their increasing spending power.
In 2023, Asia-Pacific Was Market Leader
In 2023, APAC held the largest share, due to the growth of industries in the regional countries. The oil & gas, mining, renewable energy, and manufacturing sectors all make use of these batteries. Further, consumer electronics, automotive components, and many other electronic devices are manufactured in huge quantities in China, which is also a global hub for the manufacturing of batteries. The growing manufacturing activities, coupled with the booming sale of consumer electronics, is creating growth opportunities for the market players.
Additionally, the nation has a significant sales potential for nickel cadmium batteries due to their application in medical devices. They are widely used in stationary, portable, and even wearable medical devices due to their long service life and superior energy density over lithium-ion batteries of similar characteristics. Additionally, the Ni-Cd battery can be recharged quickly, thus making it suitable for medical devices.
Similarly, these energy sources are widely used in the automotive sector. According to the OICA, in 2022, 4 of the top 10 countries, in terms of auto production, were China, Japan, South Korea, and India.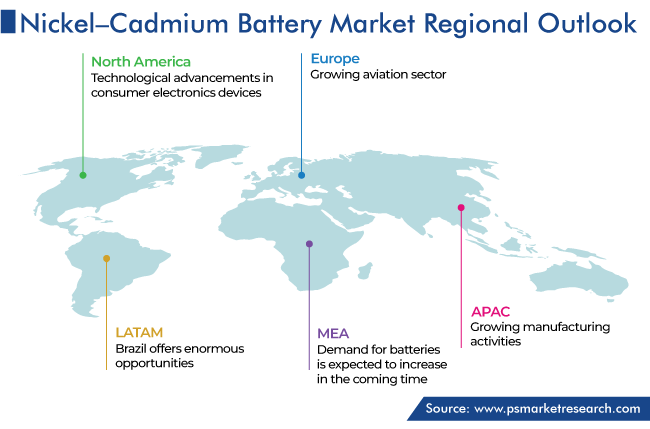 The market in North America is expected to grow exponentially as technological advancements in consumer electronics devices, such as noise cancelation, AI integration, and long-distance wireless connectivity, create new opportunities. To meet the changes in consumer buying trends, companies are introducing new, energy-efficient models of household appliances, as well as portable electronic devices, such as smartphones, tablets, and laptops.
Key Nickel Cadmium Battery Manufacturers:
Sanyo Chemical Industries Ltd
Energizer Holdings Inc.
Gold Peak Batteries International Limited
Toshiba Corporation
BYD Company Ltd.
ALCAD A.B.
Interberg Batteries Ltd.
Exide Industries Ltd.
Panasonic Corporation
Market Size Breakdown by Segment
This fully customizable report gives a detailed analysis of the nickel cadmium battery industry from 2017 to 2030, based on all the relevant segments and geographies.
Based on Cell Type
Based on Type
C Type
D Type
A Type
AA Type
AAA Type
9 V Type
Based on Block Battery Construction
Based on End Use
Aerospace & Defense
Automotive & Transportation
Consumer Goods
Healthcare
Industrial
Marine
Geographical Analysis
North America
Europe

U.K.
Germany
France
Italy
Spain

Asia-Pacific

China
Japan
Australia
India
South Korea

Latin America
Middle East & Africa

Saudi Arabia
South Africa
U.A.E.