Market Overview
The global battery production machine market size stood at USD 7,227 million in 2022, and it is predicted to touch USD 36,409 million by 2030, advancing at a CAGR of 22.40% during 2022–2030. The market is driven by the increasing number of lithium-ion gigafactories, growing demand for electric vehicles, and rising public awareness of environmental problems.
The transportation industry has a chance to transition away from fossil fuels with electric vehicles (EVs). The increasing energy efficiency and decreasing local pollution are two advantages of electrifying the transportation sector. Moreover, players in the industry are increasing the pace of innovation in automotive technology as they create new ideas for electric, connected, autonomous, and shared mobility.
Over the past ten years, the industry has drawn more than USD 400 billion in investments, with around USD 100 billion of those entering since the start of 2020. All of this funding is aimed at businesses and start-ups developing autonomous driving, connected vehicles, and electrified mobility. These technological developments will help in establish electric shared mobility as a viable substitute for automobile ownership and EV cost reduction.
Furthermore, consumers are spending on electric cars, e-bikes, and electronic products, which is driving the investment in cell manufacturing machinery. Moreover, government programs encourage both the supply and demand sides of buying EVs, as well as cell production, which is viewed as a crucial area for the future. Additionally, cutting-edge mobility ideas, such as autonomous driving, frequently rely on CO2-neutral technologies with cell-powered drive trains.
Coating & Drying Is Dominating
The coating & drying category is expected to grow fastest, with the highest CAGR of 23.6%, during the forecast period. The key technology used in the production of batteries is coating. The negative electrode (cathode), positive electrode (anode), and separator for isolating them are all made of specific materials that are placed on the substrate to create the layered electrode. Moreover, another important aspect of the production process is drying. The new technique, known as dry coating, omits the customary drying stage. A powder that has been mixed with a specific polymeric binder that acts as an adhesive is applied to the metal foil. After that, the mixture is subjected to pressure and temperature changes that help it adhere to the foil.
Nickle Manganese Cobalt (NMC) Is Widely Used
The NMC category held the largest revenue share, of around 40%, in 2022. It is frequently used in several applications, including energy systems and Evs. Nickel and manganese combine their finest qualities in NMC. Moreover, manganese can develop a spinel structure to obtain low internal resistance and low specific energy while nickel has high specific energy but poor stability. The metals' combined strengths are increased by joining them.
Power tools, energy storage systems (EES) that require frequent cycling, and electric powertrains, such as those in automobiles, all frequently use NMC batteries. The most common cathode combination is 1-1-1, which stands for nickel, manganese, and cobalt, each in thirds. Also, the main advantages of NMCs are that they provide a longer life cycle and higher energy density, as well as NMC cathodes, contain the most energy amount by weight and volume.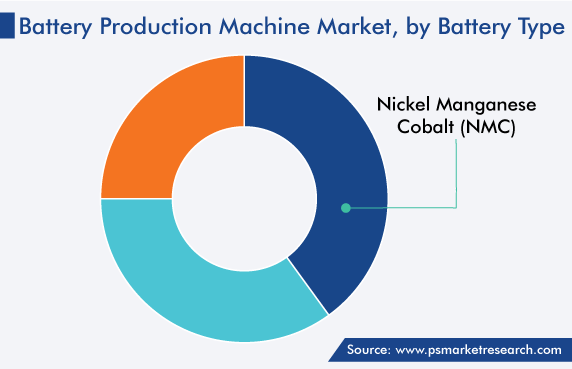 Demand for Battery Production Machine Is Growing in Automotive Sector
The automotive category is expected to grow fastest, with the highest CAGR of around 26%, during the forecast period. The manufacturing of automobiles is one of the largest industries in the world. The production of 60 million vehicles annually accounts for almost 50% of the world's oil usage. The strong demand will derive from the rising middle-class wealth and a sizable young population.
Although EVs are not a particularly new trend, they are swiftly rising to the top of the automotive sector worldwide. Moreover, sales of EVs reached record levels globally in 2021, and the U.S. has set a target of 50% market share for EVs by 2030. The urgent requirement to achieve global sustainability goals is driving the market growth for electric and hybrid vehicles.
The main advantage of EVs is the contribution they may make to enhancing urban air quality and lowering the consumption of fossil fuels. Fully electric vehicles don't emit any carbon dioxide while they're moving, significantly lowering air pollution. With the growing concerns about global warming and the U.S. government moving on with its 2030 Net-Zero plans, electric automobiles will soon become more widely available and more inexpensive. Thus, the automotive industry is driving the battery manufacturing machine.
Moreover, the renewable energy category is holding a significant share in the sector. This is mainly because Li-ion batteries could serve as the main energy storage system for off-grid renewable energy. The most advantageous features of Li-ion cells include higher energy and power densities and a longer lifespan than other technologies. The Li-ion battery may be the best option for storing energy and the primary energy source for the electric vehicle sector. The growth of the electric car market could be the engine that propels the renewable energy industry, lowering the cost of Li-ion batteries as a result of mass production.
Increasing Number of Lithium-Ion Gigafactories
The demand for lithium-ion battery cells is increasing dramatically as EV sales and production soar. Moreover, vehicle manufacturers are ramping up their plans for EVs, and many of them, including Tesla, Volkswagen Group, General Motors, Ford, and Geely, are investing and growing their gigafactory footprints, whether through partnerships with battery cell suppliers or eventually internal production of cells.
The demand for electrical energy storage is rising across various industries, in several locations, and at a wide variety of scales as a result of the expanding significance of electricity as an energy carrier in decarbonizing economies. Moreover, battery systems in the transportation industry include short-range vehicles, such as cars and planes, long-range vehicles, such as e-bikes and e-buses, and neighborhood-scale forms of mobility, such as e-scooters. In addition, stationary applications include everything from home battery installations "behind the meter" (also known as "power walls" or "wall boxes") to grid-scale dispatchable power systems intended to balance supply and requirement across transmission and provide backup functions for emergency situations during blackouts.
The growing demand for energy storage linked to decarbonization is driving innovation in lithium-ion battery (LiB) technology and, at the same time, transforming the organization of established LiB production networks.
Battery Production Machine Market Report Coverage

| | |
| --- | --- |
| Report Attribute | Details |
| Historical Years | 2017-2022 |
| Forecast Years | 2023-2030 |
| Market Size in 2022 | USD 7,227 Million |
| Revenue Forecast in 2030 | USD 36,409 Million |
| Growth Rate | 22.40% CAGR |
| Report Scope | Market Trends, Drivers, and Restraints; Revenue Estimation and Forecast; Segmentation Analysis; Impact of COVID-19; Companies' Strategic Developments; Market Share Analysis of Key Players; Company Profiling |
| Segments Covered | By Machine Type; By Battery Type; By Application; By Region |
Explore more about this report - Request free sample pages
APAC Held Largest Share
The APAC battery production machine market holds the largest share, of around 36%, in 2022. Due to the technical advantages, they offer and the falling cost of lithium-ion batteries, the use of integrated energy storage solutions utilizing lithium-ion batteries is predicted to increase. As a result, there will likely be a lot of chances for Li-ion cell makers in the near future.
Moreover, China's automotive industry has been growing rapidly and the country is playing an important role in the global automotive industry. For five consecutive years, China has been the single largest purchaser of Li-ion batteries. It is, without a doubt, the leader in battery production, with Contemporary Amperex Technology Co. (CATL), the biggest battery producer in China, accounting for around 35% of the world's li-ion battery market in the first quarter of 2022.
The lithium-ion industry in China has expanded by double digits for several years. The entire output of Li-ion batteries increased by 106% from the previous year to a record high of 324 GWh in 2021.
Moreover, India has had phenomenal growth, which is expected to last over the next several years. In terms of volume growth, India is currently the largest market worldwide owing to the global growth of light automobiles. By 2023, the Indian government anticipates that the vehicle industry would bring in USD 8–10 billion in domestic and foreign investments. Moreover, India could be a leader in shared mobility by 2030, providing opportunities for electric and autonomous vehicles.
Moreover, the Japan market for battery production machine is also rapidly growing. The country immediately needs to increase the adoption of renewable energy, promote sector convergence, and undertake significant changes to its carbon pricing system to reach its net-zero targets by 2050. In addition, Japan is emphasizing advancing renewable energy quickly to fill the gap left by the Fukushima nuclear power plant accident.
In October 2021, Japan published its Sixth Strategic Energy Plan, which raised the nation's aim for the generation of renewable energy (including hydropower) from 22% to 24% to 36% to 38% by 2030. Furthermore, renewable energy is expected to make up 34.6% of the generation mix in 2030, which is close to the goal based on the present trend. Moreover, South Korea is also planning to expand its renewable energy sources, with the anticipated gap likely to be filled by nuclear power.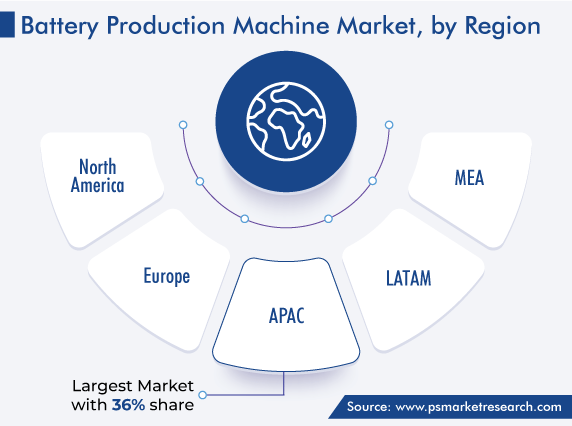 Top Battery Production Machine Manufacturers Are:
Wuxi Lead Intelligent Equipment Co Ltd
SHENZHEN YINGHE TECHNOLOGY CO. LTD.
Hitachi Ltd.
Schuler AG
Dürr AG
The Bühler Holding AG
Guangdong Lyric Robot Automation Co. Ltd.
Manz AG
Nordson Corporation
Rosendahl Nextrom GmbH
Market Size Breakdown by Segment
This report offers deep insights into the market, with size estimation for 2017 to 2030, the major drivers, restraints, trends and opportunities, and competitor analysis.
Based on Machine Type
Mixing
Coating & Drying
Calendaring
Slitting
Electrode Stacking
Assembly & Handling
Formation & Testing Machine
Based on Battery Type
Nickel Cobalt Aluminum (NCA)
Nickel Manganese Cobalt (NMC)
Lithium Iron Phosphate (LFP)
Based on Application
Automotive
Renewable Energy
Industrial
Geographical Analysis
North America
Europe

France
Germany
Italy
Spain
U.K.

Asia-Pacific

China
India
Japan
South Korea
Australia

Latin America
Middle East and Africa

Saudi Arabia
South Africa