Market Overview
The neoantigen cancer vaccine market size was USD 24.4 million in 2022, and it is expected to reach USD 1,322.8 million in 2030, with a compound annual growth rate of 67.6% during 2023–2030.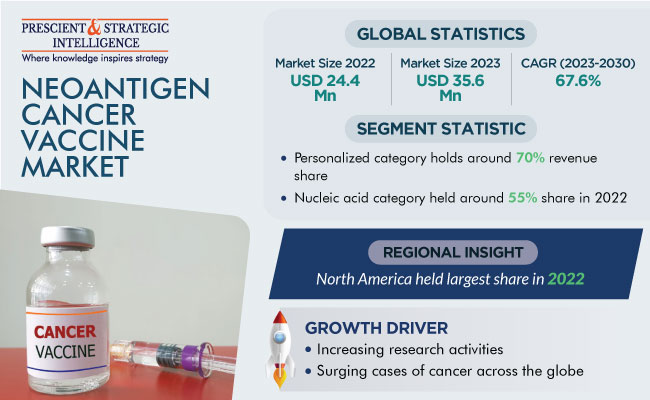 The major factors contributing toward the market advance are the increasing research activities and surging cases of cancer across the globe. Due to the increasing importance of personalized cancer treatments, pharmaceutical manufacturers are concentrating on research and development to meet the existing and potential demand for neoantigen cancer vaccines.
Personalized Category Dominates the Market
In 2022, the personalized category, based on product type, held a larger market share, of 70%. Personalized cancer vaccines require screening for appropriate antigens in specific patients, for their development. Personalized neoantigens are mutated antigens that are unique to most neoantigens and completely different from patient to patient. Thus, a personalized neoantigen drug can only be specifically targeted at the patient for whom it was created. Such anti-cancer drugs have a high potential to induce long-lasting tumor-specific memory T-cell populations. This has led to the rising use of such therapeutics for effective cancer treatment, thus driving the growth of this segment.
Some examples of personalized neoantigen vaccines under clinical trials are NEO-PV-01 (BioNTech) and FRAME-001 (Frame Pharmaceuticals B.V.).
The off-the-shelf category is also expected to register a steady revenue growth rate over the forecast period. This is because highly immunogenic off-the-shelf neoantigens hold the potential for use as broad-spectrum cancer vaccines for patients with the same mutated gene.
Nucleic Acid Vaccine Generates Highest Revenue
The nucleic acid vaccine category led the market, with a 55% share, in 2022, as drug companies are actively involved in developing effective and advanced vaccines based on nucleic acid. For instance, in December 2022, IMUNON Inc. presented PLACCINE modality and proof-of-concept rodent and non-human primate data on SARS-CoV-2 at the World Vaccine & Immunotherapy Congress in San Diego. PLACCINE is a non-viral and non-device plasmid DNA-based vaccine modality for infectious diseases and cancer that targets multiple antigens from a single vector.
Moreover, the recent preclinical-stage trial of a DNA-based vaccine displayed efficient take-up of the drug by the dendritic cells, which induced an effective immune response against melanoma cells, which significantly inhibited melanoma growth and reduced lung metastasis. Numerous intratumoral infiltrated CD8+T-cells with the ability to specifically kill melanoma in vitro cells were identified. That study offered evidence that a multi-epitope neoantigen DNA vaccine in a nanocarrier could be utilized as a reliable pre-validation approach to swiftly enrich effective neoantigens and offer personalized immunotherapy against tumors.
Similarly, a recent study has found that mRNA cancer vaccines based on neoantigens hold the promise of improved tumor specificity and immunogenicity compared to other types of cancer vaccines. The results from phase 1 clinical trials are encouraging, which would drive further exploration of mRNA neoantigen cancer vaccines.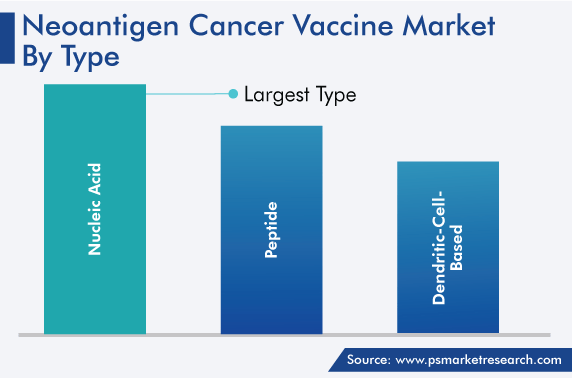 Lung Cancer Led Market in 2022
The lung cancer category led the market, with a 30% revenue share, in 2022. Smoking is one of the major causes of lung cancer across the globe. The prevalence of this disease is 2–5 times higher in developed countries, such as Australia, New Zealand, Ireland, and the U.S., than developing countries, such as Niger, Gambia, and Nepal. In men, the highest incidence of lung cancer is seen in Southern and Eastern Europe, Micronesia and Polynesia, North America, and East Asia, while the rates are low in sub-Saharan Africa. In females, the highest lung cancer incidence rates are found in North America, Northern Europe, and Australia/New Zealand.
A recent study concluded that the urgent need for new therapies for lung cancer may be met by enhancing tumor-specific immune responses through enhanced responses to neoantigens. Clinical data has provided evidence that neoantigens can be identified in lung cancer, and T-cell neoantigen immunoreactivity seems to be an important driver of the clinical activity of immunotherapy.
Liver cancer also holds a significant share in the market. According to the WHO, the most-common causes of cancer deaths in 2022 were cancers of the lungs, colon and rectum, and liver. Worldwide, liver cancer is the third-leading cause of cancer death.
Hospitals and Clinics Are Majors End Users
Cancer treatment is increasingly being centralized in hospitals, where it is possible to assemble multidisciplinary teams. Moreover, oncologic clinics frequently serve as the focal point for radiation therapy and cytotoxic chemotherapy. Further, hospitals are the preferred place for people to get vaccinated, which will allow this category to hold the largest share of the market.
Neoantigen Cancer Vaccine Market Report Coverage

| | |
| --- | --- |
| Report Attribute | Details |
| Historical Years | 2017-2022 |
| Forecast Years | 2023-2030 |
| Market Size in 2022 | USD 24.4 Million |
| Market Size in 2023 | USD 35.6 Million |
| Revenue Forecast in 2030 | USD 1,322.8 Million |
| Growth Rate | 67.7% CAGR |
| Report Scope | Market Trends, Drivers, and Restraints; Revenue Estimation and Forecast; Segmentation Analysis; Impact of COVID-19; Companies' Strategic Developments; Market Share Analysis of Key Players; Company Profiling |
| Segments Covered | By Product Type; By Type; By Therapeutics Specialty; By End User; By Region |
Explore more about this report - Request free sample pages
North America Is Principal Revenue Contributor
During the projection period, the market in North America is expected to contribute the highest revenue. The rising prevalence of different cancers and rapid innovation in the healthcare sector are expected to drive the adoption of neoantigen-based targeted therapies in this region. Additionally, the rapid increase in research and development activities is expected to boost the revenue in the market, through the approval and introduction of new therapeutics in the coming years.
The increasing incidence of pancreatic adenocarcinoma has led to the development of new neoantigen therapies by biotechnology companies, thus driving revenue growth in the North American market.
The Asia-Pacific market is expected to witness the highest revenue CAGR over the forecast period. The rapid upgradation in targeted immunotherapy treatments is the main factor driving the revenue growth of the market. This is due to the increasing count of research initiatives in the regional countries, primarily because of the rising number of cancer cases.
Moreover, the European market is projected to register a stable CAGR during the forecast period. The growing awareness of targeted therapies and increasing patient preference for neoantigen-based immunotherapies are the major factors behind their increase.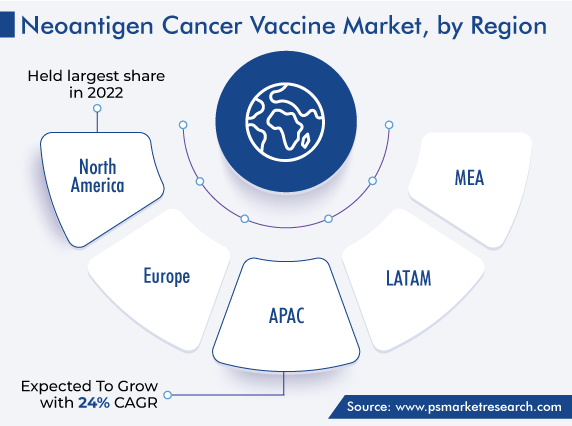 Extensive Pipeline of Vaccines Is Expected To Drive Market
Due to the presence of an extensive pipeline of vaccines, the market will witness a healthy growth rate in the coming years. Some of the key vaccines in the pipeline are:
TG4050, developed by Transgene, is a viral-based therapeutic vaccine. In September 2019, Transgene received the approval to start the phase 1 and 2 clinical trials of TG4050 in France, with an expected study completion date of November 2024. It is an individualized therapeutic vaccine designed to stimulate the response of the immune system of a patient, to identify and destroy tumor cells.
Transgene and NEC Corporation in November 2021 presented positive preliminary immunogenicity and clinical data on their co-developed personalized neoantigen cancer vaccine, TG4050.
NECVAX NEO1 is an oral salmonella-based therapeutic vaccine. It is under clinical trials, which started in May 2022, and has an expected study completion date of December 2025. The drug aims to stimulate the patient's immune system to induce a T-cell response that can recognize and destroy tumor cells, based on the patient's own neoantigens. The NECVAX NEO1 program, originally co-developed with VAXIMM AG, was acquired by NEC OncoImmunity in March 2022, pursuant to an asset purchase agreement.
Nouscom, a clinical-stage immune-oncology company, released off-the-shelf and personalized immunotherapy data from phase 1b trials, wherein the drug demonstrates promising safety, well tolerability, and immunogenic and anti-tumor activity in solid tumors. The data was presented at the Society for Immunotherapy of Cancer (SITC) annual meeting in November 2022.
Some of the Key Players in the Market Are:
Moderna Inc.
F. Hoffmann-La Roche Ltd.
AstraZeneca plc
Agenus Inc.
OSE Immunotherapeutics
Advaxis Inc.
Medigene AG
Neon Therapeutics
Genocea Biosciences
Immunovative Therapies Ltd.
Gritstone bio
Market Size Breakdown by Segment
This report offers deep insights into the neoantigen cancer vaccine market, with size estimation for 2017 to 2030, the major drivers, restraints, trends and opportunities, and competitor analysis.
Based on Product Type
Personalized
Off-the-Shelf
Based on Type
Nucleic Acid
Peptide
Dendritic-Cell-Based
Based on Therapeutic Specialty
Lung Cancer
Urinary System Cancer
Melanoma
Liver Cancer
Head and Neck Cancer
Blood and Bone Marrow Cancer
Based on End User
Geographical Analysis
North America
Europe

Germany
U.K.
France
Italy
Spain

Asia-Pacific

Japan
China
India
South Korea
Australia

Latin America
Middle East and Africa

Saudi Arabia
South Africa
U.A.E.