Market Overview
The nanofiltration membrane market size stood at USD 998.9 million in 2023, and it is expected to advance at a compound annual growth rate of 11.0% during 2024–2030, to reach USD 2,051.7 million by 2030.
The growth is because they retain calcium and magnesium ions and aid in molecule separation. These products are also used in the dairy industry for lactose concentration and demineralization. In various regions, especially APAC and North America, the demand for dairy products is increasing, which will, in turn, fuel the market advance.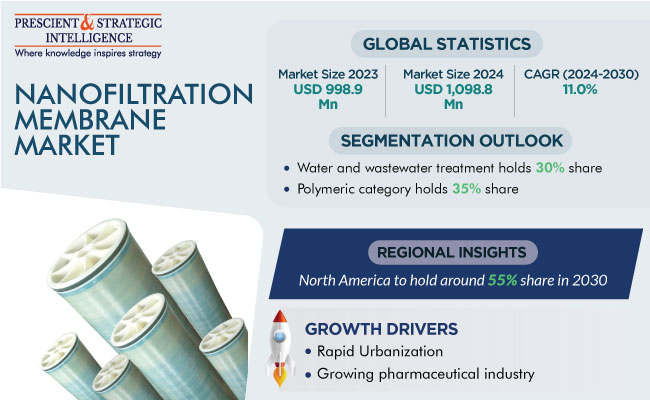 There are wide uses for nanofiltration membranes because of their high flux, low operating pressure, and high retention of multivalent anion salts. Along with this, they require low maintenance and operational expenditure.
Moreover, the use of nanofiltration is rising in desalination plants, in the production of freshwater for drinking purposes at a low cost. Moreover, the process is environment-friendly and is utilized for pretreatment, before thermal processes and reverse osmosis.
In 2022, around 2 billion people did not have access to safely managed drinking water at homes. In rural areas, 8 out of 10 people lack basic drinking water services. Further, according to government websites, approximately 800 children under 5 years of age die every day due to poor sanitation, unavailability of safe drinking water, and poor hygiene.
Further, it has been evaluated that around 2 in 5 schools across the globe are not provided with a proper water supply for washing hands. Because of the scarcity of water, the treatment of sewage becomes necessary, which will boost the demand for this technology. Moreover, the treated water can be used for various purposes, including irrigation, car washing, and in toilets.
Further, in developing countries, such as China, Brazil, and India, the requirement for pharmaceuticals is increasing. Thus, the enhancing hospital infrastructure, rising sales of generic drugs, and development of various drugs at a low cost are expected to fuel the growth of the market. Essentially, the increasing investments in research & development, for the advancement of membrane filtration products and development of new and advanced medicines, boosts the industry growth.
Nanofiltration membranes consume less energy and have high flux rates, which is why they have replaced reverse osmosis in various applications.
In the dairy industry, for instance, for different products, different levels of purification are needed; nanofiltration is known to demineralize and concentrate lactose at the same time. The membrane allows monovalent ions to pass through, but rejects multivalent ions partially. This way, the volume of whey or lactose in milk can be reduced, so as to save on transportation costs. With this procedure, high-quality lactose products can be produced, along with the minimizing transportation and shipping costs and demineralization.
Moreover, the membrane filtration process has advanced with the advent of nanofiltration membranes combining two technologies: ultrafiltration and reverse osmosis.
Nanofiltration Membrane Market Report Coverage

| | |
| --- | --- |
| Report Attribute | Details |
| Market Size in 2023 | USD 998.9 Million |
| Market Size in 2024 | USD 1,098.8 Million |
| Revenue Forecast in 2030 | USD 2,051.7 Million |
| Growth Rate | 11.0% CAGR |
| Historical Years | 2017-2023 |
| Forecast Years | 2024-2030 |
| Report Scope | Market Trends, Drivers, and Restraints; Revenue Estimation and Forecast; Segmentation Analysis; Impact of COVID-19; Companies' Strategic Developments; Market Share Analysis of Key Players; Company Profiling |
| Segments Covered | By Type; By Application; By Region |
Explore more about this report - Request free sample pages
Among Types, Polymeric Category Holds Major Share
Among all types, the polymeric category holds the major share, of 40%, attributed to the usage of these variants in the sterilization and softening of water. The polymeric type operates at low pressures, so as to offer highly efficient filtration, due to which it can be used in wastewater treatment. Because of the increasing need for freshwater that is safe for human consumption, the demand for several filtration techniques has risen. In this regard, the rapid urbanization, increasing population, and swift industrialization aid in the progress of this category.
The hybrid category is growing at a significant pace too, ascribed to the low hydraulic pressure, rapid flux recovery after cleaning, and less flux decline, caused by membrane fouling. Moreover, the category is growing because of the higher permeability and the elimination of the requirement for pretreatment and chemical-based cleaning associated with these variants.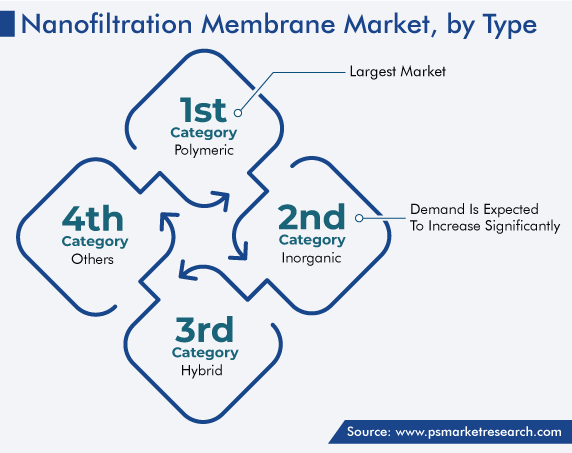 Water and Wastewater Treatment Is Wide Application
Water and wastewater treatment is a key application because of the extensive usage of nanofiltration in treatment and desalination processes by water utilities. The water discharged from industries and agricultural fields contains waste and requires to be treated so that it can be used again. These membranes provide a higher filtration rate and operate at low pressures. Moreover, they use less energy compared to a reverse osmosis system, because the former provides a higher flux.
It has been evaluated that in 2020, around 45% of the wastewater generated in households was discharged without safe treatment. In order to treat it by removing pollutants, such as heavy metals, organic substances, and ions; and decolorizing and softening it cost-effectively, nanofiltration membranes are used in high quantities.
Governments across the world have implemented various rules and regulations and taken various initiatives to create awareness among individuals of the consequences of the contamination and depletion of freshwater on earth.
As per recent reports, in the U.S., around 7.2 million Americans get sick from water-borne diseases each year. In order to reduce the number of people becoming sick due to diseases that occur because of the poor quality of water, the use of nanofiltration membranes has increased. Further, all verticals of the food & beverage industry, including dairy processing, have increased the use of these products to provide enhanced-quality products.
Similarly, in the oil & gas industry, the demand for these materials is growing because of the gas condensate is purified with them.
North America Is Significantly Contributing in Revenue Generation
North America has the leading position in the nanofiltration membrane market, and it will hold the same position till 2030, with a value of USD 1.1 billion. This growth is attributed to the expanding dairy, biopharmaceutical, and petrochemical sectors. These products are also widely used in the region for wastewater treatment.
In North America, the U.S. holds the leading position, and it will grow with a CAGR of 10.8%, attributed to the existence of key players and the rapid adoption of advanced technologies and products. In addition, the increasing disposable income of the people in the country, along with the high living standards, is fueling the demand for these membranes. This is essentially due to the growing sales of fast food and soft drinks among individuals.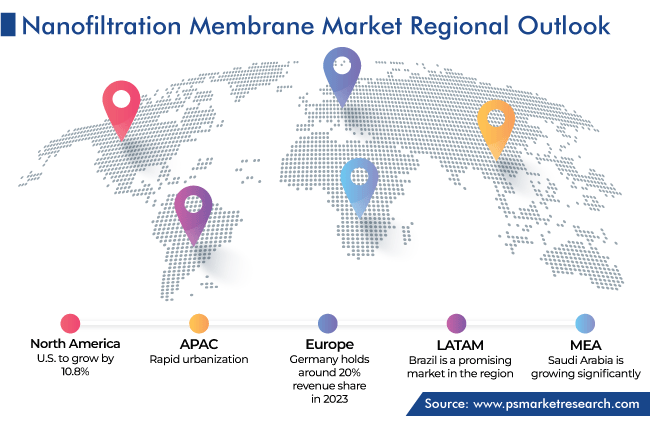 Rapid Urbanization Drives Market
Due to the rapid urbanization and industrialization across various countries in the APAC region, such as China and India, and the increasing demand for clean and fresh water, the market is growing. The usage of these membranes has grown in industries and household purposes. The population in the countries across APAC and other regions has increased tremendously, especially in their urban areas. According to government websites, around 56% of the total population across the globe is living in urban areas, and the number will increase to 68% by 2050.
The shift of people from rural to urban areas has increased the demand for freshwater. Moreover, due to the increasing rate of urbanization, people's education level has risen, and they have become more conscious of water pollution. Industries are responsible for dumping several toxic substances, such as pesticides, chemicals, heavy metals, and waste oils, into rivers and lakes and polluting them. The resulting degradation of freshwater sources essentially propels the demand for nanofiltration membranes around the world.
Key Players in Nanofiltration Membrane Market Are:
Koch Separation Solutions
Synder Filteration Inc.
Pure Aqua Inc.
Osmotech Membranes Pvt. Ltd.
DuPont de Nemours Inc.
Evoqua Water Technologies LLC
Siemens AG
General Electric Company
Thermo Fisher Scientific Inc.
Market Size Breakdown by Segment
This report offers deep insights into the nanofiltration membrane market, with size estimation for 2017 to 2030, the major drivers, restraints, trends and opportunities, and competitor analysis.
Based on Type
Polymeric
Inorganic
Hybrid
Based on Application
Water and Wastewater Treatment
Food & Beverages
Chemicals & Petrochemicals
Pharmaceuticals & Biomedical
Geographical Analysis
North America
Europe

Germany
U.K.
France
Italy
Spain

Asia-Pacific

Japan
China
India
South Korea
Australia

Latin America
Middle East and Africa

Saudi Arabia
South Africa
U.A.E.