Market Overview
The global multi-layer ceramic capacitor market generated a revenue of $12.2 billion in 2021, and its size will advance at a CAGR of 12.3% during 2021–2030, to reach $34.6 billion by 2030.
General capacitors are the most widely used type of capacitors in the market and their availability in a wide range of capacitances and sizes. Thus, the category held the largest market share in the past, and it would grow at a significant CAGR, of 12.3%, during 2021–2030. Furthermore, because of the increasing need for general capacitors in applications such as DC-DC converters, cellular cellphones, gaming machines, memory modules, LCDs, and televisions, these are frequently utilized. Also, universal capacitors serve to reduce noise from electronic circuits, and their small size allows for convenient installation in electronic equipment.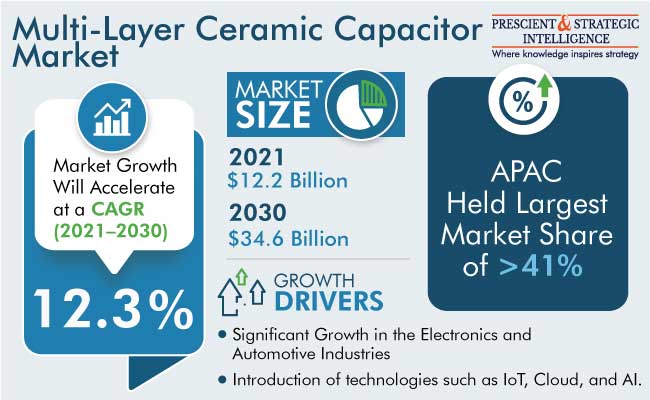 Automotive Category Dominates the Market
The automotive category is the highest-revenue generator in the market, accounting for $4.8 billion revenue in 2021, which is projected to grow at a CAGR of around 12.4% during the forecast period. Some of the major factors driving the demand for MLCCs in the automotive industry are the increasing adoption of electric vehicles (EV) and autonomous vehicle technologies, government regulations for mandatory ADAS systems, and the rising implementation of smart technologies for automotive manufacturing.
The introduction of MEMS linked with ADAS, development of connected cars, and technical improvements in infotainment and IoT equipment in the automotive sector are contributing to the surging need for electronic control units in automobiles, which, in turn, increasing the demand for high-capacitance MLCCs, and conclusively bolstering the multi-layer ceramic capacitor market growth. Moreover, in recent years, automotive-grade MLCCs have gained popularity. The continuous developments in the automobile sector require component downsizing, safety feature enhancement, and high capacitance. Thus, the growing use of electronic components in vehicles like powertrains, engines, and infotainment devices is driving the need for MLCCs.
In reality, the number of MLCCs used in EVs is far more than that required in cars that operate on petroleum and gases. As automobiles shift from internal combustion engines (ICEs) to battery electric vehicles (BEVs), the use of MLCCs grows, often by more than five times. More than 10,000 MLCCs are expected to be used in a BEV. For instance, TESLA's (US) Model 3 automobile has over 9,000 MLCCs, while its Model S and X have over 10,000 MLCCs apiece. Hence, automakers' increasing demand for these components is prompting specialized MLCC producers to improve the performance of automotive-grade MLCCs.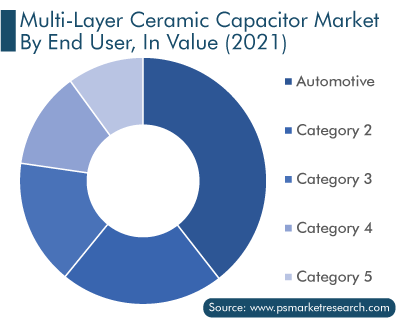 High-Efficiency Feature Will Augment the Demand for X7R Dielectric Type
In 2021, X7R dielectric type accounted for the largest market share, of around 30.1%, as X7R capacitors have a maximum working temperature and are temperature stable. Moreover, ceramic dielectric capacitors of this sort are well suited for frequency discriminating circuits, as well as bypass and decoupling applications. These dielectric MLCCs are also utilized for filtering and transient voltage suppression. Hence, these factors are driving the multi-layer ceramic capacitor market demand in this category.
For instance, Walsin Technology Corporation, a provider of MLCC capacitors, resistors, inductors, and other components, manufactures X7R dielectric multi-layer ceramic chip capacitors with excellent electrical accuracy, stability, and dependability. These MLCC capacitors are made up of conducting materials and electrodes, and have great density and efficiency.
On the other hand, the X5R category is expected to witness the fastest growth over the forecast period, propelling at a CAGR of 14.2%. This can be attributed to its growing popularity in mobile devices, such as smartphones, wearables, portable gadgets, and automobile-mounted electronics, and gaming machines, which, in turn, will increase the need for X5R MLCCs.
High-Range Voltage Capacitors Are Used the Most
The high-range voltage category accounted for the largest market share, of 48.2%, in 2021. This is because advanced ceramic dielectric thin-layers and multi-layering methods are used in high-range voltage MLCC capacitors to provide high voltage and high capacitance to electronic systems. These are also utilized in a variety of applications, including high-voltage coupling capacitors, lighting ballasts, inverter circuits, and switched-mode power supply systems.
In addition, mid-range voltage MLCCs have advantages, such as a high capacitance-to-volume ratio, no polarity, low cost, and low leakage, permitting them to be used in a wide range of electronic systems. Furthermore, as compared to electrolytic capacitors, these capacitors have lower ESL/ESR and stronger mechanical strength.
MLCCs are also rapidly being employed in the telecommunications, medical, military, and industrial equipment industries. Because of advantages such as simplicity of setting on circuit boards, shorter circuit tracks with low inductance, and improved assembly efficiency, they are employed in equipment, such as lasers, military communications devices, high-frequency RF devices, and telecom base stations.
Multi-Layer Ceramic Capacitor Market Report Coverage

| | |
| --- | --- |
| Report Attribute | Details |
| Historical Years | 2017-2021 |
| Forecast Years | 2022-2030 |
| Market Size in 2021 | $12.2 Billion |
| Revenue Forecast in 2030 | $34.6 Billion |
| Growth Rate | 12.3% CAGR |
| Report Scope | Market Trends, Drivers, and Restraints; Revenue Estimation and Forecast; Segmentation Analysis; Impact of COVID-19; Companies' Strategic Developments; Market Share Analysis of Key Players; Company Profiling |
| Segments Covered | By Type; By Rated Voltage Range; By Dielectric Type; By End User; By Region |
Explore more about this report - Request free sample pages
APAC Market To Witness Fastest Growth
Geographically, APAC led the market in 2021, with a value of $5.1 billion, and the regional market is also expected to maintain its dominance in the coming years, advancing at the highest CAGR of 13.0%. This is ascribed to the increasing use of MLCC-based electronic components and renewable energy products in the automobile sector throughout the region. This is also due to the surging demand for MLCCs from end-use sectors, as a result of their improved capacitance levels and shrinking of capacitors.
Furthermore, regional MLCC producers are working on the adoption of upgraded technology in order to compete effectively. China is one of the top manufacturers of MLCCs, with a significant local presence. Chinese MLCC producers have been quickly expanding in recent years, focused on the supply of consumer electronics. Also, the rising need for consumer electronics in emerging economies such as India and China is bolstering the consumption of MLCCs, which, in turn, fuels the multi-layer ceramic capacitor market growth in the region.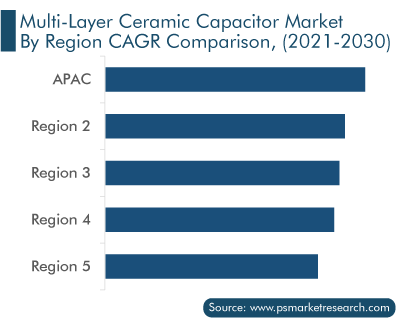 To Increase Market Share, Companies Involved in Several Strategic Developments
The market has the presence of several key players, who, in recent years, have been involved in various strategic developments, in order to stay ahead of their competitors. For instance:
In January 2021, KEMET, a subsidiary of the Yageo Group, introduced three hybrid aluminum polymer capacitor series: A780, PHA225, and PHH225. These AEC-Q200-approved capacitors provide exceptional electrical performance for automotive and industrial applications by combining highly conductive polymer technology and liquid electrolytic materials in a hybrid design.
In November 2020, APITech expanded its surface mount ceramic chip capacitors for high voltage applications. The high-voltage chip capacitors were designed to filter electromagnetic interference (EMI) and smooth output voltages for applications requiring up to 2500 V DC. Also, they are compact, lead-free, and may be simply installed on a PCB.
Key Players in the Global Multi-Layer Ceramic Capacitor Market Are:
Murata Manufacturing Co. Ltd.
Samsung Electro-Mechanics Co., Ltd
Taiyo Yuden Co. Ltd.
Kyocera Corporation
Yageo Corporation
Walsin Technology Corporation
Eyang Technology Development Co. Ltd.
KEMET Corporation
Knowles Capacitors
API Technologies Corp.
Market Size Breakdown by Segment
The study offers a comprehensive market segmentation analysis along with market estimation for the period 2017-2030.
Based on Type
General Capacitor​
Array​
Serial Construction​
Mega Cap​
Based on Rated Voltage Range
Low Range​
Mid Range​
High Range
Based on Dielectric Type
Based on End User
Electronics​
Automotive​
Industrial​
Telecommunication​
Geographical Analysis
North America
Europe

Germany
France
U.K.
Italy
Spain

Asia-Pacific

China
Japan
India
Australia
South Korea

Latin America
Middle East and Africa

South Africa
Saudi Arabia