Market Overview
The global molecular quality controls market was valued at USD 191.2 million in 2022, which is expected to reach USD 313.7 million by 2030, growing at a CAGR of 6.4% during the projection period. This is attributed to the rising number of accredited clinical laboratories, the mounting demand for external quality assessment support, the increasing use of third-party quality controls, the surging government funding for genomics projects, the decreasing cost of the sequencing process, the growing need for precision medicines, and the rising incidences of cancer, infectious diseases, and genetic disorders.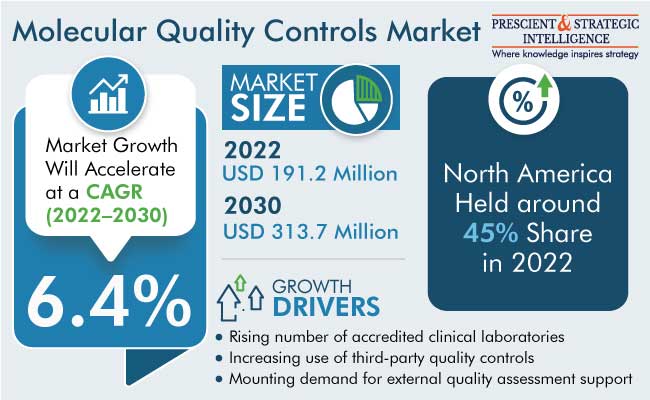 Clinical laboratory tests have aided in both the diagnosis of disease and the evaluation of therapy outcomes. In order to ensure more dependable and improved laboratory services, clinical laboratories all around the world are competing for national and international accreditation today. Diagnostic laboratories perform more complex tests, hold higher standards of regulatory compliance, and work under closer regulatory inspection.
In addition, the amount of lab tests conducted worldwide has surged, due to the growing burden of numerous illnesses like cancer, HIV, and others. To meet this need, more laboratories and testing facilities are opening up in both the public and private sectors. Thus, there is a high need for molecular quality control systems, due to the growing significance of government body accreditation for clinical laboratories performing diagnostic procedures. The relevant authorities evaluate a laboratory's quality system and competency in accordance with a set of requirements during the accreditation process. Hence, this reason is likely to propel the growth of the industry.
Moreover, there has been significant monetary aid provided to researchers to develop new interventions. Several private and public organizations have been expanding their investments in order to come up with newer interventions and treatments. This will pose a positive impact on the sector. This is also due to the rising demand for efficient treatments, the spike in healthcare spending, the occurrence of infections, the population surge, changing lifestyles, an increase in the need for external quality assessment, and soaring congenital conditions.
Independent Controls Lead the Industry
On the basis of product type, the independent controls category dominates the market, accounting for a revenue share of around 40% in 2022. This is because they are produced independently of instruments, calibrators, and reagents, and tests have the maximum sensitivity rate due to their extremely accurate, unbiased, and independent assessment of a testing system's or method's performance.
Additionally, a rapid boost in the establishment of labs in various regions and hiring by state regulatory bodies of independent quality control bodies to perform QC checks are likely to further accelerate the success. For these settings, top regulatory officials ordered the use of QC to make sure that performed diagnostics tests are accurate.
In this category, the demand for PCR controls is significantly high because of the sharp uprise in cases of communicable diseases. As per the Institute for Health Metrics and Evaluation at the University of Washington, there will be a notable spike in cases of infectious diseases, hospitalization rates, and mortality rates through April 2023. Thus, due to the application of PCR in detecting such conditions, its use will rise steadily in the upcoming time.
In addition, the need for DNA sequencing and NGS is expected to display remarkable growth in the coming years. This can be because rare and unique genetic conditions are being discovered, and the aforesaid class is used in genetic testing and detection of such conditions. For instance, according to global genes, there are 10,000 distinct types of such conditions have been discovered globally.
According to a research study, a huge population possesses genes for hemoglobin disorders. The strong occurrence of such abnormalities leads to the expansion of the industry. In order to support clinical trials, natural history studies, and regulatory science methods related to rare diseases, the U.S. FDA granted 19 new grants and two new contracts totaling more than USD 38 million in funding.
Molecular Quality Controls Market Report Coverage

| | |
| --- | --- |
| Report Attribute | Details |
| Historical Years | 2017-2022 |
| Forecast Years | 2023-2030 |
| Market Size in 2022 | USD 191.2 Million |
| Revenue Forecast in 2030 | USD 313.7 Million |
| Growth Rate | 6.4% CAGR |
| Report Scope | Market Trends, Drivers, and Restraints; Revenue Estimation and Forecast; Segmentation Analysis; Impact of COVID-19; Company Profiling |
| Segments Covered | By Product Type; By Analyte Type; By Application; By End User; By Region |
Explore more about this report - Request free sample pages
Single-Analyte Controls Hold Larger Revenue Share
The single-analyte controls category accounted for a larger share, over 60%, in 2022, and it is also expected to maintain the same during the predicted time frame. This is because hospitals frequently utilize singleplex assays; and using single-analyte, they have benefits such as easy analysis and understanding and reduced chance of cross-reactivity, among others.
The multi-analyte category is projected to witness steady growth rate, around 7%, in the coming years. This can be due to the advancements in technology and the development of new multi-analyte and multi-instrument controls. Clinical laboratories can save money by using these innovative ones, which integrate numerous instrument-specific controls into a single one. Further, by doing away with the need for separate quality control procedures for each analyte, these controls result in less time consumption.
Diagnostic Laboratories Accounted for the Highest Revenue Globally
Based on end user, the diagnostic laboratories category held the largest share, approximately 35%, in 2022. This is because of the presence of a large number of accredited labs in different regions, which specializes in services using molecular technology; QC procedures are being employed more often; regulatory actions are occurring more frequently; molecular diagnostics are becoming more expensive; and cases of chronic illnesses like Alzheimer, diabetes, and cancer are on the surge, which leads to the opening up of several laboratories every year.
For instance, Orange health, a health-tech start-up offering diagnostic lab service in India, declared in June 2022 that its systems are now being made available in New Delhi. Through this, various diagnostics solutions can be used by customers at their places in one hour and reports will be available in six hours. Therefore, the contribution of players is likely to propel the sector's success.
Whereas, the IVD kit manufacturers & CROs category is projected to display the highest growth rate, around 8%, in foreseeable future. This can be ascribed to the increasing number of CROs, the surging healthcare investments by governments, the rising cases of communicable diseases, and the growing senior population.
Strategic Collaborations and Product Launches by Major Players Have a Positive Influence
In order to enhance the portfolio of products and boost their global reach, key companies have been involved in partnerships with other companies and product approvals. These are the commonly used tactics by these firms to gain a competitive edge and to maintain their dominance throughout in order to have a remarkable share.
SeraCare Life Sciences Inc. and the International Quality Network for Pathology (IQN Path) (Luxembourg) partnered in June 2021, to create, produce, and supply a variety of highly characterized cell line genomic DNA and formalin-fixed, paraffin-embedded (FFPE) standards with confirmed low, mid, and high levels of mutational burden within their exome regions.
In order to give its clients access to the whole array of InteliQ products and Unity QC data management solutions, as well as client training and support services, Bio-Rad and Roche Diagnostics engaged in a global alliance in May 2021.
North America Is the Market Leader
North America accounted for the largest revenue share, around 45%, in 2022. This is due to the high incorporation of cutting-edge infrastructure, the improved quantity of diagnostic facilities, and the increased number of authorized clinical laboratories in the region. Moreover, the advanced medical facilities in the U.S. and Canada, the existence of numerous top manufacturers, and easy access to enhanced products and technologies drive the regional market. In North America, due to its larger patient population, the U.S. accounts for higher revenue.
Europe is the second-largest contributor to the molecular quality controls market, globally. This is primarily attributed to the increasing number of cancer research and associated biomarkers and the rising cases of cancer. A study has claimed that there will be a boom in cancer incidence in Europe in the future, due to the growing geriatric population, as they are more prone to chronic ailments. Thus, it is expected that the region will continue to play a significant role in this field in the foreseeable future. In addition, the regional market is expanding, due to the increase in the number of contract research organizations and the desire for independent controls for QC.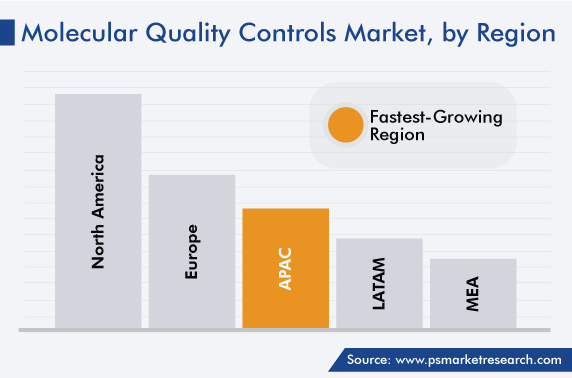 Top Molecular Quality Controls Companies Are:
LGC Ltd.
Thermo Fisher Scientific Inc.
Bio-Rad Laboratories Inc.
F. Hoffmann-La Roche Ltd.
ZeptoMetrix LLC
Quidel Corporation
Maine Molecular Quality Controls Inc.
Microbiologics Inc.
LGC Clinical Diagnostics Inc.
Bio-Techne Corporation
Market Size Breakdown by Segment
This report offers deep insights into the molecular quality controls market, with size estimation for 2017 to 2030, the major drivers, restraints, trends and opportunities, and competitor analysis.
Based on Product Type
Independent Controls
Instrument-Specific Controls
Based on Analyte Type
Single-Analyte
Multi-Analyte
Based on Application
Infectious Disease Diagnosis
Oncology Testing
Genetic Testing
Based on End User
Diagnostic Laboratories
Hospitals
IVD Kit Manufacturers & CROs
Academic and Research Institutes
Geographical Analysis
North America
Europe

Germany
U.K.
France
Italy
Spain

Asia-Pacific

Japan
China
India
South Korea
Australia

Latin America
Middle East and Africa

Saudi Arabia
South Africa
U.A.E.