Market Overview
The global mining automation market was valued at USD 4,116 million in 2022, and the market size will reach USD 6,966 million by 2030, advancing at a CAGR of 6.80% during 2022–2030. This is due to the increasing need for improving work safety, the rising demand for fleet management systems, and the surging focus on reducing operating costs.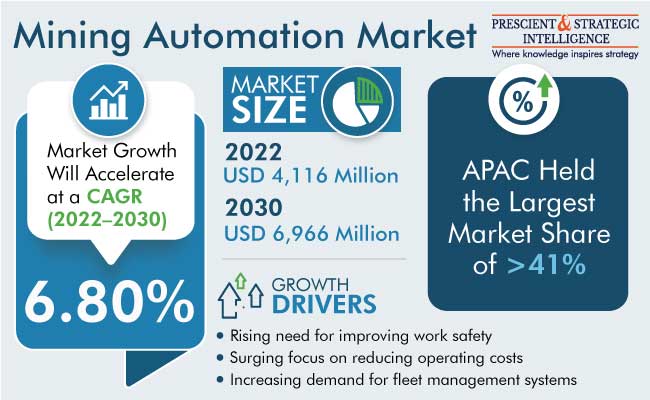 The sector has a long history of utilizing technology to confront and resolve obstacles like workplace productivity and environmental concerns. In fact, productivity has increased as a result of the development and application of new mining technologies, and these improvements have also coincided with an overall enhancement of the working conditions in the mining industry. Along with these, other issues are being addressed by the industry's continued development of new technologies. For instance, the introduction of digitalization promises to keep mines competitive while also providing operators with comfortable positions in control rooms.
Globally, all industries are being impacted by the new technology generation 4.0, which will lead to several advancements in terms of productivity, flexibility, and efficiency growth. The competitive nature of the mining business has made it more important than ever to always strive to improve tools, automated procedures, and modes of transportation. The digital twins will soon become the most important piece of technology that will increase the productivity of the equipment. Thus, mining enterprises and ore extraction organizations must adopt the newest technology trend in order to remain competitive and maintain prospering in business.
When arranging plans and operations, virtual simulations will show to be of great use. By modeling the workplace, miners will be able to make long- and short-term schedules and precise estimations for when the drilling, crushing, and extraction operations will be finished and what the results of the end product will be. Additionally, by simulating the machinery, equipment, and entire work process, on-site workers will be able to test new methodologies on their most important work processes very affordably since no capital will be needed to precisely find out what works, every test will be carried out in a digital simulation, using the same machinery and equipment.
Equipment Dominates the Market
The equipment category held the largest revenue share, of more than 42%, in 2022. This is because various equipment is used for mining processes, including autonomous hauling systems, autonomous drilling rigs, underground LHD loaders, tunneling equipment, smart ventilation systems, pumping systems, and others. Of these, autonomous drilling rigs are mostly used in mining. These operate around the clock and eliminate many of the safety issues associated with manually controlled drill rigs while being more precise and predictable.
There are numerous ways to implement this robotic drill equipment. It may be completely autonomous and not need a rig driver, or a rig driver may control it remotely. The package can additionally include additional GPS and GNSS-based semi-autonomous operations. Moreover, it reduces maintenance and supply costs, as well as offers faster and more accurate drill rig modeling to evaluate choices.
Moreover, mining businesses can contribute to improving safety and overall production at mine sites by using autonomous technologies. By requiring personnel in fewer numbers around mining equipment, the technology automates haulage processes and lowers the danger of casualties at mine sites. Greater equipment availability is made possible by AHS's capacity to reduce the need for breaks or shift changes that come along with using manned machinery for mining operations. Additionally, it enables miners to cut back on pollutants and fuel use.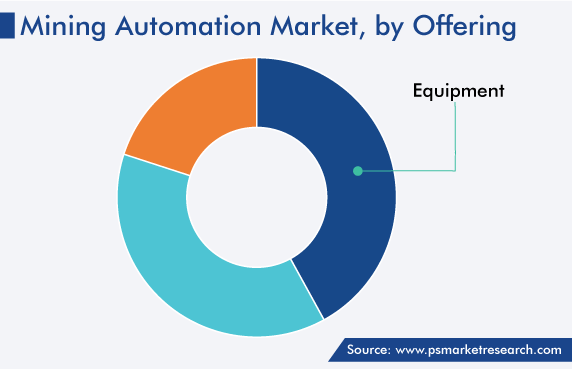 Underground Mining Technique Is Mostly Used
The underground mining category held a larger revenue share in 2022. Technology and AI have taken over the world and are operating at the core of many businesses. Innovative underground mining technology has enhanced a variety of working circumstances, including underground communication, better metal and mineral transportation, quick emergency responses, and many more. The incorporation of AI that is active around the clock would be the ultimate illustration of this. AI integration incorporates real-time, round-the-clock monitoring of metals and minerals as well as plant processing.
Moreover, underground mining technology can help businesses reduce working hazards. Undoubtedly, poor visibility can result in accidents. The technology used in underground mining makes it possible to ensure secure mining evacuations. In the meantime, worker safety can guarantee the lowering of potential injury risks as well as the prevention of fatalities.
Also, in most cases, machines, haulers, and loaders are used to load, move, and transport items. Technology allows for the integration of a seamless, continuous system for loading and hauling while also allowing for the simultaneous handling of the support function for underground mining. It makes sense that, while increasing productivity, larger loaders and haulers for material handling also increase the danger of injuries from safety issues. Firms in this sector can gain a lot from sensors that deal with obstacle detection, location detection, effective communication, automated controls, and others for the protection and safety of personnel by focusing on the integration of new technology.
Communication System Is Getting Preferred
The communication system category is expected to grow at the highest CAGR, of 7.6%, during the forecast period. Huge-speed digital networks are necessary for greater efficiency and cost optimization, due to the high volume of data generated in mining operations, including video and audio communications, and vehicle telemetry. Open-pit mining operations can make use of wireless communication, optical fiber networks, and cable networks. In order to overcome difficulties caused by the complexity and geographical limitations of underground operations, wireless communication is essential.
Reduced operating expenses and optimization are made possible by an efficient communication system linking the whole mine operations at a mine site from pit to port. The demanding needs of the future mine are fulfilled in part by high-performance connectivity like 4G and 5G in combination with cutting-edge technology like automation and data analytics. The environmental impact is lessened by keeping track of materials used and precisely measuring the mining waste. To protect the workforce in the event of an incident like a mine collapse, underground miners are tracked using tracking devices and two-way communication systems.
Mine operators can keep a watch for machine faults to minimize downtime and production concerns thanks to sensors and gadgets that remotely monitor and manage mining equipment. Also, collision accidents are decreased by using mobile Wi-Fi technology on mining equipment.
Rising Demand for Fleet Management Systems
A fleet management system (FMS) is a technological approach to managing the fleet's vehicles in terms of automation and business process optimization, as well as connecting all business sectors, such as dispatching, purchasing, communications, navigation, accounting, and finance, in a single system. No matter the size, fleet management is crucial to the efficient operation of a fleet of vehicles. Monitoring the locations and conditions of vehicles, scheduled maintenance, and fuel consumption aid in cost control and extends the life of the equipment.
The FMS's main objective in the mining industry is to maximize mine productivity and efficiency based on real-time data. More particularly, the FMS attempts to meet quality mixing limits, reduce stock handling, feed the processing plant at the intended pace, and increase mining production.
Mining Automation Market Report Coverage

| | |
| --- | --- |
| Report Attribute | Details |
| Historical Years | 2017-2022 |
| Forecast Years | 2023-2030 |
| Market Size in 2022 | USD 4,116 Million |
| Revenue Forecast in 2030 | USD 6,966 Million |
| Growth Rate | 6.80% CAGR |
| Report Scope | Market Trends, Drivers, and Restraints; Revenue Estimation and Forecast; Segmentation Analysis; Impact of COVID-19; Companies' Strategic Developments; Market Share Analysis of Key Players; Company Profiling |
| Segments Covered | By Offering; By Technique; By Workflow; By Application; By Region |
Explore more about this report - Request free sample pages
APAC Holds the Largest Market Share
APAC leads the mining automation market, accounting for a revenue share of over 41% in 2022. This is due to the surging adoption of technologies for mining automation by various countries in the region. For instance, Australia is acknowledged as a global pioneer in mining automation technologies that allow resource firms to work more securely and effectively in difficult environments. In addition, the rising cost pressures that the mining industry is currently experiencing can be relieved owing to automation advancements.
Moreover, the mining equipment, technology, and services industry in Australia has created cutting-edge technologies that automate several processes and jobs throughout mining operations. Millions of dollars are also being invested in automation technology by a large number of Australian research institutions, academic divisions, and business collaborations. These technologies have aided mining firms all over the world in lowering costs, increasing production, maximizing the utilization of plant and equipment, and enhancing worker safety.
Also, the construction industry is increasing at a good pace in the region. Following the COVID-19 downturn, the construction industry needs government infrastructure investment more than ever. Over the short-to-medium term, significant investments have been planned in China, India, Japan, and other regional countries, which are expected to propel the industry's growth in the region.
Furthermore, APAC is renowned for its entrepreneurial spirit, ongoing technical innovation, and rapid expansion. The previous 10 years have seen a boom in digitalization across all industries in the area. Due to the strong infrastructure that was put in place before the pandemic started, India, for instance, is developing quickly in the area of digital transformation.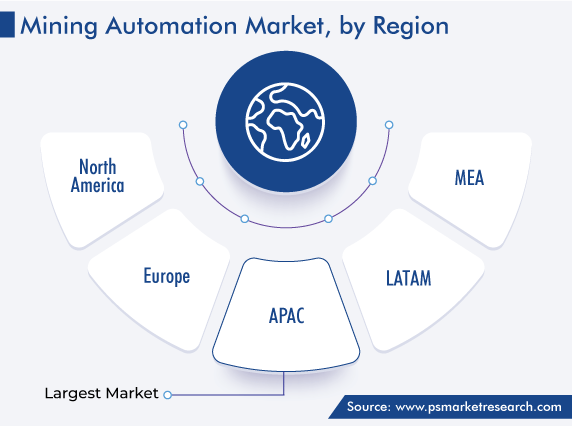 Top Players in the Mining Automation Industry Are:
Sandvik AB
Caterpillar Inc.
Liebherr-International Deutschland GmbH
Hexagon AB
Siemens AG
Epiroc AB
Komatsu Ltd.
Sany Heavy Industry Co. Ltd.
RPMGlobal Holdings Limited
Rockwell Automation Inc.
Market Size Breakdown by Segment
This fully customizable report gives a detailed analysis of the mining automation market from 2017 to 2030, based on all the relevant segments and geographies.
Based on Offering
Equipment
Software
Communication System
Based on Technique
Surface Mining
Underground Mining
Based on Workflow
Mine Development
Mining Process
Mine Maintenance
Based on Application
Metal Mining
Mineral Mining
Coal Mining
Geographical Analysis
North America
Europe

U.K.
Germany
France
Italy
Spain

Asia-Pacific

China
Japan
Australia
India
South Korea

Latin America
Middle East & Africa

Saudi Arabia
South Africa