Market Overview
The minimal residual disease testing market size stood at USD 1,156.8 million in 2022, and it is expected to grow at a CAGR of 15.1% during 2022–2030, to reach USD 3,570.1 million by 2030.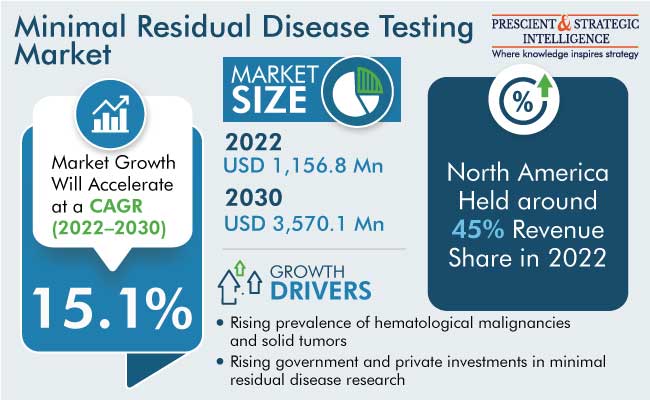 This growth can be mainly attributed to the rising prevalence of hematological malignancies and solid tumors. Moreover, the growing healthcare expenditure, as well as the rising government and private investments in minimal residual disease research, are expected to propel the market growth throughout the forecast period.
With the advent of numerous error-free next-generation technologies, the identification of minimal residual disorders has become easier. These error-free next-generation sequencing methods are being developed by using the molecular barcoding of particular DNA fragments, to make libraries for next-generation sequencing.
The increasing awareness about the advantages of testing for this condition is a major factor driving the market. Currently, advanced tools are available for all types of hematological malignancies to produce the necessary molecular information for good knowledge of cancerous conditions.
Several government organizations are also actively involved in the development of advanced minimal disease testing technologies, to help in the detection of all types of small cancer cells. For instance, Biomarkers Consortium, a part of the Foundation for National Institutes of Health (FNIH), started a four-year project in February 2022 to verify new methods of identifying and quantifying trace amounts of carcinogenic cells left in the body of people with acute myeloid leukemia after therapy. These cells are used as a new prognostic and diagnostic biological indicator to enable the swift adjustment of treatment for these patients.
There are numerous significant players in the market, who are quite competitive and spending more on R&D than before. They are also engaging in a wide range of growth strategies, including acquisitions and joint ventures, for maintaining their market positions and providing better treatment and detection methods.
For instance, in February 2022, Personalis Inc. announced a strategic collaboration with the Moores Cancer Center at the University of California San Diego Health, a National Cancer Institute-designated Comprehensive Cancer Center, to assist with clinical diagnostic testing for patients with advanced solid tumors and hematological malignancies. This collaboration will help take FDA-approved therapy decisions, as well as conduct clinical trials. Additionally, this collaboration will include research on high-sensitivity methods for the detection of minimal residual diseases and cancer recurrence with a recently launched liquid biopsy assay.
Next-Generation Sequencing and Polymerase Chain Reaction Techniques Are Most-Frequently Used
Next-generation sequencing and polymerase chain reaction are the most-commonly used techniques for minimal residual disease testing, as they provide faster and more-accurate results compared to others. Moreover, companies are focusing on the development of innovative and advanced assays that will utilize these techniques.
For instance, in August 2022, Roche Diagnostics Corporation launched its digital LightCycler System, which is a next-generation digital PCR system. This system is capable of identifying and recognizing rather small quantities of specific DNA and RNA targets that are difficult to detect with standard PCR methods, thus leading to rapid diagnoses and treatment.
Minimal Residual Disease Testing Market Report Coverage

| | |
| --- | --- |
| Report Attribute | Details |
| Historical Years | 2017-2022 |
| Forecast Years | 2023-2030 |
| Market Size in 2022 | USD 1,156.8 Million |
| Revenue Forecast in 2030 | USD 3,570.1 Million |
| Growth Rate | 15.1% CAGR |
| Report Scope | Market Trends, Drivers, and Restraints; Revenue Estimation and Forecast; Segmentation Analysis; Impact of COVID-19; Companies' Strategic Developments; Market Share Analysis of Key Players; Company Profiling |
| Segments Covered | By Technology; By Application; By Test type; By End User; By Region |
Explore more about this report - Request free sample pages
North America Makes Largest Contribution to Global Revenue Generation
North America dominated the minimal residual disease testing market, with a revenue share of around 45%, in 2022, owing to the high research and development investments, rising adoption of technologically advanced solutions, presence of major players, and large number of testing facilities in the region.
The rising prevalence of the cancer of the blood-forming tissue in the U.S. has increased the chances of people possessing residual malignant cells, which would strengthen the need for minimal residual disease testing. According to the American Cancer Society, around 34,470 new cases of multiple myeloma and 6,660 new cases of acute lymphocytic leukemia were diagnosed in the U.S. in 2022.
Moreover, the rising demand for NGS and PCR for the detection of minimal residual diseases, rapid uptake of the latest instruments, and established proteomics, oncology, and genomics research infrastructure are propelling the market in the region.
The APAC market is expected to witness the fastest growth over the next few years. This growth can be attributed to the increasing prevalence of leukemia and lymphoma in the region, rising government spending on the healthcare infrastructure, availability of clinical laboratories, and easy access to novel diagnostic technologies in the region. In addition, the rapidly increasing number of hospitals in the APAC region is propelling the industry.
Japan is expected to hold the major share in the APAC region. This is due to the growing number of hospitals and diagnostics centers, together with the outstanding research base for diagnostic procedures. Additionally, the rising investment in the area of illness screening and the existence of supportive reimbursement policies are propelling the market growth.
Further, the region has a high prevalence of lymphoma, which creates a strong need for minimal residual disease testing. Furthermore, the key players are working on the development of novel minimal residual disease solutions, thus driving the growth of the market in the region.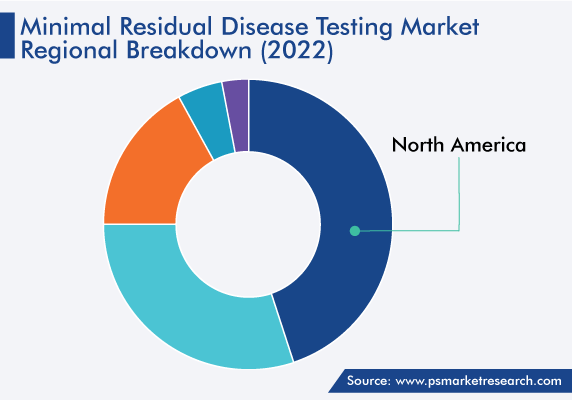 Hospitals To Witness Highest Growth Rate
The hospitals category is expected to grow at the highest rate, over 13% CAGR, in the market for minimal residual disease testing solutions during the forecast period, based on end user. This is due to the availability of cutting-edge diagnostic devices, along with highly skilled healthcare professionals at these places. The detection of the remaining cancerous cells plays an essential role in making well-informed long-term clinical decisions after the cancer therapy is completed. Hence, the efficacy of the diagnosis is crucial for healthcare insurance companies to provide financial support to cancer survivors worldwide.
Moreover, the COVID-19 pandemic has increased the health awareness among the population and its exposure to technology, which is why people are not taking any illness lightly. Moreover, to deal with the pandemic, countries around the world augmented their hospital network. For instance, in 2019, there were around 69,000 public and private hospitals all over India, and this number increased to 70,000 in 2020. Apart from COVID-19 diagnosis and isolation, these hospitals, in time, will provide services for acute as well as rare disorders, which will drive the growth of the hospitals category.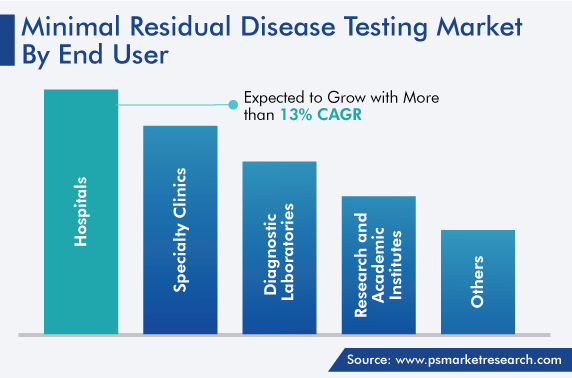 Hematological Malignancy To Witness Fastest Growth
The hematological malignancy category is expected to witness a CAGR of over 16% during the forecast timeline, due to the surging cases of leukemia around the world. According to the data published by the American Cancer Society, in 2022, approximately 8,540 new cases of Hodgkin's lymphoma were diagnosed in the U.S., including 4,570 males and 3,970 females, along with 920 deaths. Additionally, survival rates have considerably increased in the past few years, mainly due to the advancements in the treatment, the efficacy of which depends on stage of the cancer.
Moreover, the rising R&D activities and the hike in the count of collaborations for product development are all responsible for the expansion of the market. For instance, in August 2020, Adaptive Biotechnologies Corporation received an expanded FDA approval for clonoSEQ Assay for assessing minimal residual diseases in patients with chronic lymphocytic leukemia, multiple myeloma, and acute lymphoblastic leukemia. This assay is a type of in-vitro diagnostic tool, which makes use of PCR and NGS to detect and monitor specific gene sequences in the DNA contained in the bone marrow of patients.
In addition, Adaptive Biotechnologies Corporation is collaborating with Laboratory Corporation of America and Phlebotek Solutions Corporation to offer more-suitable as well as safer options to withdraw blood from patients at home or at the laboratory.
Rising Adoption of Immunological Tests
The immunological test category held an around 30% share in 2022. This is primarily ascribed to the increasing awareness of the specific immunological tests that are designed to diagnose any illness in the body. The growing need for these tests is driven by the requirement to make predictions about cell proliferation and the reoccurrence of the disease, aided by the proficiency of advanced immunological tests in taking a quantitative measurement.
Recently, there have been major advancements in molecular diagnostic as well as monitoring techniques for individuals suffering from acute myeloid leukemia. Together with the continuous emergence of new therapeutic agents and immunological assays, these advanced diagnostic methods have led to a significant improvement in the treatment of various diseases.
Oncologists get insights into the effectiveness of the given therapy by conducting immunological tests for the monitoring of residual cancer cells during the course of treatment. It also helps them accurately predict the danger of a possible relapse of the illness, thus influencing their treatment choices, to yield improved therapeutic results.
Key Players in Minimal Residual Disease Testing Market Are:
Adaptive Biotechnologies Corporation
F. Hoffmann-La Roche Ltd.
Cergentis B.V.
Bio-Rad Laboratories Inc.
ARUP Laboratories
Laboratory Corporation of America Holdings
Guardant Health Inc.
Sysmex Corporation
Mission Bio Inc.
Natera Inc.
NeoGenomics Laboratories Inc.
Market Size Breakdown by Segment
The report analyzes the impact of the major drivers and restraints on the market, to offer accurate market estimations for 2017–2030.
Based on Test Type
DNA-Based Test
RNA-Based Test
Immunological Test
Based on Application
Hematological Malignancies
Solid Tumors
Based on Technology
Next-Generation Sequencing (NGS)
Polymerase Chain Reaction (PCR)
Flow Cytometry
Fluorescence In-Situ Hybridization (FISH)
Based on End User
Hospitals
Specialty Clinics
Diagnostic Laboratories
Research and Academic Institutes
Geographical Analysis
North America
Europe

Germany
U.K.
France
Italy
Spain

Asia-Pacific

Japan
China
India
South Korea
Australia

Latin America
Middle East and Africa

Saudi Arabia
South Africa
U.A.E.