Market Overview
The global microcarrier market size stood at USD 1,508.6 million in 2023, and it is expected to grow at a CAGR of 11.8% during 2024–2030, to reach USD 3,280.9 million by 2030. This is due to the rising demand for cell-based vaccines, the surging government funding for cell and gene research, and the increasing R&D activities in the biotech sector.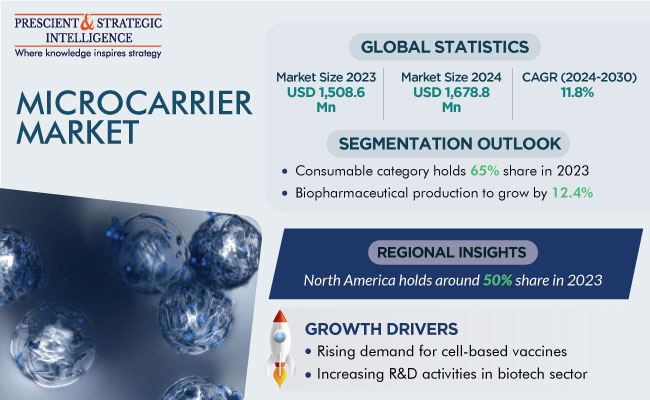 Moreover, the rising prevalence of cancer across the globe is driving the market. For instance, according to government sources, in 2020, around 18.5 million cancer cases were present across the world. Bladder cancer is one of the most common urological malignancies with the highest reoccurrence rate of all cancers. Thus, drug delivery systems for the treatment of cancer have gained importance, due to their increased bioavailability, solubility, and stability of biologically active substances. Therefore, a novel hydrogel-based microcarrier has been developed for improving therapeutic efficacy in treating bladder cancer.
Previously, these drugs were produced in chicken eggs and then harvested, which was a labor-intensive and very time-consuming process. However, developments in technology enable the advancements of vaccines in cell cultures, ensuing in minimizing dependency on chicken and leading to the time-efficient production of such vaccines. For instance, according to the CDC, the FDA has approved a non-egg-based vaccine Flucelvax Quadrivalent, which is used in persons six months and older.
Furthermore, the cell-based vaccine is more effective and safer. Over the last few years, cell-based vaccines have been rapidly gaining ground. There are many cells culture-based viral vaccines that are present in the product pipeline. This will maximize production capacity by increasing yield, thereby reducing cost and making vaccines more readily available to developing countries.
By using microcarriers, manufacturers will increase the number of cells that can be stored in a single tank and allow more effective mass production for higher than 1,000-liter bioreactors. As a result, new microcarriers have been developed to optimize the use of adherent cells, and it is also possible to optimize production by means of dissolvable and temperature-sensitive microcarriers. Cell biology includes extensive R&D on new therapies like gene and stem cells.
Moreover, the expansion of cell therapy and the increased need for biopharmaceuticals are driving the market. As microcarriers help in the growth of adherent cells, they are in high demand in the areas of stem cell therapy. The need for stem cell therapy has grown rapidly, due to the possible therapeutic effects of mesenchymal and pluripotent stem cells, which have been able to treat rare illnesses. In addition, other factors boosting the growth of the industry include the proliferation of stem cells in a 3D environment leads to better distinction and the demand for therapeutic recombinant proteins including monoclonal antibodies is rising due to their increased efficiency.
Consumables Account for Largest Revenue Share
Based on product, the consumables category dominates the market. This is ascribed to the repeated purchase of large amounts of media, reagents, and beads for R&D activities. Among these, microcarrier beads hold the largest share. Due to the huge surface area, beads can generate many cells and can be used to manufacture viruses for vaccine production. Moreover, the surging demand for research toward regenerative medicine, increased research in cell biology, and the presence of several beads that are suitable for different uses also contribute to the market growth in this category.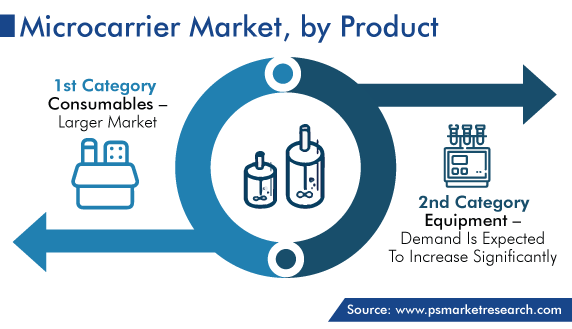 Biopharmaceutical Production Category To Witness Fastest Growth
Based on application, the biopharmaceutical production category is predicted to have the highest CAGR, of around 12.4%, in the coming years. This can be due to the increasing incidences of infectious diseases, cancer, diabetes, and other illnesses, which resulted in the rising demand for safe and effective medicine. In addition, the need for monoclonal antibodies is surging because of targeted treatment options available for therapeutic indications such as oncology and infectious diseases. In order to meet the need, biopharmaceutical companies are expanding their product portfolios. For instance, in January 2023, the FDA approved the new monoclonal antibody Leqembi, for the treatment of Alzheimer's disease.
Moreover, the rising number of clinical development and regulatory approval of vaccines is also supporting the market to grow. For instance, approximately 15 antibody therapeutics were granted the first approvals in the U.S. in 2022. Similarly, the growing elderly population will increase the demand for antibodies and consumables. Furthermore, the need for versatile and economic industrial-scale technologies for culturing anchorage-dependent mammalian cells is becoming more evident. This is a result of the increasing demand for vaccines and the use of mammalian cells for some of the new, emerging biopharmaceuticals.
In cell therapy, traditional microcarrier creates difficulty in separation and results in low-yield cells as a final product. With the increasing adoption of advanced technology, the current scenario has changed. Also, dissolvable microcarriers are currently present in the market that completely get dissolved during cell harvest and there is no need for separation. Thus, it helps in large-scale cell production for vaccines. Hence, these factors are boosting the market growth.
Pharmaceutical and Biotechnology Companies Category Record the Highest CAGR
Based on end user, pharmaceutical and biotechnology companies are expected to witness the highest CAGR in the forecast period. This can be ascribed to the increasing investment by governments in cell and gene research, the surging prevalence of chronic diseases, the rising number of cancer cases that have resulted in an increased patient population, and the mounting demand for producing safe and effective medicine. Moreover, the increasing awareness about the benefits of cell-based therapy is leading pharma and biotech companies to boost the production of biologics.
Market Players Are Focusing on Product Launches and Collaborations to Gain Competitive Edge
In recent years, market players have been actively involved in product launches, collaborations, and mergers and acquisitions, to cut through strong market competition. For instance, in October 2021, Lonza expanded its footprint in Singapore, to meet the global demand for mammalian development services. This expansion would support the global operations network and double the number of existing laboratories.
Microcarrier Market Report Coverage

| | |
| --- | --- |
| Report Attribute | Details |
| Market Size in 2023 | USD 1,508.6 Million |
| Market Size in 2024 | USD 1,678.8 Million |
| Revenue Forecast in 2030 | USD 3,280.9 Million |
| Growth Rate | 11.8% CAGR |
| Historical Years | 2017-2023 |
| Forecast Years | 2024-2030 |
| Report Scope | Market Trends, Drivers, and Restraints; Revenue Estimation and Forecast; Segmentation Analysis; Impact of COVID-19; Companies' Strategic Developments; Market Share Analysis of Key Players; Company Profiling |
| Segments Covered | By Product; By Application; By End User; By Region |
Explore more about this report - Request free sample pages
North America Is the Market Leader
North America has the leading position in the market and it will also hold the same position in the upcoming years, accounting for a value of USD 0.7 billion in 2030. This is attributed to the rising cell and gene therapy research, the increasing cases of infectious diseases, the surging awareness regarding personalized medicines, and the growing R&D activities for the production of therapeutic drugs and vaccines, in the region.
For instance, in September 2022, there were approximately 755 active CAR-T therapies in clinical development, among which 375 were in clinical phases and 378 were in the preclinical stage. This represented a significant increase of more than 50% from 2019, when around 245 CART therapies were in clinical development. Moreover, North America is considered a hub of advanced therapy and regenerative medicine, due to the presence of major pharmaceutical and biotech companies and the increasing government funding in cell and gene-based research.
Whereas, the Asia-Pacific market is expected to witness the fastest growth over the forecast period. This can be due to the growing population, the increasing cases of diseases, and the surging research-based projects for the development of new vaccines and personalized medicine for effective treatment of diseases, in the region. For instance, in November 2020, researchers from SMART (Singapore and MIT Alliance for Science and Technology) announced that they have developed gelatin-based microcarriers that offer large-scale cell production and high yields, are cost-effective, and increase the expansion of mesenchymal stem cells used in cell therapy.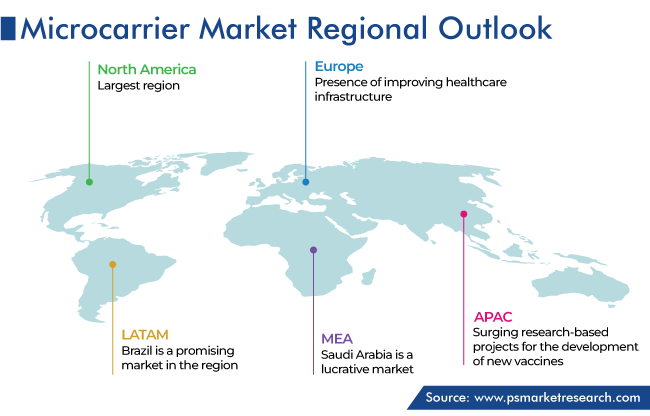 Europe also holds a significant share of the market. This is attributed to the well-developed healthcare sector, the presence of improved healthcare infrastructure, and high healthcare expenditure. Moreover, the increasing government funding for research activities and the rising demand for innovations in cell culture equipment in order to boost productivity and reliable research in biopharmaceutical production have led to an increase in automated cell culture processes and systems. Additionally, in order to meet the surging demand in the healthcare sector for innovative treatment options, contract production, and R&D activities, companies are making huge investments in this field. Thus, these factors drive the regional market growth.
Key Players in the Microcarrier Market Are:
Thermo Fisher Scientific Inc.
Merck KGaA
Danaher Corporation
Sartorius AG
Cytiva
Eppendorf AG
HiMedia Laboratories
Corning Incorporated
Lonza Group AG
Market Size Breakdown by Segment
This fully customizable report gives a detailed analysis of the microcarrier market from 2017 to 2030, based on all the relevant segments and geographies.
Based on Product
Consumables

Media
Reagents
Microcarrier beads

Equipment

Bioreactors
Culture vessels
Filtration systems
Cell counters
Accessories
Based on Application
Cell and Gene Therapy
Regenerative Medicine
Extracorporeal Heart Pump Device
Biopharmaceutical Production
Based on End User
Pharmaceutical and Biotechnology Companies
Academic & Research Institutes
CROs and CMOs
Geographical Analysis
North America
Europe

Germany
U.K.
France
Italy
Spain

Asia-Pacific

Japan
China
India
South Korea
Australia

Latin America
Middle East and Africa

Saudi Arabia
South Africa
U.A.E.