In Vivo to be Larger Type in Gene Therapy Market till 2030
Generating revenue of $3,407.5 million in 2019, the global gene therapy market is expected to grow at a CAGR of 31.1% during the forecast period (2020–2030). The key reasons behind this industry boom are the positive results of recent clinical trials, rising research and development (R&D) activities for gene therapy, and surging incidence of chronic diseases.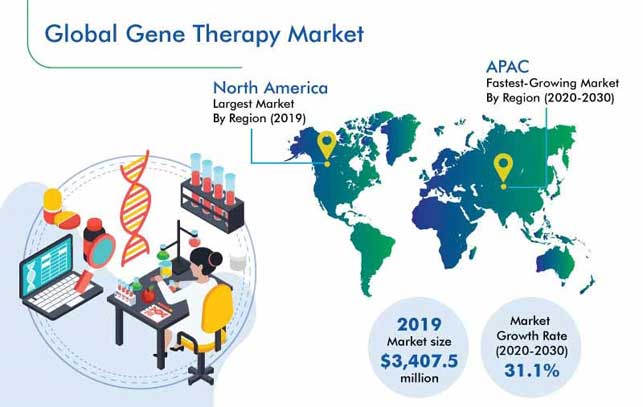 Segmentation Analysis of Gene Therapy Market
The in vivo bifurcation is expected to continue to dominate the gene therapy market till 2030, under segmentation by type, as this approach does away with the need to remove the cells from the body of the patient, manipulate the cells outside the body, and then return them to their original place, all of which make the ex vivo approach quite cumbersome. In addition, unlike the ex vivo approach, in vivo therapy does not harm the host cells and disrupts their functioning.
During the forecast period, the viral category would witness the fastest gene therapy market growth, based on vector type, as in clinical trials, viral vectors have shown high levels of genomic incorporation and expression. Additionally, viral vectors are also more efficient than their non-viral counterparts, which make them more popular.
In 2019, oncology was the highest-revenue-generating division in the gene therapy market, on the basis of application. This is attributed to the sharply rising prevalence of cancer around the world and the fact that almost 60% of the presently ongoing clinical trials of gene therapy are targeted at cancer treatment, as gene therapy displays high selectivity in destroying tumor cells.
Pharmaceutical and biotechnology companies, under the end user segment, held the larger share in the market during the historical period (2014–2019). This is ascribed to the presence of many market players, who are outsourcing the production of the vectors to expand the application of gene therapy to many more diseases than currently.
North America was the largest gene therapy market in 2019, and it is predicted to continue being so in the coming years. This is attributed to the increase in the number of cancer and rare disease cases and existence of key market players. Additionally, several gene therapy products are receiving regulatory approvals, which is further driving the market in North America.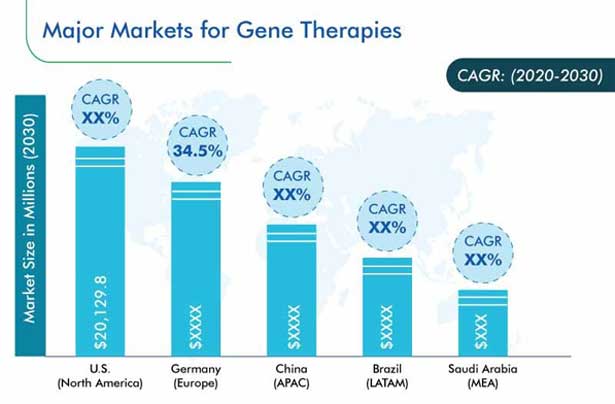 Outsourcing of Gene Therapy Products Trending in Market
A key trend in the gene therapy market is the outsourcing of the manufacturing of associated products by the major industry players. The benefits the players are reaping by outsourcing the production to contract manufacturing organizations (CMO) are higher productivity and operational efficiency, quality gains, and decreased time-to-market. For instance, Prevail Therapeutics Inc., which develops adeno-associated-virus (AAV)-based gene therapy for people suffering from neurodegenerative diseases, entered into an agreement with Lonza in October 2019 to develop products compliant with good manufacturing practices (GMP). Under the terms, Lonza will develop Prevail's PR001 and PR006 gene therapies.
Increasing Chronic Disease Prevalence Driving Market
Among the major growth drivers for the gene therapy market is the rising incidence of chronic diseases, including cancer and several rare diseases. The reason is that the gene therapies currently available can treat rare diseases, most of which have a genetic cause, to some degree. For instance, cancer-targeting therapies do not create a requirement for long-term transgene expression. As per the American Cancer Society, from 2016 to 2019, the number of new cancer cases in the U.S. rose from 1,685,210 to 1,762,450. Similarly, cancer mortality increased from 595,690 in 2016 to 606,880 in 2019, thereby driving the demand for gene therapy.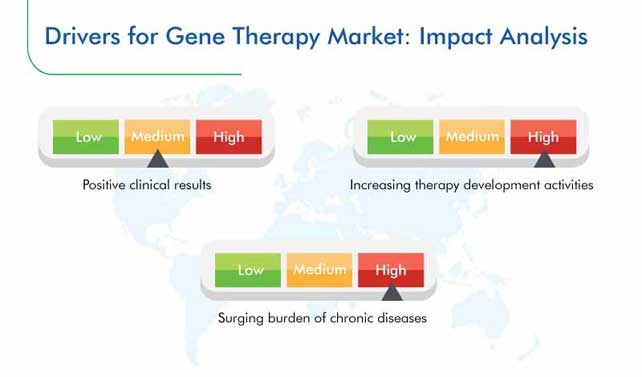 Advancements in Manufacturing Process Offer Lucrative Opportunities
Currently, the advance of the gene therapy market is somewhat hampered by high production costs, low production volume, long lead times, and high capital requirements. To overcome these challenges, automation of the manufacturing process is becoming necessary, which would help reduce manual labor, cost of goods, and variability. In addition, the throughput and manufacturing efficiency are expected to increase, without compromising the purity of active particles, if the cell and vector technologies are advanced. Similarly, by optimizing the therapy delivery systems, blood, immune system, liver, spine, and eye diseases could be better managed, at the same time reducing the requirement for invasive intracellular and intrathecal injections.
Gene Therapy Market Report Coverage

| Report Attribute | Details |
| --- | --- |
| Historical Years | 2014-2019 |
| Forecast Years | 2020-2030 |
| Market Size by Segments | Type, Vector Type, Application, End User |
| Market Size of Geographies | U.S., Canada, Germany, France, Italy, Spain, U.K., Japan, China, India, South Korea, Brazil, Mexico, Saudi Arabia, South Africa |
| Market Players | Spark Therapeutics Inc., bluebird bio Inc., Orchard Therapeutics plc, Amgen Inc., REGENXBIO Inc., Thermo Fisher Scientific Inc., Applied Genetic Technologies Corporation, Pfizer Inc., Adverum Biotechnologies Inc., Novartis AG |
Market Players Engaging in Collaborations and Partnerships for Enhanced Growth Prospects
In recent years, the gene therapy market players have engaged in a number of collaborations and partnerships, to leverage each other's expertise and technologies for mutual business prosperity.
For instance, Forty Seven Inc. and bluebird bio Inc. began a research collaboration in November 2019, for pursuing proof-of-concept clinical trials for Forty Seven Inc. Under the terms, the latter firm's FSI-174 (anti-cKIT antibody) plus magrolimab (anti-CD47 antibody), which is a antibody-based conditioning regimen, will be tested together with lentiviral vector hematopoietic stem cell (LVV HSC), an ex vivo gene therapy platform developed by bluebird. The collaboration, aimed at a conditioning approach which would reduce toxicity, will be initially targeted at diseases that can be managed by transplanting autologous gene-modified blood-forming stem cells.
In the same vein, in August 2019, NIBRT and Allergan plc began a partnership to develop AAV-based gene therapies. The partnership focuses on establishing transfection/transduction conditions to minimize incorrect packaging events, optimizing the cell culture process of infectious AAV particles of various serotypes, and investigating sensitive analytical methods to differentiate between full and empty plastids.
The major players in the global gene therapy market are Spark Therapeutics Inc., bluebird bio Inc., Orchard Therapeutics plc, Amgen Inc., REGENXBIO Inc., Thermo Fisher Scientific Inc., Applied Genetic Technologies Corporation, Pfizer Inc., Adverum Biotechnologies Inc., and Novartis AG.
Market Size Breakdown by Segment
The gene therapy market report offers comprehensive market segmentation analysis along with market estimation for the period 2014–2030.
Based on Type
Based on Vector Type
Viral

Adeno-associated virus (AAV)
Adenovirus
Lentivirus
Retrovirus

Non-Viral
Based on Application
Oncology
Rare Diseases
Neurology
Ophthalmology
Hematology
Infectious Diseases
Cardiology
Based on End User
Pharmaceutical and Biotechnology Companies
Academic Institutes and Research Centers
Geographical Analysis
North America
Europe

Germany
France
Italy
Spain
U.K.

Asia-Pacific

Japan
China
India
South Korea

Latin America
Middle East and Africa

Saudi Arabia
South Africa