Market Overview
The microbial identification market size has been estimated at USD 4,078.6 million in 2023, which is expected to witness a CAGR of 11.9% between 2024 and 2030, reaching USD 8,851.1 million by 2030.
This can be ascribed to the advancements in technology, increase in the awareness of food safety, rise in the prevalence of infectious diseases, many of which have become pandemics in recent times; and surge in the healthcare expenditure.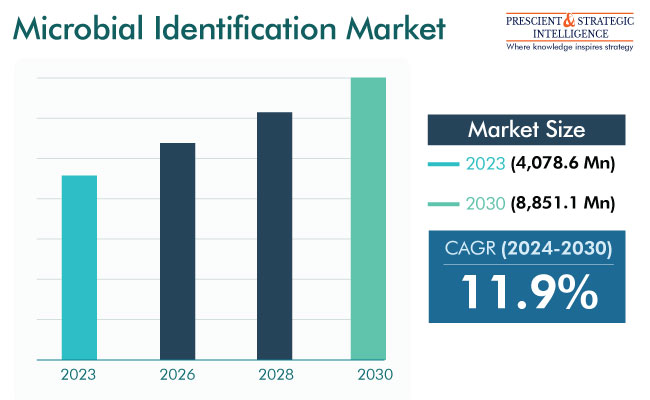 Microbial identification involves the detection of various species of microorganisms that cause diseases, so that proper treatment can be provided. In normal conditions, the blood does not contain harmful microorganisms, which is why their presence could signal a disease. To prevent serious cases, the pathogen should be timely identified and tested for medication resistance, thus allowing clinicians to offer a successful therapy.
Microbes include all species of bacteria, fungi, virus, and yeast. For example, Yersinia pestis, a bacterium, caused bubonic plague (black death), which killed almost 200 million people across Europe and North Africa during the middle ages.
Apart from diagnostics, microbial identification has significant applications in microbial forensics and environmental sciences. Microbial forensics means the identification of organisms that are intended for bioterrorism (i.e., to spread fear and harm in people), and then, validate and take action. In this regard, the ever-looking threat of an intentional anthrax pandemic could drive the market.
Increasing Incidence of Infectious Diseases
In recent years, the rise in the incidence of infectious diseases is believed to be caused out of the increasing number of people traveling overseas. With their increasing disposable income, more individuals are choosing to go on excursions to far-flung regions of the globe. However, these places frequently have weak healthcare systems and endemic diseases.
Many tourists neglect to take the proper safety precautions because they are ignorant of the potential risks that may exist in various regions of the world. The major precaution that is frequently ignored is taking the appropriate medications or vaccinations. Many of the recently identified illnesses have actually been around for a while. However, due to the increase in people's capacity to travel overseas, the previously little-known illnesses are now quickly transmitting to places where they were previously non-existent.
The most-recent example of such a catastrophe is the COVID-19 pandemic. Few countries, namely China, the U.S., and India, suffered on a massive scale, and on a global level, it caused thousands of deaths per day. The infection originated in the Chinese city of Wuhan and quickly spread across the world as those who had gone to China returned home. This has made microbial identification an important practice to control the spread of known and unknown contagions.
Microbial Identification Market Report Coverage

| | |
| --- | --- |
| Report Attribute | Details |
| Market Size in 2023 | USD 4,078.6 Million |
| Revenue Forecast in 2030 | USD 8,851.1 Million |
| Growth Rate | 11.9% CAGR |
| Historical Years | 2017-2023 |
| Forecast Years | 2024-2030 |
| Report Scope | Market Trends, Drivers, and Restraints; Revenue Estimation and Forecast; Segmentation Analysis; Impact of COVID-19; Companies' Strategic Developments; Market Share Analysis of Key Players; Company Profiling |
Explore more about this report - Request free sample pages
Genotypic Method Usage To Grow Rapidly
Based on method, the genotypic category is expected to register a significant CAGR over this decade. Due to their high accuracy and dependability, the industry has seen a shift in favor of genotypic identification techniques based on nucleic acid analysis. Technological developments, such as nanotechnology, microfluidics, and robots, are the main forces behind this transition. Additionally, automated technologies help the sector process more samples, provide test results faster than previously, and minimize labor costs.
Advancements in Diagnostic Technologies
One of the primary drivers for the growth of the market for microbiological identification solutions is the advancement in technology. Compared to traditional methods, new-generation alternatives are more precise and faster and give real-time analysis.
The real-time polymerase chain reaction (RT-PCR) method, a computer-based approach, characterizes genetic microbiological isolates and enables rapid and low-cost epidemiological comparison. The accuracy of disease diagnosis has significantly increased with portable PCR assay devices, particularly for infectious agents that are challenging to detect. Moreover, the MALDI-TOF mass spectrometry method provides faster results with minimal consumables, at a low cost, which is why it is widely accepted.
Rising Awareness of Food Safety Is Key Market Driver
Another key driver for this market is the increasing awareness of food safety. Consumers today are aware of their health and, thus, demand 100% transparency in ingredients (such as added chemicals) and nutritional value in packed food. This has challenged the food industry to develop improved strategies and products that meet the requirements of both consumers and regulatory agencies.
Further, according to the WHO, over 200 diseases are caused by consuming contaminated food or beverages. Every year, food-borne diseases register 600 million cases and cause 420 thousand deaths; children under 5 years of age suffer the most.
Microbial identification helps in the detection of contamination and a possible risk of food-borne diseases, so that necessary actions can be taken. Common foodborne infections include staph, brucellosis, salmonella, E. coli, and hepatitis A. Governments and the food & beverage industry are, therefore, focusing on testing, so as to control foodborne diseases, many of which can be deadly.
Requirement for Infection Control in Cosmetics Industry
With people's increasing appearance consciousness and income, the global personal care and cosmetics industry continues to grow. Along with this, the awareness of the harmful ingredients in such products has increased rapidly in the recent past. Therefore, a crucial component of safety and quality control in cosmetic products is microbiological testing.
The microbiological quality of raw materials must be thoroughly understood in order to comply with regulatory standards, such as those outlined by the Cosmetics Regulation (EC) 1223/2009. Moreover, batches of cosmetic goods that have been developed must also undergo microbiological quality testing before being made available to customers.
Government Initiative: India's National Essential Diagnostics List
The lack of high-quality diagnostic technologies represents a significant gap in the healthcare system. The WHO published the First WHO model list of essential in vitro diagnostics in 2018, and the Indian Council of Medical Research followed suit by publishing its first National Essential Diagnostics List in 2019.
The diagnostics list is a ground-breaking move toward making trustworthy, affordable, and high-quality diagnostic testing readily available for Indian citizens. It can be used by states as a guide to estimate needs, direct procurement, and determine the quantity of tests and devices needed to meet the demand and negotiate diagnoses' costs.
The list gives the industry a chance to concentrate its efforts on tests that the government is likely to purchase, to prevent shortages and sustain supply chains. The list can also make it easier for regulators to eliminate subpar diagnostics, such tuberculosis serodiagnostic test kits, which were widespread in India during a period of weak regulatory structure and erroneous tuberculosis diagnosis.
With the creation of cutting-edge point-of-care diagnostic tools that are compatible with smartphones and cloud-based platforms, India's dream of achieving universal health coverage could be realized.
Mass Spectrometry Has Largest Share
The mass spectrometry category dominates the technology segment due to the application of this technique in diagnostics, research, metabolomics, lipidomics, and genomics. Moreover, miniature mass spectrometers, which are small and portable, are popular amongst physicians and food safety inspectors. This is because along with general bacteria, this technology can easily detect anaerobic bacteria, yeast-like fungi, acid-fast bacteria, and filamentous fungi.
Some of the most-prevalent infections, such as staph, TB, UTIs, pneumonia, and strep, are caused by bacteria. Similarly, fungi are the cause of common diseases such as athlete's foot, candidiasis, aspergillosis, blastomycosis, histoplasmosis, and coccidioidomycosis.
Microbial Identification Companies:
bioMerieux SA
Becton, Dickinson and Company
Shimadzu Corporation
Thermo Fisher Scientific Inc.
Danaher Corporation
Bruker Corporation
Charles River Laboratories
Biolog Inc.
Merck kGaA
Eurofins Scientific SE
QIAGEN N.V.
Charles River Laboratories Inc.
Siemens AG
Bio-Rad Laboratories Inc.
North America Is Biggest Market
Due to its sophisticated healthcare infrastructure and ongoing investment in healthcare, North America currently dominates the global market for microbiological identification solutions. Additionally, the rising worries for food safety are expected to fuel the market expansion in North America.
The European region is the second-largest market due to its growing focus on R&D on microbial identification, so as to detect infectious and fatal diseases, such as HIV and even cancers. For instance, stomach and liver cancers are known to be caused by the Helicobacter pylori bacterium and hepatis B/C viruses, respectively. Hence, technological advancement is being broughr about to make microbiological testing fast, accurate, and affordable.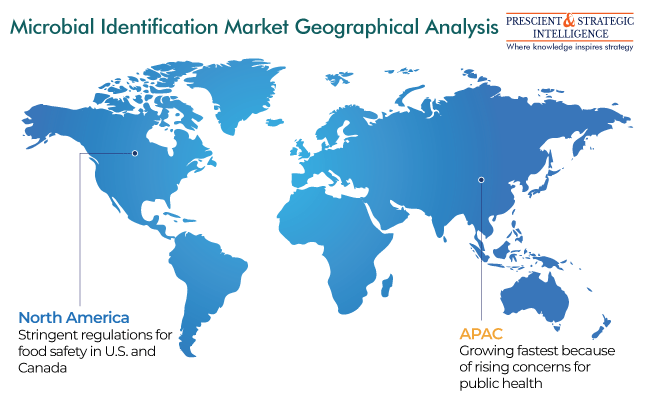 APAC will witness the fastest growth because the pharmaceutical industry and regional governments are taking initiatives to invest in microbial identification techniques due to the rising concern for infectious diseases. Moreover, the infectious disease incidence in the region is high because of the lax hygiene and cleanliness standards, which makes microbial identification more important.
Consumables Category Dominates Offering Segment
Consumables dominate the offering segment of the market. They include ready-to-use kits, panels/ID, and reagents, which are crucial for achieving accurate identification in a few hours. For example, Fisher Healthcare's Sure-Vue color staph ID latex test kit can give results in 30 seconds.
Such kits can identify multiple organisms and perform multiple tests at one time. They give results by changing colors and comparing them to the existing database. A microbial identification medium can be used for clinical, environmental, food & beverage, life science, and biopharma testing, water quality monitoring, and microbiology.