Market Overview
The global mass spectrometry market size stood at $4,277.4 million in 2021, which is projected to advance at a CAGR of 6.4% during 2021–2030, to reach $7,492.1 million by 2030. The market is driven by the rise in healthcare spending, development of healthcare infrastructure, and technological advancement in mass spectrometry (MS).
In the Chinese clinical industry, diagnostics and research using MS are developing rapidly. Thus, China is expected to witness the fastest-growing demand for mass spectrometry. Doctors and patients are gradually becoming more familiar with biomarkers that were previously only detectable using mass spectroscopy platforms. Additionally, LCMS systems are now started to be used for biomarker assessments that were previously incompatible with clinical requirements and were made using different technologies. Additionally, a lot of novel biomarkers have been found because of the MS technology, greatly enhancing diagnosis.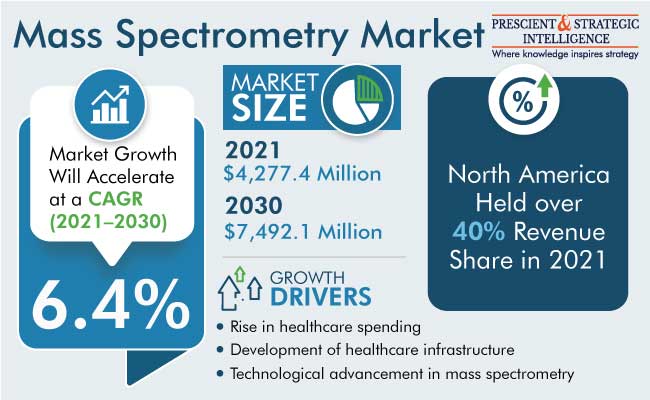 Hybrid Technology Is Widely Used
The hybrid category held the largest share, over 50%, in 2021, and it is predicted to maintain this position in the forecast period as well. A hybrid mass spectrometer has numerous uses, including the quick, sensitive, and accurate identification and quantification of medications, the discovery of novel biomarkers, toxicity research, and the screening and diagnosis of illnesses. These facilitate the testing and evaluation of several analytes at once, as opposed to conventional immunohistochemical assays.
Also, a type of hybrid technology, triple quadrupole mass spectrometer offers more reliable identification of detected analytes, higher selectivity, and better accuracy and reproducibility. These make it more popular and the most preferred mass spectrometer in laboratories, research institutes, hospitals, and industries.
Moreover, another type of hybrid technology, the quadrupole-time of flight (Q-TOF) mass spectrometer is a high-resolution and high-mass accuracy instrument. It is ideal for peptide sequencing, determination of biological compounds, charge state identification of multiply charged ions, differentiation of isobaric species, and protein mass measurements. It is used in life sciences research, drug discovery and development, pharmaceutical research, environmental screening, forensics, and toxicology. It also offers high qualitative and quantitative performance on complex samples.
Technological Advancement in Mass Spectrometry
The advancement of technology in MS is a key industry trend. Progressive R&D has led to the development of technologically advanced spectrometers. A miniature mass spectrometer is small in size and weight and is portable. The device is very easy to handle and has a very simple operation. It has found immense popularity among physicians and food safety inspectors. Different companies are investing capital to provide customers with the miniature mass spectrometer having advanced features and easy-to-handle properties. The hybrid mass spectrometer is utilized for tandem mass spectrometry, consisting of two or more separation devices. Thus, this helps in better analysis of matter or samples.
Moreover, the increasing advances in the biomedical sector and the rising demand for MS in metabolomics, lipidomics, and genomics have created the need for the development of technologically advanced mass spectrometers. Different companies are investing huge capital to develop next-generation mass spectrometers. Conventional mass spectrometers were complex instruments and were typical to operate. In addition, there have been several developments to analyze molecules in a gaseous ionized state. Some of these include MALDI, SELDI, and electrospray ionization. Scientists have developed accurate, high-throughput systems to screen impurities in pharmaceuticals using flow injection combined with inductively coupled plasma mass spectrometry (FI-ICP-MS). All these technological advancements are driving the growth of the mass spectrometry devices market.
MS Is Majorly Adopted in Pharmaceuticals Sector
The pharmaceuticals industry is predicted to grow at the highest CAGR, of around 8%, during the forecast period. Over the past few decades, mass spectrometry has been a leading technology in pharmaceutical analysis, which incorporates both qualitative and quantitative components. Also, the area of usage of MS is increasing at an unprecedented rate, as new applications are getting developed almost on daily basis. Coupled with it, instrumentation development is advancing in an effort to keep up with the continuously rising demand for sensitivity and throughput, sometimes influenced by the tightening of regulatory requirements.
A wide variety of biological and chemical entities are characterized and analyzed by using MS, which is one of the key analytical techniques utilized in drug discovery and development. Absorption, distribution, metabolism, and elimination (ADME) assays with high throughput have been incorporated into drug discovery programs in large numbers due to the improved sensitivity, selectivity, and ease of automation that are available with liquid chromatography combined with MS (LC-MS and LC-MS/MS).
Tandem MS, in particular, has made room for newer, more expansive applications. The higher mass resolution and sensitivity in quantitative assays, a variety of ionization techniques, the ability to monitor single ions or multiple reactions, and the availability of a number of sample processing/clean-up techniques have all increased the implications of MS in the pharmaceuticals industry.
Drug Discovery and Development Dominates the Market
The drug discovery and development category held the largest mass spectroscopy market share of over 40% in 2021. MS serves as a major application in drug discovery and development. It helps in determining the structure of drugs and metabolites. In addition, it is involved in a quantitative and comprehensive analysis of a wide array of metabolites in biological samples.
Moreover, the usage of various ionization techniques, such as electrospray and matrix-assisted laser desorption techniques, allows the analysis of a wide range of biomolecules including peptides, lipids, and sugars. Furthermore, it helps in the confirmation of combinatorial chemistry synthesis, ADME assays, and traditional small-molecule quality assurance/quality control (QA/QC).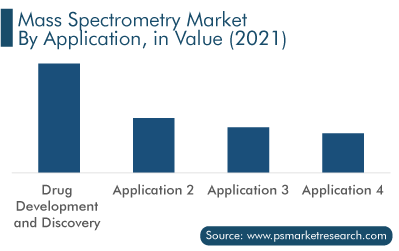 Proteomics Is the Fastest-Growing Application Area
The proteomics category is predicted to witness the fastest growth during the forecast period. The understanding of physiologic and pathological states, as well as biological diseases or disorders, can be based on the characterization of proteins and entire proteomes. The hundreds of proteins involved in fundamental physiological processes have been better identified and quantified, due to the ongoing improvements in MS instruments and methodologies. Because of this, MS-based proteomics has been widely used to analyze biological samples and has made significant contributions to the comprehension of functions, interactions, and dynamics of proteins, advancing the understanding of cellular processes as well as the physiology and pathology of the human body.
Mass Spectrometry Market Report Coverage

| | |
| --- | --- |
| Report Attribute | Details |
| Historical Years | 2017-2021 |
| Forecast Years | 2022-2030 |
| Market Size in 2021 | $4,277.4 Million |
| Revenue Forecast in 2030 | $7,492.1 Million |
| Growth Rate | 6.4% CAGR |
| Report Scope | Market Trends, Drivers, and Restraints; Revenue Estimation and Forecast; Segmentation Analysis; Impact of COVID-19; Companies' Strategic Developments; Market Share Analysis of Key Players; Company Profiling |
| Segments Covered | By Technology; By Application; By End User; By Region |
Explore more about this report - Request free sample pages
North America Accounts for the Largest Share
North America held the largest market share, over 40%, in 2021. The high healthcare expenditure, developed healthcare infrastructure, the presence of a large number of industry players, and stringent government regulations in the pharmaceutical and biotechnology sectors are driving the growth of the regional market. Moreover, increasing food safety concerns, developed healthcare infrastructure, technological advancements in MS, and new GMP and GDP certifications for pharmaceutical excipients are creating a huge demand for mass spectrometers in the region.
The increasing usage of mass spectrometers in clinical testing and proteomics and the surging compliance for advanced MS products are creating ample revenue generation opportunities for manufacturers in the region. Moreover, some of the key trends witnessed in the North American market are the increasing number of acquisitions and collaborations, and new product launches.
The U.S. is the market leader in North America. The growth in consumer awareness about health, high healthcare expenditure, and increase in demand for MS in the forensic science and life sciences sectors are driving the growth of the U.S. market. For instance, in 2020, U.S. health spending climbed by almost 10.0% to more than $4,000 billion, or $12,000 per person.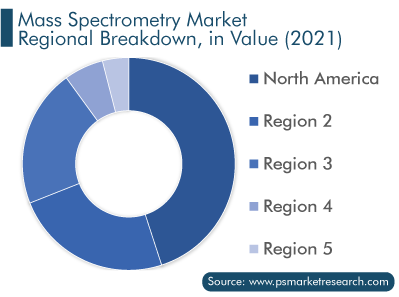 APAC Is the Fastest-Growing Market
The APAC market is predicted to grow at the highest rate during the forecast period. Factors such as increasing healthcare expenditure; high growth in the pharmaceuticals, life sciences, and biotechnology sectors; rising disposable income; and improving healthcare infrastructure are projected to fuel the growth of the APAC mass spectrometry market. Moreover, different governments in the region are framing legislation to ensure food safety. This would indirectly support the regional market growth.
Key Players in the Mass Spectrometry Market Are:
Thermo Fisher Scientific Inc.
AB Sciex Pte Ltd.
Agilent Technologies Inc.
Waters Corporation
PerkinElmer Inc.
Shimadzu Corporation
Bruker Corporation
JEOL Ltd.
LECO Corporation
Market Size Breakdown by Segment
The study offers a comprehensive market segmentation analysis along with market estimation for the period 2017-2030.
Based on Technology
Based on Application
Drug Discovery and Development
Proteomics
Clinical Testing
Based on End User
Pharmaceuticals
Life Sciences and Biotechnology
Academic and Research Institutes
Hospitals
Geographical Analysis
North America
Europe

France
Germany
Italy
Spain
U.K.

Asia-Pacific

China
India
Japan
South Korea
Australia

Latin America
Middle East and Africa

Saudi Arabia
South Africa