Market Overview
The global mental wellness market generated revenue of $131.6 billion in 2021, and the market size will advance at a CAGR of 6.2% during 2021–2030, to reach $226.1 billion by 2030. Brain-boosting nutraceuticals & botanicals are the second-highest revenue generators in the market, and they will account for $59.2 billion in 2030, growing at a CAGR of around 6% during the forecast period.
Natural supplements, herbals and botanicals, and functional foods and drinks with the particular objective of boosting mental health and wellness are emerging, claiming to improve brain health, sleep, memory, and vitality.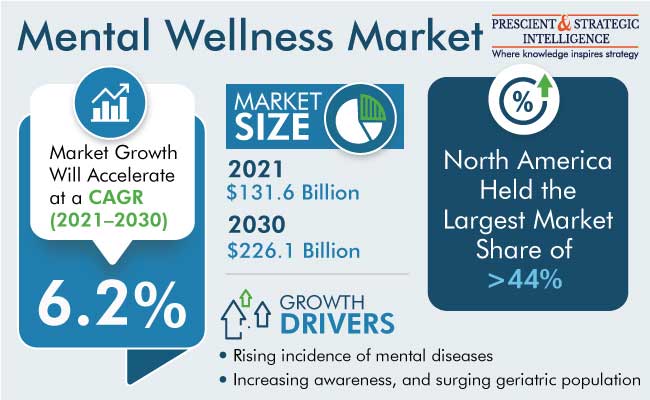 Rapid Rise in Awareness of Stress Management
Stress disrupts a person's emotional balance as well as their physical health. People are becoming more conscious of stress and its management, as it impairs their capacity to perform successfully, think clearly, and enjoy life. The majority of the people experience stress, including occupational stress. Excessive occupational stress has a negative impact on workers' productivity, efficiency, and physical and emotional wellbeing. As a result, stress management in the workplace has become an important element of healthcare.
Depression Category Yields Highest Revenue
In 2021, the depression category accounted for the largest mental wellness industry share, of nearly 27%, on segmentation by disorder. This was due to a rise in the number of cases of depression, anxiety, and suicide, which has raised the concerns about mental health globally. Depression is a result of complex interactions among psychological, social, and biological factors.
Furthermore, depression is a widespread mental disorder, with 5% of the adults estimated to be suffering from this disorder globally. It is characterized by persistent sadness and a loss of interest or pleasure in formerly pleasurable or rewarding activities. It can also disrupt appetite and sleep. Poor concentration and tiredness are common in this disorder.
Depression is a leading cause of disability globally, accounting for a major portion of the global illness burden. Depression's effects can be recurring or long-term, and they can have a significant influence on a person's capacity to function and live a fulfilling life.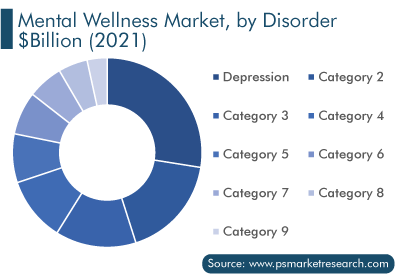 Senses, Spaces, & Sleep Category Led Market
The senses, spaces, & sleep category held the largest market share over the past few years, and it would grow at a significant CAGR of 6.5%, during 2021–2030. This category includes the services, products, and designs that emphasize the senses and the mind–body link, raising awareness on the fact that environmental stimuli have a substantial influence on a person's stress, mood, and sleep. A wide range of sleep and sleep environment optimization products, such as trackers, smart beds, sleep accessories, wearables, sleep applications, sleep retreats, and nap cafes, are used for ensuring sound sleep, a relaxed mood, and optimally functioning senses.
Surge in Usage of Smartphones
The rising disposable income enables users to acquire smartphones, thus resulting in an increase in the number of mental wellness mobile application providers. As mobile phone usage grows and mental health apps flood the app market, mobile health (mHealth) therapies, which leverage technology and mobile devices to address mental health concerns, are growing in adoption rapidly. The increase in the number of operators of mental wellness programs is being driven mostly by the rising sales of smartphones and improving familiarity with these gadgets. As smartphones become more widely available, a greater number of consumers will be able to readily access mental wellness services.
Aside from this, the mental health market revenue is rising due to an increase in the prevalence of mental diseases and growth in the elderly population. The global market for mental wellness products and services is also growing as a consequence of the increasing awareness of mental illnesses, campaigns promoting human rights, and initiatives to remove stigma. Further, because of the availability of online counseling programs and daycare services, the mental wellness market is growing.
Other factors that are expected to drive the rise of the mental wellness business include the development of new treatments and programs, a favorable supply and demand dynamic, and increasing mental healthcare expenditure.
Schizophrenia Is Third-Largest Category, Based on Disorder
Schizophrenia will hold the third-largest revenue share in 2030, of around 13%. Schizophrenia is characterized by a wide range of issues with behavior, thinking (cognition), and emotions. The rapidly increasing frequency of schizophrenic diseases as a result of lifestyle changes is one of the key reasons driving the schizophrenia treatment industry. Furthermore, the steady rise in the occurrence of various addictions, such as opioids and alcohol, along with the rise in the number of patients looking for treatment and the steady improvements in the healthcare infrastructure, is augmenting the market expansion.
Steady Increase in Number of People Suffering from Mental Disorders
The rise in the number of individuals suffering from altered mental states or mental diseases across the globe is one of the key factors bolstering the mental wellness market growth. The increasing government attempts to promote the public awareness of mental diseases, as well as the strong demand for pharmaceuticals and specialized therapies to address them, are driving the market expansion.
Mental Wellness Market Report Coverage

| | |
| --- | --- |
| Report Attribute | Details |
| Historical Years | 2017-2021 |
| Forecast Years | 2022-2030 |
| Market Size in 2021 | $131.6 Billion |
| Revenue Forecast in 2030 | $226.1 Billion |
| Growth Rate | 6.2% CAGR |
| Report Scope | Market Trends, Drivers, and Restraints; Revenue Estimation and Forecast; Segmentation Analysis; Impact of COVID-19; Companies' Strategic Developments; Market Share Analysis of Key Players; Company Profiling |
| Segments Covered | By Disorder; By Type; By Age Group; By Region |
Explore more about this report - Request free sample pages
Rising Prevalence of Bipolar Disorders Driving Demand for Mental Wellness Solutions
The bipolar disorder category will also have a substantial share in the market in 2030. The primary reasons driving the growth of the bipolar disorder treatment market are the increasing cases of this disorder, technological advancements, and expanding activities by government agencies to promote awareness. The U.K. government, for example, has committed $668.8 million in its Mental Health Recovery Action Plan to aid those suffering from mental diseases, such as bipolar disorder and schizophrenia. Bipolar disorder is becoming more common as a result of various risk factors, such as drug addiction and severe stress.
Thus, the mental wellness market's growth is a result of the increase in the number of patients and the rise in the need to manage them effectively.
Tremendous Growth Visible in North American Market
The North American region will be the largest market, accounting for $102.6 billion revenue, in 2030, growing at a CAGR of around 6.5% during the forecast period. Due to the increasing adoption of cutting-edge technologies and rising awareness of mental health among healthcare professionals and people working in the corporate sector, the region accounted for a significant portion of the global market for mental wellness in 2021 as well.
Furthermore, the expansion of mental wellness efforts, such as the strengthening of the focus on developing novel services; as well as the existence of significant players, drives the mental wellness market growth in the region. Additionally, people are intensifying their mental health efforts as a result of the increasing usage of smartphones and tablets.
In addition, in the U.S., suicide and drug-related fatalities are rather high. Furthermore, inhabitants in the region seek expert medical treatment, thus increasing the earnings of the mental wellness market. People's stress levels have risen as a result of a fast-paced lifestyle, competitive workplaces, and high cost of living.
Furthermore, the high occurrence of chronic diseases due to an aging population and sedentary lifestyles in India and globally, government initiatives, such as Make in India, and the global demand for low-cost, high-quality mental wellness therapy have led to substantial investments by mental wellness industry players.
Additionally, the massive increase in the demand for rational healthcare delivery systems, rise in healthcare-related costs, technological advancements and growth of telemedicine, permeability of health insurance, and the extension of government schemes, such as e-health, along with tax benefits and incentives, are driving the growth of the market in India.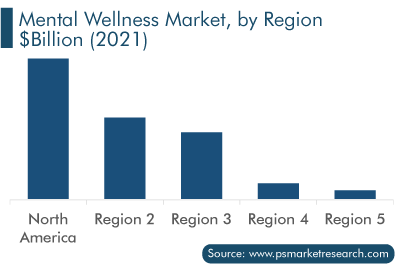 To Increase Market Share, Companies Involved in Product Launches and Acquisitions
The players are launching new products and acquiring similar companies in order to stay ahead of their competitors. For instance:
In October 2021, in Madera, Universal Health Services Inc. collaborated with Valley Children's Healthcare to construct a behavioral health center, which is scheduled to open in 2023. Valley Children's Healthcare and Universal Health Services will collaborate to establish a new psychiatric residency program and telepsychiatry services, which Valley Children's network of care will cover.
In January 2021, Talkspace, a provider of digital and virtual behavioral healthcare, and Hudson Executive Investment Corp., a special-purpose acquisition company funded by Hudson Executive Capital LP, announced a formal merger agreement, to extend and improve behavioral health services.
Key Players Operating in Mental Wellness Market Are:
SkillPath
Franklin Covey
Amare Global
Headspace Inc.
CVS HEALTH (Active Health)
CuraLinc Healthcare
Fitbit
Wellsource Inc.
Virgin Pulse
Market Size Breakdown by Segment
The study offers a comprehensive market segmentation analysis along with market estimation for the period 2017-2030.
Based on Disorder
Depression
Anxiety
Schizophrenia
Substance use disorder
Bipolar disorder
Alcohol use disorder
Post-traumatic stress disorder
Eating disorder
Based on Type
Senses, spaces, and sleep
Brain boosting nutraceuticals & botanicals
Self-improvement
Meditation and mindfulness
Based on Age Group
Geographical Analysis
North America
Europe

Germany
France
U.K.
Spain
Italy

Asia-Pacific

China
Japan
India
Australia
South Korea

Latin America
Middle East and Africa

South Africa
Saudi Arabia