Market Overview
The medical injection-molded plastics market value was $23,014.7 million in 2021, and it is set to reach $37,899.5 million by 2030, advancing with a CAGR of 5.7% during 2021–2030. This can be attributed to the growing plastic consumption in various healthcare applications, such as medical devices, implant packaging, and mobility aids. Furthermore, the technological advancements and rising R&D spending in the healthcare sector drive the need for medical-grade injection-molded polymers.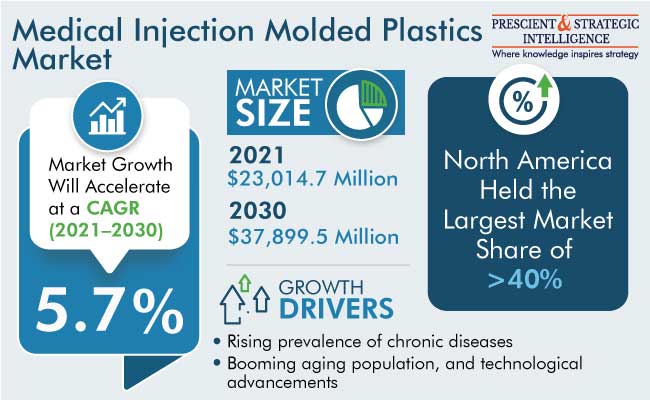 Medical Components Are Prime Revenue Contributors
Medical components accounted for the major revenue share of, around 25%, in 2021, and this category is further expected to maintain its position during 2021–2030. This can be ascribed to the extensive usage of high-grade plastics for the manufacturing of medical equipment, such as syringes, containers, catheters, and medical bags. Furthermore, the demand for lightweight and highly durable medical products that can be easily sterilized boosts the market growth.
In addition, implants contribute significant revenue to the market, and their sales will advance with a substantial CAGR during the forecast period. This is due to the growing geriatric population and rising incidence of endovascular disorders, orthopedic disorders, cardiovascular diseases, and dental implants. Moreover, the technological advancements in medical implants, due to the extensive R&D to improve the results of medical procedures, lead to the overall market expansion.
Additionally, mobility aids have shown a significant growth rate over the historical period, and this category is further expected to continue to grow at a robust rate in the coming years. This can be ascribed to the aging population across the globe, numerous technological advancements, and rising healthcare expenditure in emerging economies. Moreover, the rising usage of mobility aids, such as drinking aids, wheelchairs, and bath chairs, propels the market expansion.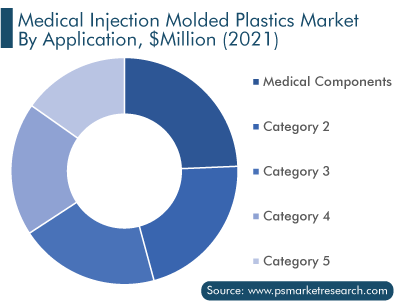 Medical Devices and Components Made of Injection-Molded Plastics Becoming Popular
Injection-molded plastics have a vital role in transforming the healthcare sector. These materials are used to manufacture pregnancy test devices, blood sample analysis cuvettes, housings for needles, and other medical devices and components, to make them light in weight, more affordable, and easy to sterilize. Additionally, these polymers can be molded to be used in the production of blood bags, disposable plastic syringes, and new heart valves. In addition, these plastics are being utilized to make antibacterial contact interfaces that may kill bacteria and other pathogens, thus reducing infection spread.
Moreover, these plastics can be customized to meet the needs of a particular application. Due to their capacity to adapt to even the smallest and most-delicate molds, plastics are increasingly being used in surgical equipment as well as in products such contemporary pacemakers, catheters, stents, and joint replacement systems.
North America Is Highest Revenue Contributor to Market
North America accounted for the largest revenue share, of over 40%, in 2021, and it is further expected to continue the trend during the forecast period. This is due to the rising per capita income, developed healthcare infrastructure, rising healthcare costs, and increasing aging population. The U.S. holds the larger regional medical injection-molded plastics market share, owing to the highly advanced technology, rising demand for implantable devices, growing health awareness, and government support and health insurance policies.
APAC is predicted to witness the fastest growth during the forecast period, with a CAGR of over 6%. This can be ascribed to the increasing application of injection-molded plastics in medical components, implants, and mobility aids. Additionally, the rising consumer awareness of the affordability of medical products made of molded plastics, increasing focus on R&D on medical devices, and rising adoption of cutting-edge technologies in healthcare fuel the market growth. Furthermore, the rising spending for healthcare infrastructure development, particularly in emerging economies, such as China, India, and South Korea, contributes to the regional market expansion.
China was one of the major revenue contributors to the regional market in 2021. This is due to the increasing demand for high-grade medical devices and equipment, growing aging population, and rising healthcare expenditure.
In addition, Europe held a significant revenue share in the market in 2021. This is due to the high number of medical parts manufacturers in the region, noteworthy number of surgeries in which implants are used, and rapidly developing healthcare infrastructure. Moreover, Germany, France, and the U.K. are the prime revenue contributors to the regional medical injection-molded plastics market demand owing to the increasing consumer spending and surging demand for high-grade, recyclable, and innovative medical equipment made from plastics.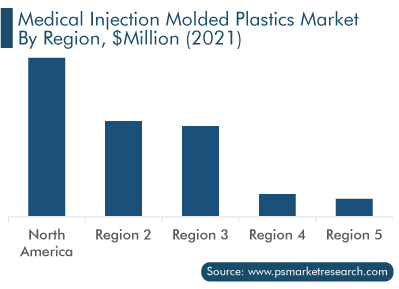 Gas-Assisted Technology Is Gaining Lot of Traction
The gas-assisted molding process is one of the major trends in the market, as it provides more accuracy in the shape and design of the desired medical parts, even with the usage of less plastic material than conventional processes. The localized gas pressure within the mold leads to improved plastic packing, which lowers warpage, shrinkage, surface defects, sink marks, and internal tension. In general, gas-assisted injection-molded plastics provide stronger, lightweight, and more-attractive products. This process is used to strengthen ribbed components and enable more design flexibility for complex parts, eliminating multiple part assemblies and metal-to-plastic conversions.
Medical Injection Molded Plastics Market Report Coverage

| | |
| --- | --- |
| Report Attribute | Details |
| Historical Years | 2017-2021 |
| Forecast Years | 2022-2030 |
| Market Size in 2021 | $23,014.7 Million |
| Revenue Forecast in 2030 | $37,899.5 Million |
| Growth Rate | 5.7% CAGR |
| Report Scope | Market Trends, Drivers, and Restraints; Revenue Estimation and Forecast; Segmentation Analysis; Impact of COVID-19; Companies' Strategic Developments; Market Share Analysis of Key Players; Company Profiling |
| Segments Covered | By Material; By Application; By Region |
Explore more about this report - Request free sample pages
Polypropylene Generates Majority of Revenue
Polypropylene accounted for the largest revenue share, of over 35%, in 2021, and this trend is projected to continue during the forecast period. This is due to its characteristic properties such as low weight, shock, moisture, and chemical resistance; high molding capability, lowest density, and low cost.
Additionally, the polystyrene category will grow with a substantial rate during 2021–2030. This can be attributed to the high dimensional stability and chemical inertness of this plastic, due to which it is easy to process. Moreover, the wide usage of polystyrene in the production of laboratory supplies, such as tissue culture trays, disposable plastic cutlery, and protective packaging, creates a high demand for such plastics.
Furthermore, polyethylene has a significant size in the market, which will increase in the coming years. This is due to its wide application in the medical sector, such as in cosmetic procedures and several medical implants, including joint replacement implants and cardiovascular implants. As polyethylene is an entire family of thermoplastic materials that exhibits different properties, some of them plastics can be soft and flexible, while others can be extremely hard and rigid, but all of them are lightweight and chemical-resistant, which makes them suitable for the manufacturing of medical implants.
Strategic Development by Market Players to Gain a Competitive Edge
To maintain a strong market position, players have adopted several strategies, including collaborations, facility expansions, partnerships, acquisitions, and investments. For instance:
In May 2022, Technimark LLC expanded its operation in North Carolina, U.S., with the acquisition of a 204,000-square-foot facility for precision injection molding manufacturing, value-added assembly, finished device assembly, contract manufacturing, and logistics operations.
In July 2022, Biomerics LLC acquired Dependable Plastics, to form a new division, named Biomerics Interventional Medical Plastics (IMP), which provides plastic components to the interventional device market, with a focus on robotic-assisted surgery.
Key Players in Medical Injection-Molded Plastics Market Are:
The Dow Chemical Company
Eastman Chemical Company
C&J Industries
PCE Inc.
Biomerics LLC
EVCO Plastics
All-Plastics LLC
Medical Injection Molded Plastics Market Size Breakdown by Segment
The study offers a comprehensive market segmentation analysis along with market estimation for the period 2017-2030.
Based on Product Material
Polypropylene (PP)
Acrylonitrile Butadiene Styrene (ABS)
Polyethylene (PE)
Polystyrene (PS)
Polycarbonate (PC)
Based on Application
Medical Components
Implants
Cleanroom Supplies
Mobility Aids
Geographical Analysis
North America
Europe

Germany
France
U.K.
Italy
Spain

APAC

China
India
Japan
Australia
South Korea

LATAM
MEA

Saudi Arabia
South Africa