Market Overview
The global medical crutches market was valued at USD 921.7 million in 2023, which is expected to reach USD 1,358.8 million by 2030, growing at a CAGR of 5.8% during 2024–2030. This is attributed to the growing elderly population, the increasing prevalence of bone-related conditions like arthritis and osteoporosis, and the rising number of surgical procedures performed around the world. For instance, according to a study, approximately 330 million surgeries are performed each year.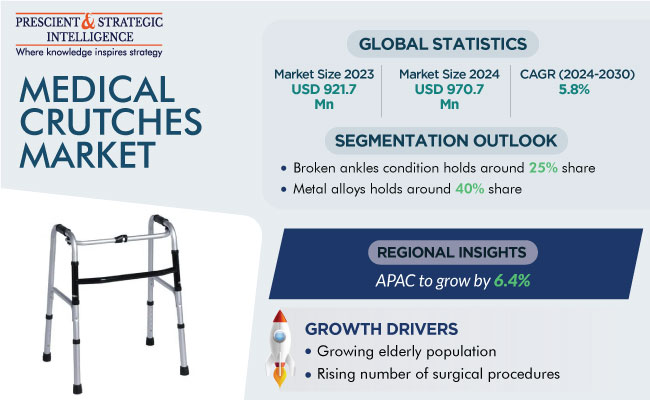 Moreover, the surging awareness regarding their benefits like their cost-effective nature is propelling the adoption of such crutches significantly, as these are more affordable than other alternatives like wheelchairs and other walking aids. Other major factors fueling the market expansion include the increasing number of knee, hip, and joint replacement surgical procedures, the rising number of programs for post-surgery rehabilitation, and their surging use in several conditions like fracture, arthritis, obesity-causing balancing issues, and developmental deformities. In addition, a large number of individuals are affected by non-lethal injuries due to accidents. For instance, around 35 million people suffer from non-lethal injuries globally. Thus, this factor boosts the adoption of crutches.
Furthermore, there have been a lot of schemes and products that have been launched recently, which is driving the market growth. For instance, a scheme called return and reuse was introduced by The University College of London Hospitals on August 11, 2022. According to the scheme, patients who no longer require medical crutches can return them if they are coming to the emergency unit at the university college hospital. In addition, a Sweden-based company, Getinge introduced a single-leg holder system. This system is suitable for two forms of knee crutches. This helps in reducing investments, saves significant time between surgeries, and proves to be comfortable to a large group of patients.
Growing Geriatric Population Drives the Industry Growth
The rising number of senior citizens is resulting in the market expansion. According to a recent study, the older population is rising at a very high pace. For instance, one in six individuals would be 60 years or over by the year 2030. Since elderly people are prone to bone-related disorders like knee pain, rheumatoid arthritis, and pain in the lower extremities, the dependency of patients on their caretakers and family for daily tasks requiring movements is increased, which, in turn, drives the demand for crutches.
Moreover, there has been a significant rise in the number of accidents. These involve injuries like road accidents, unexpected falls, and fractures. Most accidents have a great impact on bones thereby restricting a person's mobility. Therefore, patients require significant care after treatment in order to have a quick recovery. The use of crutches is proven to be beneficial in regaining mobility thereby significantly hastening a patient's recovery process. Therefore, the rising senior citizen population and the surging bone-related disorders and accidents are collectively contributing to the market growth.
Underarm Crutches Dominate the Product Segment
The underarm crutches category leads the market, accounting for a revenue share of 30% in 2023. This is because ease of use makes these crutches a great choice among people, and they are widely used during short-term conditions as most healthcare institutions discharge patients with these crutches. Furthermore, individuals whose legs got amputated and those recuperating from an injury generally use these devices. In comparison to forearm crutches, underarm crutches do not require much upper-body strength and control. Additionally, the rising number of accidents would result in high cases of limb loss, which would eventually increase the need for these crutches.
Furthermore, the platform crutches category accounts for a significant share of the market. This is because these offer more stability than underarm and forearm crutches and they are used for patients who have weakness of the upper extremity due to a fracture in that region, which results in the prevention of weight bearing through wrists. Additionally, they provide significant padding for the upper limb areas.
On the other hand, the forearm crutches category is expected to witness a high growth rate in the coming years. This can be because these are ideal for patients suffering from long-term disability. People with long-term disability who want to be physically active and indulge in sports activity are more inclined to these devices, as these help in increasing upper body strength.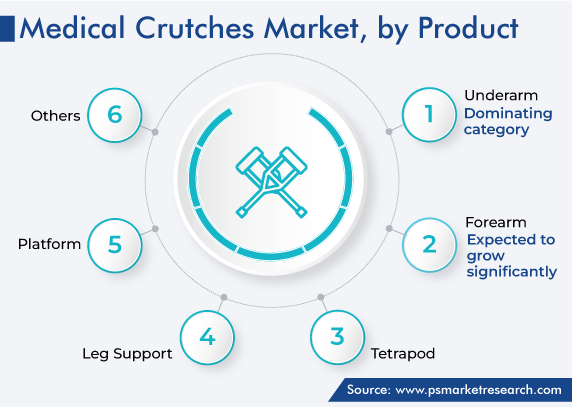 Broken Ankles Lead the Market
Based on condition, the broken ankles category accounted for the largest market share, of 25%, in 2023. This is due to the rising incidence of broken ankles, which results in severe pain and reduced mobility. Additionally, high cost is required to manage this condition in the aging population, hence inexpensive nature of crutches makes them the most suitable and common choice of equipment to be used in this condition.
Furthermore, the foot fractures category accounts for a significant share of the market. This is because these fractures do not require any surgical intervention but require a walking aid to heal mobility issues. Additionally, in order to speed up the recovery process, one has to be extremely careful to avoid putting their body weight on their injured foot, thereby increasing the adoption of crutches, to hasten the healing process in a few weeks.
Whereas, the ACL injuries category is projected to witness the fastest growth during the forecast period. This can be because ACL injuries are excruciatingly painful and greatly restricts one's movement. Irrespective of surgical requirements, the use of crutches significantly aids in healing and regaining mobility. Moreover, this condition requires the usage of crutches for up to 6–9 months.
Metal Alloy Dominates the Industry
Based on material, the metal alloy category leads the market, accounting for a revenue share of 40% in 2023. This is because crutches made of metal alloy have several advantages over others like they are economical, lightweight, adjustable, comfortable, weather-resistant, and durable. In addition, they are suitable for people who have long-term disability, as they are considered the best for long-term use.
Furthermore, the composite material category accounts for a significant share of the market. This is because composite material like nano-nylon is used to make medical crutches, as this material possesses significant strength, which cannot be lost even after recycling the material multiple times. Due to the above-mentioned reasons, this material holds an upper hand over conventional materials that are used to manufacture medical crutches.
On the other hand, the carbon fiber-reinforced polymer category is expected to display a high growth rate in the coming years. This can be because crutches made from such polymers are not only strong but are also extremely light to carry. Additionally, they are flexible and possess high tensile strength due to which they do not break easily and can support more than 140 kg of weight. Hence, due to the above-mentioned reasons, they can be easily used by obese individuals.
Medical Crutches Market Report Coverage

| | |
| --- | --- |
| Report Attribute | Details |
| Market Size in 2023 | USD 921.7 Million |
| Market Size in 2024 | USD 970.7 Million |
| Revenue Forecast in 2030 | USD 1,358.8 Million |
| Growth Rate | 5.8% CAGR |
| Historical Years | 2017-2023 |
| Forecast Years | 2024-2030 |
| Report Scope | Market Trends, Drivers, and Restraints; Revenue Estimation and Forecast; Segmentation Analysis; Impact of COVID-19; Companies' Strategic Developments; Market Share Analysis of Key Players; Company Profiling |
| Segments Covered | By Product, By Condition, By Material, By End User, By Region |
Explore more about this report - Request free sample pages
North America Is the Highest Revenue Contributor
Globally, North America leads the medical crutches market. This is due to the presence of top industry players, rising healthcare spending, the existence of a highly advanced healthcare system, robust medical infrastructure, established reimbursement policies and supportive government policies, and the increasing number of patients with disability, in the region. For example, according to the CDC, 61 million adults in the U.S. live with a disability. Moreover, there is a high prevalence of arthritis in the region. Arthritis significantly impacts one's mobility. For instance, a study has determined that people with arthritis tend to face mobility issues five times more than those who are devoid of it.
Furthermore, the European market accounts for a prominent share. This is ascribed to the growing geriatric population, which is more vulnerable to chronic diseases like arthritis and osteoporosis; the robust economic growth in the region, resulting in high demand for quality healthcare services; and the rising awareness among people regarding the benefits of crutches.
In Europe, the German market is accounting for a significant revenue share. This is due to the presence of a robust healthcare system, the growing economy, and the surging instances of diseases like osteoporosis in the nation. This condition makes the bones prone to fractures, a simple fall might result in broken bones. Furthermore, the French market is expected to show considerable growth during the projected period. This can be due to the presence of top-notch healthcare facilities, which are mainly funded by the national government to provide quality healthcare services to its citizens; and the surging prevalence of chronic illnesses and the number of accidents in the country.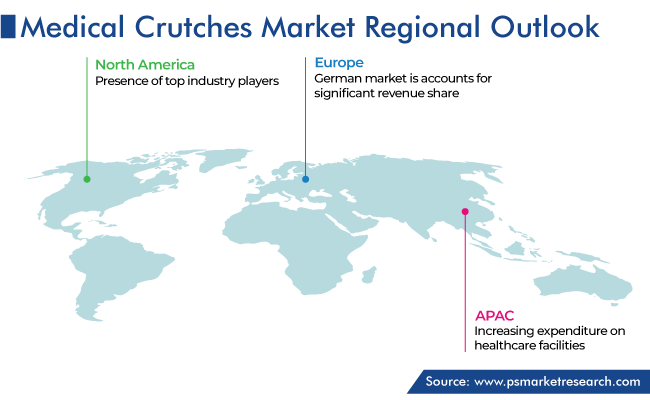 Top Medical Crutches Providers Are:
Breg Inc.
Cardinal Health
Homepro Medical Supplies, LLC
iWALKFree Inc.
Millennial Medical
Nova Ortho Medical Inc
Sunrise Medical (US) LLC
GPC Medical Ltd.
Market Size Breakdown by Segment
This fully customizable report gives a detailed analysis of the medical crutches market from 2017 to 2030, based on all the relevant segments and geographies.
Based on Product
Underarm
Forearm
Tetrapod
Leg Support
Platform
Based on Condition
Achilles Tendon Rupture
Broken Ankles
Foot Fractures
Stress Fractures
Tibia Fractures
Pulled Muscles
Sprains
ACL Injuries
Based on Material
Wood
Metal Alloys
Carbon or Glass-Fiber-Reinforced Composites
Thermoplastic
Carbon-Fiber-Reinforced Polymer
Based on End User
Geographical Analysis
North America
Europe

Germany
U.K.
France
Italy
Spain

Asia-Pacific

Japan
China
India
South Korea
Australia

Latin America
Middle East and Africa

Saudi Arabia
South Africa
U.A.E.