Medical Connectors Market Overview
The global medical connectors market size was valued at $1.9 billion in 2016, and is projected to grow at CAGR of 6.3% during 2017 - 2023. The market is categorized into various types of products including board to board connectors, I/O rectangular connectors, push-pull connectors, radio-frequency connectors, disposable plastic connectors, hybrid connectors, power/high voltage connectors and others. The market for radio-frequency connectors is expected to witness the fastest growth during the forecast period, at CAGR of 7.5%, due to its increased production of wireless and miniaturized devices for the treatment of several diseases.
GLOBAL MEDICAL CONNECTORS MARKET, BY END USER, $M (2013-2023)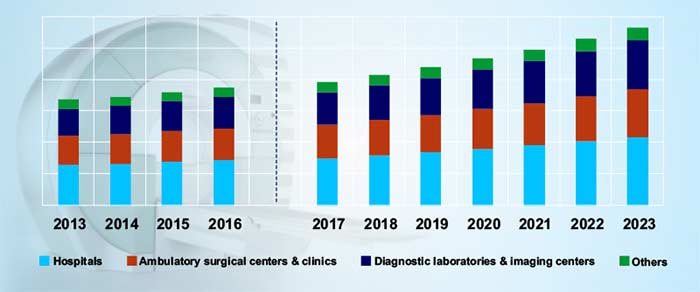 Hospitals, diagnostic laboratories & imaging centers, ambulatory surgical centers & clinics are major end users in the medical connectors market. The use of medical connectors in ambulatory surgical centers and clinics is estimated to achieve revenue of $778.0 million by 2023 globally, growing at a fastest rate during the forecast period. Ambulatory surgery centers & clinics are expected to observe this growth in the market, due to the increasing number of ambulatory surgery centers & clinics, and further rising use of various medical devices, that utilize connectors.
Medical connectors have application in various devices and are being bifurcated as diagnostic imaging, patient monitoring, cardiology, electrosurgical, dental devices, and others, based on application. The use of connectors in cardiology devices is expected to garner the fastest growth with CAGR of 7.2% during the forecast period, mainly attributable to the increasing cardiac problems, further leading to a rise in the number of cardiac surgeries being performed globally.
Asia-Pacific is expected to witness the fastest growth in the global medical connectors market in future, mainly due to the increasing prevalence of diseases such as anaphylaxis and diabetes, growing aging population, increased R&D spending and increasing per capita income in the region. The U.S., China and Japan are the top three countries that generated the maximum revenue in the global market in 2023, due to increasing prevalence of chronic diseases and rising healthcare expenditure in these countries. According to the United Nations Department of Economic and Social Affairs (UNDESA), in Japan, approximately 23.2% of population was 60 years and above in 2000, and it is estimated to reach approximately 35.1% by 2025.
Medical Connectors Market Dynamics
Growth Drivers
Various factors boosting the demand for medical connectors globally are growth in the medical devices industry, rising demand for miniaturized connectors, increasing geriatric population and surgeries and rising prevalence of chronic diseases.
Due to increasing complexity of diseases the players in the medical devices industry are developing various new devices to treat these diseases, which is further leading to the growth in medical connectors market. According to International Trade Organization (ITO), Department of Commerce, the U.S. remains the largest medical device market in the world with a market size of around $140 billion, and the country represented about 40% of the overall global medical device market, in 2015.
The prevalence of various chronic diseases such as cancer, arthritis, kidney diseases, and cardiovascular diseases is increasing every year, globally. According to the Centers for Disease Control and Prevention (CDC), seven of the top 10 causes of death in 2014 were chronic diseases. Due to this rise in chronic diseases, there is rise in the number of surgeries performed for their treatment, leading to increasing need for medical connectors in setting up of new medical devices.
Opportunities
The medical connectors market provides immense opportunities for the players to grow, due to the availability of new sales markets in emerging economies. Countries such as China and India have a huge growth potential for the market during the forecast years due to their increasing healthcare expenditure and aging population. According to World Bank, Brazil spent 8.3% of its $2.5 trillion GDP on healthcare in 2014. Similarly, China spent 5.5% of its total GDP on healthcare, whereas, Mexico spent 6.3% of its total GDP on healthcare in 2014.
Medical Connectors Market Competitive Landscape
The key players in the medical connectors market are acquiring other firms in order to increase their market share globally. For instance, in October 2016, Molex, LLC, acquired Phillips-Medisize Corporation, a portfolio company of the San Francisco, CA based private equity investment firm, Golden Gate Capital. The acquisition was done to combine Molex's expertise in electronics and our broad manufacturing presence with Phillips-Medisize's talented and experienced team to help serve the growing needs of the global market for innovative connected health solutions.
TE Connectivity Ltd., a provider in connectivity and sensors, announced the completion of the previously announced acquisition of the Creganna Medical Group (Creganna), in April 2016. The acquisition was done to propel in high-growth harsh environment applications. Some of the other key players operating in the medical connectors market include Amphenol Corporation, Delphi Automotive PLC, Smiths Group plc, ITT Interconnect Solutions (ITT Corporation), Fischer Connectors SA, LEMO SA, Samtec, Inc., and Esterline Technologies Corporation.