Market Overview
The medical ceramics market size stood at USD 2,543.2 million in 2022, and it is expected to grow at a CAGR of 7.3% during 2022–2030, to reach USD 4,477.7 million by 2030.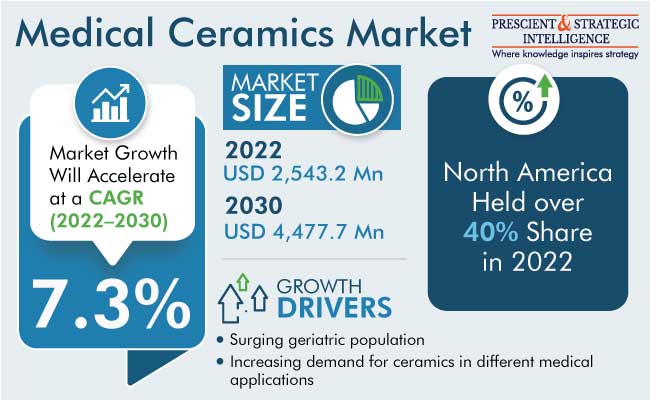 This growth can be mainly attributed to the increasing demand for ceramics in different types of plastic surgeries and wound healing applications, rising frequency of bone disorders among the geriatric population, and increasing demand for implantable devices for hip and knee replacement procedures.
The rise in the demand for biodegradable materials, along with the technological advancements in the healthcare industry, is also expected to boost the market growth. With the ongoing competition among the key players operating in North America, Asia-Pacific, and Europe, investors in the medical ceramics sector are expected to come across a plethora of opportunities over the forecast period.
Further, the number of product launches by the leading companies is expected to rise considerably, especially for the orthopedic and dental subspecialties. For instance, 3M Company, which is a leading market player, has introduced 3M Filtek Universal Restorative, which is a novel universal composite for anterior and posterior restorations with a simplified shading process.
Rising Volume of Hip and Knee Replacement Surgeries Drives Market Growth
The rising incidence of musculoskeletal conditions, such as osteoarthritis, osteoporosis, rheumatoid arthritis, sarcopenia, fractures, and sports injuries, is propelling the need for knee and hip replacement surgeries globally. As per reports by the World Health Organization, musculoskeletal disorders are the leading causes of disability across the world, with lower back pain significantly degrading the quality of life. In all, approximately 1.71 billion individuals are suffering from musculoskeletal conditions worldwide.
Moreover, according to the Centers for Disease Control and Prevention, about 1 in 4 adults, or around 58.5 million people, in the U.S. have arthritis. These numbers, which continue to rise, have a significant effect on the demand for medical ceramics, as they are widely utilized in the manufacturing of hip and knee replacements.
Increasing Popularity of Cosmetic Dentistry Procedures
Cosmetic dentistry has taken the concept of dental health to the next level in terms of the aesthetics and the overall wellbeing of people. A dental implant is a major element of cosmetic dentistry used in procedures, such as reshaping of the teeth, placement of crowns, bridges, and dentures, and filling of gaps and cracks. Cosmetic dentistry procedures are increasingly gaining popularity among people of all age groups due to their growing awareness on oral hygiene and the role of healthy and perfectly aligned teeth in boosting self-confidence.
According to the Cosmetic Dentistry State of the Industry Survey conducted by the American Academy of Cosmetic Dentistry (AACD), the average patient spent more than $10,000 on their teeth in 2022, which increased to 30% from 22% in 2019. In addition, two-thirds of the cosmetic dentistry patients in the country are females, and one-third are males. Thus, the increasing demand for cosmetic dentistry procedures among people, to enhance dental aesthetics and improve their overall appearance, is driving the growth of the medical ceramics industry globally.
Medical Ceramics Market Report Coverage

| | |
| --- | --- |
| Report Attribute | Details |
| Historical Years | 2017-2022 |
| Forecast Years | 2023-2030 |
| Market Size in 2022 | USD 2,543.2 Million |
| Revenue Forecast in 2030 | USD 4,477.7 Million |
| Growth Rate | 7.3% CAGR |
| Report Scope | Market Trends, Drivers, and Restraints; Revenue Estimation and Forecast; Segmentation Analysis; Impact of COVID-19; Companies' Strategic Developments; Market Share Analysis of Key Players; Company Profiling |
| Segments Covered | By Material; By Application; By End User; By Region |
Explore more about this report - Request free sample pages
North America Held Largest Share
North American accounted for the largest revenue share, over 40%, in the global market for medical ceramics in 2022. The North American market is expected to continue to maintain its leading position during the forecast period, primarily attributable to the rising volume of dental implantation procedures and the increasing number of orthopedic surgical procedures in the region. In addition to that, the increasing count of people with physical injuries and the rapid adoption of ceramics for manufacturing medical devices are fueling the growth in the region.
The development of novel products with unique features, such as higher mechanical strength and flexibility, is also propelling the medical ceramics sector in the North American region. Additionally, a significant number of key players, such as CeramTec, Kyocera Corporation, 3M Company, and Morgan Advanced Materials, are investing in these materials, which, in turn, is increasing the market revenue. For instance, the U.S. Food & Drug Administration (FDA) approved CeramTec's novel ceramic total knee replacement as a Breakthrough Device in June 2022.
In addition, Germany dominates the industry in Europe. This is primarily due to the increasing application of different medical products that contain ceramics, such as bioinert, bioactive, and bioresorbable devices, in various medical fields. In addition to that, the rising prevalence of dental conditions and increasing demand for dental surgeries, as a result, are propelling the market in Europe. Furthermore, the high utilization rate of implantable medical devices and diagnostic imaging instruments, together with the existence of a comparatively high number of medical device manufacturers in the region, are contributing to Europe's significant market share.
Moreover, with the growing dental tourism activities in countries such as Mexico, Brazil, and Argentina, the growth opportunities for medical ceramic manufacturers have increased in the LATAM region. This increase in dental tourist arrivals is facilitated by the availability of treatments at low costs and the ease of travel for tourists from Europe and North America.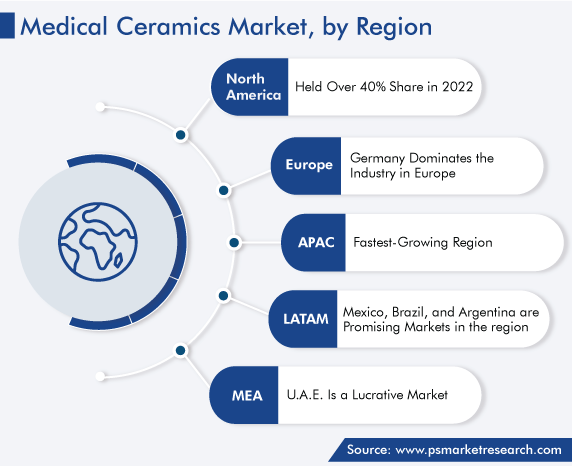 Bioinert Category Dominates Market
Bioinert variants emerged as the largest material category in the market, held around 55% shares, in 2022, and they are also expected to retain their dominance during the forecast period. Bioinert ceramics comprise zirconia and aluminum oxide. The growth in the demand for these materials can be primarily ascribed to their excellent chemical stability, which is often used to restore relapsing tissues or organs in patients' bodies, coupled with their durability, biocompatibility, and corrosion resistance.
Additionally, zirconia ceramics are greatly used over other materials due to their strength and broad-ranging applications. They are usually incorporated into dental implements, such as crowns and bridges, due to their alluring appearance and great quality.
Similarly, the bioactive category is set to be the fastest-growing in the forecast period. This growth is owed to the increasing demand for orthopedic surgeries and dental procedures. As a result, there is a rising need for injectable fillers, such as bone void fillers, which are made of calcium and hydroxyapatite, which are form a bioactive ceramic material.
Additionally, there is a rapid shift toward new materials and products, which would present growth opportunities for the players in the forecast period. The usage of materials in dental restoration products is slowly shifting from the traditional porcelain-fused-to-metal (PFM) products to all-ceramic prosthetics and those made from other biomaterials. Among the emerging materials, zirconium oxide is a hard and fracture-resistant ceramic biomaterial. With the benefit of easy cementation, zirconium oxide is preferred by patients getting zirconium crowns and bridges. Thus, the key players in the medical ceramics are introducing modified and improved biomaterials with great biocompatibility and material strength.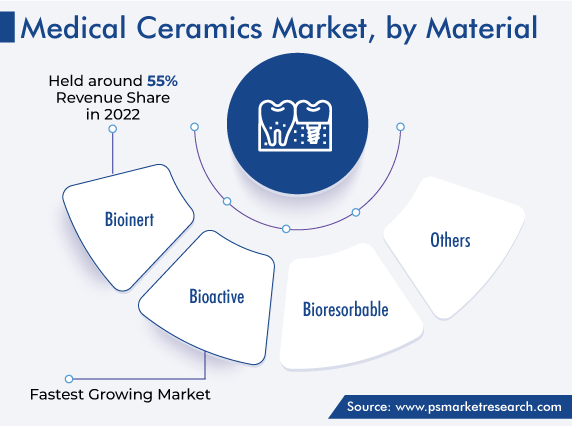 Dental Application Holds Major Share
The dental application held the major share, around 40%, in 2022, due to the increasing prevalence of periodontal disorders. The American Academy of Implant Dentistry estimates the number of people in the U.S. with dental implants at 3 million, which is increasing at an alarming rate of 500,000 every year.
As a result, an increasing number of dental surgeries are being performed in the country, which is responsible for the hike in the adoption of medical ceramics in the region. In this regard, the rising number of dentist clinics and easy availability of dental professionals drive the material demand. Ceramics are being extensively used in dental fillings, implants, crowns, and dental brackets. Additionally, dental ceramics include porcelain and glass-ceramic materials, which are extensively used in the fabrication of tooth crowns, restorative components of the teeth, and prosthetic teeth.
Hospitals Category Is Expected To Show Fastest Growth
The hospitals category held the largest share in 2022. As hospitals are the initial point of contact for the majority of the population of the world, the demand for in-hospital surgical treatments is growing, as a result of the enormous rise in the prevalence of musculoskeletal conditions. Hospitals have highly advanced facilities, along with highly skilled professionals, which allow them to offer comprehensive care.
Moreover, the hospitals category is expected to be the fastest-growing, with a CAGR of around 8%, over 2022–2030. This is due to the upgradation of the healthcare infrastructure by governments and private players.
Moreover, although being competitors, cancer treatment centers, ambulatory surgery facilities, and clinics do not pose a significant threat to the hospital industry, due to the former's limitations in terms of the services they offer, the kind of equipment they have, and the staff they employ. Moreover, these centers are mostly capable of diagnosing and treating a specific condition.
Key Players in Medical Ceramics Market Are:
CeramTec GmbH
Kyocera Corporation
3M Company
Morgan Advanced Materials
Envista Holdings Corporation
Tosoh Corporation
H.C. Starck Tungsten Powders
Coorstek Inc.
Superior Technical Ceramics
Noritake Co. Limited
Market Size Breakdown by Segment
This report offers deep insights into the market, with size estimation for 2017 to 2030, the major drivers, restraints, trends and opportunities, and competitor analysis.
Based on End User
Hospitals
Cancer Treatment Centers
Ambulatory Surgical Centers
Research Institutes
Based on Application
Dental

Dental implants
Dental crowns & bridges
Braces
Inlays and onlays
Dental bone grafts & substitutes

Orthopedic

Joint replacement
Fracture fixation
Synthetic bone grafting

Cardiovascular
Surgical Instruments
Diagnostic Instruments
Plastic Surgery
Based on Material
Bioinert
Bioactive

Hydroxyapatite
Glass ceramics

Bioresorbable
Geographical Analysis
North America
Europe

Germany
U.K.
France
Italy
Spain

Asia-Pacific

Japan
China
India
South Korea
Australia

Latin America
Middle East and Africa

Saudi Arabia
South Africa
U.A.E.