Medical Aesthetics Market Overview
Medical aesthetics market size was $8.6 billion in 2016, which is expected to reach $19.4 billion by 2023, growing at a CAGR of 12.2% during the forecast period (2017-2023). Medical aesthetics is a branch of scientific research, that uses minimal invasive treatments which help in improving a person's physical appearance, through the use of healthcare and beauty services in combination with lasers or other energy based devices. Medical aesthetics include a broad range of solutions and treatments that fulfil the aesthetic needs of the consumers for the treatment of fine lines & wrinkle reduction, fat reduction, stretch marks solutions, scar treatment, skin oxygenation and rejuvenation, body contours and firming, botulinum toxin and skin tightening.
GLOBAL INJECTABLES MARKET, BY TYPE, $M (2013 – 2023)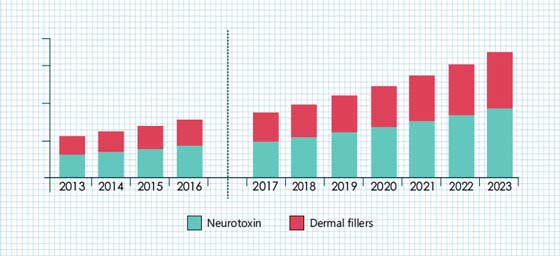 Based on product, the medical aesthetics market is classified into injectables, topicals, energy-based aesthetics, breast implants and others. Injectables held the largest share of the medical aesthetics market in 2016, primarily due to high sales of botulinum toxin. Energy-based aesthetics is expected to grow at the fastest rate during the forecast period, owing to the increasing adoption of laser and radio frequency devices.
Based on the end user, the market is categorized into beauty clinics and centers, spas and salons, hospitals, and others. Beauty clinics and centres were the largest end user segment in 2016, due to the increasing disposable income in several countries globally. The rise in the number of beauty clinics & centres has also been blooming the medical aesthetics market.
Medical Aesthetics Market Dynamics
Advancement in laser technology, various health benefits associated with medical aesthetic procedures and shift in the preference from surgical to non-surgical procedures are some of the factors driving the growth of medical aesthetics market. Increasing awareness among consumers and growing aging population also create demand of medical aesthetics products in the market. However, the medical aesthetics market has been facing certain challenges such as societal stigmas and hindrances associated with these procedures, high treatment cost and lack of reimbursements, and cosmetic boom, which is likely to impede the growth of the market during forecast period.
Opportunities
Rising proliferation of medical aesthetics market in emerging countries and increase in the popularity of home-based aesthetics devices, represents substantial future opportunities for the players in the medical aesthetics market. Medical aesthetics devices have evolved significantly, with the top players in the market developing advanced aesthetic products that are less costly and safe to be used at home. For instance, ultrasound-based device for skin rejuvenation, that helps in removing the impurities and dirt on the face and opal for anti-wrinkle treatment that uses the pulsating technology to induce cream preparations on the skin surrounding the eyes, both these products have been developed by Clarisonic Inc.
Thus, the companies based in the medical aesthetics market are focusing on launching low-cost and easy to use products that can be used at home, providing them with ample growth opportunities.
Growth Drivers
Medical aesthetic treatments provide greater benefits than just enhancing the physical appearance of the patients. Some of the treatments provide sense of improved self-esteem, leading to better psychological conditions of the patients. Treatments such as Botox can help to deal with the enormous sweating and migraines. When Botox is injected in the armpits of the patients it immediately paralyses the sweat glands, leading to lesser sweat released.
Similarly, dermal fillers are majorly used for filling the wrinkles lines on the patient's face with a solution made of hyaluronic acid, but the same fillers are also used to smoothen and repair the skin that has been damaged by accidental scars or wounds. Thus, various health benefits associated with aesthetics procedures further drives the consumers to undergo these procedures for not just fulfilling the aesthetics needs but also as a solution for various other health issues.
There have been many technological innovations and advancements that are taking place in the medical aesthetics market. The latest advancements in the laser technology have led to its increased application in medical aesthetics. These advancements in laser provide benefits such as, small incisions, decrease in the intensity of pain and fast recovery after the procedure. There has been a notable increase in the application of laser technology for various cosmetic treatments such as hair removal, skin rejuvenation and body contouring. Transdermal focused ultrasound, monopolar RF, low level laser, high intensity focused ultrasound (HIFU) and cryolipolysis are some of the advancements in the laser technology that are used for many aesthetics treatments such as body contouring and fat reduction. Laser devices no longer come as a set of bulky and complicated machines to operate and have become more advanced with the introduction of small hand-held diode lasers. These technological advancements have made the cosmetic procedures to be more quick and impactful, which is further expected to support the demand of medical aesthetics products.
Medical Aesthetics Market Competitive Landscape
Key player in the medical aesthetics market are collaborating and acquiring other players to offer more advance medical aesthetics solutions. For instance, in August 2016, Merz North America announced the acquisition of ON Light Sciences, Inc., a U.S. based medical device company, manufacturing technologies for laser-based dermatologic procedures, such as the FDA 510(k) cleared and CE marked, DeScribe Transparent PFD (perfluorodecalin) patch for tattoo removal.
Some of the key players operating in this industry include Allergan plc., Valeant Pharmaceuticals International, Inc., Johnson & Johnson, Cutera Inc., Alma Lasers Ltd, Merz GmbH & Co. KGaA, Hologic Inc., Fonon Corporation, Nestle Skin Health S.A., Lumenis ltd.