Market Outlook
The medical adhesives market revenue stood at $8,714.9 million in 2019, and the market is expected to grow at a CAGR of 2.3% during 2020–2030. The growth can be attributed to the booming population, surging per capita income, rising healthcare expenditure in developing countries, and burgeoning demand for medical products and equipment.
COVID-19 had a severe impact on the medical adhesives industry, especially in the U.S., China, Germany, Spain, Italy, and other western European countries. However, the market is experiencing a positive impact due to the surging demand for masks, personal protective equipment (PPE), syringes, and blood and saline tubes.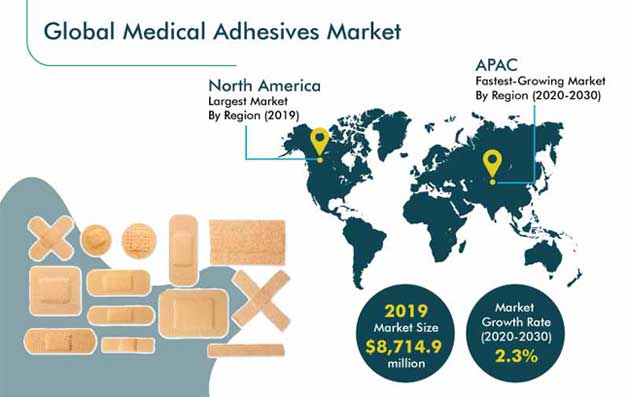 Natural Resin Recorded Highest Sales
The natural category, under the resin segment, accounted for the largest market share in 2019, owing to the high utilization of natural adhesives in all surgical procedures for sealing and binding tissues and achieving hemostasis. These adhesives are widely utilized in orthopedic operations, dental extraction and oral surgery, traumatology, and circumcision. Owing to these factors, the demand for these adhesives will increase in the coming years.
Water-Based Adhesives To Exhibit Fastest Growth
In the coming years, the water-based category, within the technology segment, is expected to exhibit the highest growth rate in the medical adhesives market. This is owed to the advantageous properties of the water-based medical adhesives, such as the provision of good breathability, good anchorage to cloth face stocks, and quick-tackiness. Their other features like high resistance to moisture and water and sustainability are also propelling the growth of this category.
Internal Medical Application To Hold Majority Shares
The internal medical application category will generate the highest revenue in the market for medical adhesives during 2020–2030, under the application segment. This can be attributed to the increasing application of bio-adhesives for internal medical purposes. Additionally, bio-adhesives are widely used in intracorporal conditions. Internal medical applications require direct contact with bodily fluids, tissues, and organs to reduce bleeding complications in the human body.
With the rising incidence of medical conditions requiring cutting the flesh to gain access to the internal organs, the requirement for medical adhesives will escalate in these applications in the coming years.
North American Region Generating Highest Revenue
The North American region accounted for the largest market share during 2014–2019, owing to the high demand, purchasing power, and opportunity for innovation in the healthcare sector. Government-funded and -administered programs, such as Medicaid, Medicare, the veteran's health administration program, and the children's health insurance program, account for around 60–65% of the total healthcare spending and provision, thus playing a vital role in the medical adhesives market growth in the region.
Such government initiatives fuel the demand for medical devices and equipment, such as needles, syringes, PPE products, thermometers, and several other medical supplies. These programs have also generated a high demand for adhesive products that are used to join or bind any two objects in the healthcare premises.
The U.S. has a dominant presence in the region, due to the high per capita income, rapid technological advancements in the healthcare sector, and government support and initiatives regarding free or insured healthcare policies.
Asia-Pacific (APAC) To Exhibit Highest Growth Rate
In the coming years, the APAC market for medical adhesives will demonstrate the fastest growth, due to the vast population base, numerous government initiatives, the presence of low-, medium-, and high-tech medical product manufacturing facilities in several countries, and rapidly surging healthcare spending in the region. India and China account for more than 25% of the global population.
Low- and medium-tech medical product and equipment manufacturing base in China and high-tech manufacturing base in South Korea and Japan are fueling the value chain of the healthcare industry in APAC.
Moreover, improved access to healthcare facilities, increasing investments from the government and private sectors, and soaring government initiatives promoting medical insurance are also driving the growth of the healthcare industry, which is, in turn, fueling the progress of the medical adhesives market in the region. There is a high-volume usage of surgical tapes, syringes, medical tubes, needles, and PPE products in India and China. Large-scale consumption of these products is amplifying the demand for medical adhesives in APAC.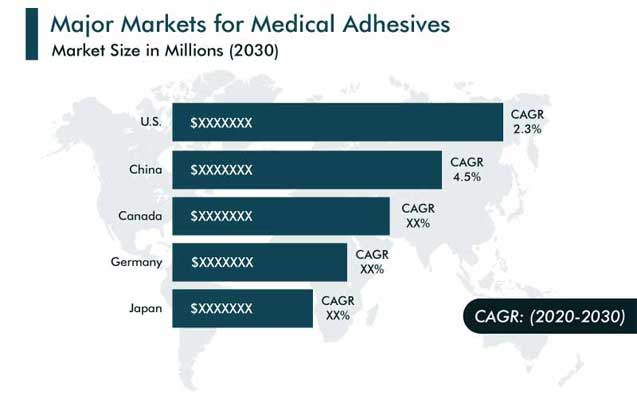 Surging Adoption of Bio-Adhesives in Medical Industry is Key Trend
The medical industry is witnessing the increasing consumption of bio-adhesives for internal medical treatment, implants, and wound healing. These adhesives are synthetically glue formed from biological monomers, such as synthetic materials or sugars, created to adhere to biological tissues. The conventional stitches used by doctors, for wound closures, are more painful while removing and leave dark marks on the skin.
To avoid the problems associated with conventional stitches, market players have introduced skin adhesives, that offer a secure topical skin closure system to add protection and strength while closing the wound.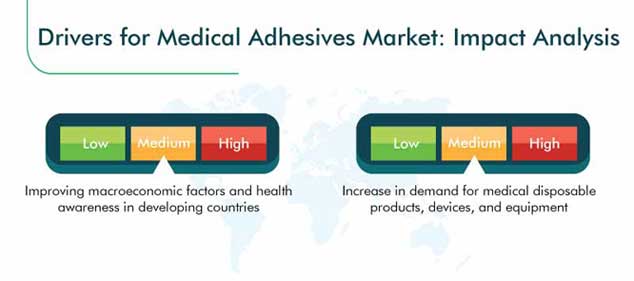 Improving Macroeconomic Factors and Increasing Health Awareness in Emerging Economies Fueling Market Growth
Brazil, India, and China have witnessed significant economic growth in the past few years. This has fueled the growth of their gross domestic product (GDP) , which has, in turn, increased their position in the global economy. This has further led to the growth of the medical adhesives market, primarily on account of the changing expenditure pattern of the citizens.
People of these developing nations have amplified their healthcare spending by directing their money on the purchase of medicines, PPE kits, pharmaceutical products, and medical devices and equipment.
Soaring Demand for Medical Disposable Equipment, Devices, and Products Amplifying Market Size
The world is witnessing a robust demand for disposable medical devices, equipment, and other products, owing to the booming number of patients requiring long-term chronic care therapy, drug delivery, and surgeries. Surging focus on infection prevention and safety measures by healthcare units, including hospitals and outpatient facilities, has boosted the demand for medical devices.
Additionally, the growing emphasis of governments and health institutes on public health and hospital-acquired infections (HAIs) has fueled the need for disposable medical devices in healthcare settings. The upgradation and enforcement of infection prevention standards and the escalating volume of surgical, outpatient, and hospitals are predicted to propel the demand for medical disposable products, which will subsequently fuel the expansion of the medical adhesives industry in the forthcoming years.
Medical Adhesives Market Report Coverage

| | |
| --- | --- |
| Report Attribute | Details |
| Historical Years | 2014-2019 |
| Forecast Years | 2020-2030 |
| Base Year (2019) Market Size | $8,714.9 million |
| Forecast Period CAGR | 2.3% |
| Report Coverage | Market Trends, Revenue Estimation and Forecast, Segmentation Analysis, Regional and Country Breakdown, Company Share Analysis, Companies' Strategic Developments, Product Benchmarking, and Company Profiling |
| Market Size by Segments | Resin, Technology, Application, Geography |
| Market Size of Geographies | U.S., Canada, Germany, U.K., France, Italy, Spain, China, India, Japan, South Korea, Brazil, Mexico, South Africa, Saudi Arabia, Turkey |
| Secondary Sources and References (Partial List) | Adhesives and Sealants Council, Asian Healthcare Foundation, Association of the European Adhesives and Sealant Industry, China National Adhesives Industry Association, European Adhesive Tape Association, European Association for the Self-Adhesive Tape Industry |
Explore more about this report - Request free sample pages
Market Players Launching New Products to Gain Competitive Edge
The medical adhesives market is partially consolidated in nature with presence of market players such as Henkel AG & Co. KGaA, 3M Company, Arkema S.A., H.B. Fuller, Baxter International Inc., The Dow Chemical Company, Avery Dennison Corporation, Master Bond Inc., and Ashland Global Specialty Chemicals Inc., and Cryolife Inc.
In recent years, players in the industry have launched a number of new and advanced products, in order to stay ahead of their competitors. For instance:
In November 2019, Bostik, an Arkema Group company, launched a new range of engineering adhesives known as Born2Bond. The new adhesives are designed for automotive, electronics, luxury packaging, and medical devices.
In March 2019, The Dow Chemical Company introduced a new soft-skin adhesive known as MG 7-1020. This is the latest addition to its portfolio of silicone adhesives designed for skin-adhered medical devices. The product brings strong adhesion and extended wear, design, and manufacturing flexibility, and avoids skin irritation and discomfort as caused by acrylic-based adhesives during removal.
In January 2019, Ashland Global Holding Inc. launched a new medical pressure sensitive adhesive (PSA) under the brand name Aroset Gentle 700. The product has been developed for medical use, is skin friendly with good breathability, and allows for minimal pain and trauma upon removal.
Some of the Key Market Players in Medical Adhesives Market Include:
Ashland Global Holdings Inc.

The Dow Chemical Company

3M Company

Baxter International Inc.

Cryolife Inc.
Medical Adhesives Market Size Breakdown by Segment
The medical adhesives market report offers comprehensive market segmentation analysis along with market estimation for the period 2014–2030.
Based on Resin
Acrylic
Cyanoacrylate
Rubber
Silicone
Epoxy
Polyurethane (PU)
Natural
Based on Technology
Water-based
Solvent-based
Hot melt & other solids
Based on Application
Internal Medical Application
External Medical Application
Dental
Medical Devices & Equipment
Geographical Analysis
North America
Europe

U.K.
Germany
Italy
France
Spain

Asia-Pacific (APAC)

China
India
Japan
South Korea

Latin America (LATAM)
Middle East & Africa (MEA)

Saudi Arabia
South Africa
Turkey