Market Overview
The global maritime surveillance market was valued at USD 24.7 billion in 2023, and it is predicted to reach USD 40.3 billion by 2030, advancing at a CAGR of 7.4% during 2024–2030. This is due to the increasing number of collaborations and partnerships, the rising number of security issues during seafaring, the surging requirement for managing complex supply chain operations, the mounting trade and freight transport activities across the sea, and the rising number of maritime threats, unlawful acts, and piracy.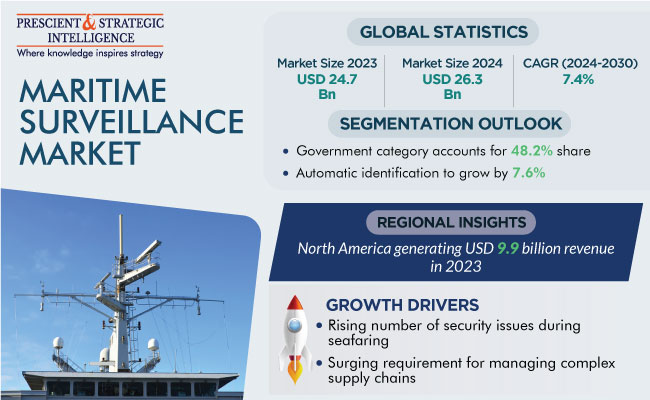 Moreover, the surging launches of maritime surveillance solutions and the availability of a large number of products providing such surveillance are boosting the growth of the market. For instance, in November 2022, Norway announced its plans to launch a satellite constellation in collaboration with the European Space Agency (ESA) to provide continuous real-time maritime surveillance.
Furthermore, the market growth is fueling due to the rising awareness about safety and sustainability in the marine industry. Also, the piracy and terrorism that occur in seas and oceans will be lowered by various advanced technologies, including GPS, RFID, robotics, and blockchain. During trade, immigration, and migration, maritime borders have an important role in territorial integrity and national security. In several countries, which have long coastlines, the importance is increasing for patrolling territorial water areas with state-of-the-art flying platforms. Maritime surveillance is used for identifying and detecting threats along with conducting security operations.
In addition, the rising adoption of robotic technology to enhance maritime surveillance capabilities is one of the major trends. Almost all industries are using modern robotics to improve their security and safety. A large number of software, devices, online services, and obviously, robots, have become the key factors for social and economic development. In the maritime industry, robots are utilized for several applications, from maintenance and cleaning to fully self-directed vessels with no crew and captain on board. For example, SEA-KIT's Maxlimer is a fully robotic ship, which can travel autonomously, escorted by various small drones, submarines, and boats.
Moreover, other major factors for increasing the adoption of robots in the industry include these being used in the operation of circumstances that are unsafe or possibly dangerous to human health. For instance, the U.S. Maritime Administration or MARAD has united with SEA-KIT for building robotic vessels for oil refining, as the work leads to exposure to chemicals and toxic fume, which can be hazardous to human health.
In addition, it is vital to supervise the performance of all units of a vessel, even if it is robotic or not, as maintaining a vessel is challenging, and by using a robot, it can be done with ease. With the growing adoption of robots, manufacturers are working on tech advancements, such as the SAFFiR firefighter robot, developed by the Naval Research Laboratory in collaboration with the Virginia Institute of Technology and other U.S. universities, is a self-governing hominid robot capable of sensing and extinguishing fires.
Solutions Category Is Dominating the Industry
The solutions category held a larger revenue share, of 80.9%, in 2023. This is due to many reasons such as internal and external conflicts of countries; people across the world migrate to other countries illegally by seas, which leads to the loss of a large number of human lives; and through ocean and seas, many terrorist activities occur including illegal fishing, illegal trafficking of drugs or historical artifacts, and others. Therefore, to maintain national security and prevent these threats, the demand for maritime surveillance solutions is increasing.
Moreover, in the solutions section, the surveillance & tracking category held the largest revenue share in 2023. This is mainly because various software is getting launched for better tracking and surveillance to prevent threats. For instance, a maritime tracking solution leverages AI, which offers real-time information on the movements of vessels and ships, which is beneficial for an extensive range of stakeholders in the maritime industry, such as port authorities, government agencies, and shipping companies.
Moreover, based on component, the VHF transmitter and receiver category is expected to grow at the highest CAGR, of 7.6%, during the forecast period. This can be mainly due to its improved sound quality, minimal radio interference, and the portability of the antenna itself. Also, marine VHF antennas are cost-effective in comparison to other types of antennas. Further, VHF does not need loops, costly antennas, and long wires.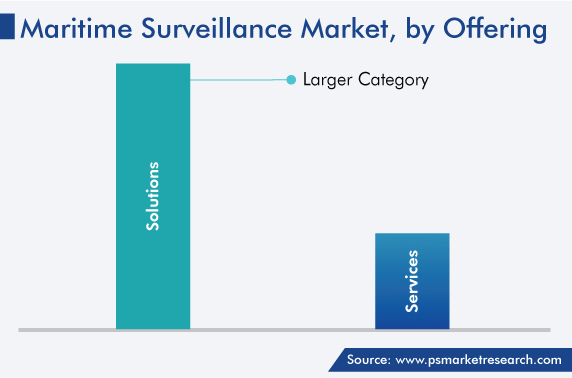 Rising Number of Security Issues During Seafaring
New marine security plans have emerged in a number of developed and developing economies. In this regard, the U.S., the European Union, the African Union, the U.K., and other nations have all had a significant positive impact on the market for marine security. Nations' disputes have often been masked by covert efforts to support maritime terrorism. Thus, different marine-related issues, such as the risk of pirates and inter-state tensions particularly in China, are garnering global attention for maritime surveillance.
The future growth possibilities in the maritime safety market will be shaped by the efforts to forge a global consensus regarding the steps to be taken to protect sailors, vessels, coasts, and, ultimately, entire nations. In certain locations with a significant piracy danger, such as the South China Sea and the Gulf of Guinea, marine safety must be addressed. A global database on maritime piracy is now being created, and new tools and technologies are being deployed to examine piracy networks. This will make it easier for nations to find and apprehend pirates on the high seas.
Maritime Surveillance Market Report Coverage

| | |
| --- | --- |
| Report Attribute | Details |
| Market Size in 2023 | USD 24.7 Billion |
| Market Size in 2024 | USD 26.3 Billion |
| Revenue Forecast in 2030 | USD 40.3 Billion |
| Growth Rate | 7.4% CAGR |
| Historical Years | 2017-2023 |
| Forecast Years | 2024-2030 |
| Report Scope | Market Trends, Drivers, and Restraints; Revenue Estimation and Forecast; Segmentation Analysis; Impact of COVID-19; Companies' Strategic Developments; Company Profiling |
| Segments Covered | By Offering; By Type; By Organization Size; By End User; By Region |
Explore more about this report - Request free sample pages
North America Is the Market Leader
North America held the largest revenue share, of around 40%, in 2023. For enhancing protection for coastline operations, advanced maritime surveillance systems are used. For instance, Canada has the world's longest coastline, measuring 243,042 km, which includes the mainland coast and the coasts of offshore islands, as compared to Indonesia (54,716 km), Russia (37,653 km), the U.S. (19,924 km), and China (14,500 km).
For the U.S. Navy, there is a Maritime Safety and Security Information System (MSSIS), where the U.S. DOT Volpe Center uses its engineering expertise to advance a maritime domain awareness (MDA) network. The aim is to increase the security and safety in maritime through a comprehensive situational awareness display of vessels equipped with AIS. Presently, around 75 nations have joined the MSSIS network, which has enhanced their economic stability and maritime safety at a significant level. The network tracks above 70,000 vessels and it continues to be a vibrant instrument for security forces, offering support to intercontinental military exercises, joint operations, and search-and-rescue missions.
Furthermore, the surging introduction of maritime surveillance solutions drives the regional market. For instance, in January 2023, Unseenlabs successfully launched its eighth satellite dedicated to the geolocation of vessels at sea from space. Similarly, BRO-8 was launched with Exolaunch as part of SpaceX's Transporter-6 Mission from the U.S. The product is designed to provide reliable and frequent radio frequency data for rapid detection and monitoring of activities of the sea, irrespective of the time of the day, or weather conditions. It is ideally suited for national security, insurance, and marine area protection.
In addition, modern intelligence and artificial intelligence-based startups have received a $5 million investment, which is used to deliver AI-based maritime surveillance solutions to defense users at Naval Special Warfare. Due to the rising investments in the field of maritime surveillance across the region, the market will grow significantly in the coming years.
According to several government websites, the total number of ports in North America is 2293, out of which 885 are in the U.S. and 1006 in Canada. Moreover, the number of flag merchant fleets in the U.S. are above 175. Thus, these factors are propelling the demand.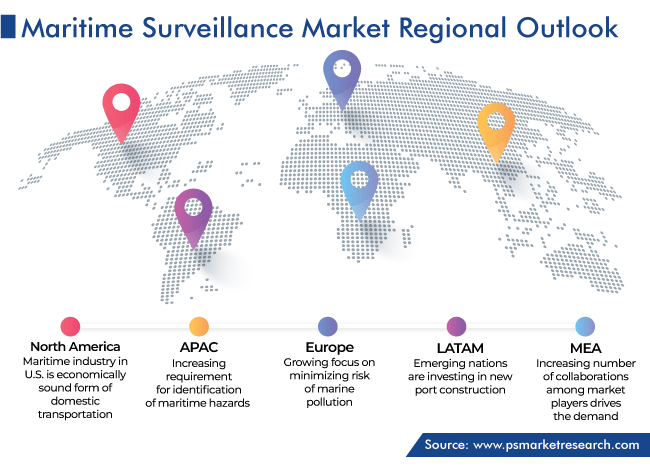 Further, a collaboration between the U.S. Environmental Protection Agency (EPA) and the Mexican government has actively explored international activities to reduce air pollution from ships near localities. In addition, the U.S. maritime industry, by and large, is the most economically sound form of domestic transportation, which annually moves around 1 billion tons of cargo at a very less cost as compared to other modes. Similarly, in November 2020, Portugal and Canada collaborated in order to accelerate transatlantic business growth. Portugal's leading marine renewable energy organization, WavEC Offshore Renewables, collaborated with the Embassy of Canada to host a virtual conference called 'Advancing the Blue Economy through Intercontinental Collaboration'.
Moreover, government regulations enforced in North America are the marine transportation security act, the maritime drug law enforcement act, the international maritime organizations, and many more, which support the demand for maritime surveillance solutions in the region.
Top Maritime Surveillance Companies Are:
Leonardo S.p.A.
ATLAS ELEKTRONIK GmbH
Raytheon Technologies Corporation
Indra Sistemas S.A.
BAE Systems plc
L3Harris Technologies Inc.
Elbit Systems Ltd.
Thales Group
Bharat Electronics Limited
Saab AB
SRT Marine Systems plc
Kongsberg Gruppen
Market Size Breakdown by Segment
This fully customizable report gives a detailed analysis of the maritime surveillance industry from 2017 to 2030, based on all the relevant segments and geographies.
Based on Offering
Solutions

By technology

Surveillance & tracking
Screening & scanning
Communication
Data acquisition

By component

Radar
VHF transmitter and receiver
Weather station
Radio direction finder (RDF)

By system

Ship reporting
Automatic identification
Distress safety
Long-range tracking & identification
Vessel monitoring & management

Services

Maintenance & support
Training
Consulting
Risk assessment & investigation
Based on End User
Government
Oil & Gas
Transportation
Cargo & Container
Geographical Analysis
North America
Europe

U.K.
Germany
France
Italy
Spain

Asia-Pacific

China
Japan
Australia
India
South Korea

Latin America
Middle East & Africa

Saudi Arabia
South Africa